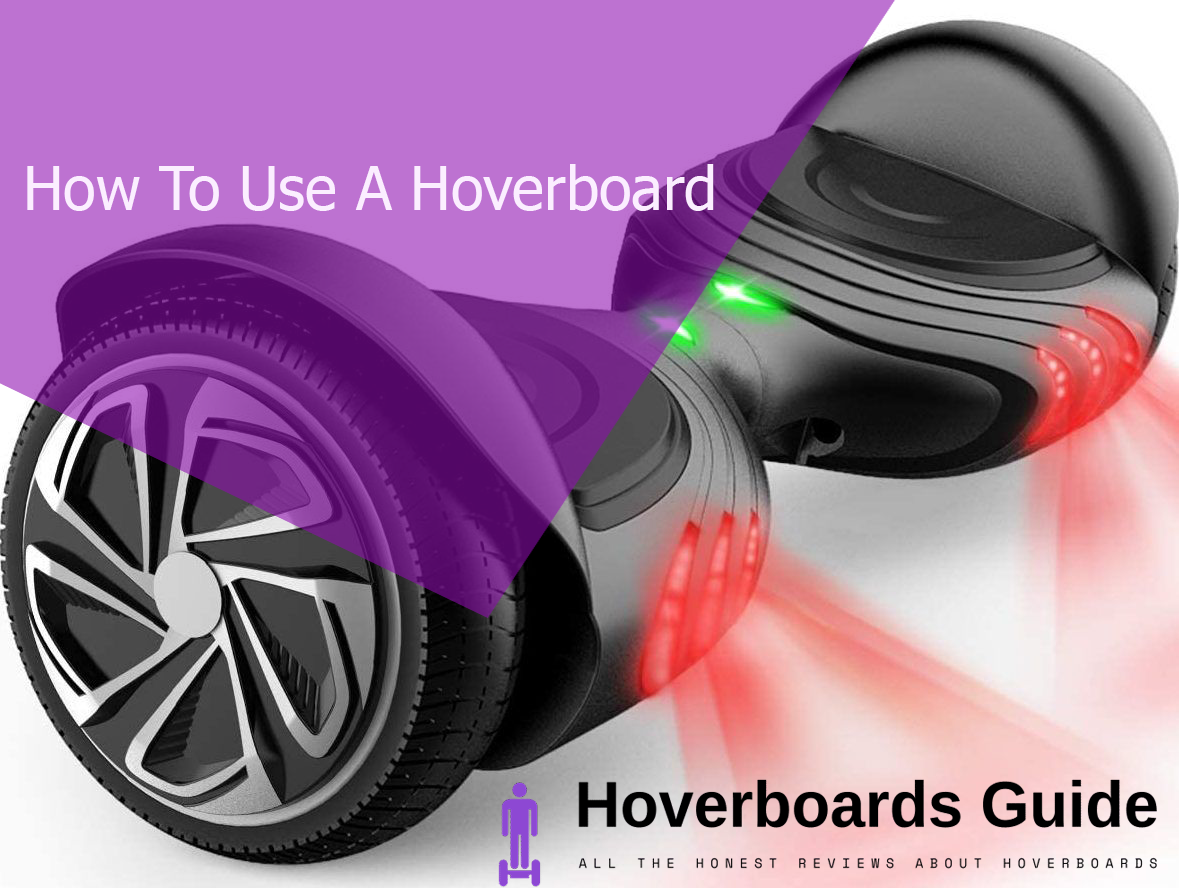 How to use a hoverboard…
In this article, you will see all the possible way of using a hoverboard.
Hoverboards are undoubtedly the craze of the day…If I say that they are one of the most convenient and one of the most demanded articles in the product line of personal transportation. That will not be a lie or a disputed statement!
Well, there is a perception in the newbies and those who have not checked the spark that these little carriages are too easy to drive. I have heard some kids say that it's even easier than walking.
These statements are true to an extent but if taken for granted that can surely be a mess and cause some disastrous effects. Yes, it is very easy to ride or use a hoverboard but you need to know some safety tips and some real instruction so you can drive it smoothly and safely.
Let's start with some safety instructions.
How To Drive Your Hoverboard Safely?
That's true that you can easily ride a hoverboard but to ride it safely you need to make sure that your safety gear kit is updated. Make sure to wear a good quality Helmet, Knee pads, elbow pads, Wrist Guards, and a TailBone Protector.
While you are on a hoverboard keep in mind that you can drip or drop any time with a slight inconvenience or a little jerk. While you are on the roads be alert as you always Don't need to be at fault to be a victim. So be careful, be protected, and be safe, your hoverboard speed might be low as compared to a car but when it comes to a naked fall it can be lethal.
I am not demotivating you but I want that you never regret your choice and a little safety can assure you with greater fun and a confident ride.
Let's Step Up To Your Hoverboard
That is the most thrilling moment for many hoverboard aficionados that have just imagined the moment but have not tried it yet. But over-excitement too can be lethal. So follow the following steps to have a happy ride ahead.
Check the surface and make sure you are in some right and safe and smooth place while tasting the spark for first.

You can't jump on the hoverboard with two feet at the same time. Decide or choose your strong foot and get ready to set the heat on the roads with your hoverboards.

when you put your first foot on the hoverboard that is certainly your stronger foot. Keep in mind that as soon the hoverboard will recognize a pressure it will start moving. So you might don't have much time to put the second foot on it.

Don't stand on your hoverboard with jointed legs as much distance you can possibly maintain that much strength you can stand.

In the beginning, mostly the riders feel a bit awkward as they are trying to stand unnaturally. And that makes their posture uncomfortable, so try to be relaxed and don't panic stand naturally. In this way, you will not only feel comfortable but also will get a better grip.

Now when you are done with all the prior steps the good news is you are already ridding your hoverboards.
Let's Move On With Your Hoverboard
Once you are already standing on your hoverboard with your firm feet. Here start the work of your ankle and shift of pressure from one foot to another.

Your hoverboard is very intelligent with its gyroscope sensor and it can judge with the slight pivoting of your ankle that what is your intended direction.

Here it sounds very easy but the technical part is how much pressure and how much learning is required to move on your hoverboard.

Any deep leaning towards can either turn your hoverboard upside down or throw you right on the floor. So if you don't want your hoverboard riding experience to be a falling incident.

Warning!
Avoid excessive or steep learning or shifting excessive pressure to one side. Because your very slight movement and very light pressure will be calculated by your hoverboard. So being natural and taking it easy is the best Tip to ride your hoverboard.
Tips To Use Your Hoverboard Swiftly
Moving Forward

with your hoverboard is not going to happen with your bending from the waist. You need to command your hoverboard with the movements and pivoting of your ankles.

Turning your hoverboard

from left to right is again something you need to manage with the pressure from your ankles.

For

turning towards the right

you need to press the hoverboards from the right side. Moreover, to turn towards the left you need to press the right side of your hoverboard.

To

stop your hoverboard

you need to put some pressure backward. So by your leaning back your board will get to know that you don't want to move ahead.

Getting off

it is again something you should not miss to learn. Because that is the spot where the newbies fall a lot. Instinctively you move forward to jump off your hoverboard, but you forget leaning forward is a command code for your hoverboard. That says go ahead.

To get off from your hoverboard, you better jump backward or step back so you don't fall down.

Trick Tip!
You need to monitor the amount of pressure you are adding to the board with your toes to turn to your desired direction. Only for sharper turns, you need to need higher pressure otherwise a slight more push will do the purpose.
So you can spin A Circle with the help of your hoverboard. When you can press one-foot toes and other feet heel in a balanced way to draft a perfect Circle spin with you. Because the double command leads to your innovative move.
Note: Thorough practice is required for performing any tricks with your hoverboard, otherwise you can get on the floor in a sec.
Life-Saving Tips To Use A Hoverboard
Don't forget to check the laws for hoverboards in that particular area before going out on the roads.

Never ever try to ride a hoverboard directly on the roads without prior practice. Recommend to use the hoverboard for the first time in such premises those are safe enough for you even if you fall.

Moreover, never be alone while it's your first time on a hoverboard no matter whether you are a kid or an adult. It's better to have support in case of a fall.

When you are riding a hoverboard in the mainstream don't think that people will see you and by your lights or by chance. It's better when you are riding a hoverboard you wear reflective clothing like a vest or even a cap. Remain visible to stay safe on roads.

Another thing that has caused a number of accidents in a few previous years that perceiving hoverboard something like skateboards. Yes, the two might be looking the same but they perform through different mechanisms. Most importantly keep in mind that the tricks you can perform with hoverboards are entirely different from that of skateboards, especially the kickflip is not a hoverboard trick.

One wheeling with your hoverboard is not at all an option. That is killing for both your hoverboard and you! Keep in mind that they are at risk to be caught and fined for that.
Note: According to some Law amendments you are not allowed to ride a hoverboard in the main streets of New York. And if you are thinking that many people are doing so keep in mind they are at risk to get caught by law-abiding agencies.
Good Bye Note:
Whenever a thing is moving it brings some risks and some hazards along. But the thrill and usefulness offered by a hoverboard is no doubt something that outweighs all the fears associated with the ride.
Riding a hoverboard is not at all a risk when you have done your job of learning the skill of riding this vehicle well. You also need to be a wise buyer and be aware of never buying a hoverboard that is not certified by UL laboratories. Moreover, you might have to invest a little more for a quality hoverboard but that spending will always be fruitful for you.
HAVE A HAPPY AND SAFE RIDE WITH YOUR HOVERBOARDS…