Are you ready to embark on an adrenaline-pumping off-road adventure? Look no further than off-road hoverboards, the newest trend in extreme sports and outdoor activities. These rugged and versatile personal transportation devices allow you to conquer various terrains, from dirt trails to sandy beaches and everything in between. In this article, we will delve into the world of off-road hoverboards, discussing their features, benefits, and the best models available in the market. So, buckle up and let's dive into the exciting world of off-road hoverboarding!
Introduction
Off-road hoverboards have revolutionized the way we explore the great outdoors. Designed with sturdy tires, powerful motors, and robust frames, these hoverboards are built to withstand rough terrains. They provide a thrilling and enjoyable riding experience while adding an element of adventure to your outdoor escapades. Whether you're an adrenaline junkie or someone seeking a unique way to explore nature, off-road hoverboards offer an exhilarating ride like no other.
| TItle | Description | Prices |
| --- | --- | --- |
| SWAGTRON T6 | Swagtron is among the leading companies that are making micro-mobility products. | Click For Price |
| TOMOLOO K1 | A Chinese company, Tomoloo Technology Industrial Co. Ltd., is specialized in making hoverboards. | Click For Price |
| EPIKGO HOVERBOARD | Epikgo aims at delivering the next generation quality featured product to the customers. | Click For Price |
| CHO HOVERBOARD | When it comes to cheap hoverboards, CHO is the leading company that offers low price products to the customers. | Click For Price |
A Quick Guide To Buying B

est off Road Hoverboard

s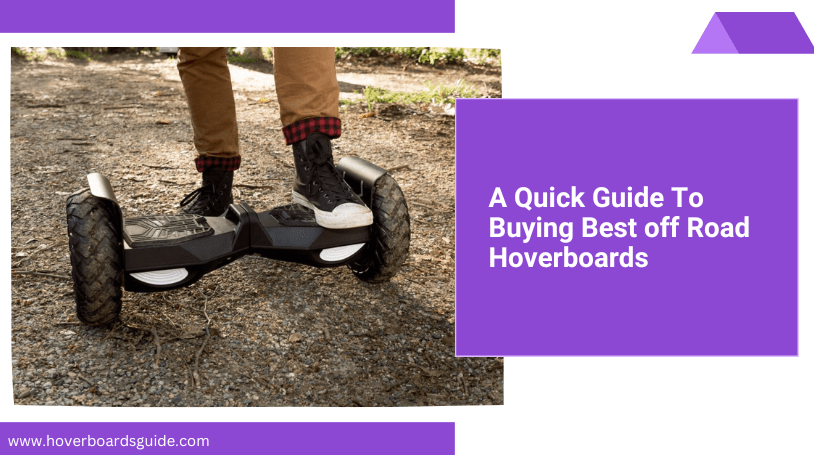 Buying a hoverboard and especially an off-road hoverboard it's quite a heavy investment and you definitely don't want to make a wrong choice. So here I bring you a quick checklist that can save you from a disaster and lead you to a true and terrific All-terrain hoverboard.
In this article, you are presented with a few best that the market has to offer but still, I think you would like to know what actually the best all-terrain look and feel like. A few features you must check for while getting the best beast hoverboard.
The Safer, The Better
The All-Terrain hoverboards are more powerful than ordinary ones. They definitely need powerful batteries as well. And as we know these batteries are prone to get fire if not packed and used with necessary safety measures. Before buying your best all-terrain hoverboard you should never miss checking its UL 2272 certification.
This certification will give you assurance that the machinery you are getting is perfectly safe for your use and has been tested by authorities.
Construction
The other check you should never miss is how far the construction or making of your best off road hoverboard is favorable and compatible enough. As it has to bear the load and roughness of any kind of surface it promises to tackle.
What if the machine is strong enough but the body collapses after a few weeks or months due to heavy pressure( definitely you don't want this to happen). So to avoid the situation must look for one that has a strong construction along with a powerful motor.
Age Limit
You must have heard about the weight limit of a hoverboard and it's a must to check whether the hoverboard can afford your weight or not. But when you are getting the best off road hoverboard you need to check the age limit as well. I don't suggest this powerful hoverboard for too young or too old riders. So do consider the rider's age while getting him or her one. 
Moreover, the off road versions offer high speed which is not a very good thing when you are handing them over to a kid.
Power Indication 
The factor that you must check on while getting the exciting and happening ride that will make you actually hover on all kinds of terrains is its battery and its indication. Definitely, that powerful ride does need a powerful power supply.
As tough you ride as fast it consumes the battery but the good off roads offer you a 2-hour ride with a full charge. But your self-balancing scooter should never miss the Led feature that tells you how much charge you are left with. You better get one that can sync with a smartphone App.
Easy Carriage
When you are getting your hoverboard that can bring ease to your movement without looking at the surface beneath you must check with its weight. As if you will get one that exceeds your carrying capacity(20 to 30 lbs) it can be troublesome to carry it around. After all, you need to carry it on your campus or in any shopping mall.
Set Your Budget
While buying your off-road you must check on your budget. As they are quite expansive but you still get one that can suit your budget. But please don't fall for a cheap duplication as it can be a complete disaster.
Tire Type 
The wheels of an all-terrain are as important to check as you are checking any other factor like the mainboard or battery. As if the wheels are not supportive and bouncy enough your dream of hovering on all-terrain will always remain a dream. So prefer broad rubber wheels for a good going.
All-Terrain
When you are asking for an off road hoverboard you must get one that can move swiftly on grass, inclines, or even mud.
Best Off Road Hoverboard
SWAGTRON SWAG BOARD OUTLAW T6
TOMLOO K1
EPIKGO HOVERBOARD
CHO ALL-TERRAIN BLACK RUGGED OFF HOVERBOARDSEGWAY MINI PRO SELF BALANCING
Ninebot
HALO ROVER X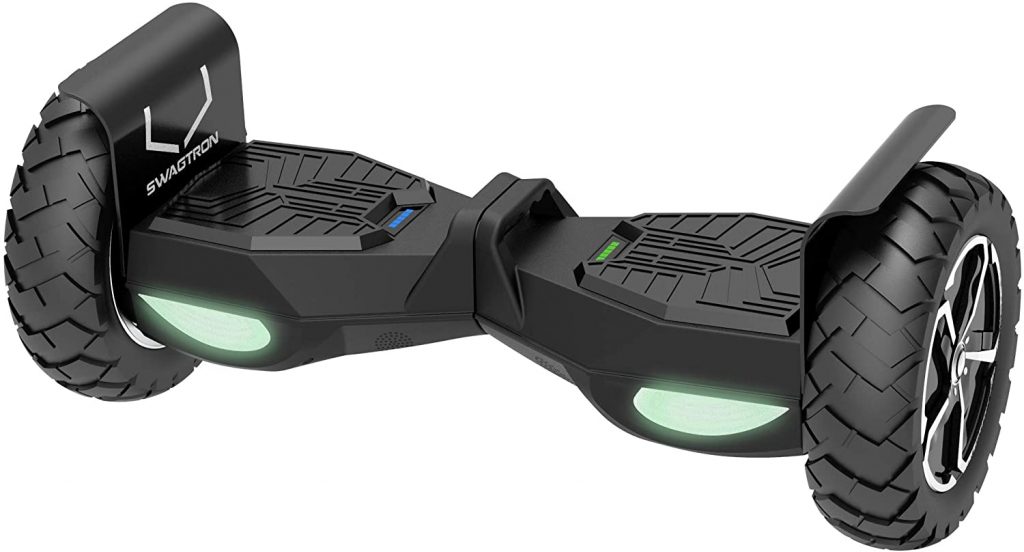 The Swagtron Swagboard T882 Lithium-Free Hoverboard is a safe and eco
The SWAGTRON T6 Off-Road Hoverboard is the ultimate choice for adventure enthusiasts who crave excitement and want to explore off-road terrains with ease. Engineered with cutting-edge technology and built to withstand rugged conditions, this all-terrain self-balancing electric scooter offers an unparalleled riding experience.
T6 is one of their best products in self-balancing off-road.
It stands out as the heavyweight champion in the hoverboard arena.
Today, we are going to take a look at the performance capabilities of the T6 to see if it is up to scratch.
Features
It can lift 420lbs of weight
Has the capability to reach a maximum speed of 12MP
10 inches air-filled rubber tires
Powerful 300W dual battery
Bluetooth speakers are integrated
Swagtron T6 has the UL2272 certification (product safety tests)
Has the premium quality lithium-ion battery
It is suitable for all-terrain.
Can incline up to 30-degree slope
Suitable for riders of all ages
Suitable for riders of heavyweight
Powerful battery
Rugged structure
A little expensive
Difficult to handle for the new riders
Why buy it?
It is a heavy-duty hoverboard with 10 inches of huge wheels. You can enjoy a comfortable ride on bumpy trails, grassy patches, and muddies roads with its wider foot space and can go up to 30 degrees slope.
It has a powerful dual 300W lithium core rechargeable battery inside which can take you up to 12 miles with a maximum speed of 12MPH. You can charge it within two to three short hours. With integrated Bluetooth speakers, a rider can enjoy music while riding. You can connect it via the Swagtron app.
You can also use this app to monitor battery levels, check speed, switch riding modes, and much more.
Its outer structure is made of double layering of plastic and aluminum and makes the frame ultra-strong and can accommodate a weight of 420lbs over its pedals. There is a battery indicator, embedded LED turning signals, and built-in carrying handle features in T6.
Final Words

T6 will prove to you the best decision you made. It is reasonable in price with all smart features you need to experience a smooth ride. It could be the best gift to children and adults.
 2: TOMOLOO K1 Off Road Hoverboard
Get ready for an exhilarating off-road adventure with the TOMOLOO K1 Off Road Hoverboard. Designed to take your riding experience to the next level, this high-performance all-terrain self-balancing electric scooter is built to tackle any challenge that comes your way.
A Chinese company, Tomoloo Technology Industrial Co. Ltd., is specialized in making hoverboards.
Tomoloo K1 is their new series of self-balancing scooters with belligerent sturdy structure offer in many colors. Here, we shall take a look at its features.
Key Features:
300W dual battery with
You can easily control this hoverboard via Bluetooth on your smartphone.
The outer frame is made up of fire-resistant as well as waterproof material, which provides you a better safety edge.
It has 6.5 inches all terrain
Has the capability to reach a maximum speed of 10MPH with a range of 12 miles
240lbs is the maximum weight capacity
Can incline up to 15-degree slope
LED headlights and inbuilt Bluetooth
Tomoloo K1 has UL2272 and UL2271 certification
It contains a Samsung battery inside that is smartly managed and does not get heat up or short circuits
Suitable for kids
Its rubber tires do not inflate.
The battery charges quickly within two hours
Fire-resistant and waterproof
Its wheels are small which can cause trouble on rough terrain
Why buy it?
Tomoloo is a very famous brand in the market. Among many other brands, it is the only company which gives you a variety of choices. Tomoloo K1 is one of their best off road hoverboards.
Tomoloo app helps you to connect your hoverboard via Bluetooth on smartphones and control many of its features like lightning effects and colors and music on your hoverboard. Integrated speakers provide you with a good quality of sound.
You can milage up to 12 miles with this off-road scooter with a maximum speed of 10MPH.
It has a powerful 300W dual battery which can take you 12 miles with a maximum speed range of 10MPH. Tomloo K1 can accommodate a weight of 264lbs. With 6.5 inches tires, you can climb up to 15 degrees. The frame of Tomoloo K1 is made up of such material which is fire resistant and waterproof and makes you enjoy the worry-free ride.
Final Words:

Its 6.5 inches smalls tires can be a challenge to manage your ride. But, when you are being practiced. It would not be a problem anymore. Tomoloo K1 is durable and suitable for all family members.
3: EPIKGO HOVERBOARD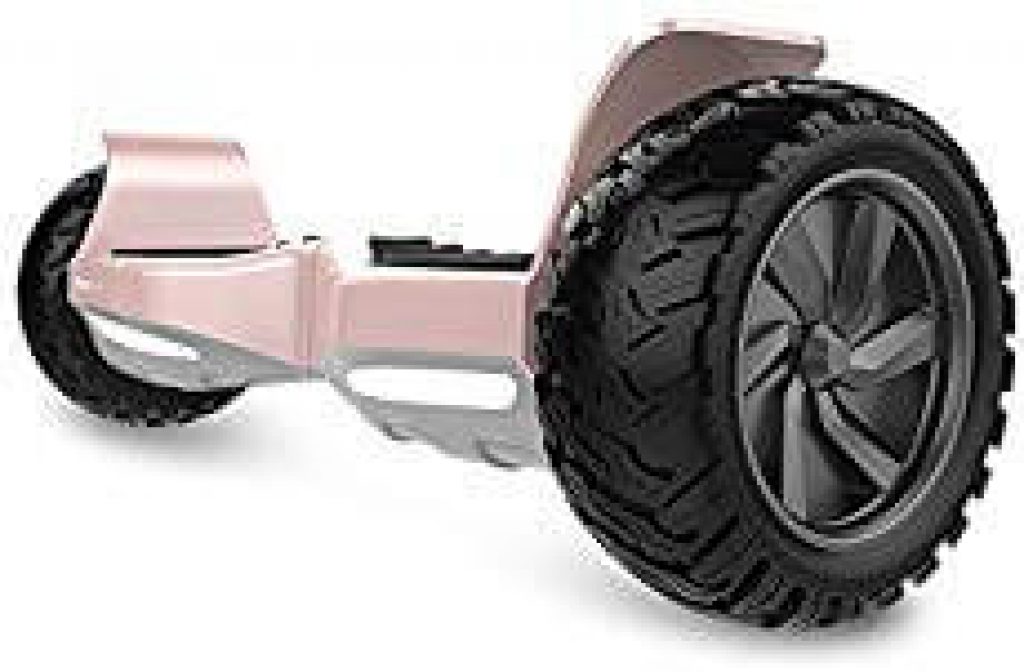 Unleash your sense of adventure with the EPIKGO Hoverboard, the ultimate off-road all-terrain self-balancing electric scooter. Designed to conquer any surface, this high-performance hoverboard is engineered for thrill-seekers who crave excitement and exploration.
Epikgo aims at delivering the next generation quality featured product to the customers. . So, they can enjoy the safest and smooth riding on hoverboards.
Key Features:
This hoverboard is water-resistant
It has a powerful 400W dual battery
10 MPH top speed
5 inches all-terrain tires
Has the Ul2272 and Ul2271 certification
It is waterproof
It provides you a 30% larger foot area as compared to other competitors in the market
All parts and labor warranty for one year
Huge and sturdy structure
Can easily go on mud, grass, sand, and gravel surface
Gives a smooth and comfortable ride
Passed more than 150 safety tests
Comes with one year warranty
Slightly long charging time as compared to others
Why buy it?
Epikgo has a mega, robust, and rugged structure with 8.5 inches of all-terrain tires.
Which can go over mud, grass, sand, and gravel surfaces smoothly. This product passed more than 150 safety procedures that make it the safest hoverboard available in the market. It has a 400W powerful dual LG battery and covers a distance of 10 miles in one hour.
It has an LED light on both sides of the board so that you can ride at night easily.
Epikgo hoverboard comes in a warranty of one year for all its parts and labor
Final Words:

Epikgo weighs more than any other off-road self-balancing in the market. It can be slightly expensive but gives you the safest ride. And enjoy riding it with one year warranty for the product.
4: CHO Off-Road HOVERBOARD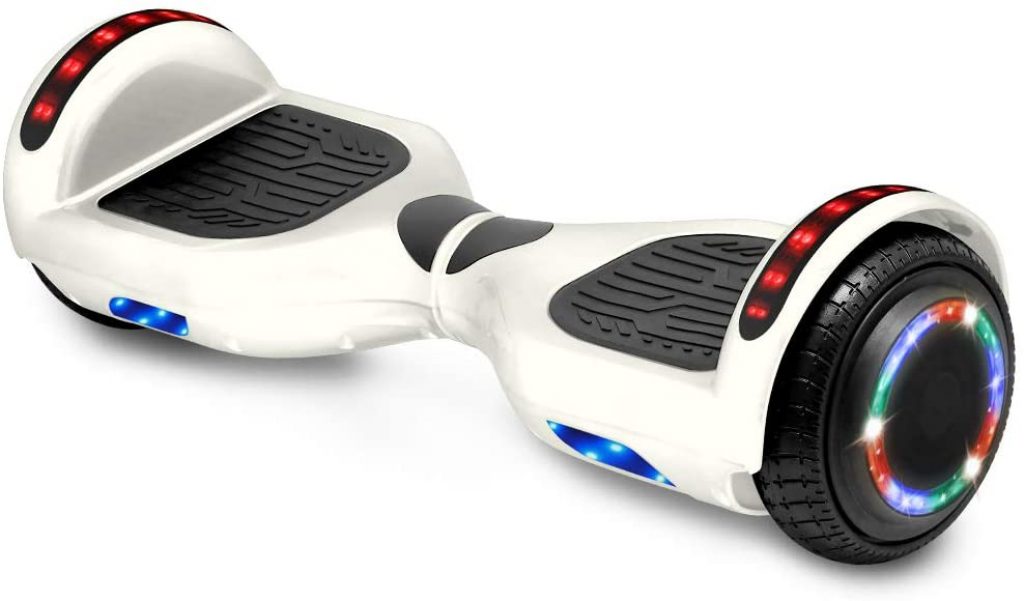 Gear up for adrenaline-pumping adventures with the CHO Off-Road Hoverboard. Designed to conquer any terrain, this all-terrain self-balancing electric scooter is perfect for thrill-seekers who crave excitement and want to explore the outdoors like never before.
When it comes to cheap hoverboards, CHO is the leading company that offers low price products to customers. Here are some of the best features of this economical off-road hoverboard.
Key Features:
5 inch all terrain tires
High quality built-in bluetooth speakers
Powerful lithium ion battery
Can incline up to 17 degree slope
Its structure can lift 265lbs
Can gain a maximum speed of 6MPH
UL2272 safety certified
Environment friendly
Can go on all terrain
Cheap product with compatible features
Suitable for kids
Slightly heavier in weight
Long (3-4 hours) charging time
Why buy it?
This CHO is hoverboard is the best thing the newbies and so economical. It has 8.5 inches of all-terrain tires which can go on an uneven surface easily and climb up to 17 degrees ramp.
Its lithium-ion battery is environmentally friendly and has passed UL2272 safety tests. It contains Bluetooth speakers inside. There are LED lights on the front side of the product so you can have a safe ride at night. Its sturdy structure can accommodate 265lbs.CHO hoverboard can gain a maximum speed of 6MPH.
Final Words:

CHO is the best hoverboard with such a low price and all compatible features. It is the most suitable self-balancing scooter for beginners.
5: SEGWAY MINI PRO SELF BALANCING NINEBOT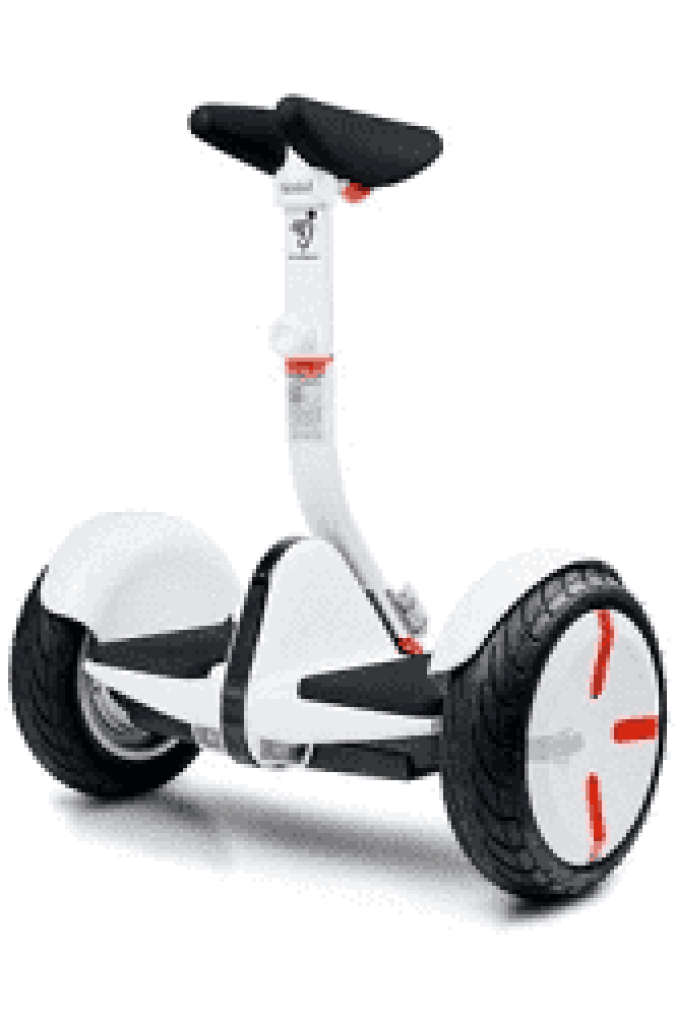 Segway makes best-sophisticated hoverboards. They promise to provide customers with the best comfort and long commuting products. Its amazing features shall make you purchase it immediately.
Key Features:
Phone app control and anti-theft
Powerful 800W dual motor
With adjustable kneebar
Lightweight magnesium alloy frame
Coated with corrosion-resistant material
Road adaptive 10.5 inches all-terrain tires
Bluetooth connectivity via ninebot app on mobile
Can carry a maximum weight of 220lbs
UL2272 certified
Waterproof and shock-resistant
It can cover 14 miles with a maximum speed of 10MPH
Front and tail LED lights
Easy to ride
Adjustable knee makes it suitable both for kids and adult
Long (4 hours) charging time
Why buy it?
Segway mini pro has an adjustable kneebar, with this you can control your mobility on a hoverboard.
The frame of this vehicle is made up of magnesium alloy, which is durable and lightweight. With 10.5 inches all-terrain tires you can go anywhere, they are road adaptive. Its 800W dual motor battery takes 3 to 4 hours to recharge and can cover 14 mileage with a maximum speed of 10MPH. Ninebot app will help you to control speed and mobility, light control, and other sensitivity control, You can also access the riding tutorial on this app.
Moreover, you can create an anti-theft safety alarm to protect mini-pro from theft. It is a UL2272 certified product.
Final Words:

With this sophisticated product, you can enjoy a comfortable ride over it as it is shock-resistant too. It is a little expensive but worth it.
6: HALO ROVER X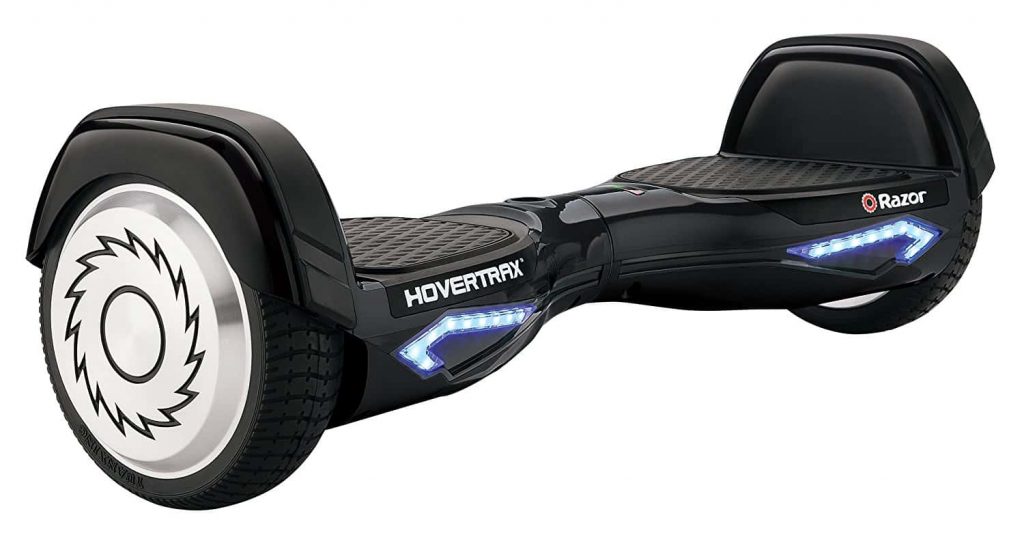 Introducing the HALO ROVER X Off-Road Hoverboard, the ultimate all-terrain electric self-balancing scooter designed for adventure enthusiasts like you. With its rugged construction and cutting-edge technology, this hoverboard takes your off-road experience to a whole new level.
Halo Rover X is very similar to the Epikgo but it is big and heavier and not easy to handle. Here are the features that make it a different product.
Key Features:
Dust and water-resistant
Offers a maximum speed of 10MPH and a range of upto 10 miles
Strong 8.5 inch wide tyres
Bluetooth control
Durable
UL2272 certified
Powerful 800W dual motor
Can carry 260lbs
Climb up to 20 degrees
Wide tires make bumpy rides comfortable
Why buy it?
It is huge and heavy and weighs nearly 33lbs which is quite difficult to transport and manage.
You can easily control all the features on your mobile via Bluetooth app including, speakers, speed range, and riding modes. With its powerful 800W dual battery, you can incline a 20-degree slope and can gain a maximum speed of 10MPH. Battery charging  2 to 3 hours, which is quite quick. It is water and dust resistant and has passed all the safety tests for UL272 certification.
Final Words:

Halo rover is expensive neither is worth it. Its rugged structure and wide tires can make bumpy rides comfortable but are not compatible with other products in the market.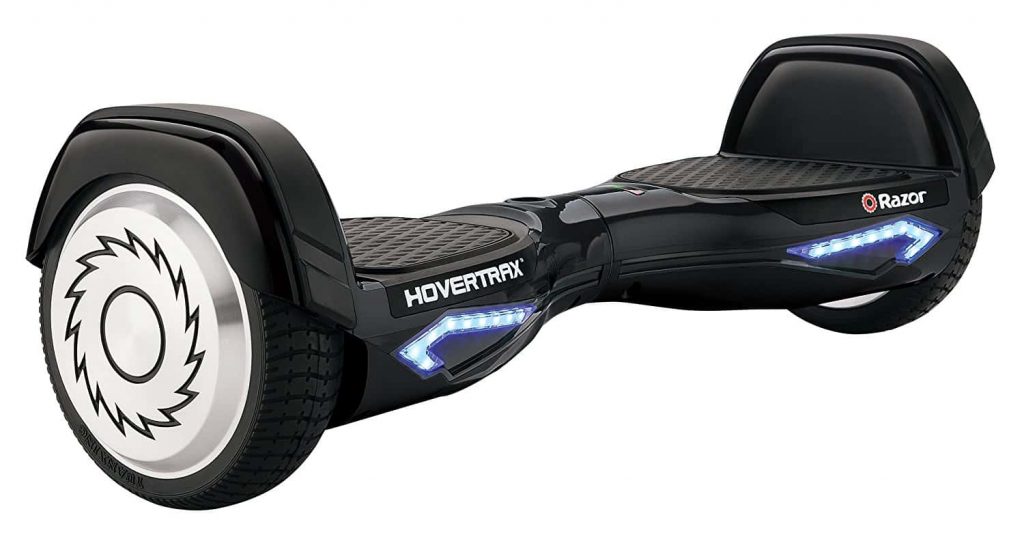 G-F1 is a durable hoverboard with an aluminum frame, 350W dual battery, and 8.5 inches all-terrain tires. F1 racing car-inspired its structure design, so you can enjoy a racing sound while riding it, or you can turn it off. Gaynor app helps you to control the vehicle's speed and switch in between the riding modes. You can see battery life on your mobile and change LED light colors. It has a removable battery. You do not have to carry the whole thing, take the battery out, and recharge it.  Its 5W Bluetooth speakers provide you a high-quality sound. You can also make an anti-theft safety alarm to avoid stealing.
Formula 1 racing cars inspired the style and structure designing of the hoverboard. Thus they introduced the Gyroor F1 hoverboard with high speed.
Key Features:
5 inches all-terrain tires
Build-in speakers
Removable battery
Anti-theft alarm
Smart app control and music speakers
Rare design and racing sound
350W dual motor
IP54 water-resistant
Can lift 265lbs
12MPH is the top speed
Can climb up to 30 degrees
Colorful LED lights
With UL2272, CE, RoH and FCC certification
12 months extended warranty
It's all rubber tires do not deflate
The portable design makes it convenient to handle
Faster than any other hoverboard in the market
Easy to handle
Battery charges quickly
Heavier in weight of about 33lbs
Final Words:

G-F1 can be your dream hoverboard. You shall experience the fastest racing speed with the original sound.
FAQs
Which is the best hoverboard in the market?
Many companies in the fields are making comparable products. All are with distinct features and price rates. So it is difficult to give the best tag to a single product or company
Is this product is safe?
Yeah, companies have worked a lot to make self-balancing scooters safe. Now, it is safer than earlier.
Who can use hoverboards?
Anyone can use this; kids, adults, and old's. There are no restrictions. It can be the best birthday gift for a kid.
Do I need a license to ride this?
No, you do not need any license but in some parts of the world, a hoverboard ride is not allowed on roads to avoid any road accident.
What is the price?
There is no specific or fixed price for it. It can be from a low price of $150 to a higher price of $2000. This price shift is because of the best hoverboards features added.
Related Link: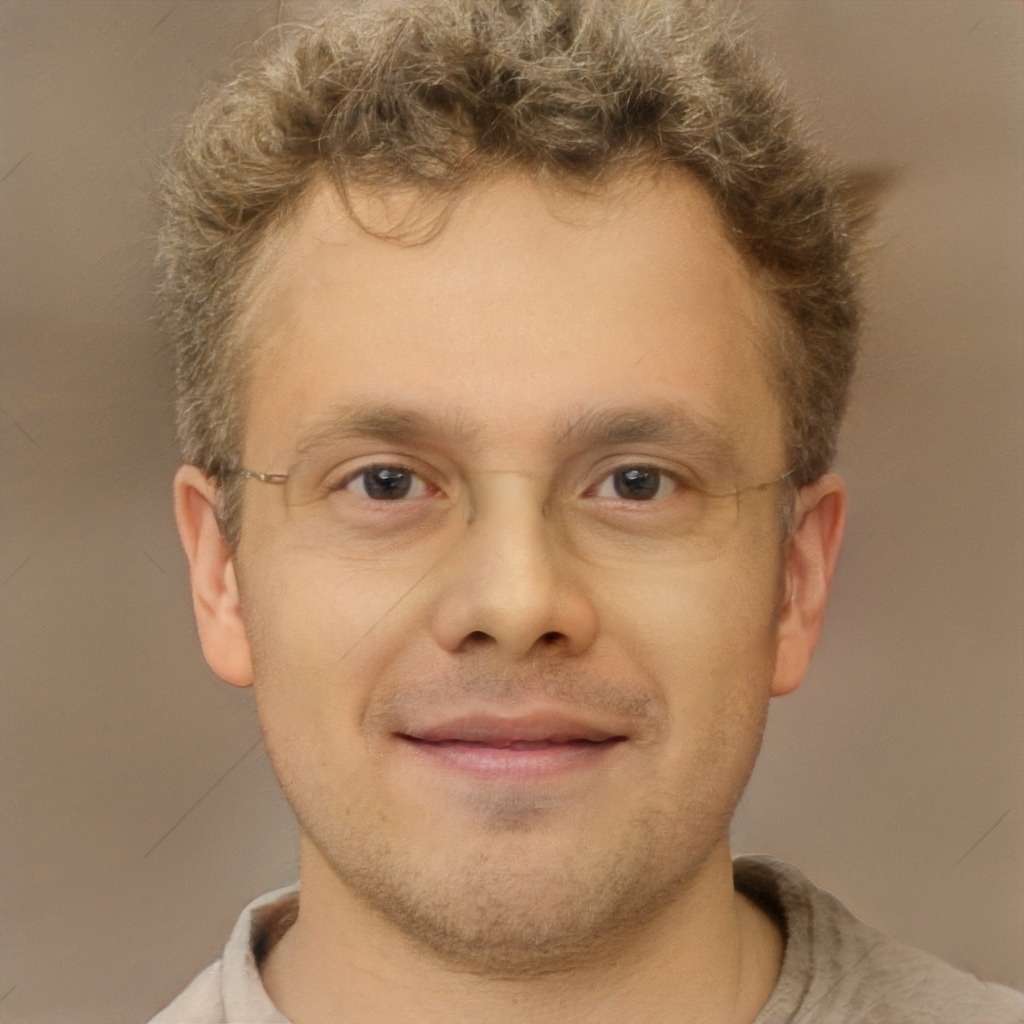 I'm the founder of HoverboardsGuide.com, a comprehensive website dedicated to electric scooters and hoverboards. With a deep-rooted passion for electric gadgets, I've accumulated extensive experience in this field. I aim to assist users in selecting the best gadgets and providing reliable guidance.
I've tested and reviewed numerous models, gaining in-depth knowledge about their features, performance, and overall quality. Feel free to reach out to me with any queries, as I'm dedicated to addressing your concerns promptly. Join me on this exciting journey of exploring the world of electric rides and making informed decisions