Longboarding is an exhilarating sport that combines the thrill of surfing with the freedom of skateboarding. Whether you're a seasoned rider or just starting, finding a quality longboard at an affordable price can be a challenge. In this article, we'll explore the world of cheap longboards and provide you with a list of the best options available. So, if you're ready to ride without breaking the bank, let's dive in!
Introduction to Cheap Longboards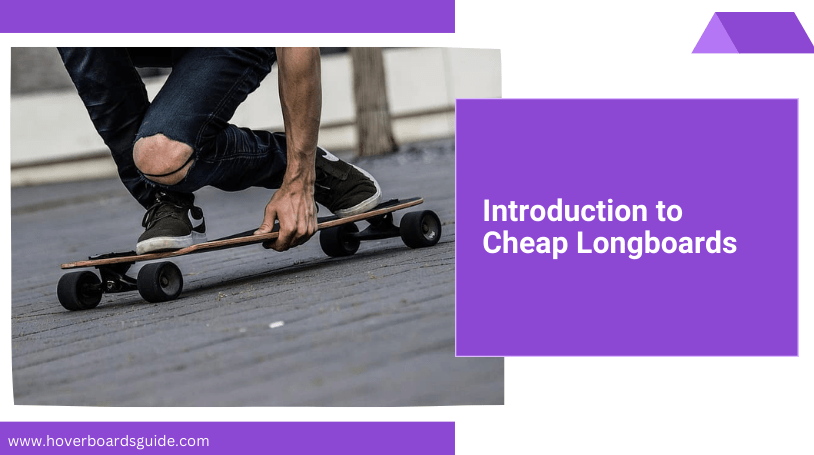 Longboards come in a wide range of prices, and while some high-end models can cost a small fortune, there are plenty of budget-friendly options that offer great performance and durability. Cheap longboards can be a great choice for beginners or riders on a tight budget. However, it's important to understand the key factors to consider when choosing a cheap longboard to ensure you get the best value for your money.
On the streets of almost every neighborhood today, you find people of different age range riding or waiting in line for their turn to ride the longboards.
Though most longboards are expensive, the unending desire of riding on longboards among people inspired some more buoyant people to buy some and lease them out to people. You would have to pay a certain amount for some time.
However, you must know that there are cheap longboards. Indeed, you don't have to break the bank to buy one. So, if you have been patronizing such businesses, it is high time you stopped and bought yours!
In this article, I would be reviewing with you the best cheap longboards, and the things to look out for when purchasing one. Grab a drink and read on!
Reviews of the Best Cheap Longboards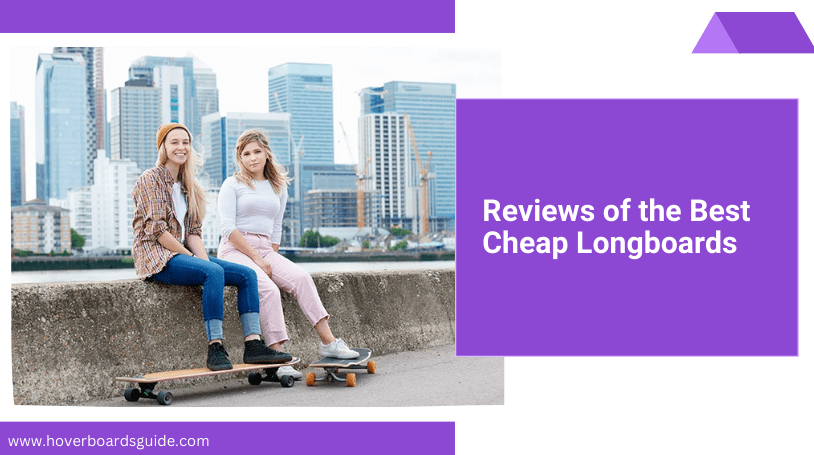 Magneto Bamboo Longboards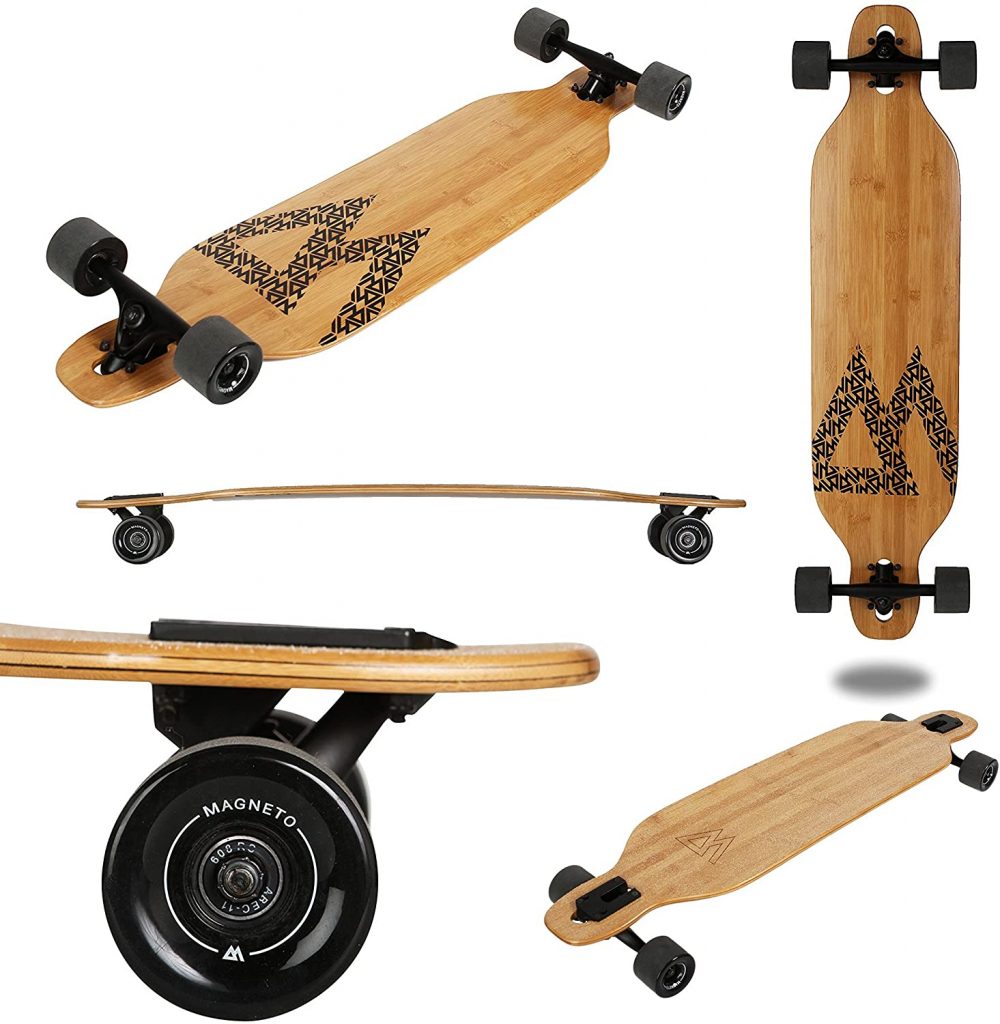 As indicated in the name, this Magneto longboard is made from fine bamboo wood. It is 9 inches wide and 38.5 inches long. This size makes it excellent for making tight curves and fun carving at home, on campus, in the neighborhood, or any place of your choice.
Key Features
Similar to Paris Style trucks, this inexpensive longboard has a 7-inch hanger and a kingpin angle of 50 degrees.
The materials of this board are designed not just for durability and beauty but to give you an ecstatic experience while riding. The bamboo comes in 3 plies and makes the board flexible while the fiberglass gives an untainted strength and durability to the deck.
After riding some longboards, sometimes, you may experience foot aches, or while riding your legs might not be stable. However, with this Magneto longboard, all that story is long gone. It is designed in such a way that it has a shallow concave that gives your feet comfort and the nicely arched chamber increases the fun and responsivity of the board.
For beginners, this board can curve and cut in the twinkle of an eye so you have to be careful. If you have to go downhill, ensure you tighten the truck to make it more stable so that you don't fall.
I'm sure you are amazed at how much benefit you're getting from this very cheap longboard.
Inexpensive
Durable and comfortable
Perfect for beginners
Easy tight turns
Fast cuts and carves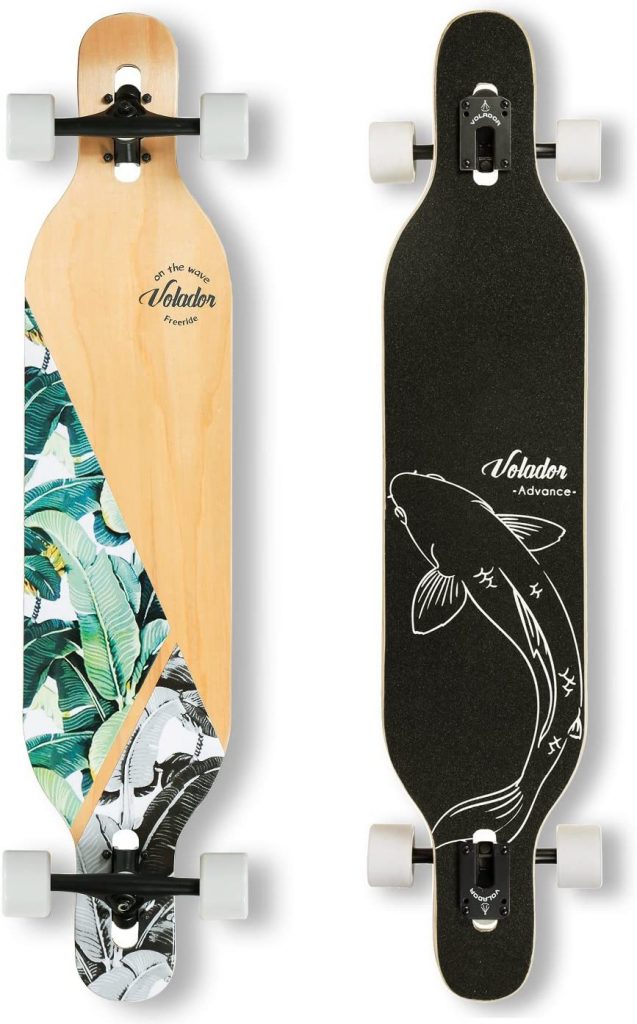 Experience the ultimate thrill of freeriding with the VOLADOR Freeride Longboard Cruiser. Designed for riders of all skill levels, this high-performance longboard offers an exhilarating ride that combines speed, stability, and control.
Looking for the perfect birthday present for your friend or family member? This beautiful VOLADOR longboard would leave a striking impression.
It is made with ssuper-qualitymaterials that make it durable and provide a comfortable ride. The drop-through chamber deck measures 42 inches and this gives it a very flexible and sshock-absorbingfeature.
You can conveniently take this longboard on a cruise or for rough and bumpy roads without being afraid of damaging it because of iits88-plynatural hard rock maple and very strong epoxy glue.
The VOLADOR longboard has 7-inch reverse kingpin trucks that are adjustable to 50 or 45 degrees. This adjustable kingpin gives room for great maneuvering.
Experience a smooth ride like no other with this VOLADOR's 70 X 51mm 78A PU wheels. These wheels work with ABEC-9 precision bearings.
DEven thoughthis is a cheap longboard, it is made with top-notch materials. For example, the trucks are made with real aluminum alloys, chrome steel bearings, carbon steel bolts, and several others like that.
This guarantees you that the manufacturers have you in mind and you don't have to sacrifice quality for the price.
Key Features
Adjustable kingpin trucks
Shock absorbing feature
8-ply hard maple
Can carry as much as 220lbs
34-inch wheelbase and 9-inch width deck
Quick cuts and curves
Speed racing
Suitable for long rides
Aesthetic design on top and bottom
Trucks don't tighten well
Kryptonics SpongeBob Complete Longboard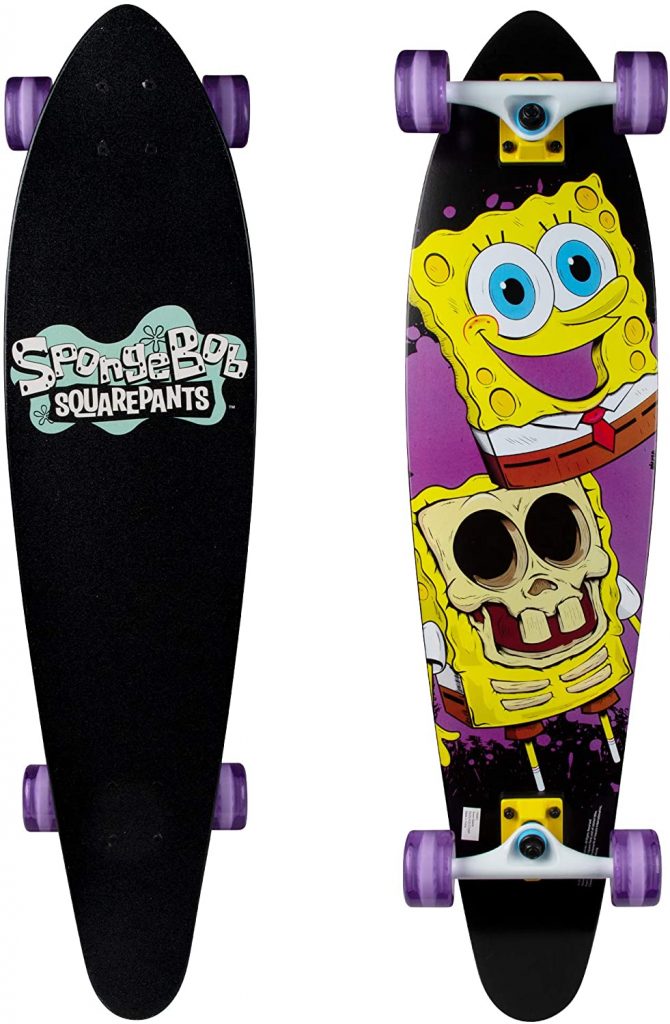 Introducing the Kryptonics SpongeBob Complete Longboard, the perfect skateboard for kids and adults who want to add a touch of fun and excitement to their skateboarding adventures. Featuring the beloved SpongeBob SquarePants theme, this complete longboard offers a smooth and thrilling ride combined with durable construction for long-lasting enjoyment.
The Kryptonics SpongeBob is the perfect cheap longboard for beginners. It measures 36 inches in total, 8.75 inches wide, thick ,and durable 88-plymaple wood deck.
No doubt, this longboard gives you a smooth and easy ride with its 65mm X 40mm poured polyurethane wheels and ABEC-5 bearings of carbon steel material.
Though it is designed and named after SpongeBob, the children's star, it doesn't mean it is made only for children. It is suitable for all ages 8 and above. It is constructed with 6 iincheshof eavy-duty aluminum trucks, riser pads that have a 12mm angle, and soft 88A urethane bushings. These riser pads and heavy-duty aluminum trucks make them suitable for carrying heavier weights and accentuated speed.
As beautiful as it looks, you may be curious to know which material it is made of, actually, it is made of high-quality wood and in combination with all othe ther features that I have discussed, it would dast the test of time.
If all these properties at this jaw-opening price would not make you order for this longboard, I don't know what will!
Key Features  
Round shaped pintail
88A durometer hardness
Wood material
Heavy-duty trucks
Perfect for beginners
Very inexpensive
Awesome arcing turns
Suitable for large weights
Animation design may peel off quickly
Magneto Hana Pintail Bamboo Longboard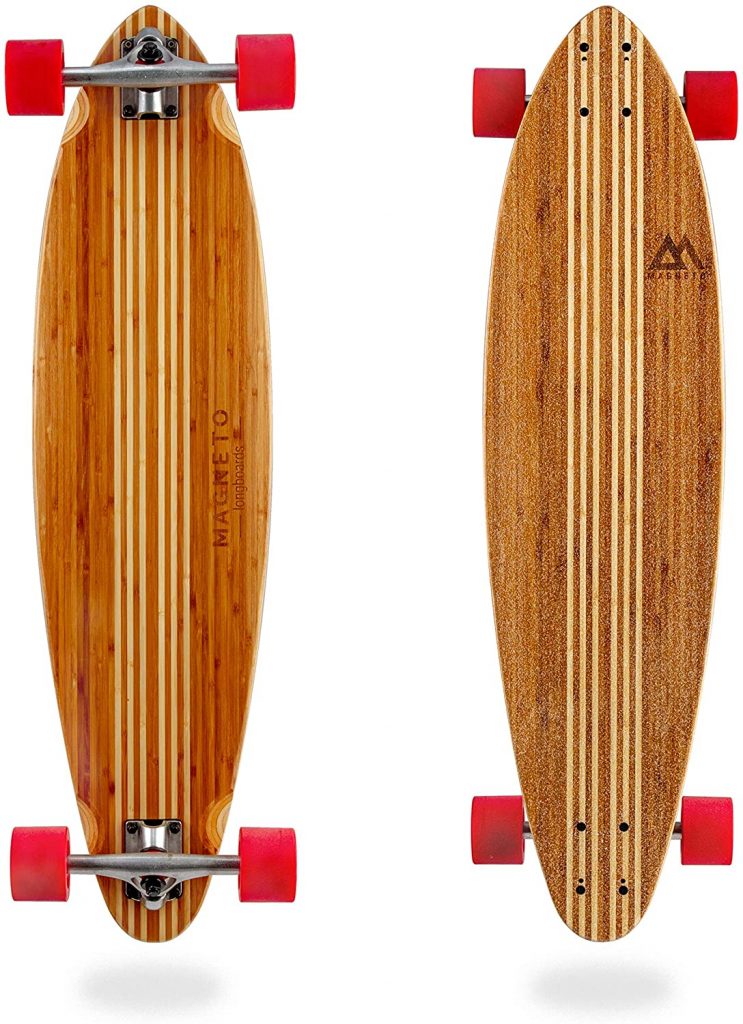 Experience the perfect blend of style and performance with the Magneto Hana Pintail Bamboo Longboard. Designed for riders who appreciate both aesthetics and functionality, this longboard offers a stylish and smooth ride that's perfect for cruising and carving. Crafted with high-quality materials, it guarantees durability and reliability for countless enjoyable sessions on the road.
The beauty of this Magneto Hana longboard is doing to earn you a lot of friends! Asides from its attention-drawing beauty, it has a lot of mind-blowing features for its ridiculous price.
To give you a wide, yet, comfortable riding experience, the deck is about 9.5 inches wide, it has a little "W" curve that allows your leg to sit in comfortably but not too deeply.
Another amazing feature of this pintail longboard is that the truck is mounted in Paris style which gives it a broader platform that you can aance on. Yes! I said it right! The trucks are made of ka ingpin angle of 50 degrees, a 7-inch hanger,s ,and mildly stiff bushings. These provide stability for the board, therefore, you don't have to be scared of falling when riding your longboard.
I consider this longboard one of the best cheap longboards, especially for beginners in the skating game.
Cruise and dance elegantly in different riding styles with this inexpensive 42-inch longboard.
Key Features
Sand grift finishing
Short deck for smaller riders
Dancing wheels
Well cut wheel
Designed to prevent wheel bites.
Beautiful design
The detailed curve for feet comfort
Suitable for multiple riding styles
VOLADOR Maple Longboard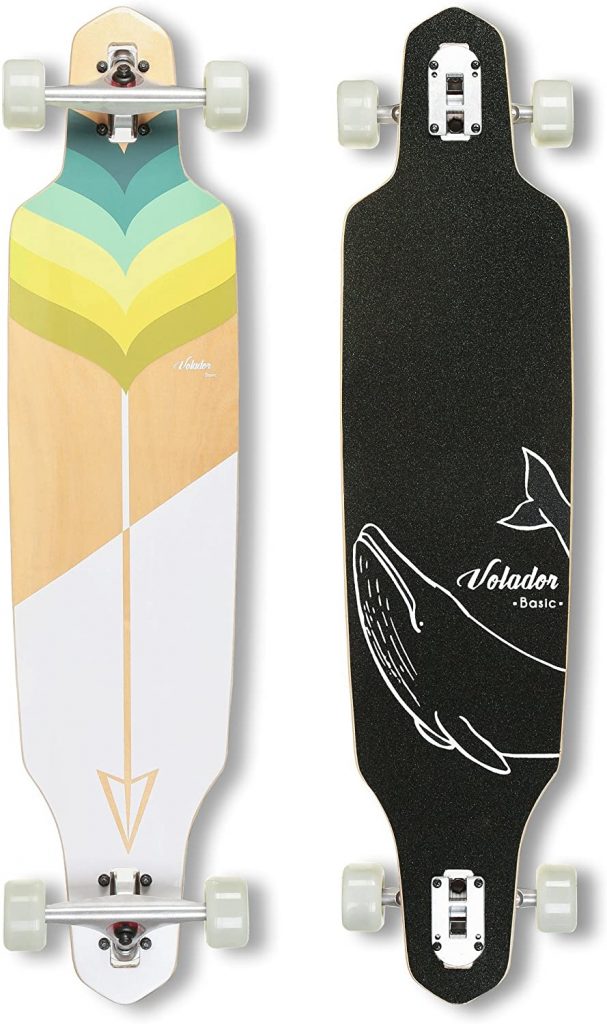 Get ready for an exceptional riding experience with the VOLADOR Maple Longboard. Designed for riders who crave a smooth and thrilling ride, this longboard offers the perfect blend of style, performance, and durability. Whether you're cruising down the streets or showcasing your freestyle tricks, this longboard will exceed your expectations.
If you have the notion that things that are cheap and attractive do not last long, this VOLODOR longboard is going to prove you wrong!
The truck is made of 100% maple, iand ts drop-through cruiser dis esigned to meet basic requirements for beginners mand easures 40 inches.
The materials used in constructing this longboard are unbeatably unique and of high quality. Talk of the adjustable 7-inch reverse kingpin trucks that are made with genuine aluminum, (note that they can be reversible as 45 or 50m degrees), the quality 70mm PU wheels that work in conjunction with ABEC-7 precision bearings, the durometer hardness of 80A amongst others.
If you think you are too big and your weight might break a longboard, you are mistaken! IThislongboard is built with an 88-ply hard rock maple and strong glue that makes it strong enough for most riders.
Don't be too hard on yourself and if you are one of those that think that beautiful and cheap things are not of high quality, it is time to give it a second thought.
Place that order right away and amaze yourself with the wonders of this longboard!
Key Features
Slight concave for powerful paddling
Designed to sustain llong-hourriding
Perfect for beginners
Suitable for heavy riders
Unique design
Cost-effective
Not suitable for many riding tricks
Seething Pintail Longboard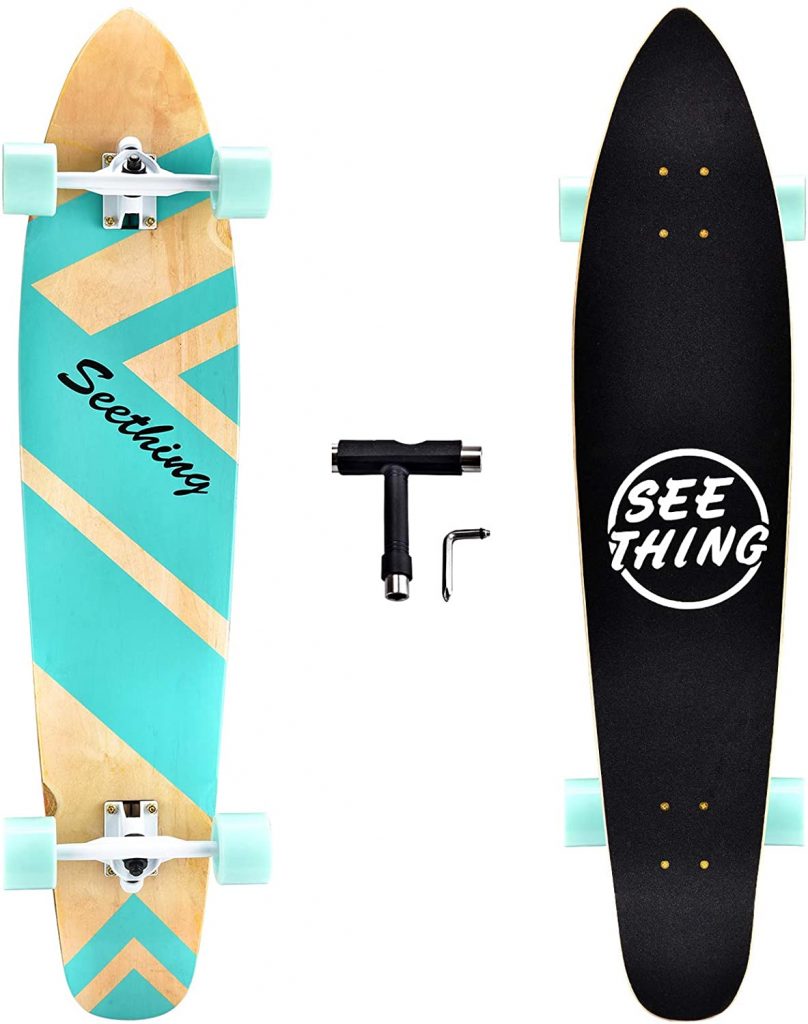 Experience the thrill of smooth carving and stylish cruising with the Seething Pintail Longboard. Designed to provide an exceptional riding experience, this longboard combines performance, maneuverability, and a sleek design that will turn heads wherever you go. Whether you're commuting to work or enjoying a leisurely ride, the Seething Pintail Longboard delivers both style and functionality.
It is designed particularly for cruising. So, you can save yourself some extra dollars and get it since it has the basic beginner requirements.
The deck, made with high-quality Canadian maple, is very durable and sturdy. It is strong enough to carry riders of up to 3330 lbsthanks to the 7-inch aluminum alloy trucks. Asides from that, it offers a perfect equilibrium between durability and weight.
Its' ffull-lengthmeasures about 42 inches with smooth gliding reverse kingpin trucks that have ABEC precision of 11 bearings. In addition, it comes with a PU cast bushing and a durometer hardness value of 95A.
With this longboard, medium and lightweight riders can perform the slalom freestyle and dance conveniently without losing balance.
It would be unbefitting to talk about this Seething longboard without mentioning how beautiful it is. The beautiful streamline boosts your level of confidence and makes you the spotlight anytime, any day!
Key Features
HHigh-density waterproof anti-skidding diamond paper
Reactive reverse kingpin trucks
99-ply Canadian maple
High traction
Suitable for large weights
Very affordable
Already assembled by mthe anufacturer
Beginner friendly
Cannot allow for multiple riding styles
JUCKER HAWAII Original Longboard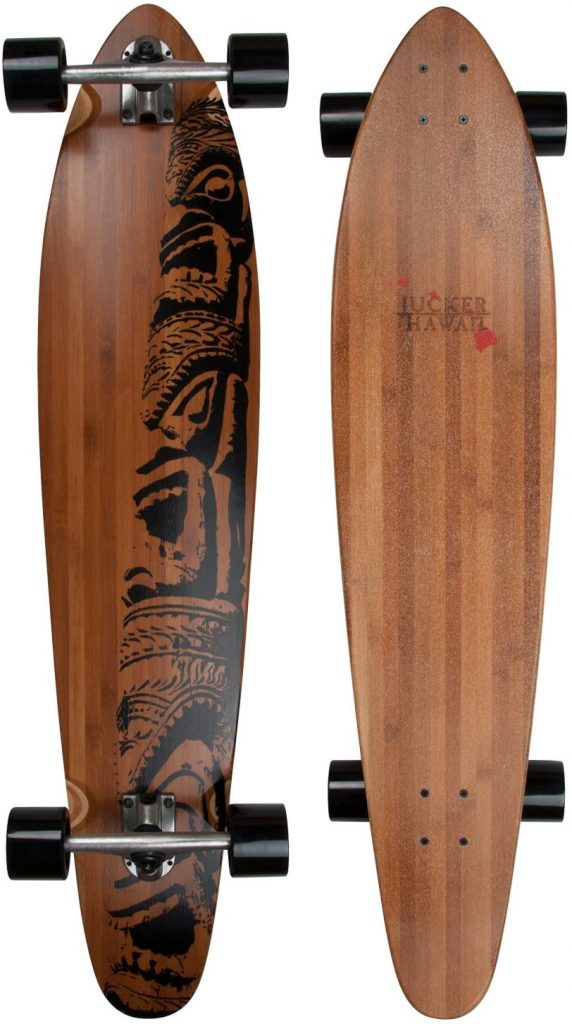 Embrace the authentic island vibes and experience smooth riding with the JUCKER HAWAII Original Longboard. Inspired by the beautiful landscapes of Hawaii, this longboard captures the essence of the tropical paradise while delivering a high-performance ride. Whether you're cruising along the beach or exploring the city streets, this longboard will provide endless fun and excitement.
The JUCKER HAWAII brand is a long-operating brand and has received multiple awards. In 2015, the brand was awarded as the most popular international brand for making high-quality and durable boards and accessories.
This original longboard from the international award-winning brand made it to my inexpensive longboard review because it is below $200.
The freeride cruiser is 40 inches long and its lowered deck keeps the center of gravity closer to the ground. This makes it more stable and comfortable for you to ride on.
It's designed and twin shape gives room for riding the MANA in an opposite direction. The mini kicks at the end also allow you to perform some riding tricks.
Whether you are a beginner or professional rider, this JUCKER longboard is just what you need. It is set up for any skill whatsoever and gives you a perfect balance right back!
The deck is 40 inches long and made of top-notch materials. All the accessories that are used in making the longboard are produced singlehandedly by the JUCKER HAWAII brand so you can be guaranteed that they are going to last the test of time.
Enjoy the feel of the breeze and a comfortable cruise with this super HAWAII longboard.
Key Features
78A Cruiser wheels
Lowered deck for gravity stability
High-quality maple material
Beginner and professional friendly
Worth the price
Approved for multiple riding styles
Assembled by manufacturer
MINORITY Downhill Maple Longboard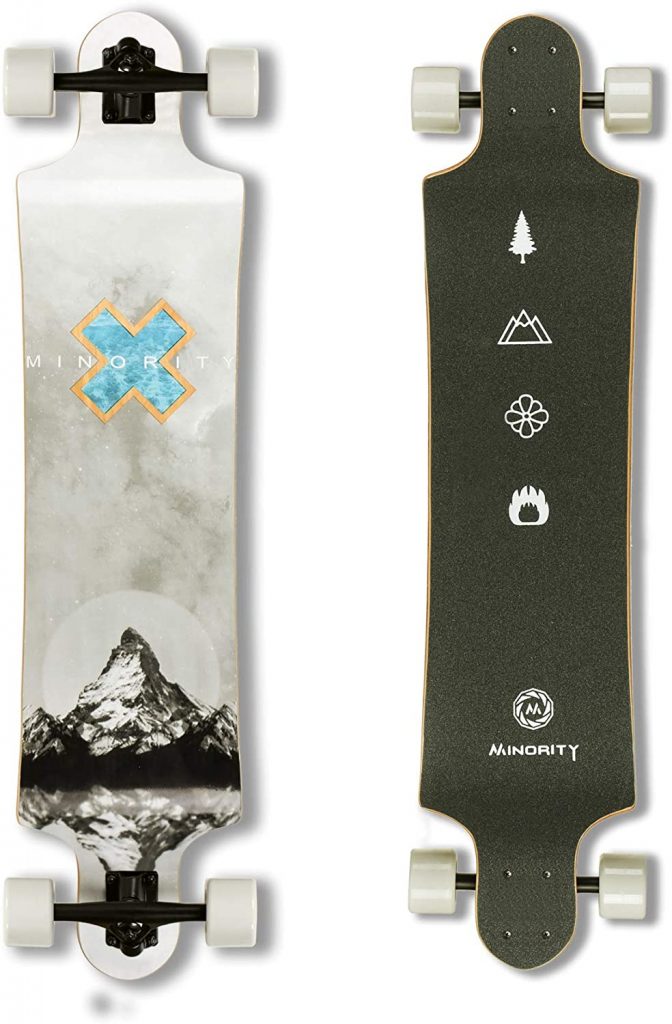 Experience the thrill of downhill riding with the MINORITY Downhill Maple Longboard. Designed for speed and stability, this longboard is perfect for adrenaline junkies and downhill enthusiasts. Crafted with high-quality materials, it offers reliable performance and durability to withstand intense descents. Get ready to conquer the hills and experience the rush like never before.
The longboard measures up to 40 inches in length and as indicated in the name, is built with the class downhill drop model. This low gravity buildup is what makes it awesome and ideal for speed rides.
The 10 inches wide deck is constructed with a very strong 8 ply cold-pressed hard rock maple.
For the guaranteed safe and stable downhill ride, it is designed with a wheelbase of 37 inches and a wide deck. So, you can relax and enjoy a smooth and easy ride down the hill.
The MINORITY board is built with solid and durable materials that contribute to its longevity.
The reverse kingpin trucks (equipped with carbon steel axles) are made with real aluminum and measure about 7 inches. These trucks can be maneuvered as they give room for 45 or 50 degree adjustments. In other words, it allows you to ride in several riding tricks.
Likewise, the wheel is made with durable material and is about 70 X 51mm with a durometer hardness value of 78A. This PU wheel works with an ABEC-9 precision bearing that allows you to have an ecstatic ride all the way!
Key Features
100% maple deck
Personalized adjustments
Stable cruiser
Suitable for as much as 220lbs
Beautiful design
Great curves
Cost-effective
Energy efficient
High speed
INNOWEIGH Freestyle Longboard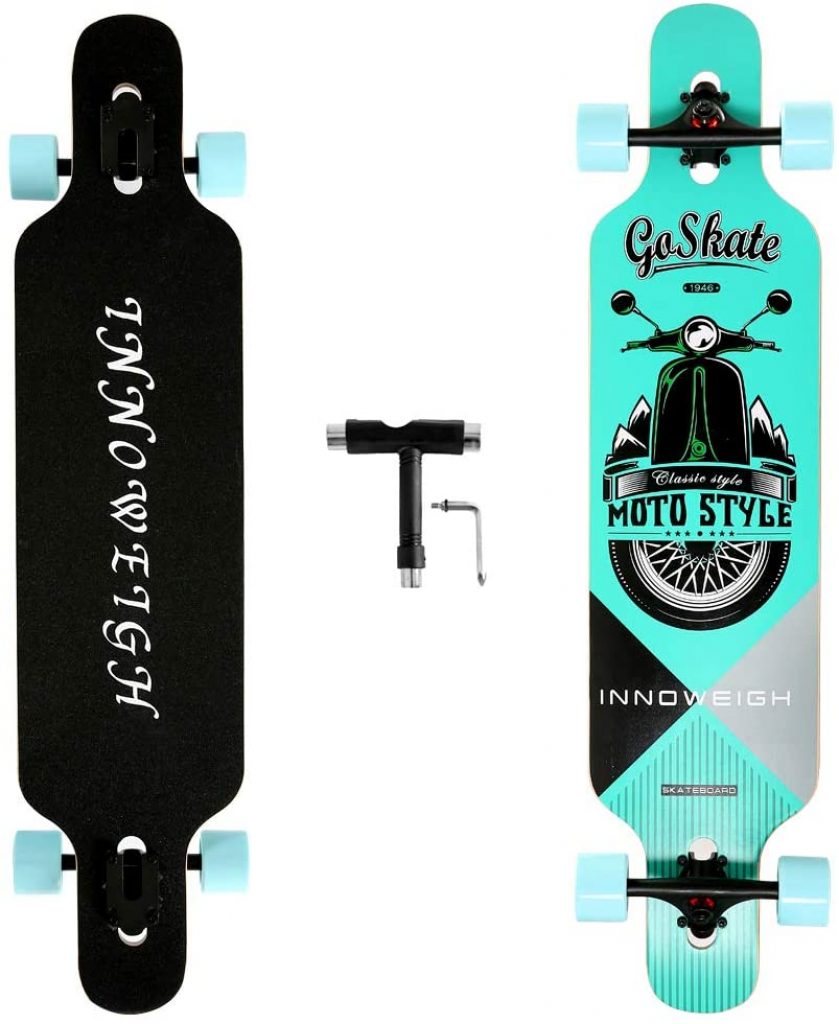 Unleash your style and master impressive tricks with the INNOWEIGH Freestyle Longboard. Designed for riders who crave treedom of expression and want to push their skills to the limit, this longboard offers a perfect balance of performance and durability. Whether you're cruising the streets or honing your freestyle skills, this longboard will elevate your riding experience to new heights.
Asides from the fact that this INNOWEIGH longboard is extremely cheap, it also gives you about the same features and durability you get from the more expensive counterparts.
It has a very sturdy deck that is 41 inches long and 9 inches wide. This deck is made of an 8-ply cold-pressed Natural maple from the Northeast region.
The truck, however, is made of aluminum alloy that is 7 inches long, supported by a superelastic PU. This PU has a shock-absorbing ring that works with ABEC-11 bearings. With an ABEC bearing as high as that, you should know that the speed capacity of this longboard is on the high side!
Now that you know that this board can provide you with high speed, for a beginner, this might be scary and be a turn-off for you. Nonetheless, you need to relax, for stability, the manufacturers have designed it with some special features.
The wheels come with a shock-absorbing feature, measuring 70 X 51mm with a durometer hardness of 80A.
Another important property that aids your stability and gives you a gracious experience while riding is the reverse design of the board plate. What this does, is that it reduces the center of gravity hence making you more stable on it.
Key Features
Multifunctional longboard
8-layer maple desk
High-density grip
Weight capacity of 330lbs
Wide turning radius
Waterproof grip
Suitable for all ages
Multiple styles support
Assembled by manufacturer
WHOME Small Longboard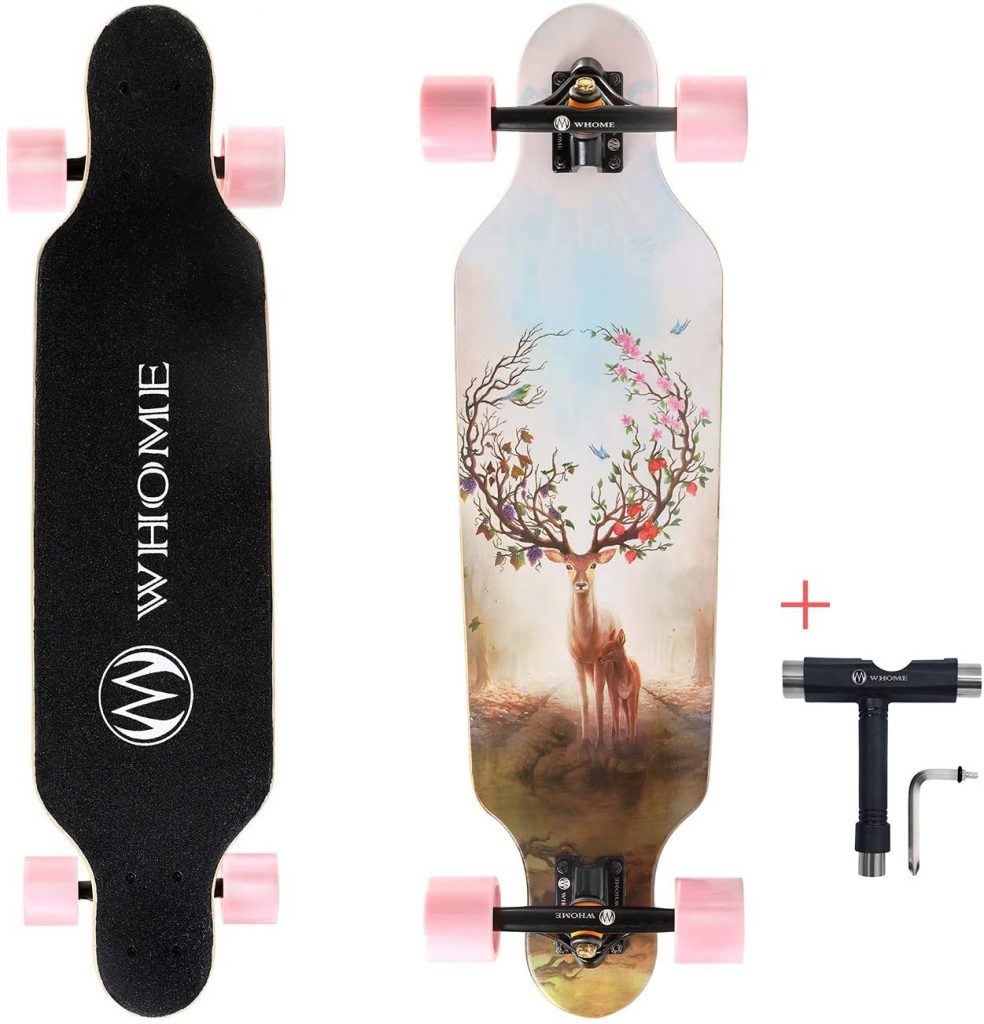 Experience big fun in a compact size with the WHOME Small Longboard. Designed for those seeking a portable and versatile riding option, this small longboard offers a perfect blend of convenience and enjoyment. Whether you're cruising along the boardwalk or commuting through busy streets, this compact longboard will be your ideal companion.
The California-based skateboard designing and manufacturing company WHOME is known for employing technical professionals for the production of high-quality longboards. This process is carried out with the optimization of top-notch materials to ensure durability and customer satisfaction.
The deck of this special WHOME longboard measures 8.25 inches in width and 31 inches in height. This deck is very durable and sturdy. As it is constructed with an 8-layer alpine hard rock maple wood.
It is very versatile and gives room for multiple riding styles like freeriding, cruising, carving, freestyle, dancing, and many more! I'm sure you are pretty excited right now. To ensure that you're secured while trying out these multiple tricks the designers have included in its features PU soft wheels and a durometer thickness of 80A. This durometer and padded wheels give you better support on the ground.
Another mind-blowing feature of this WHOME longboard is that its' steel is coined from high-precision chrome. This steelworks along sides the ABEC of 9 bearings.
Attached to the deck, is the grip tape that gives your feet firmer support. In the real sense, this grip tape provides maximum traction to your feet.
The unique design and beauty of this board would no doubt, make you the spotlight whenever you use it.
With these features, you must agree with me, that this WHOME longboard is the best cheap longboard you can get.
Key Features
Aluminum alloy truck
198lbs weight capacity
Elevated rebound PU bushing
Awesome turning ability
Increased control at high speed
Versatility
Less than 200lbs weight capacity
Quest Rorshack Bamboo Longboard

Experience the perfect blend of artistry and performance with the Quest Rorshack Bamboo Longboard. This beautifully crafted longboard is not only a work of art but also delivers a smooth and enjoyable ride. Whether you're cruising along the beach or carving through city streets, this bamboo longboard will turn heads and provide an exceptional riding experience.
Many people, because they dread wheel bites, oopt outtotally from riding skate or longboards. However, this Quest Rorshack longboard can bring you back into the game.
It is designed with special features that prevent wheel bites and keep you balanced while performing any style of your choice.
The deck is built with high-quality multi-ply hardwood maple bamboo and measures 34 inches in length.
Furthermore, this longboard is accompanied by tough aluminum trucks, these trucks measure 6 inches and are supported by strong 65mm PU wheels. The bearings are good enough for an average speed as it comes with ABEC 7 bearings.
If you're looking for a longboard that is unique and different from every other one you see around, this Quest board is perfect for you! They make a large variety of designs and models with a special and professional touch.
For these multiple features and at this price, you would agree with me that this Quest longboard should top any inexpensive longboard review list.
So, what are you still waiting for? Place your order right away, get your head back in the game, and be sure that your safety is guaranteed with this Quest Rorshack longboard!
Key Features
Kicktail
100% polyurethane wheel material
All age compatibility (not less than 24 months)
Beginner friendly
Attractive design
Very cheap
Playshion Drop Through Longboard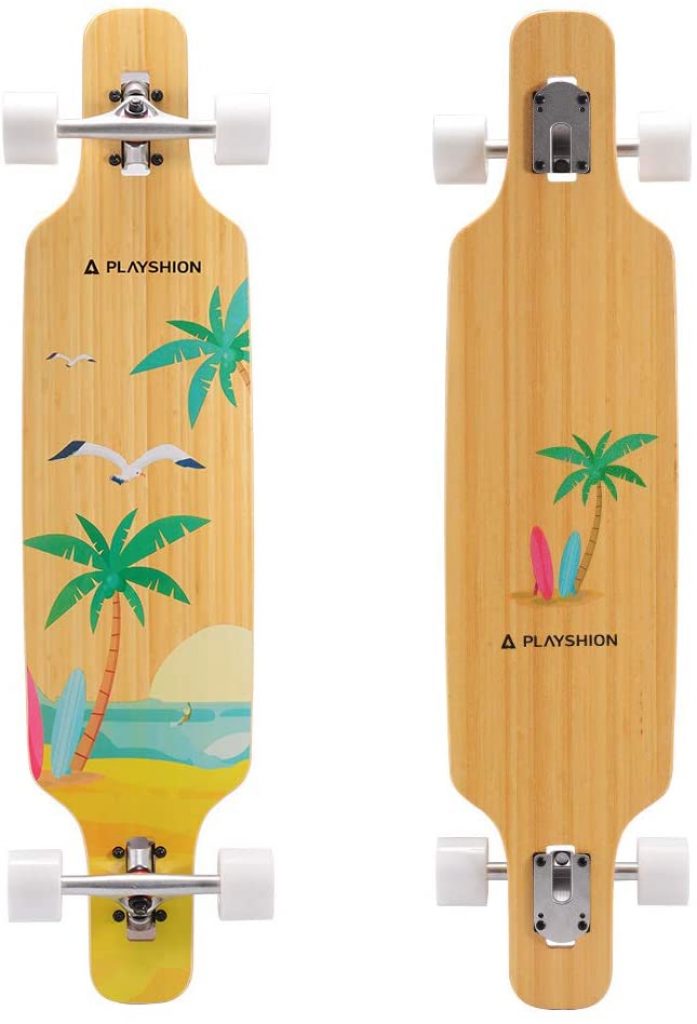 Experience smooth riding and effortless maneuverability with the Playshion Drop Through Longboard. Designed for riders who value comfort and control, this longboard offers an exceptional cruising and commuting experience. Whether you're gliding through city streets or enjoying a leisurely ride along the boardwalk, this drop-through longboard will enhance your riding pleasure.
The super-strong, yet, flexible 8 ply maple deck measures 39 inches in length and 9.1 inches in width.
The strong deck is supported by strong and durable wheels. These PU wheels are big, strong, and measure 70 X 50mm. Of course, like several others, the wheels work in combination with bearings. In this case, the board comes with ABEC- 9 bearing which is good enough for optimum speed and balance.
One reason this longboard is considered to be perfect for beginners is that it is designed with Drop thorough mounting technology. Simply put, it is made in such a way that it is low to the ground so as a beginner, you don't get freaked out and lose balance due to high heights alongside semi-self-controlled movement.
Because it is low to the ground, if you are learning all by yourself, it is easy for you to push and control at your own pace.
Another feature of this Playshion board is that it comes with a firm and durable truck. For this particular model, the truck is about 7 inches and made with genuine aluminum material.
All these features altogether, make it perfect for a starter in the riding game. Plus, with this board, you are going to learn faster even if you are learning on your own because it is easy to use.
Be it a child, an adult, or a beginner, you shouldn't let this boardslide!
Key Features
Polyurethane wheel material
Heavy duty deck
Concave deck design for feet comfort
Perfect for beginners
Weight capacity of 250lbs
Easy to push
Adjustable riding styles
Not suitable for many styles
Fish Downhill Longboard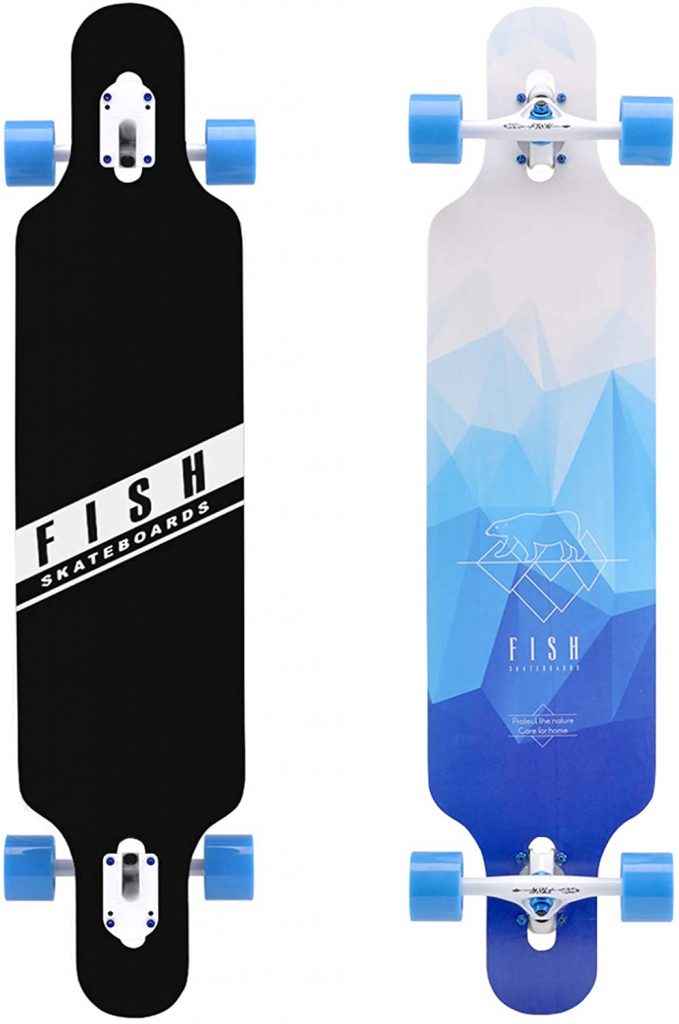 Experience the exhilaration of speed, the stability of control, and the thrill of downhill riding with the Fish Downhill Longboard. Designed for adrenaline seekers and downhill enthusiasts, this longboard offers an exceptional riding experience for those who crave high-speed descents and precision maneuvering. Whether you're racing down winding mountain roads or tackling steep slopes, this downhill longboard will take your riding to the next level.
The total size is 41 inches X 9 inches (L/W). The deck is made with premium Canadian maple wood with a non-slip emery surface. The essence of this emery surface is to provide you with a firm and strong grip while skating.
Anchoring the deck beneath is the excellently smooth PU shock-absorbing wheels. The wheels measure 70 X 51 mm and have a durometer hardness of 82A. It would be impossible to talk about the wheels without mentioning the steel embedded in them. The wheel of this Fish longboard works with super cozy and smooth ABEC- 9 degrees' chrome steel plus SHR95A soft bushings.
Though this longboard comes already assembled from the manufacturer, it still comes with the All-in-One Skate T-Tool and every other thing you would need to fix it or to make adjustments to the longboard.
Despite the ridiculously cheap price, it is made of a high-quality 7 inches aluminum alloy truck and steel axle.
In all, all the properties of this board are designed to give you a smooth and unsurpassed experience while skating. Thanks to these features, the board is sturdy and durable.
There are several colors of this longboard but this particular model is finished in white bear color!
Key Features
Special shape for improved balance
Reactive truck
Heavy duty deck
Abrasive grip tape
Supports basic stunts
Weight capacity of 330lbs
Cheap longboard
Aesthetic design
Read Our Reviews:
Riding style
You, already know that there are several styles of riding, for example, cruising, freeride, downhill, and lots more. For a beginner, I recommend you settle for one that has just cruised and has some other beginner basic features. On the other hand, a professional cannot explore their styles with that kind of board. So, depending on your skill, you determine which to go for.
The shape of the deck
Generally, longboards fall into two shape categories. It is either symmetrical or directional. What does that even mean?
The directional longboard only goes in the forward direction, usually carves, downhill and curves fall into this category however, there might be exceptions.
The symmetrical or twin category feels and looks the same way irrespective of the direction it is facing. If is more preferable for freestyles and free rides.
Length
When referring to the length, the major factor to consider is stability.
Longer boards would provide you with firmer stability but may not be able to turn as swiftly as you wish. Whereas, the shorter longboards on the other hand can perform very swift turns. It doesn't necessarily mean they aren't stable, but in comparison to the longer ones, their stability isn't as good.
Bearings
Many times in the review, I mentioned bearing. The significance of the bearing is in the speed of the longboard. Bearings are also the brain behind spinning and are rated by the ABEC standard. The higher the ABEC rating, the faster the spinning of the wheel.
A longboard with ABEC 3 bearings is good for cruising, 5 bearings is good for freeride and anything above 5 bearings is perfect for downhill and maximum-speed racing.
Budget
Though there are several expensive and good longboards to choose from, even with a low budget you could get the best inexpensive longboards that would have if not the same but close features as the more expensive counterparts.
Conclusion
In all, there are well better and best longboards for beginners. However, in this article, I have reviewed with you the best cheap longboards available to you. I strongly recommend that you save yourself some extra dollars and get one of the best cheap longboards from this review. 
Related Links:
 1. https://en.wikipedia.org/wiki/Longboard_(skateboard)
2. https://en.wikipedia.org/wiki/Longboarding/ Wikipedia
3. https://en.wikipedia.org/wiki/Longboard
4. https://en.wiktionary.org/wiki/longboard
5. https://www.wikihow.com/Longboard-Skateboard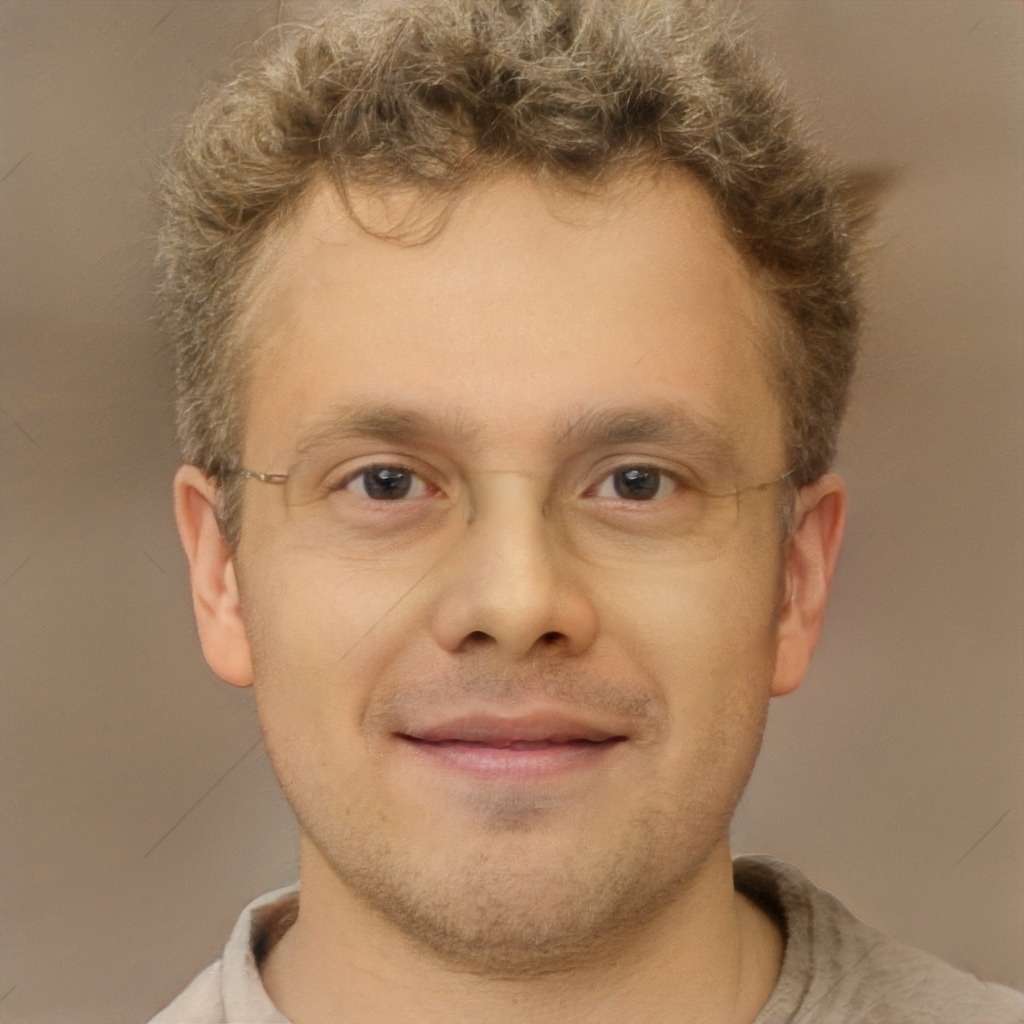 I'm the founder of HoverboardsGuide.com, a comprehensive website dedicated to electric scooters and hoverboards. With a deep-rooted passion for electric gadgets, I've accumulated extensive experience in this field. I aim to assist users in selecting the best gadgets and providing reliable guidance.
I've tested and reviewed numerous models, gaining in-depth knowledge about their features, performance, and overall quality. Feel free to reach out to me with any queries, as I'm dedicated to addressing your concerns promptly. Join me on this exciting journey of exploring the world of electric rides and making informed decisions