The Falcon Pev ZERO 10X is a high-caliber electric scooter perfect for advanced riders who care only about long-range, high speed, solid construction, and smooth ride. This scooter is not the usual electric scooter as the keywords to describe this scooter include range and power. So if you're interested in getting this scooter, the weight and price tag won't come across as a challenge.
This scooter is an on- and off-road beast because of the features that come along. The Zero 10Xs come in three different types and for any of them, you are given a fair price because this scooter will surely satisfy your needs. This review covers every aspect of this scooter, from its features to its maintenance.
The Hurtle Scooter is a versatile and adjustable transportation device, designed for teenagers and adults. It features a 2-wheel design, an adjustable T-bar handlebar, and a folding alloy anti-slip deck, making it a convenient and safe way to get around town.
What is a Falcon Pev ZERO 10X Electric Scooter?
A Falcon Pev ZERO 10X electric scooter is a high performing scooter made with a quality body frame. This scooter is known for its Cadillac Plush suspension, extra-large deck, and dual 1000-watt motor, enabling all variants of this scooter to hit a top-notch speed of 56 kmh. As of 2020, Titan and Unicool have three variations of the Zero 10Xand they're identified by their battery capacity.
The newer models of this scooter come with upgraded features which include fully hydraulic disc brakes and a welded stem to reduce the creaks and wobbles experienced while riding this scooter. The manufacturers of this scooter ensured that it had the aesthetics to match its top speed and exceptional range so if this is your choice of a scooter, know you're getting good value for your money.
The Falcon Pev ZERO 10X electric scooter features many different parts that enable this scooter to function properly. Weighing a whooping 36kgs, the ZERO 10X is not just something you can carry around or take up a flight of stairs as it's quite heavy. However, you can still fold the stems of this scooter if need be but they only reduce the profile of the scooter and don't make them smaller in general. The ZERO 10X is not very portable due to its weight and also due to the lack of a locking stem. The Zero 10X scooter is quite big even when folded it's still big. When you fold this scooter you cannot lift it by stem because of the lack of a locking stem. You have to lift the Zero 10X scooter by the base to enable you to get a full grip on the scooter.
The Zero 10X comes with a rugged stem clamp which you can distinguish through its bronze levers. This stem clamp holds the stem together in place and helps achieve optimal clamping. This accessory helps eliminates any form of wobbling although it's not too perfect. The stem clap can be difficult to unfasten although it holds the stem rock solid. This accessory is offered as an optional accessory for $70. It's not a tool you don't want to have.
Folding Handlebars
The Zero 10X comes with fixed handlebars but to enable your scooter to get a smaller foldable footprint, change your fixed handle to foldable handlebars. These foldable handlebars are straight and not curved at the point where they join the stem.  This handlebar would not be perfect for racing due to its straight nature.
With other types of handlebars, their folding mechanism loosens while riding but with the clamp used this scooter's handlebar holds steadfastly to the scooter while riding. However, one part of the handlebar may feel a bit wiggly while riding.
You can make your scooter more portable if you dismantle the ignition and voltmeter on the handlebar because having them installed would make the handlebars not fit the scooter deck perfectly.
Cockpit
The Zero 10X cockpit was properly designed, and simple but highly technological. The handlebar of the 10X is curved like that of a motorbike so the rider has a perfect steering control of the scooter. The handlebar comes with upgraded grips which are now meatier and more ergonomic making it easy to hold during a ride. The grips are fastened tightly to ensure they don't rotate but provide magnificent support.
The Zero 10X comes with an LCD that shows all the statistics of the scooter which include mode, speed, battery status, and odometer. The rider can change the performance features of the scooter through its P-settings. You will find the throttle attached under the LCD and is operated by the index finger. This trigger type is perfect to improve the rider's performance but it's uncomfortable to hold for too long. To compensate for this the scooter has a plug-and-play cable to install a thumb throttle installed if you please. With this cabling, you can change other electronic devices if you want a better version. You can control the disc brakes with the hand levers. You will also find push buttons for turbo power and motor mode. There is an excellent key ignition that stops the scooter from coming on so you can park your scooter out of stores and supermarts but not too long.
Alarm
The Zero 10X comes with an electric vehicle alarm which you can get for $50 to set up the scooter with two remote control hobs and motion activate alarms. You will need to install the component by soldering so it's better to have it installed by a professional.
Lights
The 10X has rear and front lights mounted on the deck. There are reflectors also on the rear and front fender and along the deck sides.  The lights are mounted at low positions that are not perfect for visibility as they are not bright enough especially for night riding. You may have to install additional serious if you plan to use this scooter for night riding.
Tires
The 10X scooter comes with two monstrous 25.4cm by 8cm curvy inner tubes. These great tires make the ride comfortable alongside its suspension which balances the deck on the tires. The width of the tire contributes to the feeling of immense stability on the scooter especially when you accelerate and decelerate. The wheels have a split rim so you can take out a bad inner tube easily when changing tires.
These tires are the ideal tires for this scooter as they can absorb the pressure from the imperfections of the road. You will get the required confidence to take this scooter past its limits due to the supple rubber part of the tires that keep the scooter glued to the earth.
Deck
The size of this scooter favors the scooter owner in terms of space on the deck. This scooter has a 48.8 by 22.9 cm space which is quite large enough to place your two feet on. There is an integrated metal fin at the rear which is strong enough to allow the rider to stand giving them extra standing options.
Overall Build
The overall build is fantastic and quite solid. Almost every part of the scooter is metal and quite thick. The bolts, pivots, and swing arms are durable and oversized. The suspensions are incredible and the steering perfectly fits the handlebar. The motor is quiet even at top speed or full-throttle. The only negative to this scooter is its weight.  Its quality parts are made of heavy metal and steel making the scooter heavy also. You can upgrade a lot of these accessories to any taste of your choice.
 "Product Review of the Falcon Pev Zero 10X Electric Scooter The Falcon Pev Zero 10X Electric Scooter is a high caliber scooter that's perfect for modern-day riders with an eye for long-range, high speed, firm construction, and smooth ride. This scooter is not classified among your usual range of scooters. However, this scooter is highly rated due to its range and power so if you're comfortable riding something weighty and pricey, you've got yourself the perfect machine.
Speed and Range
This scooter is a high-range scooter operated by a 2X1000W motor. With this size of the motor, you can attain a top speed of 35mph which makes this scooter part of the quickest electric scooter in the industry. The Falcon Pev Zero 10X has two models; an 18Ah battery and a 24Ah LG battery model. These battery models offer different miles per hour and come at different prices.
The 18Ah version offers about 35mph on one charge which is about 10hrs of charging time while the 24Ah version offers about 55mph per charge which makes it among the best electric scooter on the market.  Considering the speed and range of this scooter, this scooter is not entry-level scooter so you should know you're getting good value for your money.
Quality body frame
Aside from the range and speed offered, the construction/body frame of this scooter is quite solid and highly unquestionable.  For such a large scooter, the large voluptuous tires are superior to any other tire. They give the rider comfort for a smooth ride and come with rear and front pneumatic suspension which gives riders the right balance. The scooter's construction is heavy, but this is quite understandable due to its motor power and well-built body frame, which can hold as much as 330lbs while moving perfectly.
The braking mechanism isn't complicated and very powerful. The disc brakes provide smooth stopping power to enable the rider to steer clear, especially in tight corners. The 24Ah version comes with efficient hydraulic brakes to enable the operation of this scooter.
Safety
Different factors come to play to ensure an enjoyable riding experience with the Zero 10X. One such factor is that the tires are 3" wide which helps with the balance greatly. With the kind of power the Zero 10X works with, it is bound to generate a lot of heat which is why the scooter is equipped with 2 25A SCs that come with two heat sinks. The use of these sinks is to disperse the heat generated from the machine while aiding the machine to give optimum performance.
To ensure the safety of the rider, the Falcon Pev ZERO 10x comes with lights that are mandatory in many states. This light will ensure the rider gets visibility, especially in low-light settings.
Features
Folding Handlebar

LCD throttle display

Key-Start Ignition

Trigger Throttle

Wide deck

Large pneumatic inner tube tires

18Ah/24Ah LG Battery

Disc brakes

Hydraulic brakes for 24Ah LG Battery

Heat Sinks

Front and rear LED lights

Dual Suspension

Front and rear spring shock

Immobilizer Alarm
Comes with top-level suspension
Highly durable piece of machine
Fantastic performance
Generous amount of deck space
The upgraded model comes with the quickest acceleration and highest top speed
Come with welded stem to reduce wobbling
Fantastic price feature
Improved build and ride quality
Provides an amazing riding experience
This machine is very much heavy and not portable to move around
The stem has no lock
This piece of machine does not come cheap
Who should buy the Falcon Pev Zero 10X?
The Zero 10X scooter is for everyone seeking some thrill or looking for a top-speed scooter to enjoy.
This scooter is specifically made for every rider looking to take their riding to the next level. This electric scooter was designed for those riders looking to buy a high-performance scooter that can travel far and attain incredible speed limits on a one-time charge.
If you're the type to care about the type of features and parts your scooter comes with or you don't mind paying some little extra box to acquire the ultimate luxury, then you should choose the Falcon Pev Zero 10X electric scooter.  If you're not satisfied with the specs of this scooter, you can check for the reviews of other scooters.
This buyer's guide points out the factors you should observe when buying the Falcon Pev Zero 10X scooter. You will learn about features to consider when you want to purchase this scooter and other tools that will help with your buying request.
Price
One of the things to consider before buying an electric scooter is the price range. There are different price ranges for this electric scooter as you can find an easily run scooter for less than $500 and more sophisticated options for $2000. However, one thing you should note is that the electric scooter falls under different categories and those categories determine their price range. So be on the lookout for the features of the scooter before considering the price so you are sure of what you want to buy.
Range
Asides from the price range, the range of the scooter are also important. The range has to do with the distance a scooter can cover before the battery becomes low. The content of any scooter you choose would depend on different factors including weather, motor power, average speed, scooter weight, and mode.
However, you have to understand that most producers do not write the details of the scooter accurately especially the range so for things like this, you divide whatever is advertised by two to get the natural range. According to the result of a 2018 survey, most producers overestimate their range claims by 30%.
Note that the scooter range reduces just as the battery capacity over time use. So when you use this scooter for a long time, the range reduces as the capacity of its battery storage reduces. As a pro tip, you should know that you can buy an extra charger when buying some electric scooters because they come with dual charging ports allowing the user to charge the scooter from two different sources thereby cutting the scooter charge time into two.
Weight
You should also consider the scooter's weight if you want to carry your scooter around.  Lots of scooters with reasonable ranges weigh above 11kgs and any scooter that weighs above 14kgs will be difficult to carry. At this point, you need to have a shoulder strap or handle to help bear the weight of the scooter.
Some scooters come with a folding configuration or extra wheels that allow the scooter to be rolled. However, remember that the scooter will still have to be carried up the stairs or lifted into a vehicle so you have to be wary of the weight of your scooter. To consider the weight of your scooter depends on the type and function of the scooter you need.
Top Speed
The top speed is not considered a huge factor for most commuters as far as the scooter can reach 24km/h. However, it is important to note that if the scooter can reach 24km/h then it is perfect for the rider as riding between 24km/h to 29km/h can be considered as top speed. But if you need something faster, you can go for that scooter that can go as high as 81km/h and when riding these scooters, ensure to wear safety gear to prevent any unfortunate incidents.
Rider Weight
The weight limit of any scooter depends on the maximum rider weight and maximum load the scooter can support. So you should consider the weight limit of the scooter before making that purchase due to safety reasons. Bear in mind that if the scooter limit and your weight are the same, the scooter will be slow when riding and have less range compared to a lighter weight.
Motor Power
What type of motor does the scooter have? All adult electric scooters have hub motors which are brushless DC motors built into the hub of the scooter wheels.  The least electric scooter has one motor while the most powerful ones have dual motors. The way we rate electric motors is based on the rate of power consumption. Note that a more powerful scooter motor will have higher power consumption which is measured in watts.
Maintenance tips for Falcon Pev Zero 10X Electric Scooter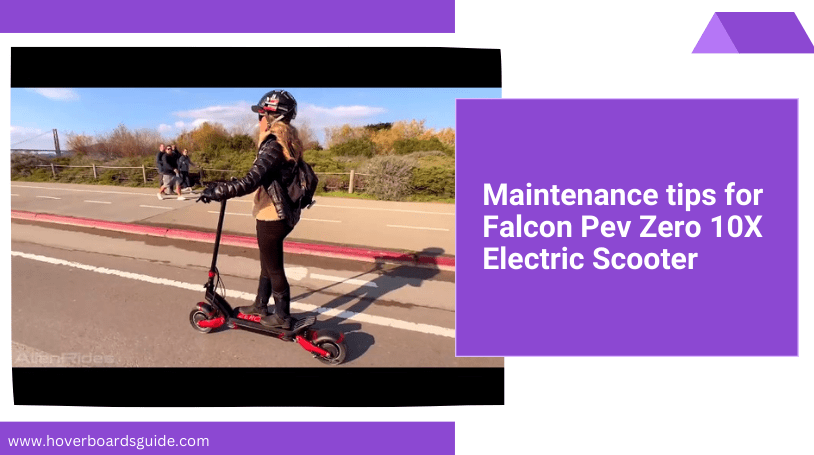 To keep your electric scooter active for a long time, you need to know how to maintain the scooter. We're going to show you the different ways of maintaining your scooter in this paragraph.
Charge your battery regularly
You have to remember to charge your scooter battery regularly for it to maintain its range before it starts depreciating.  Charging the scooter full will help extend the battery life making it easy for you not to worry about replacing your battery any time soon.
Keep the components clean
Take out time weekly to clean your scooter thoroughly. Clean the scooter with a clean, damp cloth to remove any grime or dust that has gathered over its parts. You can also wash the deck with lukewarm water and soap.  Ensure that your scooter is thoroughly clean and try not to get any of its electrical parts wet.
Check your scoter pressure before any ride
Always check the scooter pressure before you embark on any journey with the scooter. This would help you maintain proper speed without putting pressure on the motor. If your pressure is low before any trip, kindly gauge your tires. If the tires are solid rubber tubes or solid rubber wheels, check to see if they are damaged. Look out for cracks or tears that indicate that damage has occurred.
Read Our Reviews:
  FAQS
How do you clean your electric scooter?
Take a neat rag or sponge and wipe your scooter clean after every trip. You can start from the tires to the wheels and the deck. Ensure that as you're cleaning water doesn't touch any electrical component of the scooter.
Can you ride the scooter during the rainy seasons?
Even though the Zero 10X scooter comes with a well-insulated battery and motor, you're not expected to ride this scooter in the rainy season
Are three-wheel scooters better than two wheels?
Your choice of scooter depends on the kind of activity you need it for. However for an adult, a two-wheel scooter is preferable but for small kids, you may want them to start with a three-wheeler before they get used to riding a scooter.
Do you need a license for an electric scooter?
No, you do not need a license to ride an electric scooter. You can ride your scooter freely anywhere except on major roads
 Conclusion
The Falcon Pev Zero 10X Electric Scooter provides riders with an amazing riding experience. With its powerful motor and solid body build, you should be able to ride around at full speed. The self-balancing scooter offers riders all options so if you're looking to invest in any ultimate commuter scooter, the Falcon Pev Zero 10X Electric scooter should be what you go after.
 Related Links: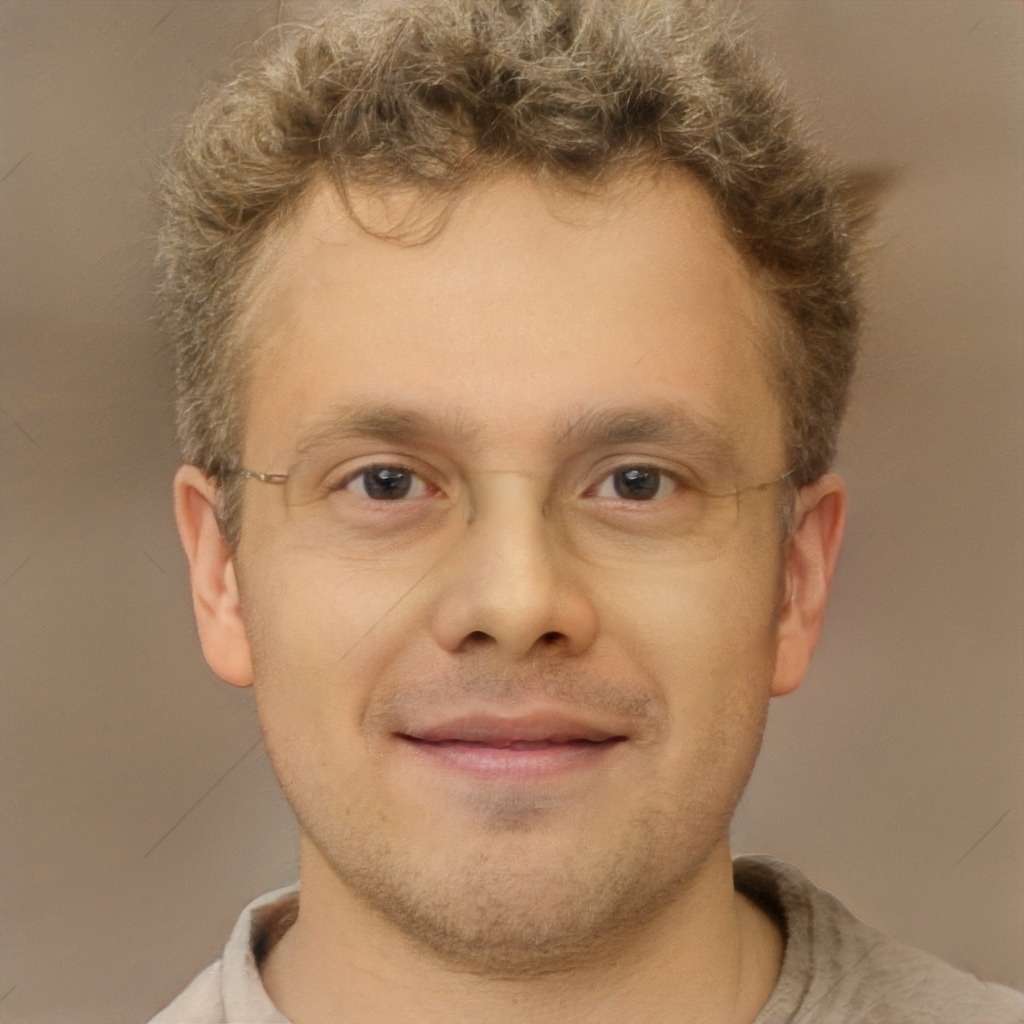 I'm the founder of HoverboardsGuide.com, a comprehensive website dedicated to electric scooters and hoverboards. With a deep-rooted passion for electric gadgets, I've accumulated extensive experience in this field. I aim to assist users in selecting the best gadgets and providing reliable guidance.
I've tested and reviewed numerous models, gaining in-depth knowledge about their features, performance, and overall quality. Feel free to reach out to me with any queries, as I'm dedicated to addressing your concerns promptly. Join me on this exciting journey of exploring the world of electric rides and making informed decisions