Subway Surfers is a game that has a never-ending track. A large number of the characters are part of this game. Jake is the character who starts the game and is chased by an inspector or his dog. This game is upgraded and on every new level, there are rewards of mystery boxes for the players with a large number of coins. The coins of the Mystery boxes provide the players with new outfits and also aid them to purchase new hoverboards with different and unique features.
Hoverboard in Subway Surfers: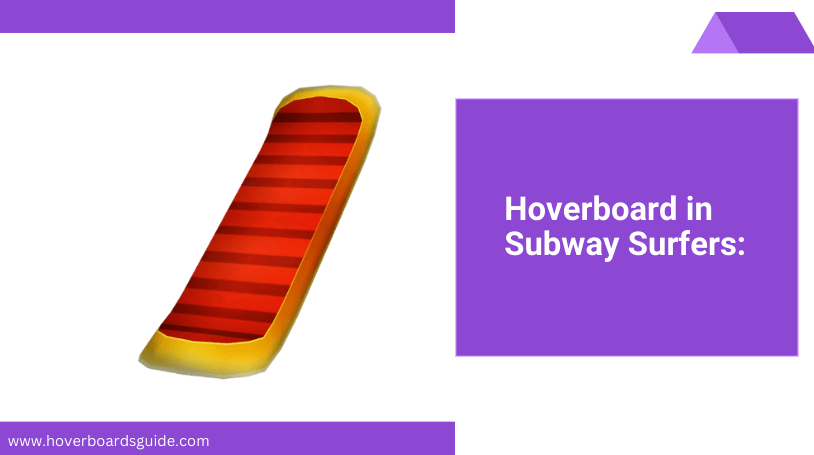 A hoverboard is a device in the Subway Surfers that helps the player to protect himself from being crushed by the obstacles in his way for half a minute. After being crashed, the hoverboard will blast. A hoverboard can be obtained by double pressing the screen by the player. The hoverboard costs nothing. It doesn't need any coins to purchase it. It can simply be obtained by tapping two times on the screen.
The gamer always has a hoverboard. These hoverboards are deactivated till the gamer activates them by double-tapping the screen.  It is the cheapest item the player always has. Its price ranges from 0 to 300 coins so riders should always have a blind box filled with coins as these hoverboards protect them from collapse and make the game continue. The hoverboard can be used again after crushing but it will take 5 seconds to recover again.
The hoverboard will be battered after striking any obstacle. The area will be cleaned by itself after that accident. Large numbers of hoverboards have been upgraded since the game was developed in 2012. With each edition of the game, hoverboards were developed with a number of unique qualities and properties.
Types of hoverboards in Subway Surfers
There are a large number of hoverboards available in Subway Surfers. Different hoverboards have different features. Some hoverboards are limited. Each has its own specific properties. A new hoverboard is added into the game on new additions in the game except for a SEATTLE  update.
The specialty of every hoverboard in Subway surfers:
There are different kinds of hoverboards that come with the new updates of subway surfers. All hoverboards have their own special abilities.
USES
The top hoverboards of subway surfers can be used as:
Bouncer hoverboard
"Super jump" is a very essential ability provided by a bouncer hoverboard. These hoverboards allow the players to make use of super sneakers, and powerups and allow the player to experience the game in a more comfortable zone. It casts 280,000 coins. It is green in color.
Teleporter
It is a special hoverboard that has the ability to zap sideways. Due to this ability, while changing lanes, the player will be able to teleport pleasantly and without teetering while facing any obstacle. It is considered a cosmetic change. It first appeared in the Paris 2014 edition. It is circular in appearance and has a blue-black color on its board. The player needs 220,000 coins to get this hoverboard.
It is the hoverboard launched in 2012 during the new edition of the game named Subway Surfers – Holiday. As its name suggests it remains low and it also provides safety to the players from being crushed by an obstacle for half a minute and then it takes time to get back into its cool form after crashing. It has the potential to cross large-sized barriers. It is the second highest expensive hoverboard of all. It needs 320,000 coins to purchase this hoverboard. Its design is different from other boards as it has two handles. One on the left and another on the right side. These handles help the player to stay balanced on the board. Its color is red.
This hoverboard protects the player from crashing for 30 seconds. It increases the speed of the player. It has the shape of a daredevil rocket. The player collects 85000 coins to get this board. Like other hoverboards, it also requires a few seconds to recharge.
Wind glider
This is the most expensive hoverboard of all Subway surfers. It costs 360,000 coins to buy it. It was introduced in the Tokyo edition in 2014. This hoverboard provides the characteristic of smooth drift. This thing helps the hoverboard to move politely through the air and glide evenly while jumping or moving through mid-air. It looks like an airplane. It has wings. These wings get open when players move down after jumping and this jump gets higher by wearing super sneakers and allowing the rider to jump over through trains.
Board upgrades
The most powerful feature bestowed on the boards is to upgrade them. Star Trail is the only board that does not upgrade. For upgrading, they need different numbers of keys. These upgrades were added to the game during the re-release of the Beijing edition. These boards have always been upgraded over time.
Types of upgrades in Subway Surfers:
After upgrading, they get many new qualities. High jumps called super jump, double jump, zap sideways, stay low and speedup are the following properties added to the boards after upgrading. Now even a hoverboard with low features has some specificity. The few hoverboards which get upgraded are:
Freestyle
Skull fire
Monster
Starboard
Great white
Scoot
Lumberjack
Superhero
Orni
Turtle
Phantom etc.
These hoverboards need a different number of keys to get their ability to increase the speed of the board.
Best upgraded board in Subway surfers:
Monster hoverboards are also like other hoverboards, protect the rider from crashing for 30 seconds, then burst themselves up. After that, they can recharge again in almost 5 seconds. It has been upgraded two times. First, it was upgraded during the Bangkok edition and it was upgraded during the Las Vegas edition of the game. In the Bangkok edition, it gained a new upgrade called speedup which required 50 keys to buy it. Second, it was upgraded during the Las Vegas edition, and it purchased a new upgrade of the Super jump of 55 keys. Its color is green and two eye-like structures are formed on its top. Its mouth is on the lower side of the hoverboard.
Read Other Posts: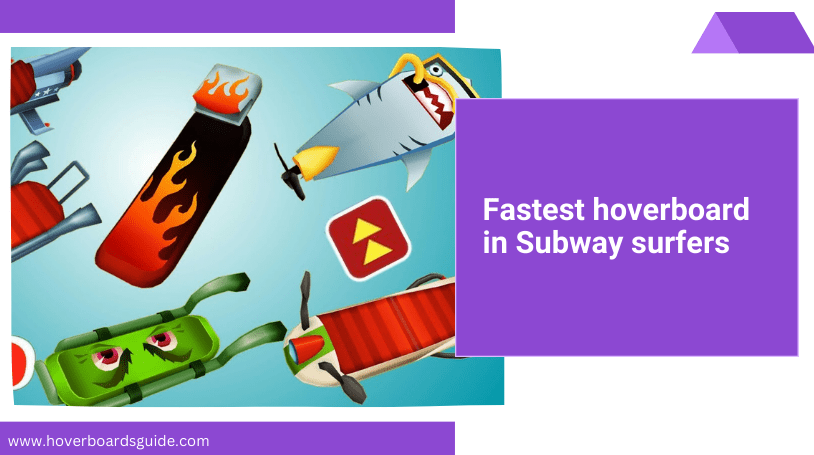 Skull Fire Hoverboard was discovered during the New York edition of the game in 2013. It is the fastest hoverboard for Subway surfers among all hoverboards. It costs 75000 coins. But all things cannot be bought with the help of coins. This hoverboard has two features. One is speedup and another is to double jump. These can only be bought with the help of keys. The front part of this hoverboard shows a picture of the fire bursting out of it with a black background.
Double jump hoverboard:
This hoverboard has been upgraded. When the player is on the double jump hoverboard and activates it, he will be able to have a second jump in the middle of the first jump to avoid any collision. On every mystery Monday, this gift is awarded to the player from Super Mysteries.
Super speed and speed up are the two upgrades of the hoverboards. The speed of the Super speed is slightly more than Speed Up. It also helps the rider to see the field in its full view. When the rider rides on the Superspeed or Speed up, he must be fully equipped and always ready to move at a higher pace.
Conclusion:
In conclusion, Subway Surfers is a never-ending game that offers a lot of excitement and challenges to players. Hoverboards are an essential part of the game that protects players from obstacles and boosts their gameplay. There are various types of hoverboards available with unique abilities, and players can also upgrade them to enhance their properties. As the game progresses, new hoverboards and upgrades are added, providing players with a more exciting gaming experience. So, if you are looking for an endless running game that is fun and challenging, Subway Surfers is the perfect game for you.
Related Links:
1[.https://subwaysurf.fandom.com/wiki/Hoverboard]
2[.https://subwaysurf.fandom.com/wiki/Category:Hoverboards]
3[ https://en.wikipedia.org/wiki/Subway_Surfers]
4.[https://www.youtube.com/watch?v=-CdrCMlPn6Y/]
5[.http://www.148apps.com/reviews/subway-surfers-review/]
6.[https://www.youtube.com/playlist?list=PLMJCbUcidpbqoaR6VGgynUMWdMeuvpfkG]
8[.https://en.wikipedia.org/wiki/Hoverboard]
9.[https://en.wiktionary.org/wiki/hoverboard/wiktionary]
10.[https://www.youtube.com/watch?v=logaC-o-1hI]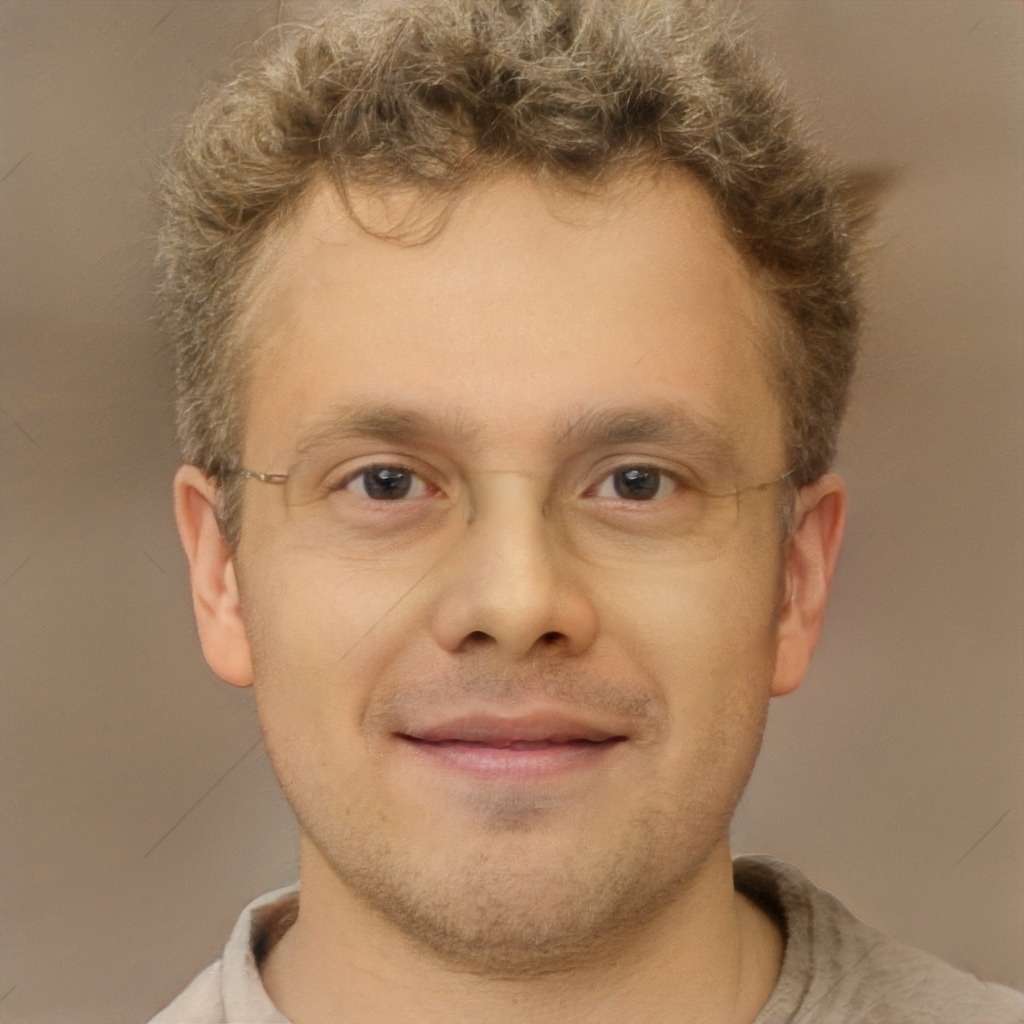 I'm the founder of HoverboardsGuide.com, a comprehensive website dedicated to electric scooters and hoverboards. With a deep-rooted passion for electric gadgets, I've accumulated extensive experience in this field. I aim to assist users in selecting the best gadgets and providing reliable guidance.
I've tested and reviewed numerous models, gaining in-depth knowledge about their features, performance, and overall quality. Feel free to reach out to me with any queries, as I'm dedicated to addressing your concerns promptly. Join me on this exciting journey of exploring the world of electric rides and making informed decisions