Like Zero 8, the Zero 8x comes with a sturdy high-quality body frame that makes this scooter quite powerful. The scooter features some of the best braking and low-end acceleration performance you'll ever see in a scooter.  This scooter is perfect for an around-the-city movement that doesn't exceed 40 Kmh and for evening walks to the park.
The performance band for this scooter is quite high but it is perfect for people planning not to ride above 40 km. This electric scooter provides riders with the effect of riding a fast car with its flat airless tires and dual spring suspension. You will feel comfortable riding this scooter even at a high speed but be wary of bad roads because it doesn't do so well around the imperfections of the roads.
What is Zero 8X Electric Scooter?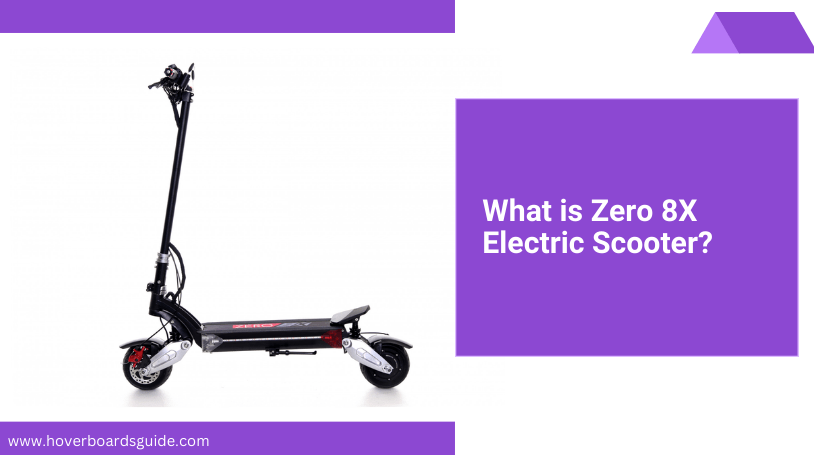 Zero 8X electric scooters are an entertaining version of the Zero 10X. This scooter is 44 inches long but it's only 5 centimeters longer than a standard 12kg scooter. Overall this scooter offers riders great value for their money in a performance notable among the fastest Dualtron model.
If you need a durable, fast, low-maintenance scooter that has insane speed and offers top-notch performance, then you should check out this scooter. This scooter is also perfect for those riders who want more top-end performance from their machine and also want to set a land record speed.
Parts of a Zero 8X Electric Scooter
The Zero 8X is a bit lighter and shorter than the latest Zero scooter version but still weighs about 32 kg. Even with its weight, you can fold this scooter compactly for easy storage but you can't carry around something that heavy.  The scooter comes with a folding handlebar and folding stem to enhance its portability.
The stems of the Zero 8X scooter fold perfectly however there's no lock to fasten the stem.  To lock the stems, you need to shuffle between tightening one clamp and then loosening and re-tightening the other clamp. The Zero 8X also features a double clamp collar found in all Zero X scooters.
The collar design of this ride is amazing and meets the rider's wishes but it's not that perfect. Nevertheless, we're going to look at other parts of the Zero 8X electric scooter machines. Take note of these parts when you want to purchase the Zero 8X electric scooter.
Cockpit
The handlebar of this scooter serves as a multipurpose tool because of the numerous functions it has to perform. On the handlebars are many features that will enhance the operation of the scooter such as the keyed switch located on the left-hand side. This keyed switch is responsible for power control, and organizing the LED readout showing the battery percentage after charging. At the right-hand side of the handlebar is a standard zero accelerator/display that controls the power modes and the scooter's motor.
There is a colorful display screen that indicates the batter, odometer, speed, and mode of operation. You can also tune the scooter by adjusting the p-settings. You'll still be able to see the display board freely under sunlight except for the battery which is why you need to keep your ride steadily charged.
The scooter comes with a trigger-style throttle that comes attached to the LCD. This throttle may not be ideal for many because you have to hold it for a long time. However, this is the modern throttle style because it is the genuine yardstick for higher-performance scooters. But you can get a modified thumb version of this throttle from Rev Rides and install it on your scooter ready to use.
Users can control the motor and power mode of this scooter using the two buttons under the LCD. There is a Turbo button that increases the scooter speed but maintains the same acceleration while the Single/Double button manages the dual electric motors used during the ride.
Handlebar
The Zero 8X comes with foldable handlebars and a foldable stem to make it stable and portable. This foldable handlebar and stem make this scooter compact in size and shrink the scooter to a smaller shape of 112cm by 36cm by 46cm.
Although the stems fold, it has no lock so you can't carry this scooter in one hand. Even the weight would make it quite hard to carry. The foldable handlebar uses a single screw mechanism to hold firm while adjusting the handle. When you secure the mechanism firmly the hinge becomes strong and holds firm.
Lights
The Zero 8X comes with front and rear lights placed at low positions on the deck. The performance of this light overall is not too good as they're not bright enough. They only light up the ground on which the scooter stands and don't shine bright enough to point a far away distance.
If you're the type that loves night riding, you should get additional lighting to help project a clear view of your surroundings.
Tires
The Zero 8X has two 20.3 CM by 8.9 CM airless tires which are solid. The solidness of its tires has somewhat reduced ride quality as it concerns enjoying the road or smaller bumps. These should not disturb the scooter in any way.
Do not ever try riding these tires or any other airless tires on a wet or slippery surface as they have no grip and do not hold firm across this type of surface.
Deck
The deck of the Zero 8X is quite wide and has a standing space of 50.9cm by 18cm. On the deck are a beautifully designed Zero 8X logo and awesome LED lights. The configuration of the suspension allows the deck about six inches from the ground so you don't have to get entangled with obstacles when riding.
Read Our Reviews:
The Hover-1 Alpha electric scooter is a safe and versatile option for kids, teens, and adults, with a max weight capacity of 264 lbs. It has a top speed of 18MPH, a range of 12 miles, and features 10-inch high-grip tires, a 5-hour charging time, and an LCD.
Key Features
The Zero 8X is a highly-rated electric scooter that offers value for money. This scooter model can be compared to the fastest Dualtron models in the market. If you want something quick that requires low maintenance, is durable, and still has the o offers top-notch performance, this is the scooter.
The Zero 8X has dual 800-watt nominal, 2300-watt power electric motors. Such a powerful motor gets controlled by one of the best airless tires. This scooter can hit an incredible 24 km in 2.1 secs, can you imagine how fast that is?
This scooter maintains a steady increase in acceleration until it gets to 32 km before it starts reducing however it still hits 48 km in under 7.8 secs. The Zero 8X was put through a hill-climbing test and it climbed a 60 m hill in 9.4 secs at an average of 23.2 km.
The Zero 8x electric scooter is powered by a 936-watt hour sync power lithium-ion battery. With this high-powered battery, the Zero 8X scooter has a range of 72km in a single motor while it can hit close to 35 km in a double motor. However, the range should increase more than suggested in a single-motor mode if the rider is less aggressive.
The braking power of this scooter is highly efficient and matches the scooter's acceleration prowess. The braking system can hit zero from 24 km in just 3.3m especially if the disc brakes are dialed in. With such stopping power, the only scooter to beat that performance is the Apollo Pro which comes with hydraulic disc brakes.
Such mighty stopping power is handled by the rear and front disc brakes and the electronic motor brakes. To power up the braking system, the rider has to squeeze down hard on the hand-operated brake levers on the handlebar. You can adjust the strength of the braking system from the LCD.  You can also try adjusting the braking cables as this tightens any slack in the brake cable and makes the brake disc more active.
Overall you're going to enjoy the ride quality because the suspension of the scooter can soak up large potholes but you would feel the effects of smaller bumps due to the tires. The scooter suspension is designed to keep the scooter stable while on the move. The Zero 8X has the best type of suspension ever installed on a scooter. It is stiff but reacts quickly to soak up bumps.
Key Features of the Zero 8X Electric Scooter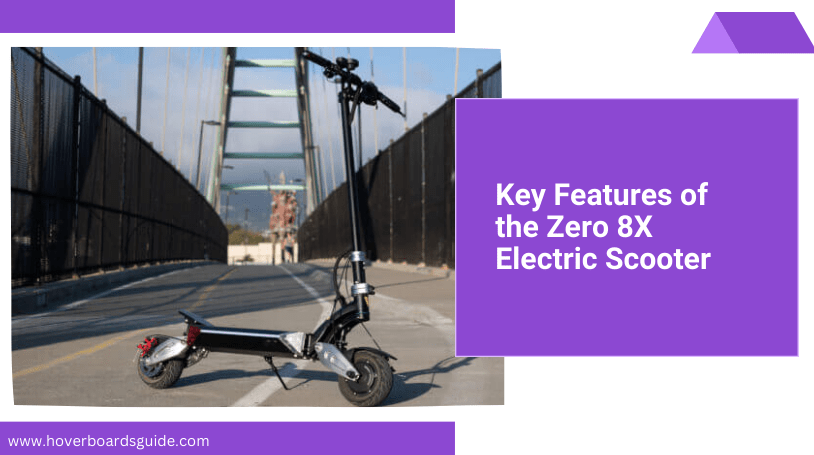 Single/Dual electric motor
Syncpower Lithium-ion battery
Standard disc brake
LCD
Two airless tires
Dual spring suspension
Foldable stems and handlebars
Keyed switch
Zero display/accelerator
Colorful LCD
Trigger style throttle
Rear and Front lights
pros
Cons

Decent pace for scooters with its price range
Can ride with a battery of 20% and lower
Can handle inclination of up to 10%
The scooter is portable when folded
Comes with a digital LCD that can show information on the state of the scooter

The acceleration is not too fantastic
Battery charges fully in 8hrs
Weighs as much as 40pounds
Weather can impact a rider's ability
Lacks enough waterproofing
Has only one rear drum brake
Lacks quality lighting
Buyer's Guide for the Zero 8X Electric Scooter
As a lover of electric scooters, you may want to check out the Zero 8X but before you do here are certain factors that should influence your buying decision.
The heavier the scooter, the higher the chance of advanced features. Like a scooter, less than 12kg will come with few features due to its weight. However a scooter of 25kg and above will have more features and a better range. In this industry, its weight versus features trade-off but the final say is usually down to the user.
What type of motor powers your electric scooter and what range does the motor carry a person before the batteries die flat? These are just a few questions you should have answered. As you know electric motors are powered by internal brushless motors housed inside the wheel. So the power and size of the motor will depend on the acceleration time, the weight of the rider and incline, and the terrain. Therefore, you have to go for electric scooters of 300 watts and above to avoid struggling with inclination.
The type of tires and suspension used are key determinants of a scooter's rider's comfort. What types of tires does the scooter have? How many suspensions does the scooter come with? Can it travel on rough surfaces? These are the questions you should ask. However, an electric scooter with no suspension and hard tires will be difficult to ride on rough surfaces.
All electric scooters are powered by lithium-ion batteries but you should be on the lookout for battery brand, voltage, and size. The best batteries are LG batteries due to their number of charges and reliability. Followed by the Chinese battery that maintains a similar battery capacity before Lithium.
The electric scooter comes with two types of brake, the drum brake, and the disc brake both of which can be single or double. If you want to get the best brake you should go for the disc brake as they don't require much maintenance. While drum brakes come in a drum that rotates along with the wheel. This drum brake is not ideal because it can be affected by constant and heavy braking. Whereas disc brakes are external brakes and can handle rigorous braking conditions more than drum brakes.
Maintenance Tips for Zero 8X Electric Scooter
If you want your Zero 8X Electric scooter to operate smoothly and run for years, you need to pay attention to and take care of the scooter. Here are a few tips to maintain the Zero 8X scooter
Your scooter's battery should be fully charged before you go for a ride. This system would aid the battery in lasting longer. By charging the battery after every ride, the battery's lifespan can last long.
The best way to prevent any damage from occurring on your scooter is to prevent such damage by storing it safely. So store it in a safe place that's not in direct contact with sunlight or where the temperature won't fluctuate. Bring it inside your house after every ride to save it from corrosion or wear and tear.
Always check your tire pressure before taking out the scooter. If the tires are properly inflated, you will enjoy your ride at maximum speed. Use a tire gauge to check the pressure and also ensure they're damaged or crack-free. If you can always carry a patch lit in case you get a flat tire.
Check cables for wear and tear
You have to inspect the braking system of your scooter.  This braking system is held in place and operated by a series of cables. You should constantly check if these cables are in good condition and if the brake works properly. Also, inspect your throttle cable and housing while inspecting your brakes, If there are any damages on any of the cables, you need to replace them.
How long does the battery take to charge fully?
The battery charges fully in 8 hours therefore you have to charge the scooter overnight before taking it for another riding session.
What pressure should rest on the wheels?
None whatsoever as Zero 8 X scooters come with solid tires.
What does the package contain?
The Zero 8X electric scooter package contains the scooter, the scooter power bank, a mounting and dismounting tool, and a user manual.
Conclusion
The Zero 8X scooter is a solid tire scooter that has been tested and trusted among several scooters and it came out tops. This scooter is a great buy at the Zero 8X Scooter price and is worth the money. The solid tires make riding in this scooter frustration-free and there's no need to worry about having a flat tire. This is such a great ride but it has a few disadvantages that you may want to consider as well.
Related Links:
 1.https://en.wikipedia.org/wiki/Zero_X
2.https://en.wikipedia.org/wiki/Self-balancing_scooter
3.https://en.wikipedia.org/wiki/Turbo_button / by Wikipedia
4.https://en.wikipedia.org/wiki/Motorized_scooter#E-scooters/ By Wikipedia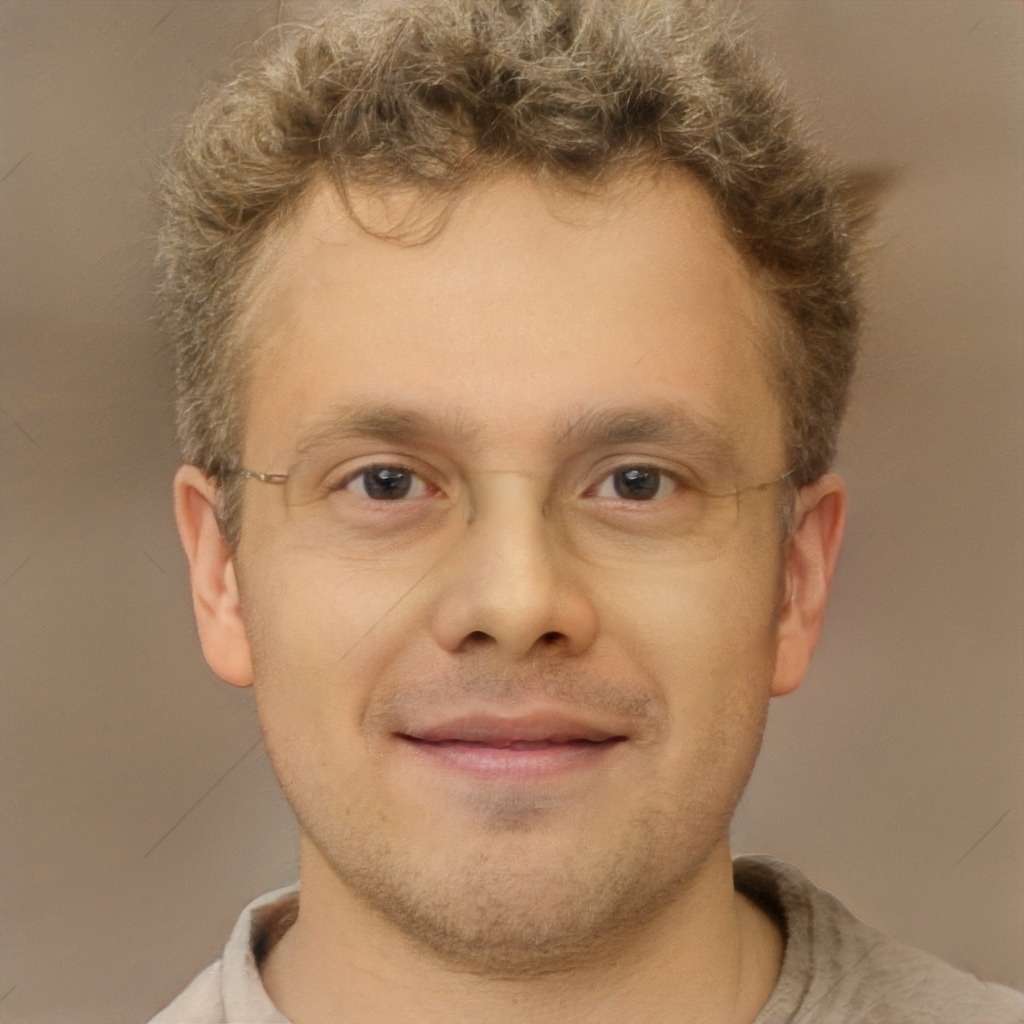 I'm the founder of HoverboardsGuide.com, a comprehensive website dedicated to electric scooters and hoverboards. With a deep-rooted passion for electric gadgets, I've accumulated extensive experience in this field. I aim to assist users in selecting the best gadgets and providing reliable guidance.
I've tested and reviewed numerous models, gaining in-depth knowledge about their features, performance, and overall quality. Feel free to reach out to me with any queries, as I'm dedicated to addressing your concerns promptly. Join me on this exciting journey of exploring the world of electric rides and making informed decisions