Millions of people across the globe are catching the electric scooter bug in recent times, with thousands being sold every month. In fact, it's becoming the go-to mode of transportation for many in major cities like Paris and Shanghai.
The attraction here is simple to understand: e-scooters represent an eco-friendly mode of transportation, which helps riders avoid the potential delays of driving.
These vehicles are also popular for their affordability, maneuverability, and ease of use, especially if you're lucky enough to buy a quality model.
Here, we're keeping to our promise of bringing to your electric scooters of the highest quality. We shall focus our attention on the trendsetting Zero 11X electric scooter by reviewing the product and giving you its pros and cons.
At the end, you'll be better informed about the product and its capabilities. Continue reading below for the full Zero 11X electric scooter review.
What is a Zero 11X electric scooter?
Simply put, Zero 11X is a new generation of the electric scooter from the Zero company which had given us 10X and 8X in the past.
Just like its earlier cousins, the Z11X is equally innovative in design and functionalities. But it also possesses some outstanding features that set it apart from other models in the same category.
For one, the model comes with two 1600-Watt motors which make it one of the most powerful e-scooters on sale. Besides, it can run at speeds of up to 100km/hr, which is remarkable for a scooter.
Let's now take a look at what the product has to offer, including its components, features, pros, and cons. We'll also provide a few maintenance tips to help keep your Zero 11X electric scooter in good condition.
Components of the Zero 11X electric scooter
Batteries
Batteries are the most essential components of an electric scooter. They store the chemical energy which is used by the motor and its accessories.
In the case of Z11X, it comes with two sets of durable batteries. They're Li-ion Samsung/LG brands of 72V/32Ah and 72V/26Ah cells.
This battery unit is very big and specially produced to power the massive motor inside the scooter. It's mounted below the slide plate and there are two charging ports that can be used at the same time.
Charging the batteries with the two ports simultaneously will reduce the charging time by half. Otherwise, it'll take about 20 hours to restore the batteries back to full capacity after use.
Under optimal conditions, the 72V/26Ah battery can deliver up to 80-110 km of ride time. In contrast, the 72V/32Ah battery lasts up to 160 km. So the batteries can actually give you a full week of riding fun if all you want is a daily commute to and from work or school.
Brakes
A good braking system is very crucial to staying safe while riding your electric scooter at anytime. Like those on bicycles and cars, brakes can slow scooters down and bring them to a quick stop.
The brakes on Zero 11X are specially designed in Taiwan for this purpose. There are two hydraulic brakes (160mm discs; front and rear) with cooling fins. These cooling fins are put in place to ventilate the wheels and prevent overheating.
At the same time, it has another electromagnetic brake unit which is rather attached to the handlebar. Both sets help reduce the braking distance significantly by bringing the vehicle to a sudden stop.
Controller
The speed controller of an e-scooter is an electronic unit in the vehicle that regulates the flow of current or charges to the motor from the battery.
The ability of the controller to transmit power to the scooter depends on the accelerator input. As a result, controllers are rated as powerful or less powerful based on the amount of voltage/current they're able to regulate.
In essence, the more powerful the motor of a scooter is, the higher its controller will be in ratings. For this reason, Zero 11X, with its dual 1600-watt motors, is rated higher than any electric scooter in the Zero series and even in comparison with other similar models.
Deck
The deck of a scooter is the platform on which you stand while riding. It supports your weight and provides balance on top of the vehicle.
The good news here is that Zero 11X has a much more wider deck (620mm by 270mm) than the average e-scooter to ensure greater stability.
Motor
Electric scooters have hub motors built into the wheels that convert chemical energy to electrical energy for driving the machines.
Everyone of these scooters has at least a hub motor, while more powerful models have two. Motors on e-scooters are rated (in Watts) according to their power consumption.
In the case of Zero 11X, it features two monster 1600-Watt motors which are in a league of their own when it comes to effectiveness.
Tires
Tires of your electric scooter give you traction and enable you either to accelerate or brake as desired. Thus, they influence your ride quality, range, and braking performance.
Pneumatic tires are often preferred to airless tires due to their better ride quality and durability. They're robust, stiff and customizable for personal use. They also support speed and offer greater balance while riding.
Luckily, Zero 11X scooter has awesome 11-inch pneumatic tires that offer greater traction on the road. The solid tires provide much more reliable performance than what we see on the market and add to the overall appeal of the product.
Suspension
Like that on a bicycle, the suspension on an e-scooter helps dampen bumps on the road and enhance riding quality.
Zero 11X has a double spring suspension that fits well with its large, inflatable rubber tires. It features two suspensions on the front and rear tires fitted with mega-sized, 165mm hydraulic spring-type suspensions.
This combination of wide tires with sound shock absorbers offers you a relatively comfortable ride even in rough terrains.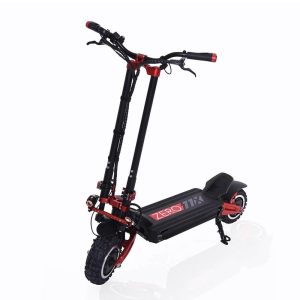 Zero 11X e-scooter is an upgraded version of the Zero electric scooter series known for powerful motors, durable batteries, and faster speeds. Thus, this model is a bit heavy and expensive. But the scooter's mind-blowing power features often justify the heavy price tag.
The toy is both imposing and gorgeous. It has a massive frame and huge wheels which make it seem like a military tank. In fact, it's a giant when compared to many other e-scooters on the market.
As stated earlier, Zero 11X possesses two sturdy motors which deliver 1600 watts of power each. This makes it an extreme e-scooter for extreme lovers of speed and fun. No other electric scooter comes close in the same category!
Also, the product is a bit classy, in terms of construction, with an aviation-grade aluminum alloy frame making it lightweight and attractive in design, yet durable.
The deck has a thick wall that has been reinforced with two sets of metallic rods along the sides. This deck looks strong enough to keep the battery inside safe from wear and tear.
Additionally, it's very easy to operate and comfortable to ride. The balance and buoyancy are maintained by its ergonomic handle and broad flat deck. The handlebar can also be easily adjusted to suit personal requirements.
In terms of design, Zero 11X is foldable which makes it easy to be transported in a big car's trunk. Similarly, almost all the parts are foldable including the steering wheel. This means that your scooter won't constitute many problems concerning portability despite its enormous dimensions.
Furthermore, the machine can support up to 265 lbs of load which makes it suitable for both young and old riders.
Another great thing about Zero 11X is its complete set of LED brake lights, headlights, and taillights. These components glow at night to light up your path even in the dark.
The headlights on the model are mounted at the bottom of the stem which allows you to see the front while riding. But this arrangement may not give you a broad range of visibility on the road. So, you may want to purchase additional headlights and fix them high up on the stem.
Luckily, there is a rail above the wheel where you can install additional lights, for both looks and functionality, if you so desire.
Key Features of Z

ero 11x Scooter
Front and rear LED displays
160 mm dual hydraulic brake system
Aviation-grade Aluminum frame
Double 1600-watt hub motors (5600 Watt, peak)
11-inch pneumatic tires
2 Li-ion battery system
Double spring suspension
15-20 hours of charge time
Pros
Cons

Built for trails and off-road adventures
Adjustable handlebar for better ergonomics
Comfortable to ride
Top speeds up to 60 mph
Durable frame and deck
Fully functional dashboard
Wide deck to support balance

In the heavier side
Not ideal for beginners
Long charge time
Maintenance tips for the Zero 11X electric scooter
If you want your Zero 11X electric scooter to last longer and keep its high performance for years, then you need to take good care of it. This will not only reduce stress in using it but also make it more cost-effective.
Here are some maintenance tips to help keep your electric scooter in good shape.
Store the e-scooter safely
The best way to maintain your Zero 11X electric scooter is to prevent any damage to it in the first place. Start by ensuring the scooter is stored in a safe place.
For proper storage, you may choose a location where the temperature is cool and dry. Storing it in overly cold or warm environments can damage the components and cause the battery to break down fast.
If you ride your scooter to work every day, bring it inside when possible. This will limit its exposure to the elements that may cause corrosion or rusting to metallic parts.
Charge the battery regularly
As mentioned before, the Zero 11X comes with a dual set of Li-ion batteries that require about 20 hours of continuous charging to bring it back to full capacity.
Therefore, you need to carefully plan your itinerary so as to give room for regular charging of the battery when due.
You can charge the battery overnight after every ride. This will extend the battery life and ensure you won't spend more money on a replacement battery sooner than expected.
Fortunately, enough, the scooter has a durable battery that can last you a week of leisurely commutes around your neighborhood.
Clean the moving components
Take a time to clean your Zero 11X scooter at least once in 10 days. Use a clean moist cloth to remove grime and dust on the handlebars, frame, stem, and other places.
Clean the deck with water and soap to remove mud and stubborn dirt. Use a scrub brush to scrape it off and rinse out the particular area with warm water.
If you see that there's a need to reach between the hinges and the wheel spokes, you can use a toothbrush to scrub away the grime.
Don't forget to also remove any plant matter found in the axels and spokes. Leaving it there can cause the wheels to jam and this could lead to crashes.
In addition, avoid getting the electrical components of your electric scooter wet. If you want to clean any of those parts, do so carefully.
In a situation where water gets to any of such components, quickly mop it up using a clean cloth and leave the machine to dry out completely before riding again.
Inspect cables regularly
Your Zero 11X electric scooter comes with a special braking system that helps you slow down and stop the vehicle quickly. That braking system depends on some cables to operate. Whenever you pull the brake lever, the tension on the cables is adjusted, and this enables the braking system to function.
Hence, the brake system works properly when the cables are also in good condition. When they're old, worn out, damaged, or frayed, your brake won't work well.
To prevent this from happening, inspect your cables regularly for any sign of damage or wear. Conduct similar regular inspections on the throttle cable too. If you notice anything amiss, you can either make replacements or seek professional advice.
Check tire pressure daily
We've already mentioned that tires are important components of an electric scooter. Without them, your vehicle is just like an ordinary metal board.
With this in mind, you'll want to keep your tires in optimal condition. To start with, always check the pressures on the scooter tires before riding on a daily basis.
Properly inflated tires can help you reach top speed without fear of a fall. A simple pressure gauge for tires can do the job. All you've to do is to pump the tires up to the right level as specified by the manufacturers.
In addition, endeavor to check your rubber tires for signs of damage before stepping out. Look for cracks that indicate dry rot or tear. If you notice any such damage, replace the tire with a new one immediately. The better your tire condition, the more fun-filled your ride can be.
FAQs
How do I stay safe while riding my

zero 11x scooter

?
City officials take safety issues very seriously when it comes to all forms of transportation, including e-scooters.
The rules and regulations may differ from city to city, but we advise that:
You comply fully with safety guidelines in your city.
You always wear a helmet and other protective gear when riding.
You don't ride the scooter on pedestrian sidewalks.
You obey local traffic laws.
You take smart decisions while riding including keeping your speeds below safe limits, parking your e-scooter properly, and not riding it with more than one person at a time.
What safety equipment do I need when riding?
As a rider, always ensure you use safety equipment such as a helmet, gloves, and other protective gear when riding. These provide additional layers of protection in case of a crash.
Do I need insurance to operate my e-scooter?
This depends on your specific area. In most cases, riders aren't required to take out insurance policies on their electric scooters.
However, it's still advisable to have one in place in case of any mishap.
Does my e-scooter comes with an instruction manual?
Yes, your Zero 11X scooter comes with a user manual. This gives you all information related to its specs, features, use, safety, service, and warranty.
Can I modify my electric scooter?
No, you can't do this kind of retrofitting on this model.
What is the Zero 11X scooter price?
Well, the price of this product depends on the particular vendor from which you're making the purchase.
You can check the link below for more information.
Conclusion
So far, the Zero 11X electric scooter review has shown that it's an excellent addition to the Zero family of e-scooters. It's more durable, more powerful, more faster, and offers higher performance than other vehicles in the same price range. 
It also comes with several incredible features that guarantee higher value for your money. Although it's a bit on the heavy side, the model can still be folded up and transported in the trunks of big cars. 
As a matter of fact, Zero 11X takes riding to an entirely new level. If you're an eco-conscious rider wanting a scooter suitable for off-road trips, then look no further – this product is for you!