Electric scooters have gained immense popularity among kids in recent years. They offer a fun and thrilling mode of transportation while promoting outdoor activity. If you're looking for the best electric scooters for kids, this article will guide you through the essential factors to consider and provide a curated list of top-rated options.
Benefits of Electric Scooters for Kids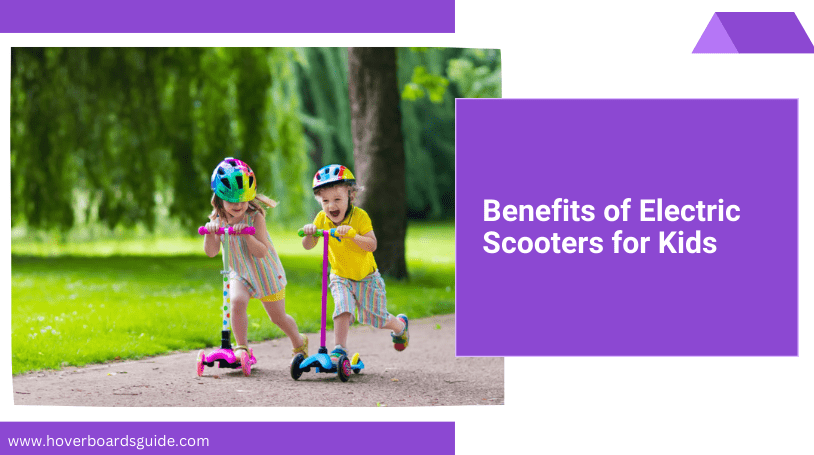 In addition to being a fun mode of transportation, electric scooters offer several benefits for kids:
Physical Exercise and Outdoor Fun
Riding an electric scooter provides an excellent form of physical exercise for children. It gets them moving, promotes cardiovascular health, and encourages outdoor play, reducing screen time and sedentary behavior.
Enhanced Motor Skills and Balance
Operating an electric scooter requires coordination, balance, and motor skills. Regular use of electric scooters can help children improve these abilities and develop a better sense of body control.
Independence and Confidence
Riding electric scooters gives kids a sense of independence and freedom. It allows them to explore their surroundings and navigate through their neighborhood, boosting their confidence and decision-making skills.
Eco-Friendly Transportation Option
Electric scooters are an environmentally friendly alternative to traditional modes of transportation. By opting for electric scooters instead of cars or other vehicles for short distances, kids contribute to reducing air pollution and carbon emissions.
Factors to Consider When Choosing Electric Scooters for Kids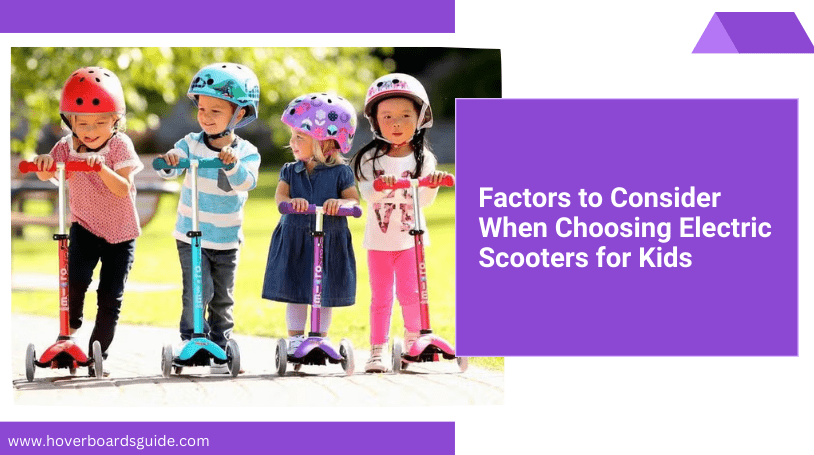 When selecting an electric scooter for your child, several factors should be taken into account to ensure a safe and enjoyable experience.
Age and Weight Restrictions
Different electric scooters have age and weight restrictions, so it's crucial to choose one that is suitable for your child's age and size. Manufacturers usually provide guidelines regarding the appropriate age range and maximum weight capacity for each scooter model.
Safety Features
Safety should be a top priority when choosing an electric scooter for kids. Look for scooters with features such as a sturdy frame, reliable brakes, and a non-slip deck. Some models may also have additional safety features like LED lights for increased visibility during low-light conditions.
Battery Life and Range
Consider the scooter's battery life and range to ensure that your child can enjoy extended playtime without frequent recharging. Look for scooters with long-lasting batteries that offer a sufficient range to cover the distances your child is likely to ride.
Speed and Performance
Electric scooters come with different speed settings. Select a scooter that offers appropriate speed options for your child's age and skill level. Additionally, consider the scooter's acceleration and braking performance to ensure smooth and safe rides.
Portability and Storage
Portability is another factor to consider, especially if you plan to transport the scooter frequently. Look for scooters that are lightweight and foldable, making them easier to carry and store when not in use.
Top 10 Best Electric Scooters for Kids
1. Gotrax XR Ultra Electric Scooter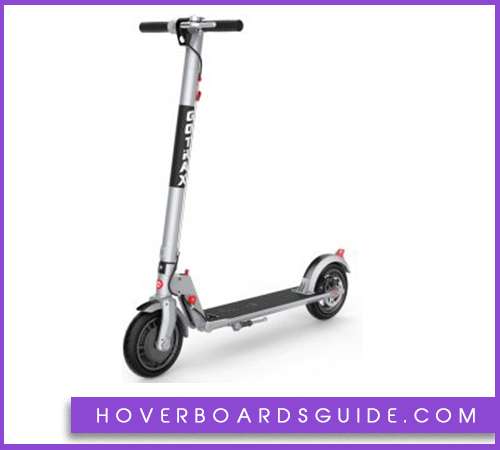 Top Speed: 15.5 Miles per hour
Product Weight: 27.5 lbs
Wheel Size: 8.5 inches
Max Range: Up to 17 miles
Motor Power: 300 Watts
Warranty Period:
Weight Limit: 220 lbs
Detailed Review
Foldable, Lightweight, And Durable Design
When you are looking for the best electric scooter for your daily commuting there are a few features which you must check. One of them is their portability and foldable design. So the good news which I am going to break is the Gotrax XR ultra electric scooter is a fully foldable and portable design. You can carry it along easily with its 27 LBS weight and the most recommended weight limit for an electric scooter is less than 30 LBS.  So here it is even lower than your recommended weight limit. Of Course, we need to check its frame and the build quality because mostly with cheap frames made out of plastic your electric scooter is very light in weight but is very prone to breakage as well.
But here gotras provides you with a strong Aluminium frame that assures its stability and long-term durability. Moreover, when an electric scooter is folded the handlebars get damaged with frequent folding. And they are expected to hold even when you're riding and that can be very dangerous. But when it is Gotrax XR  the manufacturer is so precise about your safety that they have added a Red safety button for the handlebars. This Button assures that your handlebar doesn't Fold while you are riding your electric scooter.
Offers You Great Mileage
Another feature that you must check while buying an electric scooter is its battery quality and battery capacity. This model of Gotrax is equipped with an LG battery which is a high capacity of 7.0 Ah and assures you a travel time of almost 17 miles on a single charge. The battery is supported by a smart battery-saving system that assures the battery is not wasted when not required. Moreover, in this way, you can enjoy your ride to its maximum mileage while checking the maximum range of an electric scooter. Do keep in mind that the track quality and rider weight are both factors that affect the mileage. If the electric scooter is carrying a heavyweight rider or the track is inclined then definitely the battery timing will decrease. As the load and motor power required will increase.
Motor Power And Braking System
Then comes the motor power and braking system both these features will tell you about the power and safety of your electric scooter. Power can be determined with the motor as the motor is going to back up the whole system. If the motor is powerful enough your electric scooter will go zoom zoom otherwise it will die down soon despite a good frame and a great battery.
This electric scooter is equipped with a powerful 300 Watts motor which can help you to boost a speed limit of 15.5 miles per hour. And this speed is maintained with a rider of almost 220 lbs. Moreover, even if you are climbing on a steep surface up to a 15-degree hill even then the motor is not going to get exhausted. and your computing will go smoothly.
The next thing you must check is the braking system this electric scooter offers disc braking along with anti-lock braking system safety. Its dual braking system assures safe and attentive braking even when you are riding at the top speed of 15.5 miles per hour. The wheels that are going to carry you around are also inflatable high-quality pneumatic tires 8.5 inches in diameter. Inflatable tires are not great in shock absorbency but when it comes to rough track resistance they are great. So if you are going to plan your electric scooter commuting on some rough terrain this electric scooter can be your ultimate choice.
Control Panel
When it comes to its control panel and console it is not only multifunctional but is beautifully designed with an attractive and effective LED display. The display indicates your current speed and also tells you about the speed mode you are riding in. Moreover, indicates your battery life and of course, it has a beautiful headlight. Its headlight is powerful enough to support you even at night travels with its 26 feet irradiation coverage. So now this electric scooter is not going to let you down even when you are driving in the dark.
So as a whole Gotrax XR wise buy that can be your best electric scooter for kids. As it has all that you can look into for your kid's safety and entertainment.
2. Segway Ninebot MAX Electric Kick Scooter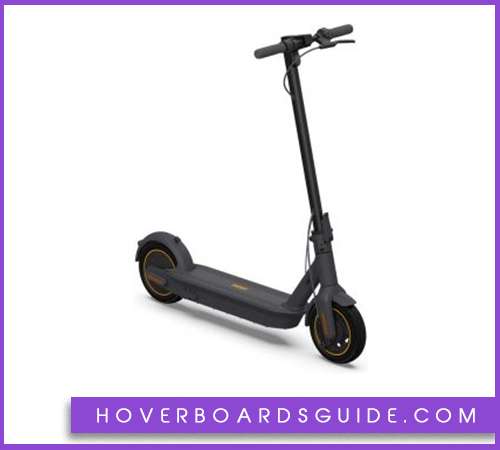 Top Speed: 18.6 miles per hour
Product Weight: 42.1 Lbs
Wheel Size: 10 inches
Max Range: 40.4 Miles
Motor Power: 350 Watts
Warranty Period:1 year warranty
Weight Capacity: 220.5 lbs
The Razor Power Core E90 Electric Scooter is a kid-friendly transportation device, with a hub motor that provides a top speed of up to 10 mph and a ride time of up to 80 minutes on a single charge. It is designed for kids 8 and up, making it a fun and safe way for children to get around.
Detailed Review
If you are looking for an upgraded version of an electric scooter for your kid, this electric scooter can be the best choice. Because Segway is no doubt a master of electric scooters and Hoverboard manufacturing. And it's each model is so beautifully designed that it not only comes up to your hopes and needs but also accomplishes your dreams as well.
Top Speed And Weight Limit
Let me start with the top speed and weight limit of this electric scooter if you want your kid to ride fastly but still don't go off-road at speed. Then it is the most adequate top speed you can offer to your kid, 15.5 miles per hour. That speed is exactly what can be controllable for your kid and still thrilling for him.
Travel Time And Power
To buy an electric scooter for your kid which offers him a long route traveling on a single charge for 40 miles is a great range. Which is being offered by this model designed by segway ninebot. I don't recommend this electric Scooter for kids less than 14 years because its top speed and power can be a bit of a dangerous combination for younger kids. But for teenagers, it is a classic fit because it provides them with the necessary weight limit of 220 LBS and the thrilling top speed of 18 miles per hour. The motor power of 350 watts is also great to go. Moreover, Its battery system is also equipped with a smart management system so it saves the battery when it is not required and boosts the mileage.
Portable Design & Foldable
Its design is also extremely portable and fully foldable but it's not very lightweight. With its heavy build and strong battery, it needs to be a bit heavy but 23 kg is not too much for a teenager to carry. Moreover, when he is carrying his favorite electric scooter around that is so easy to fold that it can be folded in no more than three seconds. In a single step, your kids can easily fold it and carry it around on public transportation.
It is fully portable to be placed at your car back and you can take it along to your favorite holiday destination. So that great Eco-friendly mode of traveling can accompany you when you are in a holiday mood. Or you are riding across your big fancy campus. When it is unfolded its dimensions are 45.9 inches long and 18.6 inches wide and 47.4 inches high. When folded these dimensions are reduced to 45.9 inches in length and 18.6 inches in width and the height is cut down to only 21 inches. A fair deal for teenagers from 14 years to above.
Safety And Comfort
When we are buying an electric Scooter for kids safety and comfort are our utmost concern. As we all love our kids we want them, we love them to grow up and get independent. But we still want them to be safe even when we are around or not. With its anti-lock braking system which is both mechanical and electrical, it offers safe and timely braking.
For comfort riding the electric scooter is provided with front and rear shock absorbers for both wheels. So they are highly comfortable for riding even if you are riding on a rough track. The tires which are going to support the ride are 10 inches broad which is pretty enough. They are pneumatic inflatable tires so they add comfort and safety to your kid's ride. Moreover, when the tire is 10 inches broad they are less prone to slipping and low down chances of falling off. As they provide a better grip on the road.
Console And Cruise Mode
When it comes to its console and display system it is not only beautiful it is very intelligently designed. This electric scooter offers you Bluetooth capability as well, so you can attach it to your cellphone as well. Cruise control is a beautiful feature that your kid is going to fall in love with.
Modes And Mobile App Connectivity
The modes available in this electric scooter are going to help your kid in riding even if he is a beginner or a professional. Moreover, you can connect your mobile with the help of a mobile app with this electric scooter. And that can add some more security so now you can lock your scooter with the help of your mobile app. Moreover, if you want you can install that app on your mobile to check your kids riding stats. Check the mode he is riding in cruise mode or else. You can even update the software of his electric scooter through your mobile app. So even when your kid is away he is fully in your surveillance and under your observation.
Battery And Charging Time
No doubt the charging time is also very important. The mileage it is offering is already great. 40 miles per charge is great mileage. It can be affected by the rider's weight and the track type. But even the battery ends, you don't need to worry a lot because it's not going to consume 24 to 30 hours of charging. Its fast charging is going to provide you with a refill battery in no more than 6 hours.
Warranty
Segway Ninebot electric scooters are no doubt simply the best in the breed and this kick scooter max model is my favorite. With its strong and sturdy design and powerful motor. Its speed limit is also great. And guess what, the manufacturer is also very sure about the quality they are providing. So your kid can use this electric scooter for one year without any fear and if anything breaks down the manufacturer is responsible for it. But definitely, it is covered under the terms and conditions of the company and a few very delicate parts are offering 180 days of warranty.
It offers a rear-style braking system that is safe so you can go ahead with this electric Scooter for your enthusiastic teenager. Moreover, he is going to love the speed and the style, and the swag this electric scooter is going to add to his life. I simply love the looks, the comfort, and the ride of this electric scooter. This is a one-time purchase and you are going to fall in love with this. It is recommended for kids but even an adult of fewer than 220 LBS can easily ride it and can have fun with it. So I hope this can be a great choice for you kid best of luck.
3. Gotrax XR Elite Electric Scooter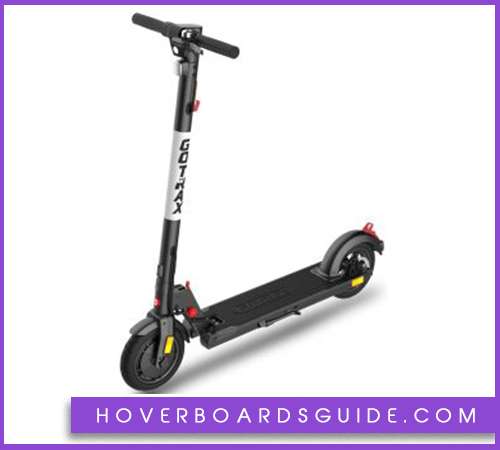 Top Speed: 15.5 Miles Per Hour
Product Weight: 49.7 Pounds
Wheel Size: 8.5 inches
Max Range: 18.6 miles
Motor Power: 300 watts
Detailed Review
This electric scooter can still be another great choice for your kid who is dreaming to fly over the road on his new electric scooter gotras is no doubt a reliable choice with its quality productions and a good name in the market, when we are talking about good track X electric scooter, let's check few of its superior features which truly make it an elite choice for your kid.
Motor Power And Range
This electric scooter is equipped with a powerful motor of 300 watts that helps this scooter to boost up to a top speed of 15.5 miles per hour. That is a pretty good speed for a teenager or a kid to ride on the road. I think it's controllable too. Its battery is really powerful and high capacity of 280.8 WH power. That is sufficient in providing a range of almost 18.6 miles on a single charge. That is an adequate travel radius that you can offer to your kid. when he is interested in an e-scooter ride around his campus or to his favorite holiday spots.
Led Display
The LED display will keep him updated about the battery life so he can't come back as soon as he knows that the battery is going to end. Moreover, it also informs about the speed he is riding on. So I guess the performance of this electric scooter for your kid is going to be great.
Safety System
Whenever I talk about electric Scooters for kids I always recommend only those scooters which are safe for them. Because when it comes to kids we need to be extra cautious about safety. Gotrax XR Elite provides a braking system that is safe with disc brakes and an anti-lock dual braking system. This helps your kids to break the speed and make a stop even when he is riding at the top speed from a short distance.
Tires
Besides breaks, I am always concerned about the tires. Pneumatic tires are good for rough roads but when it comes to comfort air-filled tires are always great. As they bear a lot of jumps and bumps on the track. So when it comes to this model of Gotrax they are offering full 8.5 inches broad tires. 8.5 inches is a good dimension to have a good grip on the road without slipping. Moreover, when they are air filled they are going to absorb a lot of shocks for your kids and provide them a comfortable ride.
Safety Lights And Reflectors
This model is particularly designed for kids and they are extra conscious about the safety features. Lots of safety features like headlights are upgraded and powerful; they offer visibility even at night. Besides the headlight, they have added 6 reflectors which will keep your kid visible to the other riders even when he is riding in the dark. So I love this extra protection and it's very useful and makes it a perfect choice for your kids.
Board And Non-Slip Deck
When it comes to kids the other thing which needs to be checked is the deck. The dimensions of the deck are broad enough that they will give a good space for your kid to stand nicely and comfortably without slipping. The deck is 6.6 inches wide and 28.3 inches long so these dimensions are pretty cool for your kids to have a comfortable ride. You can easily place both feet and enjoy the ride on his super-electric scooter. Besides the width and length of the deck, they have also installed a big anti-slip pedal on it. It further lowers the chances of slipping and falling while computing.
Easy Folding
Kid scooters should always be foldable and portable because they need to be carried along at various places. Especially when they are moving to a holiday destination they prefer keeping their eco-friendly electric scooter along. So they can explore the areas and explore the place. when a scooter is not foldable it can't be adjusted in your car's back. But this feature is a go-ahead with its foldability which makes it very possible and easily carriable even on public transport.
Its foldability and portability did not affect its sturdiness and strength. Because it's built strong and made with aluminum material. Gotrax always provides a red stop button that offers safety for the rider by stopping the handlebars from folding while the scooter is in its riding mode. Overall it's a good choice and your kid is going to love it. The thing which I love about it is its extra features for safety measures which make it a great choice as a kid's scooter.
Read Our Reviews:
4. Glion Dolly Foldable Lightweight Adult Electric Scooter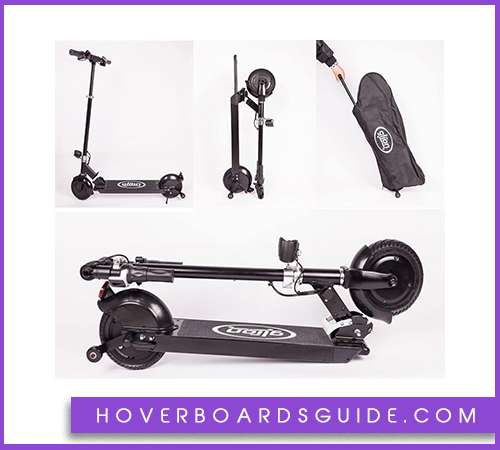 Top Speed: 15 mph
Product Weight: 13 Kilograms
Wheel Size: 8 Inches
Max Range: 15-mile range
Motor Power:  250 watt ~ 600 watt
Detailed Review
Powerful Battery
Fitted with a powerful battery the machine can run for a very effective and wider range of 15 miles. If the battery is full. The battery has a capacity of 36v and a power of 7,8ah. It only took 3.25 hours to charge the battery fully.
High technology
The use of the highest level of design technology makes it suitable for daily use. The highest level of the aircraft material has been used the aircraft aluminum. This made this product not only lightweight but also strong and perfect for daily use.
Powerful Motor
The state-of-the-art powerful motor has been designed to produce a power of 250 watts and at its peak, the power is 600 watts. The motor is powerful enough to make you run at the speed of 15 miles per hour with the help of the continuous supply of energy from the battery. You may maintain this speed for up to 15 miles. Of Course, depending on the different circumstances, the range of the scooter may be decreased.
Breaks
A dual braking system is provided to ensure the safety of the passenger. The first one is the maintenance-free break that is equipped with antilock technology. In addition, the alternative brake can be applied by pressing the rare fender. The brakes are applied with a twist of the hand and pressing the rare fender with the foot. You can apply both of these simultaneously to avoid emergencies.
Tires
Tires are maintenance-free. They are the shape of a honeycomb moreover made with tubeless material they give you the freedom from the worry of being flat in the way. You can be sure of the quality of the tires as these were first developed for the military.
Self-standing feature
The self-standing feature made it possible for you to easily portable it from one place to another. You can even roll It like a suitcase. This is a patent technology and you will not find it in all the electric scooters available in the market.
5. Swagtron Swagger 1, Black High-Speed Adult Electric Scooter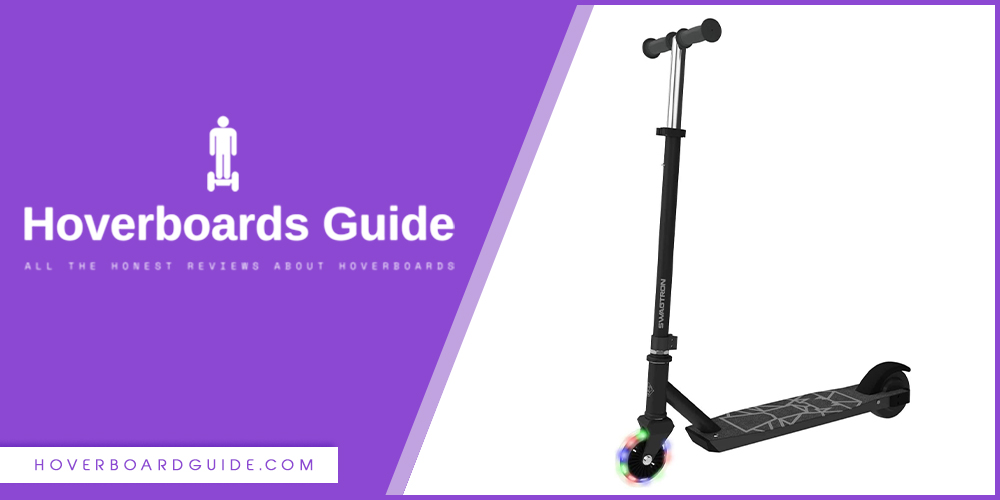 Top Speed: 15 MPH
Max  Weight: 250 pounds
Max Range:  4 to 15 miles
Motor Power: 250-watt
Detailed Review
Weight Bearing Capacity
Swagtron Swagger Electric Scooter comes with a tremendous weight-bearing capacity of 250 pounds. This is the premium feature of this scooter usually the scooters available in the market do not provide this facility.
Storage is easy
Just some intelligent clicks on the scooter and the scooter will be in a compact form that can be stored easily. In the compact form, not only storage but the movement of the scooter can also be done easily. This can be moved from place to place inside the trunk of your car or even you can carry it with your luggage like a roller luggage.
Digital meter display
Detail digital meter display informs travelers about the parameters on the go. This facilitates the person during traveling by providing all the on-the-go parameters. Moreover, it informs of the current status of the battery. So that you never have to worry about if the battery is dead during the journey.
Less polluted product
This product emits zero pollution. If the charging is done through renewable energy sources then it is a completely eco-friendly product for the environment. Even though if electricity produced for the charging is not environment friendly this product still does not create any emissions and in this way, it is far better than the other problems while moving on the roads
Certified safety product
Ul2272-certified products provide you with peace of mind. The product has been created by all the security protocols mentioned in the UL2272 certification. So the person while riding on it does not have to worry about security issues.
6. UNAGI Model One E500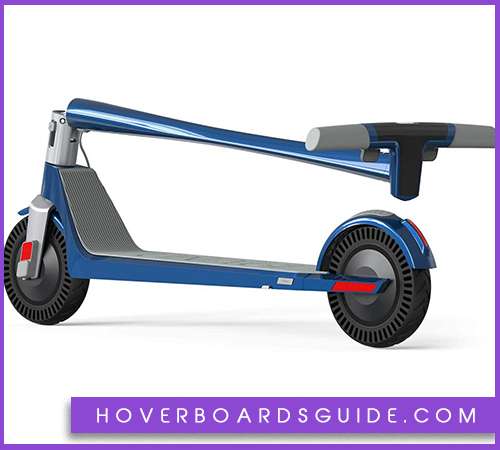 Detailed Review
Beautiful design
The scooter is beautifully designed and the UNAGI Model One E500 is a great product the beautiful combination of blue silver and red with black tires makes it a beautiful product.
The Handlebar is incredible
Magnesium alloy is used instead of aluminum in the making of the handle. This makes it 33% lighter than aluminum. Moreover, all the dashboard controls are embedded in it. Wires are not visible on the handlebar and the scooter makes it a beautiful piece of art.
Single-button folding operation
The folding of the scooter can be done with the help of a single button. You just need to push the button once and after that, the scooter will be automatically folded.
Apply the break with confidence
This comes with two types of the braking system both of these can work simultaneously so that the rider on the scooter completely remains the same. Equipped with the anti-Lock braking technology this ensures that you may not fall from the scooter. Analog control of the exporter makes sure that with greater force brakes should be applied better. An extra break in the form of the friction brake is available so that you may use it in time of need.
Custom design tires
Tires are puncture-proof and are made with a beautiful custom design. The air pockets in the design of the tire service save the rider from the jerks in the way.
The battery system
This is one of the best batteries available in the world for the scooter. Made by one of the best manufacturers of the battery in the world Sony. This battery is specifically designed for multiple users over a long period
The drive is safe even in the dark
This is completely safe to drive even if it is dark outside. This is due to the availability of the light in the scooter. The lightest mouth and reliable to move in the darkness of the night.
7. Razor 13113614 E300 Electric Scooter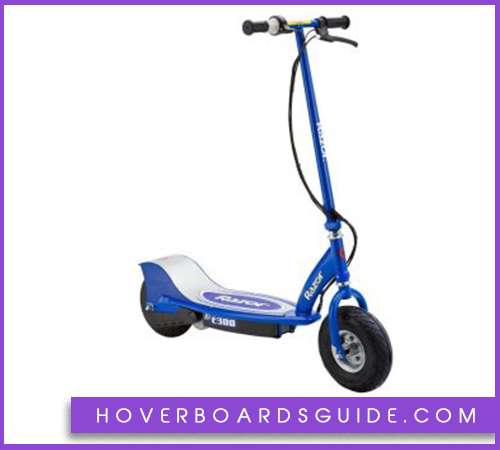 Top Speed: 15 MPH
Product Weight: 19.5 Kilograms
Wheel Size: 10 Inches
Max Range: 40 minutes
Motor Power:  250-watt
Detailed Review
Tremendous Flexibility
It provides tremendous flexibility that it can be ridden by an adult or teenager.
Weight-bearing Capacity
It has a tremendous weight-bearing capacity of hundred kgs. This makes it a beautiful machine to handle the tremendous load.
Motor Power
The motor has the power to produce 250 watts. This is enough energy to run the machine at a speed of 15 MPH. This speed is measured in the km/h is something around 24 Km /h.
Battery
Fitted with two batteries. These are rechargeable and each battery is 12 volts. Together these make a combined total of 24 volts. This sealed lead-acid battery is great in terms of security. Powerful enough these batteries have the energy to run the scooter for the straight 40 minutes.
Steel Frame
Made with a steel frame this is very hard and is stable even on the rough road. If you are a rough and tough type of guy then this product is recommended for you.
Tires
The tires are of a larger size that is 229 mm. These have pneumatic tires that are fitted at the front as well as at the rear tires.
A Diet for mature people
This is a great right for those with your people. You can easily ride on it and move into your neighborhood with grace
The thrilling power
This has all the power to create the thrill it can move you at a great speed of 15 miles per hour and provides you with the country's history of 40 minutes.
8. Electric Scooter, Powerful 350W Motor, 18.6 Miles Long-Range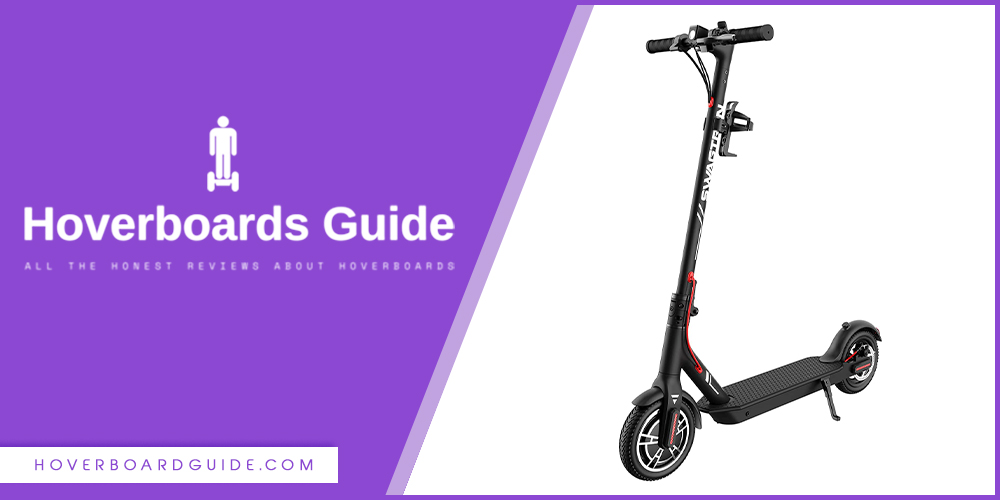 Top Speed: 15.6 miles per hour
Product Weight: 12.86 Kilograms
Wheel Size:8.5 Inches
Max Range:18.6 mile
Motor Power: 350 watt
Detailed Review
Powerful Motor
A powerful motor of 350 is fitted in it. This can run your bike for 15.6 miles per hour. So if you are traveling on a slope. Do not worry about it at the speed that can easily go through you from this hurdle. Honda scooters come with a motor of 250 watts. So you get a hundred Watts extra. These hundred watts will create a difference.
The range provided through the battery
It provides a range of 18.6 miles. If the battery is charged fully. To charge the battery completely you need four hours. The sacrifice of 4 hours is not a very big deal for 14.6 miles. Even then you should keep clear your mind that this range is completely dependent on multiple circumstances. These circumstances are the weight of the rider, the slope of the covered area, the surface on which you are wearing, and finally the speed of the vehicle.
Air free technology based tires
Both tires are free. This means that you do not need to worry about the repair and maintenance of the tires. The size of the tires is 8.5 each. These are relatively big tires and make the journey peaceful by absorbing shocks. Moreover equipped with anti-sleep technology I provide you with the best sport and stable ride.
The brakes
The breaks are given both at the front and the rear. The front brake is equipped with anti-lock technology so that you may not fall with the seven breaks. While the rear brake is equipped with a disc brake and system to provide you with safety.
9. Razor Power Core E90 Electric Scooter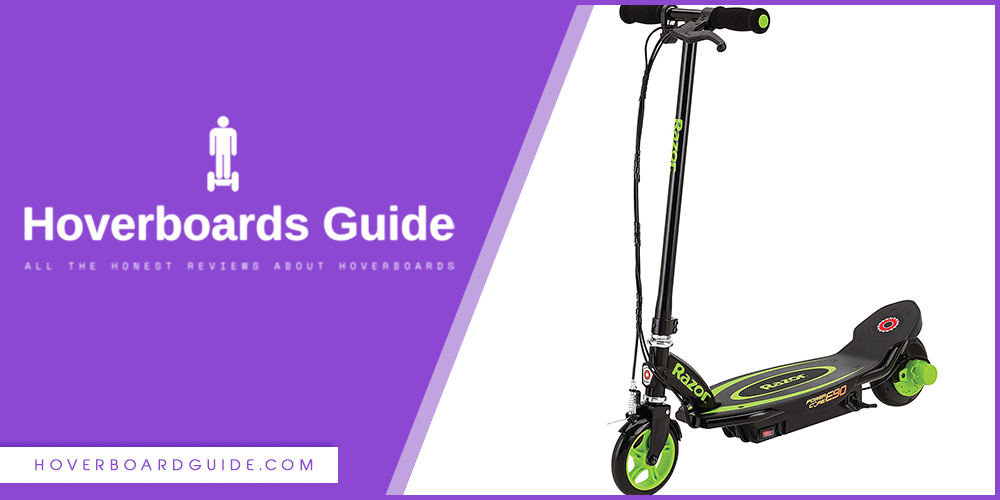 Top Speed: 10 mph
Product Weight: 22 Pounds
Max Range: 80 min
Detailed Review
Innovative power
The innovative technology used in this scooter makes it a maintenance-free scooter. It produces high energy that is capable of running the machine at 10 miles per hour. If you calculated in kilometers per hour and this will be 16 the speed you can achieve with the push of the throttle.
Better balance
Better balance is achieved by driving the scooter from the rear wheel.
The real drive not only provides a smooth ride but is also helpful in creating balance, especially on bumpy roads.
Battery and the range
The scooter is fitted with a 12-volt battery that is sealed with lead. This makes the acid battery safe. The battery is powerful enough to provide you with a breathing time of one hour and 20 minutes.
Lightweight perdurable
The frame is lightweight so it is easy to handle. On the other hand, it is completely made with durable material. So it fulfills your both requirements that durability and ease to handle
The tires
The tires are air-free and based on non-maintenance technology. So you do not have to worry about the air pressure while riding on these tires
Additional Facilities
Additional facilities provided with this scooter are the kick start scooter and the brakes that can be applied through the hand.
10. HOVERSTAR Electric Kick Start Scooter for Kids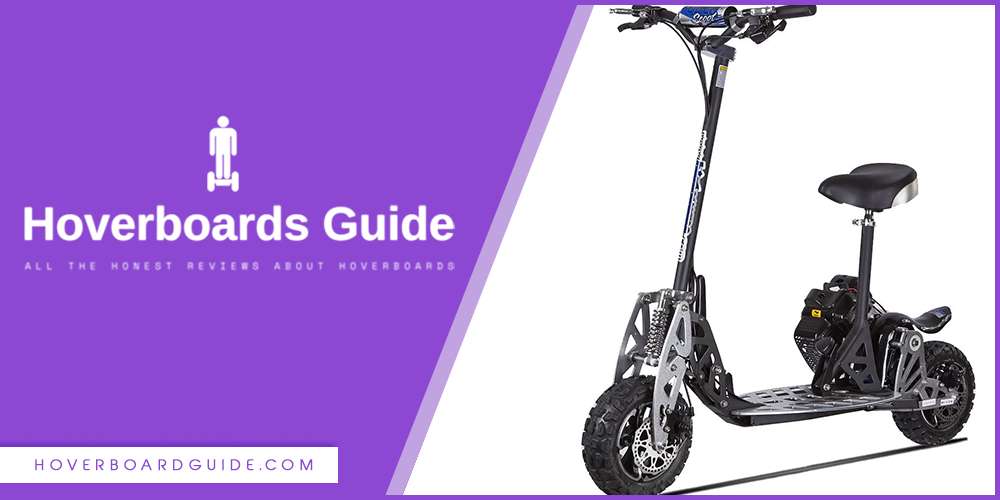 Top Speed: 6 MPH
Max Range:  5 Miles
Detailed Review
Hand Brake System
In comparison to the other available scooter. This Hoverstar Electric Scooter has the power to apply the brake fully. This efficient braking system provides the ability to save you on the journey.
Safety Standard
This product offers you the best safety standard available in the market right now.
Advanced Technology
The most advanced technology offers the highest industry standards with the ability to provide a smooth and trouble-free ride.
Max Speed
Provides you with the ability to run the bike at a speed of 6 MPH. This is a massive speed for the electric scooter.
Maximum Range
5 Miles is the range provided by the powerful battery fitted in the bike. This is a rechargeable battery and you can easily charge it after the use
Easy Assembly
Assembly is very easy. The bike is ready to move in just 15 minutes. If you are an experienced person this time can be reduced to only 10 minutes.
Kids require some special features. These features are entirely different from the others. Therefore whenever you look for scooters that are suitable for the kids these factors should be considered.
The market is full of products. We have sorted out and cut down the list. Now you can find the most suitable product for you. The choices are not so limited that it made the variety absent. Secondly, this is not so large that you may be lost in it and lose track which leads you toward your original destination.
Safety Tips for Kids Riding Electric Scooters
While electric scooters are fun, it's important to prioritize safety. Here are some essential safety tips for kids riding electric scooters:
Wearing Protective Gear
Ensure that your child wears a helmet, knee pads, elbow pads, and appropriate footwear while riding the electric scooter. Protective gear can minimize the risk of injuries in case of accidents or falls.
Riding in Safe Areas
Encourage your child to ride the electric scooter in safe areas away from heavy traffic. Parks, designated bike lanes, or empty parking lots can provide suitable spaces for riding.
Following Traffic Rules
Teach your child about basic traffic rules and road signs. Emphasize the importance of obeying traffic signals and yielding to pedestrians to ensure safe and responsible riding.
Regular Maintenance and Inspections
Regularly inspect the electric scooter for any signs of wear and tear. Check the brakes, tires, and other components to ensure they are in good working condition. Additionally, maintain the scooter's battery and charging system according to the manufacturer's instructions.
Conclusion
Electric scooters for kids are a popular and exciting mode of transportation that offers numerous benefits. By considering factors such as age restrictions, safety features, battery life, and portability, you can choose the best electric scooter that suits your child's needs and preferences. Remember to prioritize safety by providing protective gear and educating your child about responsible riding habits.
FAQs
Can toddlers ride electric scooters?

Electric scooters are generally designed for older children, typically aged 8 and above. Always follow the manufacturer's recommended age range for each scooter model.

What is the recommended age range for electric scooters?

The recommended age range varies depending on the specific scooter model. It's important to consider the manufacturer's guidelines and choose a scooter that is appropriate for your child's age
Related Links: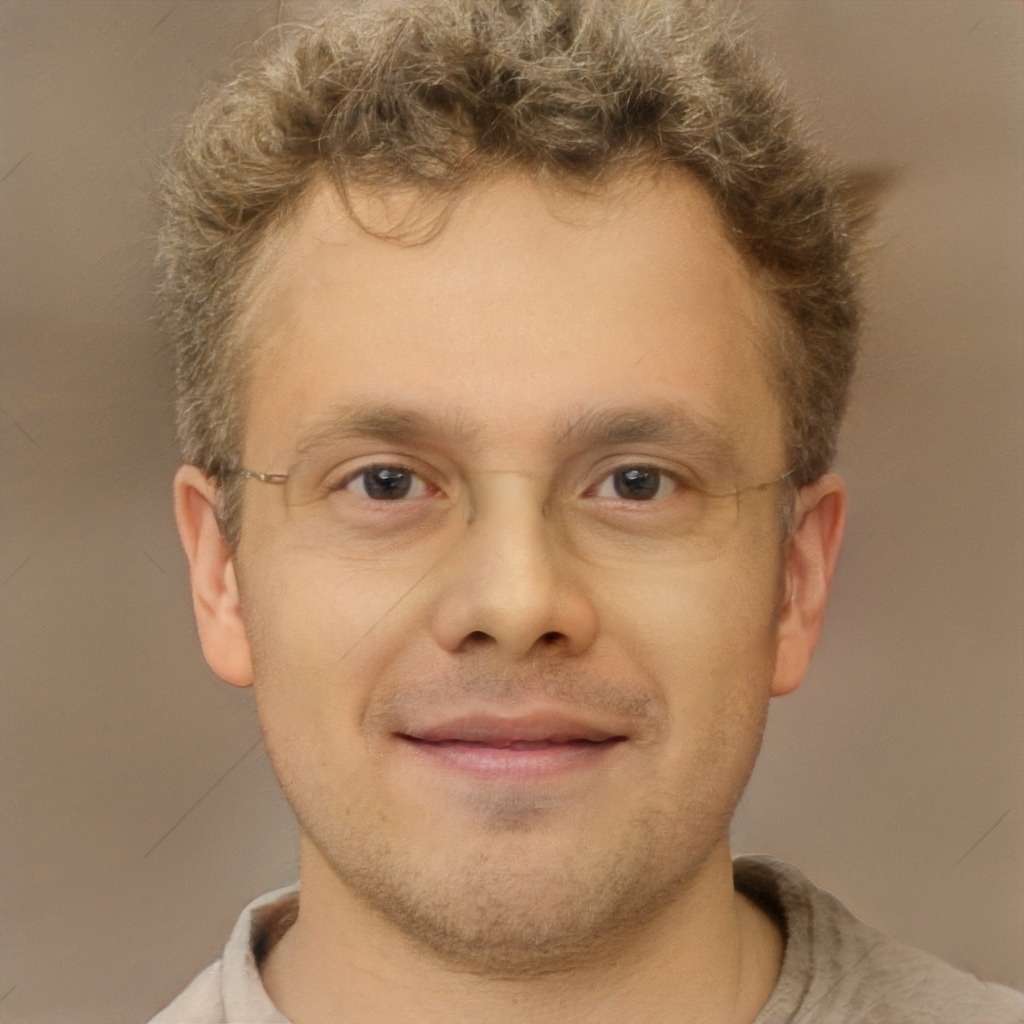 I'm the founder of HoverboardsGuide.com, a comprehensive website dedicated to electric scooters and hoverboards. With a deep-rooted passion for electric gadgets, I've accumulated extensive experience in this field. I aim to assist users in selecting the best gadgets and providing reliable guidance.
I've tested and reviewed numerous models, gaining in-depth knowledge about their features, performance, and overall quality. Feel free to reach out to me with any queries, as I'm dedicated to addressing your concerns promptly. Join me on this exciting journey of exploring the world of electric rides and making informed decisions