Kick scooters aren't just for kids anymore. With their rising popularity among adults, adult kick scooters have become a convenient and eco-friendly mode of transportation. They offer a fun and practical way to navigate through busy streets, run errands, or simply enjoy a leisurely ride in the park. But with so many options available, how do you choose the best-rated adult kick scooter for your needs? In this article, we will explore the top features to look for, compare some of the best-rated adult kick scooters in the market, and discuss their benefits, safety tips, and maintenance guidelines. So, let's dive in and discover the perfect kick scooter for your adult adventures!
Introduction
In recent years, adult kick scooters have gained significant popularity as an alternative mode of transportation. These scooters offer numerous benefits, including convenience, portability, and an eco-friendly way to commute. Whether you're looking to add some excitement to your daily routine or seeking a more efficient way to navigate the city, adult kick scooters are an excellent choice. In this article, we will guide you through the process of choosing the best-rated adult kick scooter by highlighting the factors to consider, the top features to look for, and providing a comparison of the leading models available. Let's explore the world of adult kick scooters and find the perfect ride for you!
Whether you want to get a scooter for commutes or recreation purposes, it's necessary to get a good one. We know that choosing an adult scooter can be a hell of work to do and that is why we have put together our best-rated adult kick scooter review.
In this best-rated adult kick scooter review, we would be sharing with you our top pick adult kick scooters, sharing with you the types of scooters available for adults, and giving you some guidelines to look out for when you want to choose an adult kick scooter for yourself or someone else.
The CITYGLIDE C200 is a foldable and lightweight kick scooter designed for adults, with an adjustable handlebar and a weight capacity of 220 lbs. It also includes a carry strap and kickstand for added convenience.
Key Features
In addition, we would give you a hint about the trusted brands that produce the best adult kick scooters. Let's go right into them!
Types of Scooters for Adults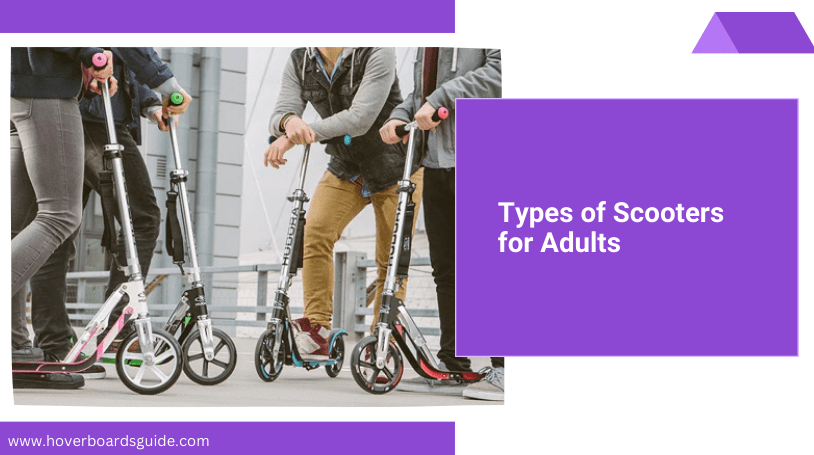 Over time, scooters have evolved from conventional models to suit contemporary and modern-day requirements. There are now several scooter types to choose from.
Rather than budget being the major determinant, scooter choice now depends on your route or reasons for getting one. Let's check out a few types of scooters.
Kick Scooters
Kick scooters are also known as the conventional scooters. The name kick scooter was derived from its mechanism of action. The scooter is propelled by the kicking action of the rider. The kick scooter is always ready to go any mile your kicking legs can permit.

One of your legs is placed on the deck of the scooter while the other one kicks the ground at intervals. Kick scooters require no gas or fuel and are awesome for cruise rides on smooth terrains or in parks. They are not designed to be used for stunts or other riding tricks.
Step Scooters
Here's another type of scooter that is human powered just like the kick scooters. However, rather than have you kicking on the floor, the step scooter comes with one or two levers that you step on your propel movement.

When you step on the levers, it gives a forward mechanism to the chain which then propels the scooter forward. The levers of  Step scooters can either be on the deck or the cockpit. Though steps scooters are not common again, some still exist. The choice is then left to you on which one you prefer.
Electric Scooters
Just as the explicitly stated in the name, these types of scooters are developed over the conventional kick scooters. Electric scooters are powered by electricity and make use of a battery.

If you need a scooter for daily commutes, an electric scooter would be a nice option. You save you the stress of kicking intermittently. They are also very portable and easy to use. Electric scooters can cover as much as 25km/h depending on the battery capacity of the one you choose.
Ski Scooters
Many people do not know that something like this exists. Indeed, you can still take your scooter cruise in the snow! Ski scooters have a combination of snowboard features and kick scooter features. Though, they look like the normal scooters having a handlebar and the deck to stand on.

Rather than having the conventional wheels, ski scooters have blades or boards. These help you to carve your way through the snow unlimitedly.
Dirt Scooters
Don't get it twisted, because it is called a dirt scooter does not mean it is dirty or it quickly gets dirty. No. Another name for the dirt scooter is the all-terrain scooter. The scooter is designed with tougher and stronger materials to make it strong enough for rough, dirt, or uneven roads.

All-terrain scooters or dirt scooters have larger wheels that are rugged enough to not get stuck in grass or dirt. They are the best choice for off road tracks and trails. They can also be a perfect option for competitive sports.
Read More Posts:
Popular Kick Scooter for Adult Brands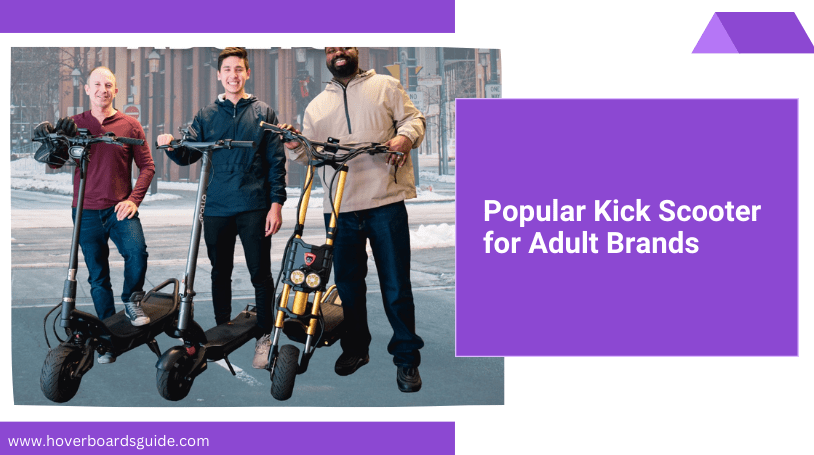 Since you would want to get a quality kick scooter for yourself, it is a good idea to choose from the most popular and trusted brands that make them.
In this section, we would talk briefly about some brands or companies that make the best scooters.
The Razors
If you pick out 10 random people with scooters in a park, you will see that about 5 to 6 of them have scooters from the Razor brand. No doubt, we give kudos to the brand for its consistent competency and reliability. The top of the list for making the best and safest scooters of every kind.
The Razors have been in existence since the year 2000. Their first scooter model was released in that same year and sold out about 5 million pieces within 6 months. Ever since the Razor has gained worldwide recognition and has a wide customer base.
The District
Another topping brand that makes durable and quality scooters for all age ranges is the Districts. The Districts are the leading brand in making pro scooters being the first to ever lunch it. Their kick scooters are super sturdy, with detailed parts like the deck, clamp bars, and so on. Yet, lightweight which makes them very convenient.
The company was organized in 2007 and has since met the ever-increasing demand for contemporary scooters. Another reason the Districts are loved by people is that they produce different models of a product. Hence, giving customers a range of options to select from.
The Phoenix
The Phoenix brand is keen on customer satisfaction and comfortability. One thing you get with any Phoenix scooter is a sleek design. Asides from that, their scooters are made to fit professional riders that may want to explore hence, the use of high-quality and durable materials for their construction.
Having about 12 years of experience in the field of scooter making, they have managed to gain the heart of their customers with the blend of advantages they offer.
There are several other nice scooter-making brands out there. However, with just these 3 brands that we have discussed, you sure do have a whole lot of options to choose from. Shop Razor, District, or Phoenix and have the best riding experience ever!
Review of the 7 Best-Rated Adult Kick Scooters
Without further ado, let's dive right into our top pick of adult lick scooters.
1. CITY GUIDE C200 Foldable Kick Scooter
If you're looking for a kick scooter for big guys, here's your bus stop! The Cityglide C200 is one of the best scooters and the latest models of the brand and is designed with improved graphics, stronger materials, and better mobility features.
The kick scooter is designed for commutes or jungle rides to give you the best riding and exploration experiences. T hi youth deck of the scooter measures 23 inches and is made with high-grade aircraft-grade aluminum material which makes it sturdy and capable of bearing large weights. The deck can accommodate wide and long feet up to size 12, with a weight capacity of over 210 lbs.
Despite the sturdiness and durable materials of the deck, the scooter is super lightweight weighing only 9 pounds. It goes beyond that, it is also foldable, these features make it super easy and convenient to move the kick scooter about without a second thought. You don't have to have special skills to be able to fold the C200, it features a simple one-turning folding mechanism. With just the press of a button, it's ready to walk with you!
Furthermore, you get to enjoy the best rides with the design that the C200 offers. It comes with very big Polyurethane wheels. The 200mm and 88A wheels in combination with the ABEC-7 bearing of the kick scooter make it easy to ride and glide over cracks and dips in a glimpse.
In addition, if you're getting this scooter as a teen, you can grow with it with its adjustable handlebars. The handlebars can be adjusted to accommodate a maximum height of 6 feet, 2 inches.
Thanks to the big wheels, nice bearings, low to the ground deck, you can enjoy longer rides with the C200 as compared to other kick scooters. This is because you can easily cut and carve your way in jungles and rough roads since the deck is close to the ground, then the wheels and bearing propagate the movement.
While cruising, you can have perfect control of the speed of your scooter with the quick responsive customized nylon brakes.
| Key Features | pros | Cons |
| --- | --- | --- |
| Rear braking | Adjustable handlebars | Requires assembly |
| PU wheels | Lightweight |   |
| Foldable | 6 months warranty |   |
| Weight Capacity of 220lbs |   |   |
2. Razor A5 Lux Kick Scooter
Here's a kick scooter from one of your favorite brands, the Razors!! The Razor brand is one of the topmost recognized and acknowledged brands that make scooters, skateboards, hoverboards, and the like. Their honor and recognition give kudos to the quality and design of each of their products.
The A5 Lux Kick Scooter is not an exception to the taste of its products. The kick scooter features very large Urethane wheels that provide a smooth and comfortable ride. With the super large wheels of this kick scooter, you can ride on dirt, grass, and other rough terrains without getting stuck up in between them. Also, you get to enjoy a quiet ride on rough roads too.
Get to grow alongside your scooter with its adjustable handlebars. The handlebar is designed with high-quality durable aluminum material. Asides from that, the deck is designed to accommodate small to extra-large riders. In the sense that, the minimum age recommended by the manufacturer is 8 years, however, the deck length of the scooter is 20.6 inches.
Furthermore, the deck is sturdy and capable of carrying conveniently, with a maximum rider weight of 220 pounds. Asides from the long length of the scooter, it is also very wide to accommodate the foot of large riders, providing ultimate comfort in so doing.
Your comfortability is guaranteed with the A5 Lux kick scooter if you are riding for long hours. This comfort is derived from soft and smooth handlebars. It gives your palms a nice and comfortable feel throughout the ride. This padded handlebar also helps to reduce sweat from your hands and if there is any at all, it absorbs it quickly. Hence making it anti-slip.
The A5 Lux kick scooter features a rear fender braking system which makes speed control easy and swift. Another amazing feature of this Razor scooter is that you can easily carry it up and down on your arms with its simple folding mechanism.
In all, the A5 Lux is one of the best adult kick scooters designed with comfort and quality-driven materials. Lightweight and finished with attractive colors and designs to get heads turning anywhere you go!
| Key Features | pros | Cons |
| --- | --- | --- |
| Rear braking system | Inexpensive | Fragile |
| Adjustable handlebar | Lightweight |   |
| Foldable | Padded handlebars |   |
| 220lbs weight capacity |   |   |
3. Crazy Skates Foldable Kick Scooters
The recently released Crazy Skates kick scooter has swept all over the market in states and countries all over the globe. Its attention-seeking design mature, eye-catching colors and strong and quality build-up materials have brought back the memories of childhood riding experiences to adults today. Not only does it stop there, but it has also increased the population of adults who ride kick scooters in six months.
You are most likely very eager to check out the features that the scooter has to offer before placing that order, take a deep breath, we're diving right into it!
The Crazy Skates scooter from top to bottom is made with high-grade aluminum material. This aluminum gives you a less shaky, rather more comfortable riding experience. The handlebars are also made with this aluminum material, however, to make riding comfortable, the bars are padded with foam. The foams give your hands support, such that you don't feel any pain after riding for long hours.
Long gone are those embarrassing moments when the kickstand of your scooter makes dangling sounds while you're riding with this Crazy skate electric scooter. The scooter comes with a foldable kickstand that stays in place under the deck until brought forward. Similarly, it can easily be accessed and brought out to perform its kickstand function.
Furthermore, the handlebar is adjustable, to accommodate riders from the the 8 and above. So, you don't necessarily have to change it when you notice you're taller, just adjust the handlebar to the height that would suit you best.
Either at the back of the car or on your shoulder, the scooter can go with you everywhere you go with its simple one-turning folding mechanism. It is also an advantage as to the storage. It requires minimal space for keeping it, you can either lay it down or stand it in one corner and you're good to go!
Featuring, a rear braking system, the scooter allows you to have easy and quick control of your speed while riding. The brakes are highly responsive and require little maintenance.
| Key Features | pros | Cons |
| --- | --- | --- |
| Rear braking system | Adjustable height | Requires assembly |
| Foldable scooter | Lightweight |   |
| Foldable kickstand | Available in multiple colors |   |
| Aircraft grade aluminum |   |   |
4. Mongoose Trace 180 Adult Kick Scooter
The Mongoose company makes one of the best-rated adult kick scooters in the country. Ranging from scooters for smooth and easy rides to scooters for rough terrains and sports, the Mongoose is always there to give you the best of the best.
There are about 5 models in the Mongoose trace series. The Mongoose Trace 180 is the fourth one and has improved and nicer properties as compared to the previous ones. Trace 180 kick scooter features both smoothness and ruggedness in it. The deck is built with quality materials that make it durable and able to carry a maximum rider's load of 220 lbs.
Furthermore, the top of this deck is designed with a full coverage Max grip that helps to keep your foot in place and is anti-slip when riding. To achieve this advertised weight capacity, attention is given to not just the deck, but the frame as well. The frame of the kick scooter is made with quality alloy steel materials. This can give the required support when an adult weighing around 200 – 220 lbs is riding it.
The scooter is designed for the comfort and convenience of the riders as the sole drivers of the manufacturers. That, despite the quality of its, build, and the sturdiness of the entire scooter, it is very light to lift. Likewise, it can be folded to make carrying a more usual and comfortable way of moving it about.
When you're tired of riding and want to exercise your legs a bit, you can easily, with the one-step folding mechanism of the scooter, fold it and lift it on your arms till you're ready to hop on and ride again! Asides from that, the scooter can be enjoyed by your friends and family members equally irrespective of their size or age. Thanks to the adjustable height of the handlebars. It can be adjusted up to three different heights, with a pin stop that holds it in place to whatever height you set it to.
| Key Features | pros | Cons |
| --- | --- | --- |
| Rear braking system | Adjustable height | Noisy and shaky ride |
| Alloy steel frame | Lightweight |   |
| 220lbs weight capacity | Anti-slip deck |   |
| ABEC 7 bearings |   |   |
5. HUDORA 205 Folding Kick Scooter for Adults
Looking for a perfect gift for a special person? Want to consider a kick scooter but you're not sure if it'll suit the person best? Well, all that worry is long gone with the HUDORA 205 kick scooter! The HUDORA folding kick scooter is designed to suit in multiple ways riders of different age ranges and riding tastes and styles.
With this scooter, you get the reminiscence of the ecstasy and unmeasurable pleasure of scooter riding during childhood. The unique feature that this scooter offers dwells in the most significant part of the scooter, the part that determines how well and smoothes the riding experience on it would be.
No other part is being referred to other than the wheels! The wheels of the HUDORA 205 kick folding scooter are of Polyurethane (PU) materials. They are very big, measuring 20.5 centimeters each. These big wheels make you feel like you're on top of the world while riding, you barely get stuck between grass or dirt because they have a good grip on the ground.
Similarly, the material that the wheel is made of i.e. PU, is wear resistant. Such that, they require no inflation and are less prone to puncture. So, you're good to go anytime, any day!
Additional benefits that this adult kick scooter offers include the 100% aluminum frame material. From the deck to the handlebar, asides from the wheels, every other part of the scooter is made with high-quality aluminum. The aluminum is coated with anti-rust finishing which makes it perfect for all weather conditions. The strength of the deck and frame also makes it easy for the scooter to accommodate large weights of up to 220 lbs without itching or hassle.
The HUDORA 205 meets our collection of the best-rated adult kick scooter reviews because of its simplicity yet, satisfaction meeting qualities. You get to grow alongside your scooter with its multiple height adjustments. It can be adjusted to 31, 34, 36, 38, or 41 inches depending on the height of the rider. Also, it is lightweight and features a folding mechanism hence, making moving it about less stressful.
| Key Features | pros | Cons |
| --- | --- | --- |
| PU wheels | Solid grip large wheels | Complex folding mechanism |
| Aluminum-made deck and bars | Lightweight |   |
| Rear braking system | Foldable |   |
| Adjustable heights |   |   |
6. Hikole Adult Kick Scooter 
The Hikole brand is one of the new brands in the country that makes fun of creating sport-fit boards and scooters. Though recently released, this Hikole kick scooter has sold over a thousand pieces to users in the United States of America and beyond.
Mere looking at the picture, you can tell that the kick scooter speaks volumes in strength and ruggedness. It is no different from the way it feels and works in reality. With the Hikole adult kick scooter, kicking while riding becomes more of a pleasure than stress's because, the deck is low to the ground, making it more convenient to swing your legs and kick intermittently with ease.
Racing is more fun and safe with the Hikoles, particularly, this model of their kick scooters. The reason is that the scooter features a dual suspension system, rear fender braking system, and ABEC-7 precision bearings. The brake is quickly responsive, and can immediately bring you to a halt when applied, even at high speeds.
To achieve this safety, the manufacturers of this Hikole model designed the brake pedal with reinforced aluminum and made it large for easy accessibility. The essence or benefit of the ABEC 7 bearings is to provide an absorbing function to the scooter. In other words, you feel little or no bumps and enjoy an amazingly smooth ride even on rough and uneven terrains and pavements.
The Hikole kick scooter can be designed for adults, however, it can be used by teens or kids as long as they are 10 years or above. This is made possible due to the adjustable handlebar heights of the scooter. It can be adjusted to 3 different heights that can serve well, people within those groups conveniently.
Still, the handlebars, it is designed to make riding very cozy and convenient with the padded hand grips. The pads are of rubber material and provide cushioning and support for the palms. Similarly, the wheels provide the same effect for your whole body because they are very big and are made of quality PU materials.
| Key Features | pros | Cons |
| --- | --- | --- |
| Rear fender brakes | Quick responsive brakes | More expensive |
| Weight capacity of 220lbs | Lightweight |   |
| Adjustable height range from 35.1 inches – to 39 inches | Wide deck |   |
| Dual suspension |   |   |
Here's another amazing kick scooter from the Mongoose company. This model is the second one from the series 5 of the Mongoose Rise. The kick scooter offers mind-blowing features that bring out the explorer and professional in you. Designed for both commutes and rough rides, it is detailed in every part and has a high-quality build.
Built with genuine grade aluminum and alloy steel, the scooter is very sturdy and has a maximum weight capacity of 220 lbs. Despite it being sturdy, it is very light to handle and allows you to perform your different riding styles and tricks with ease and a guarantee of safety.
The scooter features small 100mm high-impact wheels with precise ABEC 7 bearings. These provide a smoother glide on the roads and a more balanced and shock-absorbing experience while riding. The frame of the scooter is built with aluminum and has a T-style handlebar, similar to that of a bike, to enhance comfort and durability.
Also, the deck material of the Mongoose Rise 100 Pro is alloy steel. To allow you to exhibit your professional riding styles, the deck is bigger and is fully covered with a Max grip to hold your foot in place and make it anti-slip. In all, the deck is just sturdy but weighs very little. The entire weight of the kick scooter is about 11.9 pounds.
Among the 5 of the Mongoose Rise series, this 100 Pro and the Mongoose Rise 110 Team are the only two that have quadruple anodized clamp collars. These collars provide the crisp and precise steering of your scooter. Simply put, you have easy control of the steering of the scooter because of the quadrible clamp collars it has.
In addition to these numerous advantages that the Mongoose Rise 100 Pro offers, it has a beautiful and contemporary design. It is slim, sleek, and finished in a combination of either black and green or black and red colors. These colors and designs of the scooter make everyone turn their heads when you ride past them.
| Key Features | pros | Cons |
| --- | --- | --- |
| Quadruple anodized clamp collars | Precise steering | Small wheels |
| Aluminum and alloy steel materials | Lightweight |   |
| 220lbs weight capacity | Enlarged deck for pro styles |   |
| ABEC 7 bearings |   |   |
Maintenance Tips for a Kick Scooter
Getting a good adult kick scooter is one thing, however, imagine that after spending a lot of time and money to choose the best kick scooter for you, it gets spoilt within a short period. Though it is common to say that kick scooters need no maintenance. On the contrary, you should know that no good scooter would serve you for a long period with optimum quality without proper maintenance.
This section would be based on the guides you need to maintain an adult kick scooter.
Storage
First things first, we need to talk about the plans you have for storing the kick scooter. Whether you're getting a foldable kick scooter or not, you need to consider the best places to keep them when they are not in use.
For best results, keep the scooter in a dry place after use. Preferably, use the garage. Keeping the scooter dry helps to promote a smooth ride and prevents the chains and motors from rusting.
Wheels
The wheels are very important parts of the scooter because they are the connection between you and the ground. The belief is that the wheels should be lubricated to enjoy a smooth ride, however, on the contrary, the bearings of the wheels are self-lubricating so they don't need more oil.
Getting dirt or hair around the wheels would reduce its functioning activity and in the long run ruin it. So, check them often! If your scooter isn't giving you the usual speed, it might be time to change the wheels.
Brakes
You know that riding a scooter without brakes is like riding your way to danger zones that can lead to serious damage. Hence, the need to empathize with the quality, standard, and maintenance of your kick scooter brakes.
From time to time, check the fender brakes to make sure that they are not too thin or worn out. If they are too thin, it is advisable to change them as soon as possible to avoid further damage. The same thing applies to worn-out brakes.
Handle Grip
As little or insignificant as this part might seem in terms of maintenance, do not forget that they are part of the scooter that gives comfort for prolonged rises. They give your hands an absorbing effect from drops and gaps. So, whenever you start to notice that your hands hurt or ache during or after a ride, those hand grips are ready to be changed.
In essence before any ride, you should
Check out for the tightness of all the bolts, and quick release levers.

Check out for the brakes to ensure they're working properly, the brake pads, and their potential function with the rims

Check out the pressure of the tires in comparison to the recommended tire pressure on the side of the tire

If you're going to be riding at night, make sure the kick scooter lights are functioning properly.
Subsequently, every month, to maintain your kick scooter, you should
Lubricate your brake cords with the appropriate oils

Check out for the wheels, if they are worn out, change them with immediate effect

Clean the wheels, frames, and tires with clean water and finish it with a nice polish to keep it ever looking new!

Tighten all bolts, ensure that the handlebars are flexible enough but not too loose or too tight either.

If there's any need to see a professional to take care of your kick scooter, do not hesitate to take it there.
Guide to Buying an Adult Kick Scooter
Since there are a lot of adult kick scooters out there waiting for you to pick them up and we have only reviewed the best-rated adult kick scooters, we have decided to put up this guide.
This guide to buying an adult kick scooter helps to answer questions like "How do I know which scooter is best for me?" "Which  kick scooter should I choose?" And several other questions. Keep reading.
Deck size
Being one of the most prominent parts of a scooter, the deck is an important part to look out for when choosing one. The deck bears your weight while riding and determines the level of comfort you get.
Therefore, you can opt for bigger decks for more balance, also, for your foot size, you should determine the size of the deck you're choosing, especially if you have larger feet. Be particular about the deck size.
Furthermore, a factor that most people tend to overlook is the deck height. Since it is a kick scooter, you should choose a deck that is Lowe to the ground. This would make it easier and more convenient to kick the ground subsequently during rides.
Wheel Size
Another prominent part of a kick scooter is the wheels. There can be small, medium, or large wheels. All have their importance and disadvantages. Let's talk briefly about some of them.
In terms of portability, a small-wheeled scooter is your best bet, anytime, any day. It looks less bulky and is convenient to move with you. On the contrary, a big-wheeled scooter might not be easy to hang on your shoulders and move about.
Now, in terms of riding quality and comfortability, you do not want to go anywhere near a small-wheeled scooter. With the aid of larger wheels, you get a less vibratory, faster, and more balanced ride through uneven terrains, dust, or dirt.
Wheel Bearings
Many times, when you read reviews of scooters you see words like bearings, ABEC, and so on. Well, the bearings are the determinants of the speed of the kick scooter. The higher the bearing number, the faster the scooter. Most adult kick scooters today have between 5-7 bearing rates.
Another important thing to note is the quality of the bearings. You may find a scooter with an ABEC 5 bearing that runs faster than one with an ABEC 7 bearing because of the variation in quality. Generally, good scooter brands use high-quality bearings. So, choose a good brand.
Budget
In all, your choice of an adult kick scooter is determined by your pocket size or the amount you're willing to pay for one. You can get low-end adult kick scooters at a fair price and at the same time, there are offers for adult kick scooters at outrageous prices.
Though the build-up quality would vary, you can still get a good kick scooter at an average cost.
Conclusion
Kick scooters have transcended their reputation as mere toys for kids and have become a popular choice among adults for convenient and eco-friendly transportation. They offer a practical and enjoyable way to navigate through busy streets, run errands, or simply have fun in the park. However, with the wide variety of options available, it can be challenging to choose the best-rated adult kick scooter. In this article, we have explored the top features to look for, compared some of the best-rated models in the market, and discussed their benefits, safety tips, and maintenance guidelines. Whether you're seeking a foldable, lightweight design or adjustable handlebars, this guide will help you find the perfect kick scooter for your adult adventures.
Our best-rated adult kick scooter review not only keeps you updated with the world's most recognized and approved kick scooters, but also provides you with a wealth of information that you need to know about kick scooter brands, types, and parts. We also help you learn how to maintain and things to look out for before choosing the best adult kick scooter for you and your friends.
Related Links:
 1.https://en.wikipedia.org/wiki/Kick_scooteWikipediaipedia
2.https://en.wikipedia.org/wiki/Self-balancing_scooter/ Wikipediadia
3. http://osdir.com/ml/culture.bicycle.birdybike.general/2000-05/msg00015.html
4.https://web.archive.org/web/20150522144045/http://www.kent.bike/bikes/razor/
5. https://en.wikipedia.org/wiki/Motorscooters
6. https://en.wikipedia.org/wiki/Razor_USA#Electric_scooters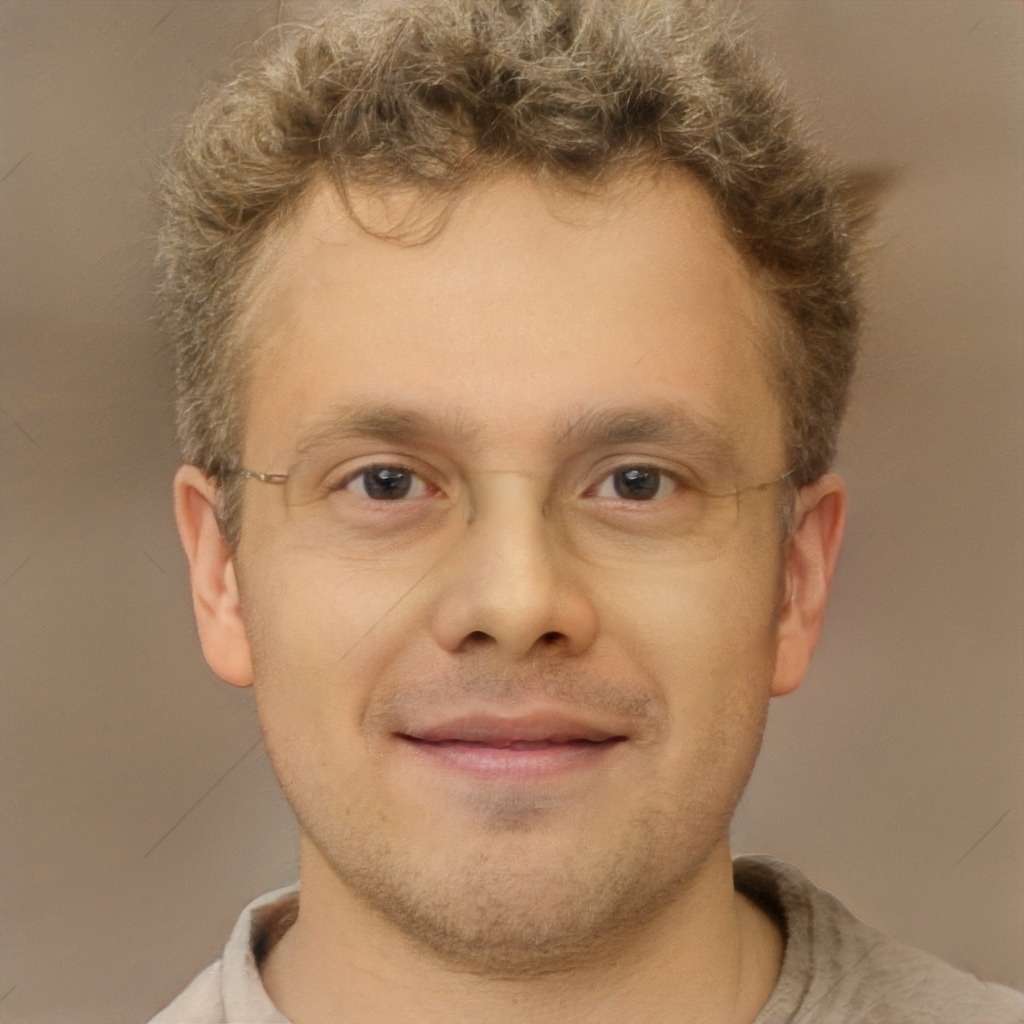 I'm the founder of HoverboardsGuide.com, a comprehensive website dedicated to electric scooters and hoverboards. With a deep-rooted passion for electric gadgets, I've accumulated extensive experience in this field. I aim to assist users in selecting the best gadgets and providing reliable guidance.
I've tested and reviewed numerous models, gaining in-depth knowledge about their features, performance, and overall quality. Feel free to reach out to me with any queries, as I'm dedicated to addressing your concerns promptly. Join me on this exciting journey of exploring the world of electric rides and making informed decisions