Are you tired of dealing with traffic jams, crowded buses, and expensive parking fees? If so, it's time to consider an alternative mode of transportation for your daily commute. Electric scooters have gained immense popularity in recent years, offering a convenient, eco-friendly, and cost-effective solution for urban commuters. In this comprehensive guide, we will explore the best electric scooters for commuting, taking into account their features, performance, reliability, and affordability. So, buckle up and get ready to discover the perfect electric scooters for commuting that will revolutionize your daily commute!
The Wheelspeed Electric Scooter is an excellent choice for commuting, with a range of 20-25 miles and a top speed of 15 mph (pro version offers 35-40 miles and 19 mph). It features a powerful 350W motor (pro version offers 400W), 10″ pneumatic tires, and rear suspension for a comfortable ride.
Key Features
So, here we have come up with the best electric scooters for commuting for those you regularly stroll along with a comprehensive buyer's guide to help you in making a wise selection. We hope one of our top picks will definitely grab your attention and you will be able to make the buying decision confidently.  
In this section, we have scribbled some timeless tips to ride the electric scooter, maintenance, safety precautions, and other important things to consider when you go to buy a reasonable electric scooter in your budget. Let's read down the lines and find how the electric scooter can make a difference as compared to the other vehicles.  
What is an E-Scooter?  
Are you looking for a quick and affordable means of transportation? If yes, then you have landed on the right section. E-Scooter is a futuristic transformation of a manual scooter that is equipped with an electric or a power-combustion motor. This compact means of commutation is designed with a large deck in the middle where the rider stands, the handlebars, and the tires.  
How does Electric Scooter work?   
The electric scooter is powered by rechargeable batteries. The batteries are usually made up of Lithium-ion or lead. These batteries energize the motor which creates a difference between an ordinary scooter and an electrical one.  
The motor of the e-scooter is located on the frame that is powered by the battery through the network of wires. The motor then moves the wheel to move forward.  
Advantages of an Electric Scooter  
There are several reasons why you can count on electric scooters to cover small distances. Some of them are discussed below.
Compact and Portable 
The e-scooter is more convenient than the other means of transportation because it is compact and portable. It does not need you to arrange a large space to park it. Nowadays, folding e-scooters are commonly available, adding more convenience to the utility. The lightweight scooter allows the user to maneuver it effortlessly uphill and over the stairs.  
Low-cost vehicle  
The e-scooters are not pricey. You can get a reasonable e-scooter in few bucks. The cost of buying an e-scooter is much smaller than buying a car or a motorbike. Moreover, it is just a one-time investment that does not need you to spend bucks on the fuel as you do for your conventional vehicle, like a car daily.      
Lower maintenance cost  
Another big advantage of the e-scooter is its low maintenance cost. The vehicle is very simple and does not require you to put additional investment in repair and maintenance.  
Environmental-friendly 
The e-scooter does not use fuel to energize. Moreover, it does not emit smoke like cars and traditional bikes, so it does not contribute to environmental pollution. Moreover, these scooters are not noisy and loud, so unlike the traditional fuel-operated vehicles, the e-scooters do not even cause noise pollution.   
Does not require License 
In some states, what you really need to do is to buy an electric scooter in order to ride it. The state does not require you to obtain any license for riding the e-scooter.    
Safe Alternative 
The e-scooter is a very safe and secure alternative for regular commuting to small distances like a supermart, a grocery store, college, or workplace. The risk of injury with the e-scooter is very low as compared to other vehicles. However, you should always wear a helmet in order to avoid any accident or collision.   
How fast do electric scooters go?  
The speed is the most exciting feature of the electric scooter. It can take you to distant places faster than the car. However, greater speed can prove you to be insane. So, it is better to limit the speed in order to avoid accidents and injuries.  
The top speed of the electric scooters for adults is a maximum of 20 mph. This speed is allowed for the adult on the road. However, modern electric scooters can reach up to 40mph, which is quite dangerous.   
Things to consider when buying an electric scooter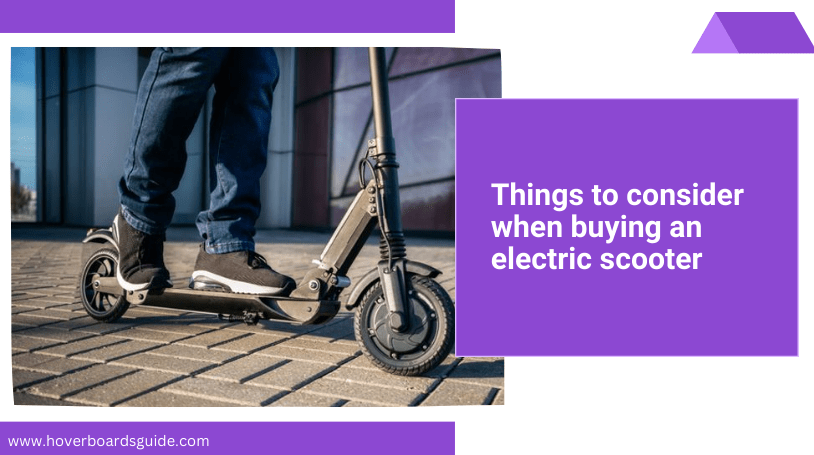 Here are a few factors that will help you to decide on the most appropriate e-scooter for you.  
Design 
E-scooters come in an array of designs and attractive colors. Among them, the foldable e-scooters offer a futuristic design adding a lot of convenience to your life. You can always fold this scooter in order to place it in any narrow corner. Moreover, it becomes so compact that you can carry it easily.  
Some sellers also allow you to customize your e-scooter according to your choice giving you the freedom to change colors, parts, and other accessories. Make sure that whichever scooter you buy is well-built and elegant.  
Weight  
The bulky motors are not usually portable. Make sure that the e-scooter you buy is lightweight so that you may be able to carry and maneuver it effortlessly. Keep the fact in consideration of how much weight you will be able to bear for taking the scooter up the hill or stairs.  
Weight Capacity  
Weight capacity refers to the weight an e-scooter is able to accommodate. The greater the weight capacity is, the better it will be the model. However, if you are a skinny person, then weight capacity may not matter, but it is an important factor for those having a hefty built and stature.  
Mileage and Battery  
The battery is an important component of an e-scooter because the scooter is powered by a battery. The distance you cover also depends upon the battery power, so make sure that your e-scooter has a high-strength battery with a good mileage per charge so that you may be able to commute to the longer distances confidently.  
Tires 
Another important part of the scooter is its tires. The good tires provide better traction and stability on the road and allow you to ride the scooter smoothly on tough terrains. There are two types of tires, i.e., airless rubber tires and pneumatic tires. Pneumatic tires are a better and more reliable option because they offer excellent shock absorption on bumpy roads.  
Speed 
Some riders love speedy bikes. So, if you are a speed demon, a sluggish scooter won't work for you. However, always keep your safety in mind while riding a speedy scooter. The maximum speed an e-scooter can reach is 20 mph. However, the bike with a 17mph speed is swift enough to ride you through long distances safely and smoothly.  
Motor Power  
Motor power refers to the ability of the scooter to take you through the challenging roads, hilly terrains, and up the hills. If you commute through the rough roads and hills frequently, then you must buy a scooter with a powerful motor; otherwise, 250 watts of power will be sufficient to stroll across the streets. 
Brakes 
A good braking system ensures prompt brakes and your safety, so it is important to buy an e-scooter with a responsive braking system. The e-scooters are equipped with different types of brakes, i.e., Foot brakes, drum brakes, regenerative brakes, and disc brakes. The disc brakes are the most reliable brakes usually found in expensive electric scooters. However, the disc brakes require ongoing maintenance to provide you reasonable performance.  
Price
Always look for a model that provides good value for money. It is not always significant to spend a fortune in order to buy a good model. However, a reasonable adult scooter is available for $500 and above. The general rule is the more you invest, the better will you be able to get.  
Other Features 
Other features include lighting, warranty, and comfort. Make sure that your e-scooter comes with a reasonable warranty so that you may be able to make a claim in case of damage and ride the bike confidently.  
Moreover, a good scooter must have adequate front and rear lights to help you strolling in the dark because the ample lighting can protect you from any potential accident on the road.  
Best Electric Scooters for Adults 
We came across countless electric scooters in the market but chose these few remarkable options because of their performance, durability, and value for money they provide. All of the reviews are unbiased, and we hope that one of our top picks will definitely grab your attention. 
1. UNAGI Model One E500 – Dual Motor Folding Electric Scooter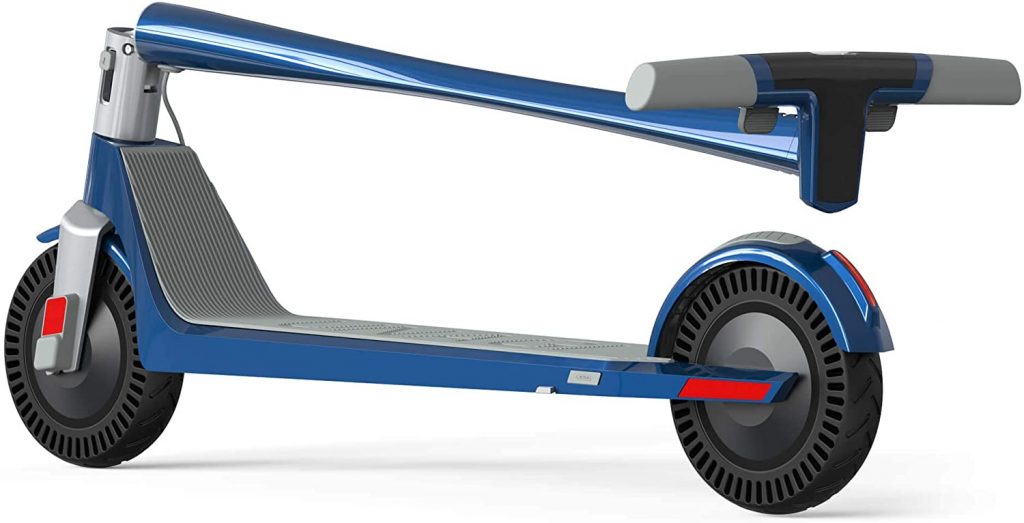 Unagi Model one is so far the best adult scooter we came across. This electric scooter has so much to offer you ranging from the stunning minimalist looks to the performance that wins the heart of the bikers.  
 Unagi Model one is so far the best adult scooter we came across. This electric scooter has so much to offer you ranging from the stunning minimalist looks to the performance that wins the heart of the bikers.  
Specs 
| | |
| --- | --- |
| Color | Cosmic Blue |
| Frame Material | Aluminum, Alloy Steel |
| Item Weight | 26 Pounds |
| Brake Style | Rear Braking |
Performance 
Unagi Model one is best for commuting small distances. The bike can take you up to 10 miles in a single charge that might be enough to commute to a nearby grocery shop, school, or workplace. Featuring a 500-watt powerful motor, this electric scooter offers quick acceleration and a stable ride on tough terrains and hilly areas.  
Design  
The design grab's the buyer's attention the most. With a sunning cosmic blue color, this electric scooter is able to impress your friends and acquaintances. The foldable design and lightweight built make it ultra-portable and easy to store. The frame of the scooter is constructed of fiber, aluminum, and magnesium, giving it a sturdier look.      
 Other Features 
The Brakes are located at the front and the rear portion of the deck. The safety brake is located at the back.   Moreover, we really liked the speed level that can probably take you up to 20 mph. 
Stunning looks and sleek design
Lightweight and portable
Three-speed levels
Powerful motor
2. Swagger 5 High-Speed Electric Scooter for Adults
The Swagger 5 is a high-strength futuristic model that can grab one's attention in a wink. The e-scooter has app-enabled operations differentiating it from the ordinary electric scooters. The upgraded electric scooter is equipped with a 300-watt motor that can take you through any road and challenging terrain to the destination. It has a 37V potent battery that can take you to longer distances.  
Specs 
Color
Black
Handle Height 

41.5 Inches

 

Handlebar Type 

Foldable

 
Design 
This scooter features an innovative folding design and a sturdy aluminum alloy frame that can withstand a weight of up to 320 lbs. The scooter is equipped with an impressive LED display that shows you all the important statistics like the speed and battery level. Moreover, the scooter has thick airless tires that are puncture-resistant and made to roll smoothly on tough terrains.  
 Other Features 
There are three-speed modes, so you can adjust the speed according to your choice. In addition, the free application gives you access to your speed, cruise control, and map routes via GPS.  
App-enabled control  
Resilient frame construction  
Thick airless tires for smooth rides 
Three-speed levels 
The scooter is not for bulky people. 
3. Gotrax XR Ultra Electric Scooter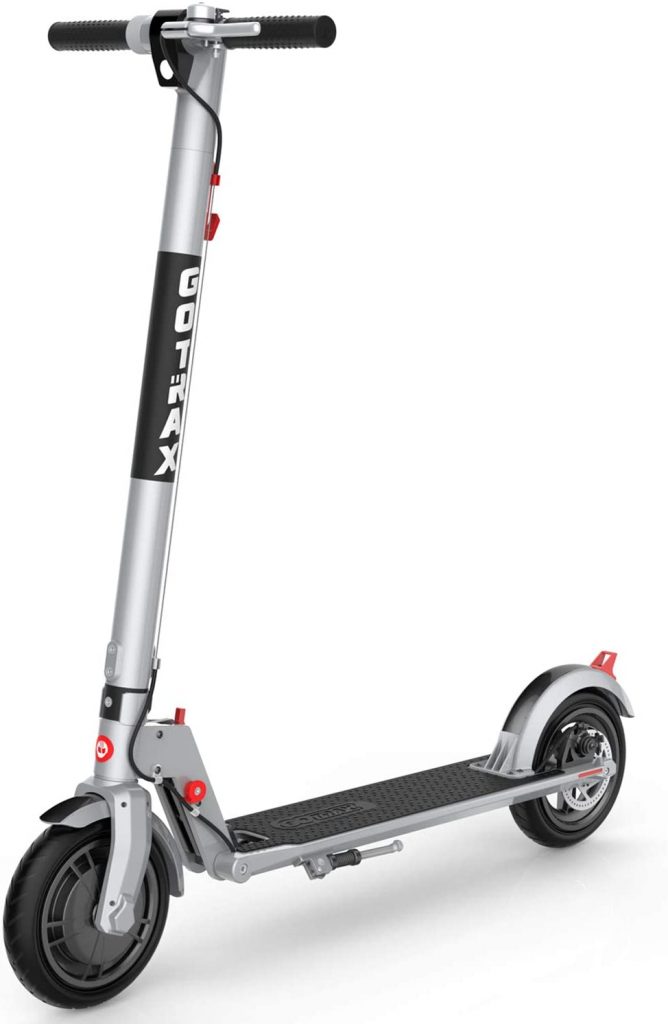 If you are looking for a reliable best electric scooter on a small budget, then GoTrax XR Ultra Electric Scooter is the best bet. Featuring a high-strength rechargeable battery, this scooter exhibits a travel range of up to a maximum of 17 miles, which is a considerable distance. It has a powerful 300-watt noiseless motor offering up to 15.5 mph speed. The scooter can easily handle the steeper hills and hilly roads
Specs 
Color
Black
Handlebar Type
Foldable
Wheel size
8.5 Inches
Frame Material 

Aluminum

 
Design 
The scooter has come up with an innovative folding design with a quick folding mechanism. It has a sturdy aluminum construction that makes it resilient and stable. 
Other Features 
This scooter features a high-strength disc braking system that enables responsive braking. Moreover, it features thick pneumatic tires that provide better shock absorption than ordinary airless tires. The GoTrax XR has a built-in LED display that shows different important stats like speed, battery level, and headlights. The headlights emit bright irradiation enabling you to look clearly in the dark.  
Very affordable price 
Equipped with LED  
Sturdy construction  
Pneumatic tires with better shock-absorption 
Anti-lock disc braking system  
The assembly is complicated
Read Our Reviews:
4. NANROBOT D4+ Powerful Electric Scooter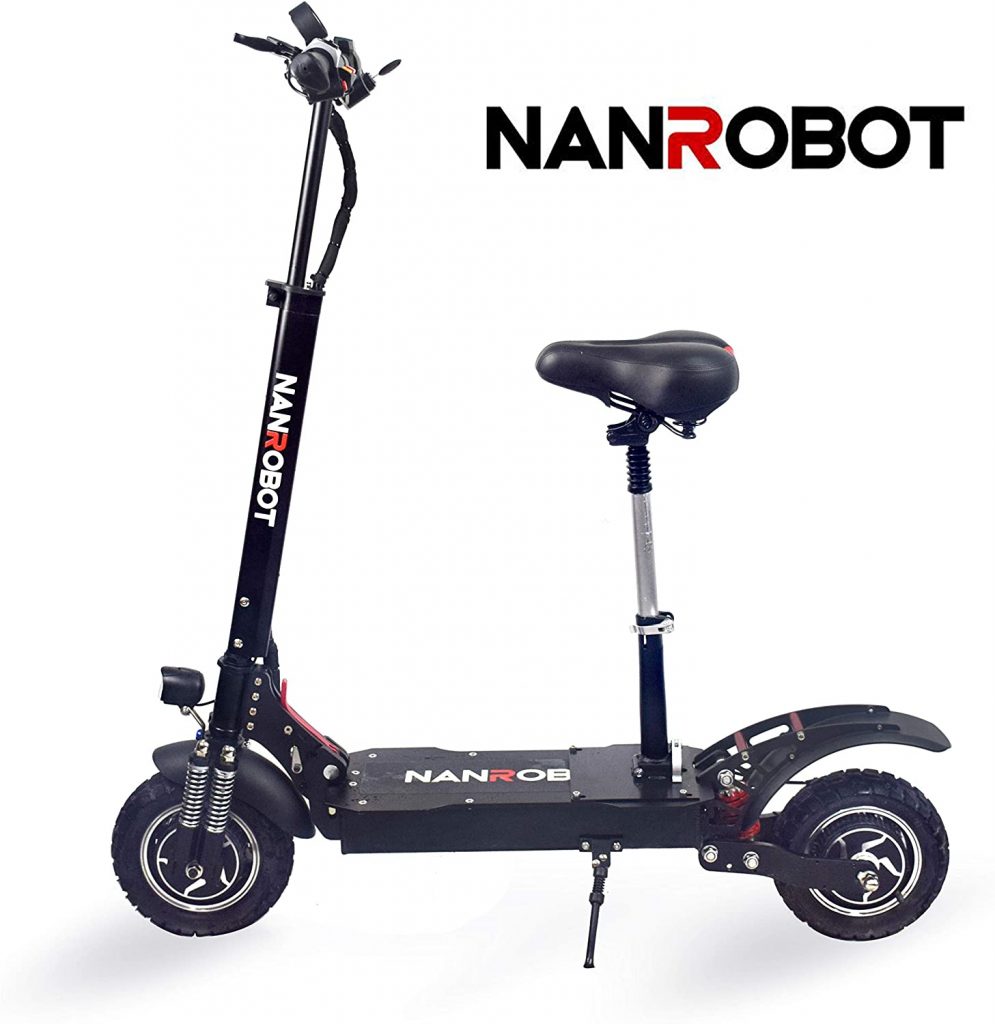 If you don't have a budget constraint and looking for an impressive high-end electric scooter, then Nanorobot D+ is none other than an exception. The scooter is equipped with a very powerful 2000 watt motor that can take you up to 40 to 45 mph speed. The scooter has two motors at the front and rear wheel, providing better traction, stability, and acceleration on all types of terrains.   
Specs 
Brand

 




NANROBOT

 

Handlebar Type 
Foldable
Brake Style 
Front Braking, Rear Braking
Design  
The scooter has a modern folding design and comes with a seat providing you more comfort and convenience throughout the ride. The portable design allows you to fold or unfold it in a matter of minutes. It is very easy to store, and you can place it in your car's trunk or any other narrow place.  
Other Features 
Other features include an efficient EBS disc braking system, Pneumatic tires, and multiple shock absorbers that absorb shocks efficiently on bumpy roads. It is also equipped with an emergency braking system that you can use to prevent impact. 
Potent electric motor 
Efficient braking system to minimize shocks  
It comes with a comfortable seat  
Easy folding mechanism  
Takes swiftly to the destination 
5. Segway Ninebot MAX Electric Kick Scooter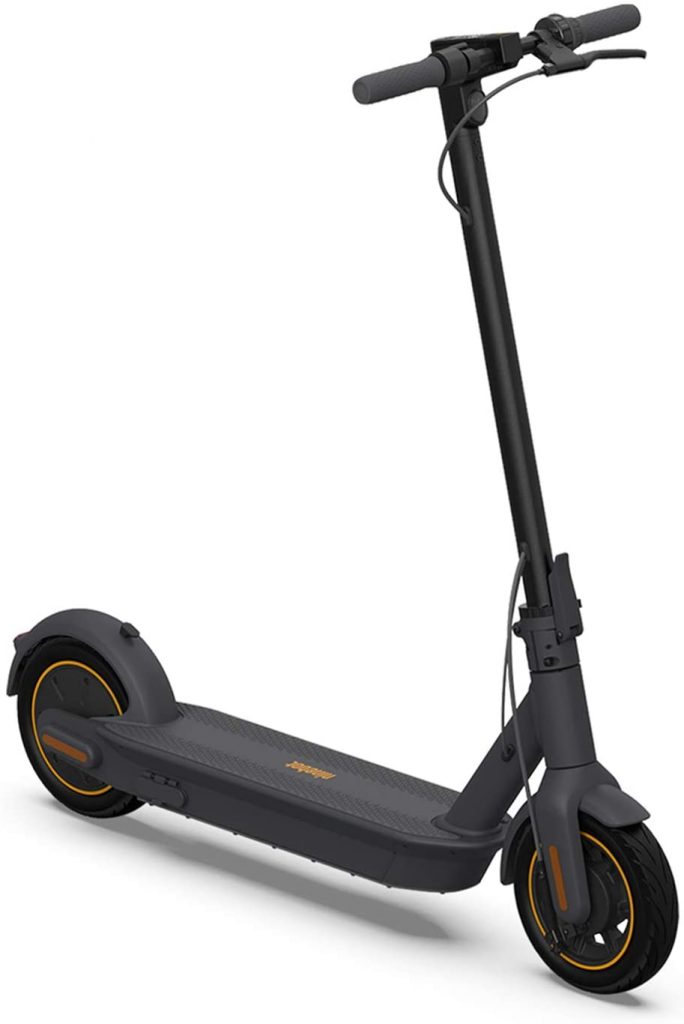 If you are looking for a reliable electric scooter to take you to distant places, then Segway Ninebot MAX is the best electric scooter for adults. This scooter can transport you up to 40 miles swiftly and smoothly. Moreover, the scooter is a treat for speed enthusiasts because it can reach up to a speed of 18 mph with the help of a very intelligent battery management system.  
Specs 
Color    

Dark Gray

 

Handlebar Type

Foldable 

 

Wheel Size 

  10 Inches

 

Wheel Type

Pneumatic tires

 
Design 
The stunning black design grabbed our attention at first sight. Moreover, it has a foldable mechanism that allows you to fold or unfold the scooter just in three seconds. The bile is portable and easy to store. You can take it around the town in your car's trunk easily. 
Other Features 
The scooter has shock absorbers and a smart braking system that minimizes the impacts of bumps and rough roads. Moreover, the thick pneumatic tires provide traction and stability on the road. The scooter also features a built-in LED allowing you to make different adjustments and control like cruise control, application connectivity, and battery status and riding modes, etc.   
Suitable for distant rides 
Sturdy pneumatic tires for stability  
Efficient braking system  
Smart built-in LED  
Application-enabled 
6. Xiaomi Mi Electric Scooter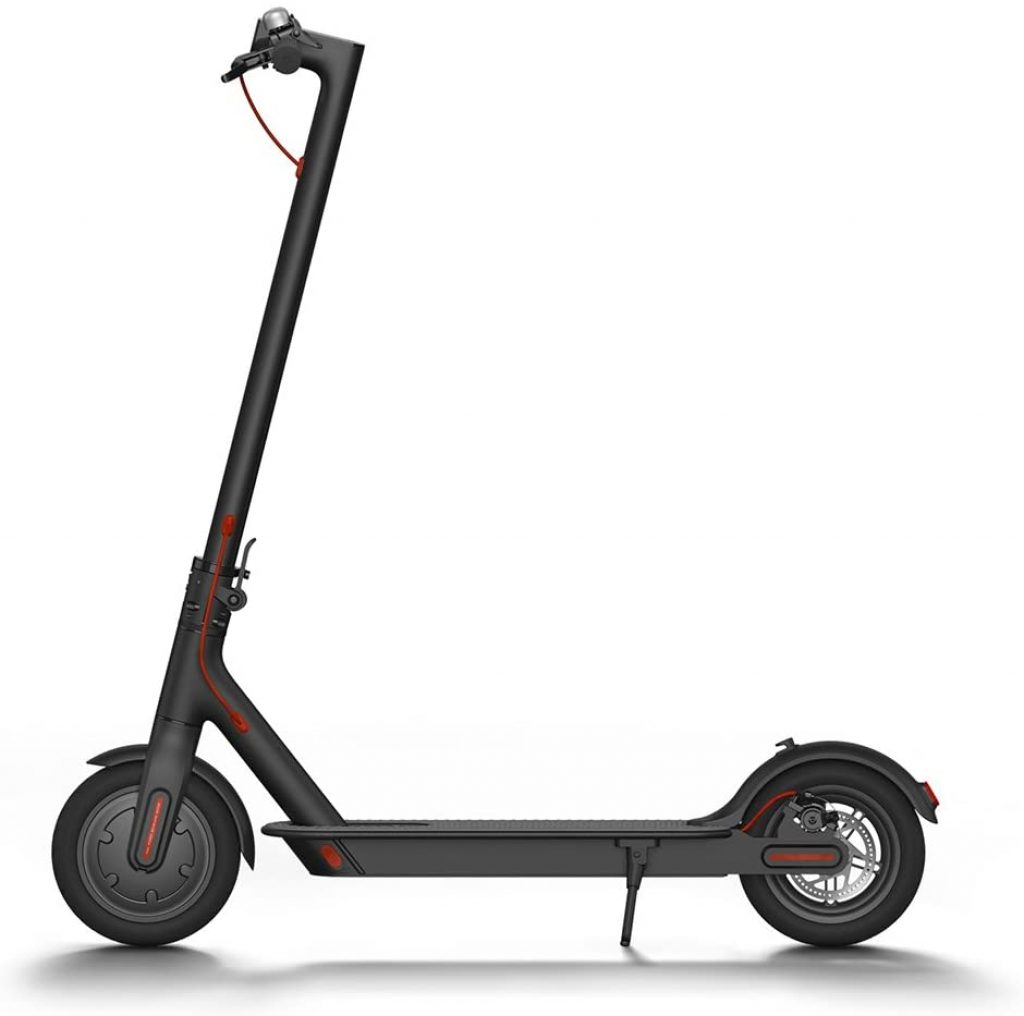 Xiaomi Mi Electric scooter is a very reasonable electric scooter featuring a 250-watt battery propelling the scooter to reach up to the speed of 15.5 MPH. The powerful battery allows you to travel continuously up to a maximum of 18.6 miles.   
Specs

 
Color 

Black

 

Handlebar Type

Foldable

 

Wheel Size 

28 Centimeters

Frame Material 

Aluminum

 
Design  
The scooter has an intelligent design that has won famous international awards as well. The frame has exemplary resilience having aerospace-grade aluminum construction. The minimalist built allows you to place the scooter anywhere you want. It is lightweight and easy to carry so you can take it anywhere.  
Other Features

 
Xiaomi Mi is a well-built electric scooter with a lot of other features as well. It has a double braking system that features eABS brakes that very efficient and responsive. Moreover, the bike has intelligent and user0friendly controls, so it is suitable for all ages. 
Suitable for all ages
Award-winning design
Portable and lightweight
7. Razor E200 Electric Scooter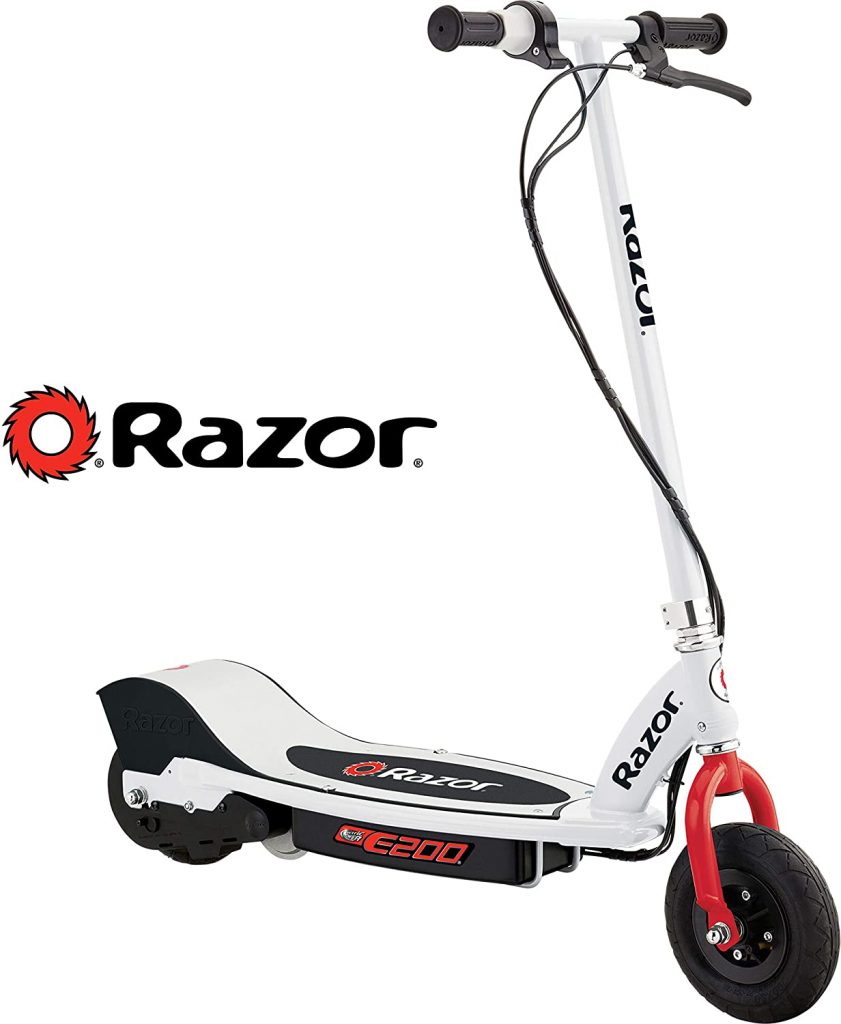 Are you looking for a cheap electric scooter? Razor E200 is a good deal keeping performance, price, and features in mind. This scooter has an ultra-quiet motor that propels the scooter to take you to your destination effortlessly. The motor is powered by a long-lasting, powerful battery that results in a maximum speed of 12 mph.   
Specs
Color 

Teal

 

Age Range (Description)

Adult

 

Brake Style 

Rear Braking
Design 
However, this scooter has a low-profile design as compared to our previous picks, but it still proves to be preferable by several users because of its price and functionality. Featuring a teal blue color, the scooter has a removable seat adding comfort and convenience to the riding experience.  
Other Features 
Other features include an efficient braking system. The brakes are located at the back and are hand-operated. Moreover, it is equipped with pneumatic tires that offer better shock absorption and a stable wheel drive.  
Very affordable price 
Reasonable speed 
Pneumatic tires offer stable wheel-drive 
The scooter is very noisy. 
Final Words 
So, these were some of the best adult scooters you can count on to commute to nearby places as well as distant ones. If you want to know the reviews then check the best electric scooter reviews 2022. These scooters are a far more economical and futuristic way to commute. However, they come in a wide variety, so we have given you an array of choices in order to make the right decision.  
Let us know your views in the comments section below and also share your experiences with us. You can also suggest some new models you want us to review in the next editorial. Cheers.   
Related Links: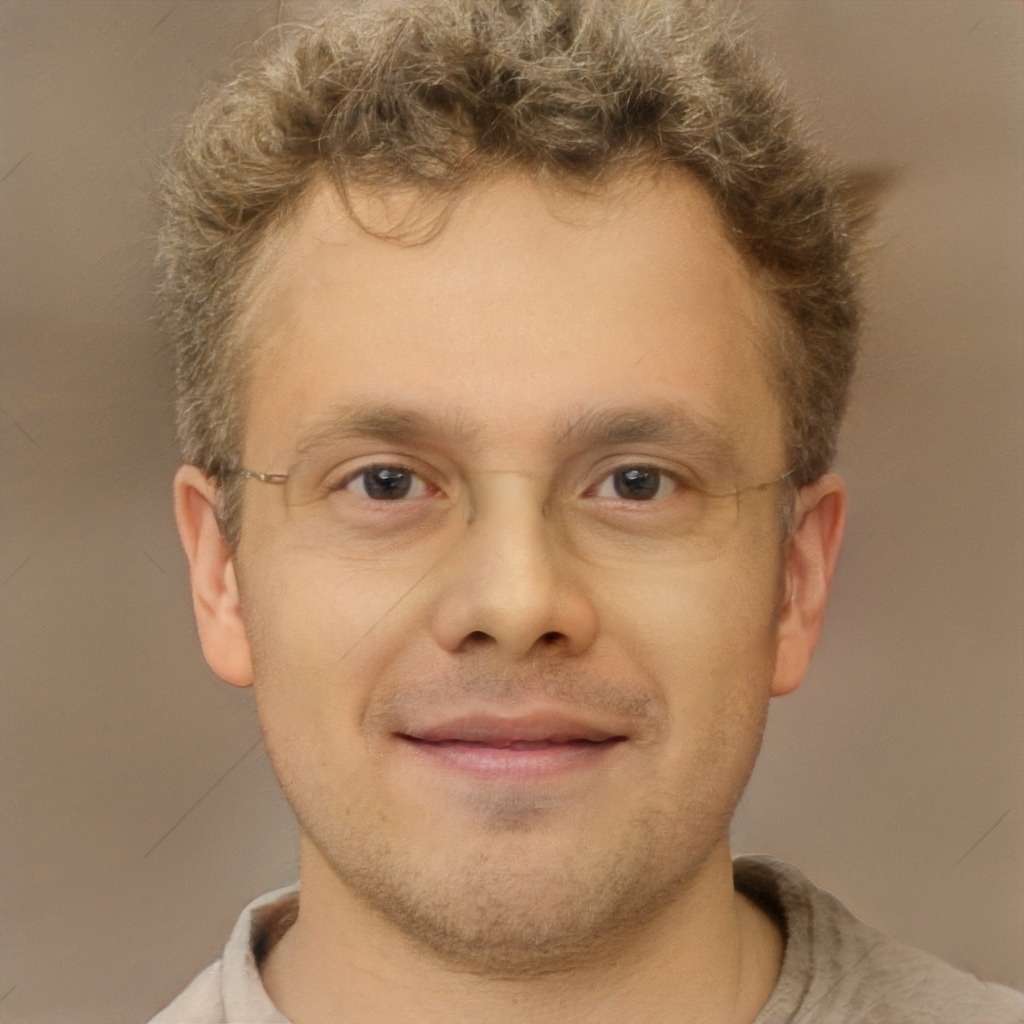 I'm the founder of HoverboardsGuide.com, a comprehensive website dedicated to electric scooters and hoverboards. With a deep-rooted passion for electric gadgets, I've accumulated extensive experience in this field. I aim to assist users in selecting the best gadgets and providing reliable guidance.
I've tested and reviewed numerous models, gaining in-depth knowledge about their features, performance, and overall quality. Feel free to reach out to me with any queries, as I'm dedicated to addressing your concerns promptly. Join me on this exciting journey of exploring the world of electric rides and making informed decisions