The Mercane WideWheel Pro is an exceptional electric scooter that has gained immense popularity among commuters and enthusiasts alike. With its sleek design, powerful performance, and user-friendly features, it offers a compelling option for individuals seeking an efficient and eco-friendly mode of transportation. In this article, we will delve into the various aspects of the Mercane WideWheel Pro, highlighting its design, performance, safety features, user-friendliness, customer reviews, pricing, and more. Whether you are considering purchasing this electric scooter or simply interested in learning more about it, this review will provide you with valuable insights.
The Wide Wheel Pro Electric Scooter is a powerful and efficient adult scooter, with a 15Ah battery, two 500W motors, and a range of up to 43 miles. It can reach a top speed of 25 MPH and features a foldable design for easy storage and transportation.
It can reach the max speed of 43 KMPH
Covers 31.1 KMPH in a single charge
Scooter Weight 24 Kgs
Rider Weight limit 100 Kg
Fully Water Resistant
Thrilling & Exciting Ride
Terrific For Hill Climbing
 Highly Durable & Quality Built
Compact & Foldable
The suspension is quite Stiff
Read Our Reviews:
 "Mercane Wide Wheel Detailed Review"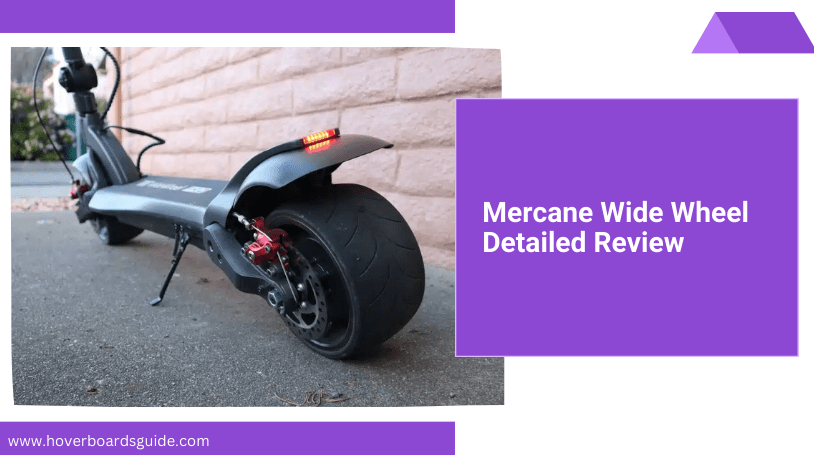 The Mercane Wide Wheel version that is launched in 2020 is a smooth upgrade in their previous models of 2019 in 2018. Both earlier models were also a fun ride. But the users reported having some problems with their brake calipers. Moreover, a few imported metal fatigue further caused swingarms and stem failure. Both the aforesaid issues are resolved with a brilliant upgrade in its braking system, adding aluminum alloy, and some amendments in design.
In the new upgraded version, Mercane Wide Wheel Pro 2020 offers an LCD display, an addition of nice and powerful dual disk brakes. Moreover, all the weak parts are replaced with strong aluminum alloy material. That makes your scooter more durable and more convenient and super safe. If I have to narrate its ridding experience in one line it's just like riding a rocket.
This scooter offers a terrific and smooth ride that makes your riding experience super crisp. you are not going to feel any bumps that hit your way. Moreover, you don't need to stabilize it as it seldom loses balance and control. But when it comes to sharp and quick turns you might find it a bit slow.
Its Acceleration is another big plus as it's very quick and really fun for fast riders. You can reach a speed of 40 Kph in just 8.4 secs. That much speed in this much time is outstanding, and the top speed of 43 Kph is higher than you might need.
Its improved 720-watt battery pack is an upgraded version of the 2019 model. So it can cover a range of almost 30.1 kilometers in a single charge at the highest speed.
As Mercane WideWheel Pro 2020 is a scooter designed with stiffer suspension and offers solid tires. it's better to use its smooth roads and rough rides should be avoided. If you want to have fun at weekends with its exciting acceleration and comfort of riding. You can definitely choose Mercane wide wheel as your weekend ride partner. Moreover, if you want it for daily computing it still is a lot of fun.
You just need to keep in mind the rider's weight and the road quality you will choose as your track.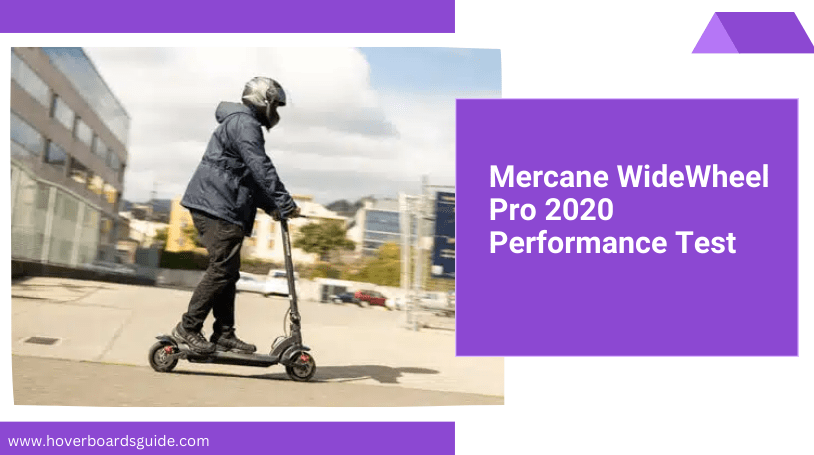 Here you will get to know real facts about this rock-solid scooter. You are not going to get these results on the manufacturer's guide. But these are results from our personal testification that are being presented to you after thorough testing.
 Initial acceleration from 0 to 24 kilometers per hour in only 3.2 seconds

Goes to the speed of 0-32 kilometers in only 5.2 seconds

Scooter Weight 24 Kgs

And attains its maximum speed from 0 to 40 kilometers per hour in only 8.4 seconds

Its top speed is up to 43 kilometers per hour

After applying brakes it goes down from 24 to 0 Kmh at a distance of only 3.8 meters

Can cover 31.1 km in a single charge
 Acceleration
If you are a speedster Mercane wide wheel pro is going to be a great source of satisfaction because it can Rock towards your favorite speed in almost half the time as compared with any other scooter in that range.
If you make a comparison of the Mercane electric scooter with Xiaomi M 365 and the Mercane wide wheel, it is far faster than that.
Incline Climbing
If you want to climb some hills and inclines you don't need to worry as this best electric scooter is never going to disappoint you. Its power can help you conquer even the steepest inclines just like a pro.
While testing it on a 10% grade incline with the Rider of 74 kgs and within the average speed of 21 kilometers per hour. This super scooter took only 10 seconds to hike the steep.
If we make a comparison of Mercane Wide wheel with Xiaomi M 365. It will cover the same steep under the same circumstances far slower than that.
Speed Limit
Mercane wide wheel's top speed is 43 km per hour with a rider of 74 kgs. This speed is nearly the same as you expect from a professional electric scooter. So the 2020 model is a better version in speed limit as well.
Millage
Its battery is again a better version of its previous 2019 model as it offers a powerful lithium-ion battery with 720 watts. And a capacity of covering almost 31.1 kilometers in a single go. its complete charging time is 7 hours. (The mentioned mileage was obtained during a smooth ride. With some rough patches, some brakes, and stops, and even some steeps on a high speed with the Rider of 74 kgs.)
Brake Efficacy
Whenever we are performing performance tests for scooters or any other automobile I always prefer a dual braking system. As in case one fails the other is still there as backup for your safety. In Mercane Wide Wheel Pro 2019 model they were offering just a single disc brake. But the good news is in its 2020 version they are offering dual electronic brakes that are super cool with their 120 Mili meter mechanical discs.
During the performance test, we observed that WideWheel pro came down from the high speed of 24 kilometers per hour to 0 in a small gap of 3.8 meters. Believe me, anything under 5 meters is simply awesome. So Wide Wheel pro is a good deal in terms of excitement wrapped with safety.
Comfort Level
Now let's come to its riding experience with its powerful dual spring suspension and solid polyurethane tires. it is good to go on smooth roads. But if you aim to be a rough Rider then this might not be your cup of tea.
Undoubtedly it is an exciting and smooth ride experience on a nice road. Its tires are 4 inches wide which are good to go on smooth tracks without any jerky feeling. Moreover, 4 inches is a good width so your tire doesn't stick in any cavity on the road and gives you a spill-free ride.
But when it comes to quick turns and moves as we already mention it is not very quick in curving. Moreover, its suspension is quite stiff so if you are going to run it on bumpy roads you are going to feel the road tension. As the suspension and tires provide less absorption for that. For the overall riding experience, we would like to mention that Mercane wide wheel Pro is great to go on smooth tracks.  But it is not an off-road scooter because its suspension, tires, and even its framework all are not meant for that. If you still use it off roads I suggest it, abusive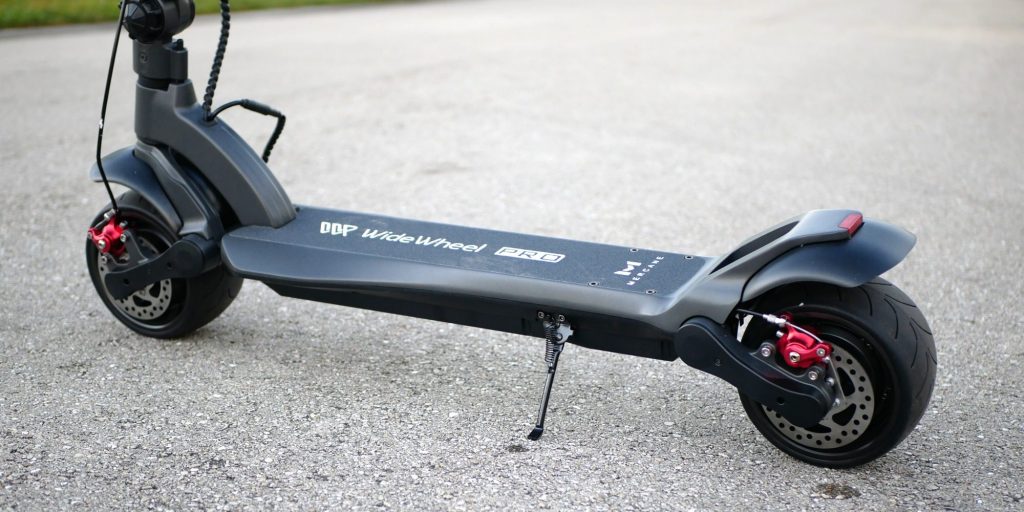 Transportability
when it comes to portability and transportability this electric scooter falls in the middle range. As it weighs 24 kgs which is not so heavy that you can't carry it for short distances. Moreover, even it is a possibility you can climb a few stairs with it. But if you say it is ultra transportable and too lightweight that will also be wrong.
Wide Wheel offer foldability which makes it compact in looks and size. Even its handlebars are foldable, bringing its dimensions down to 109 CM by 23 CM by 41 CM. This size is so compact that you can easily place it in your car back Seat or in any trunk. If you make its comparison with Xiaomi M 365 its dimensions are much lower than that.
When it comes to its locking facilities they are quite good, once locked the stem gets perfectly stable. As they are using an advanced threaded lock system. You can carry it even in a single hand after folding it. But you need to be strong enough as 24 kg is not very light to carry single handly.
The only drawback observed is that its folding mechanism is not very quick and takes a few seconds. It is not like a single push folding but reactivating it doesn't take much time. As the handlebars are folded through a spring-loaded system that brings them back to their real place in no time There is no compromise on the sturdiness and durability of the handlebars. You can also use it as a daily commuter because after folding it is even transportable on public transportation.
Control panel/ Cockpit
When it comes to its cockpit it is ergonomically designed its grips are very much stable and nonslip as comped to the previous version. Moreover, its LCD display is also great. As it indicates which speed you are going on, which mode you are using, and also keep you updated about your battery status.
Mode switching and power button are also placed at the Display panel, so accessing them is also super simple. The thumb throttle is almost the same as it used to be in 2019 were but they have added a brake lever in the cockpit that is quite good.
Lights
Lights are also a significant part of an electric scooter because we may have to ride in the dark or even fog. For such circumstances, this scooter offers a headlight that is an LED and a rear A light that is also LED and red in color.
The front light is brighter than the back one. But I don't find it good enough to observe hazards from a distance during night with its bad optics. As the light spreads all around and don't stay focused on the road. In such conditions, we always recommend adding some additional light and wearing some reflective clothes. Moreover, if you can wear a pair of light-up shoes that too is helpful.
Tires
Its Tires are almost four inches wide filled with polyurethane and kind of solid tires. As we know that solid tires are not great in shock absorbance and they don't provide very good cushion at roads. but as it is not the best off-road electric scooter that is not an issue.
These tires have a plus feature as well that they are never at the risk of being flat. During rains and in wet conditions you need to be careful about slipping. These tires don't have much knobs or spikes on them to maintain a good grip on the road.
Deck Dimensions
The deck is not too big and not too small with 5 inches wide deck. As it is a nice standing place but can count it within the category of slim scooters as well. So the dimensions with their length and width are accurate for person to stand in a comfortable position.
Build Quality
The built quality of the Mecrane Wide Wheel is better than its previous models. As they have upgraded a few of its components with aluminum alloy material. Stem dimensions are also improved as it is thicker now. They have also worked on neck and fork quality, it also seems like in good strength.
All the changes are good and they have actually upgraded their electric scooter to something better. But when it comes to rider weight limit they don't suggest anyone more than a hundred kg's should ride it. I personally think someone with 75 to 80 kgs weight should buy this scooter. This is quite waterproof as well so in light rains you can use it. But soaking your scooter in water is not a good idea in any case.
I would also like to suggest a few drawbacks which you should know while reading this review. Fenders should be a bit broader as in current dimensions they are not appropriate to prevent spills on you.
The folding mechanism needs to be worked out as it gets loose again and again. Moreover, wire arrangements need to be tidier as compared to now.
Final Verdict
Well in my opinion wide wheel pro-2020 is a good selection as a weekend cruiser or you are going to choose it for daily commuting. 24 kg is quite a good weight to fall in the middle range with not too heavy and not a too light electric scooter. Its most attractive features include a dual-disc braking system. It's well made and well-placed LCD display and it's strong and sturdy improved built. These features make the scooter quite a good choice to buy. Moreover, its battery and motor are also nicely powered and provide a good range and its acceleration is also quite thrilling. But its stability makes it less scary for most of the riders. It is a good choice but again I would like to mention it is not for off-road riders. As it doesn't have such capabilities. if you are looking for an off-road version you need to check in with some best off-road electric scooters. 
Related Link: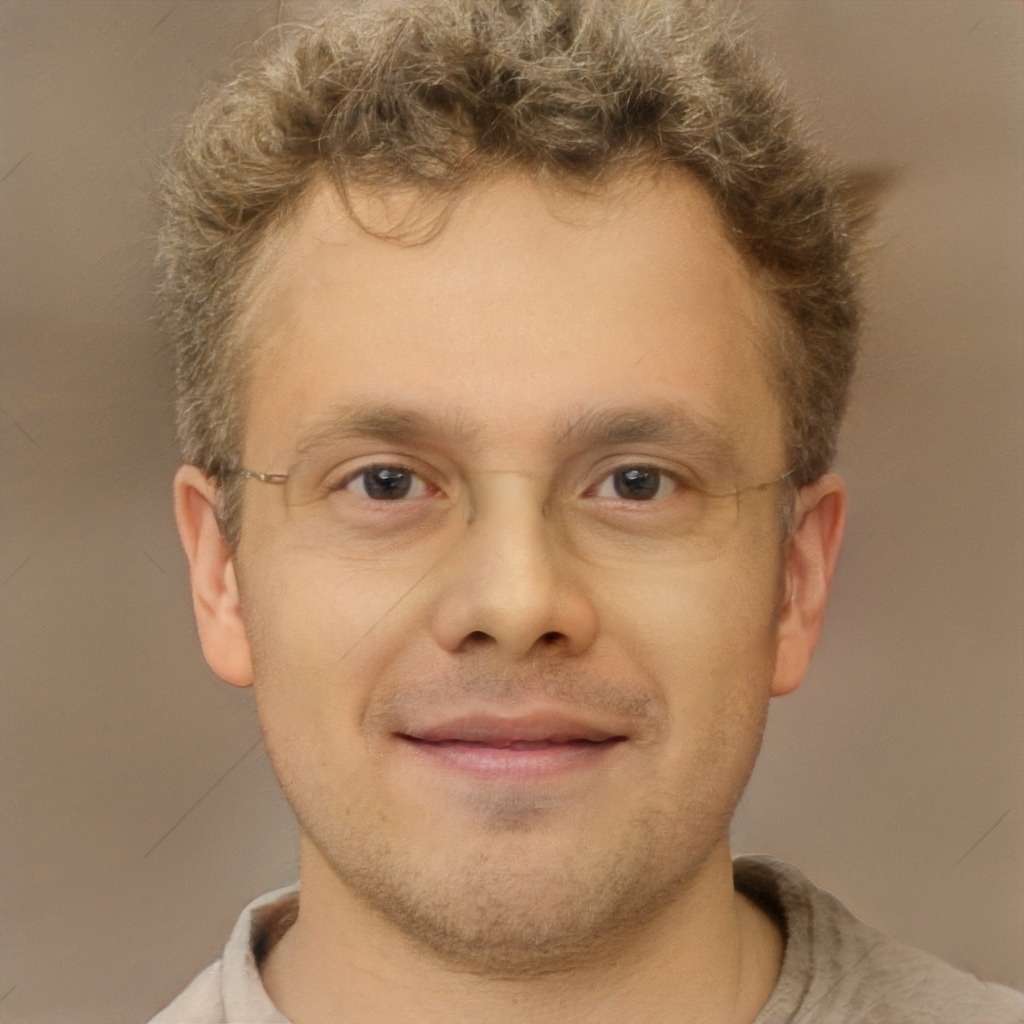 I'm the founder of HoverboardsGuide.com, a comprehensive website dedicated to electric scooters and hoverboards. With a deep-rooted passion for electric gadgets, I've accumulated extensive experience in this field. I aim to assist users in selecting the best gadgets and providing reliable guidance.
I've tested and reviewed numerous models, gaining in-depth knowledge about their features, performance, and overall quality. Feel free to reach out to me with any queries, as I'm dedicated to addressing your concerns promptly. Join me on this exciting journey of exploring the world of electric rides and making informed decisions