The Qiewa Q1 Hummer Electric Scooter has gained popularity in recent years due to its powerful performance, impressive range, and robust build quality. In this comprehensive review, we will delve into the various aspects of this electric scooter, exploring its specifications, features, design, performance, safety, and customer feedback. By the end, you'll have a clear understanding of whether the Qiewa Q1 Hummer is the right choice for you.
Introduction
Electric scooters have revolutionized urban transportation, providing an eco-friendly and efficient mode of travel. The Qiewa Q1 Hummer Electric Scooter is a standout option in the market, offering a blend of power, durability, and style. With its sleek design and impressive capabilities, this electric scooter appeals to both daily commuters and adventure seekers.
Overview of Qiewa Q1 Hummer Electric Scooter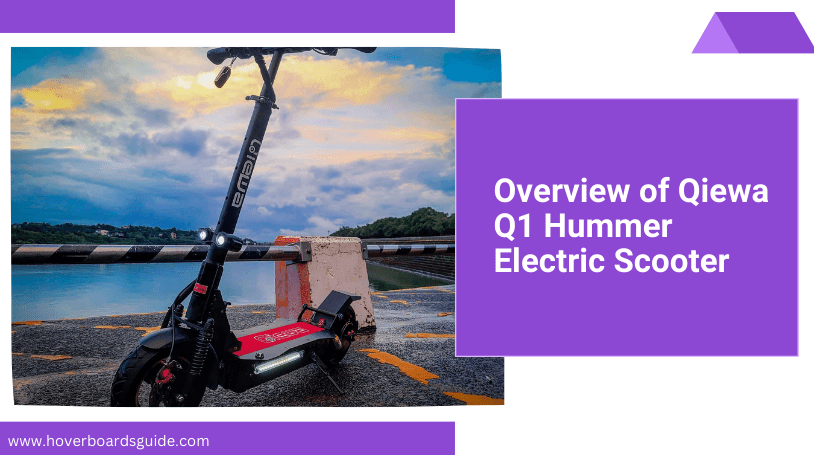 The Qiewa Q1 Hummer Electric Scooter is a high-performance vehicle designed for various terrains. Equipped with a robust motor and large battery capacity, it offers a top speed of up to 37 mph (60 km/h) and a maximum range of 68 miles (110 km) on a single charge. This makes it suitable for long-distance commuting and leisurely rides.
Specifications and Features
Power and Battery
The Qiewa Q1 Hummer Electric Scooter is powered by a 1200W brushless motor, providing ample torque for quick acceleration and smooth riding. It features a high-capacity 26Ah lithium battery, ensuring a long range and reducing the need for frequent recharging. The scooter also offers regenerative braking, which helps to extend the battery life.
Design and Build Quality
With a sturdy frame constructed from aviation-grade aluminum alloy, the Qiewa Q1 Hummer Electric Scooter exhibits exceptional build quality. Its robust design allows for a maximum load capacity of 550 lbs (250 kg), making it suitable for riders of various sizes. The scooter features large 10-inch pneumatic tires, providing excellent traction and stability on different surfaces.
Performance and Range
The Qiewa Q1 Hummer Electric Scooter offers impressive performance capabilities. Its powerful motor enables a top speed of 37 mph (60 km/h), allowing you to reach your destination quickly. The scooter also offers a maximum range of 68 miles (110 km) on a single charge, depending on factors such as rider weight, terrain, and speed.
Safety and Security
When it comes to safety, the Qiewa Q1 Hummer Electric Scooter incorporates several features to ensure a secure riding experience. It features a dual suspension system that effectively absorbs shocks and vibrations, enhancing overall stability and comfort. The scooter is equipped with front and rear disc brakes, providing reliable stopping power even at high speeds.
Comfort and Ride Quality
The Qiewa Q1 Hummer Electric Scooter offers a comfortable riding experience, thanks to its ergonomic design and thoughtful features. It features a wide and cushioned seat, providing ample support during long rides. The dual suspension system and pneumatic tires work together to absorb road imperfections, delivering a smooth and enjoyable ride.
Maintenance and Durability
Maintaining the Qiewa Q1 Hummer Electric Scooter is relatively straightforward. Regularly checking the tire pressure, ensuring the battery is charged, and keeping the scooter clean are key aspects of maintenance. The scooter's durable construction and quality components contribute to its longevity, allowing you to enjoy its performance for years to come.
Safety of the rider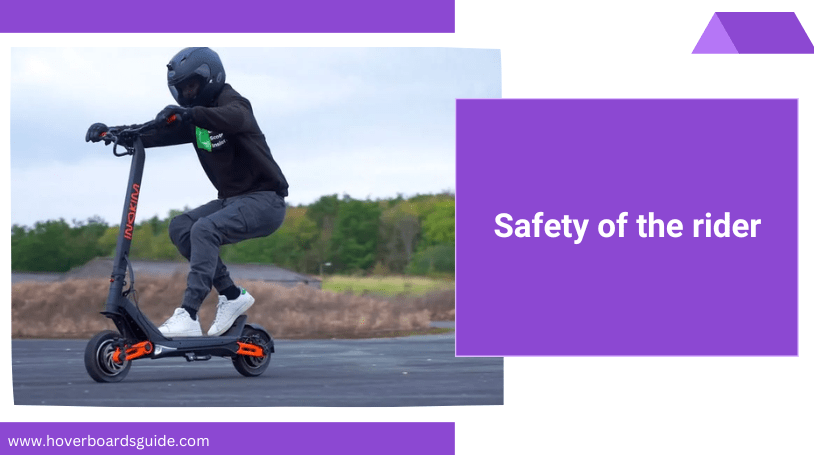 At multiple points, the safety of the rider is assured while designing the different parts. This includes the following
Breaks are very efficient and help in the reduction of the speed as well as save the rider from the crash. The state-of-the-art breaks are an important feature.
Second, is the tires that provide you with a firm grip on the road no matter what type of surface you are moving. These tires will carry you from every surface easily.
The third one is the LEDs that are placed in the appropriate places. So that the people who are moving on the road with you can easily know about your position of yours and the next immediate move. If you are going to change your direction or are going to take a turn. Moreover, it provides you with the appropriate light. In this way, you can easily move on the road with the appropriate ease.
Although these standards areas are not so different they are usually adopted by a number of manufacturers. Even then it indicates that the manufacturer has done his utmost effort to provide you with the best possible safe product you can move in the streets.
Pros and Cons
Pros:
Powerful motor and impressive top speed
Long-range capability for extended rides
Sturdy build quality and high-weight capacity
Comfortable riding experience with suspension and cushioned seat
The effective braking system for enhanced safety
Cons:
Heavier weight may limit portability for some users
Higher price compared to entry-level electric scooters
The Mongoose React Electric Kids Scooter is a versatile and durable ride for boys and girls ages 8 and up, with a maximum rider weight of 175 lbs. It features aluminum handlebars and a frame, a rear foot brake, and varying max speeds for a safe and fun ride.
Key Features
Read Our Reviews:
Every product has positives and negatives simultaneously. Sometimes the positives are more and sometimes the negatives are more. Here till now, we have seen some of the best positive points.
Now here is the time that we should discuss some of the negative points of this device too. There are three big issues in this product
The most annoying thing here is the price. It really can raise some serious financial issues for you. You have to think and plan about your financial issues before buying this. So plan the budget first and then move accordingly.
The second issue of concern is with the controllers. Some people find it difficult to control the scooter with such simple controls. Therefore they have demanded relatively better battery scooter controls.
Although these are really good scooters to have, the after-sale services are really bad. You will not get much support from the manufacturer once you have purchased the scooter.
These are some of the drawbacks of this product. But truly speaking these are not so harsh for those who may decide to leave this product for good.
Conclusion
The Qiewa Q1 Hummer Electric Scooter is a reliable and powerful option for riders seeking a high-performance electric scooter. With its impressive top speed, long-range capabilities, and robust build quality, it offers a thrilling and comfortable ride. While its weight may be a consideration for some, the Q1 Hummer delivers on performance and durability. Consider your specific requirements and budget to determine if this electric scooter is the right choice for you.
FAQs
1. Is the Qiewa Q1 Hummer Electric Scooter suitable for off-road use?
The Q1 Hummer Electric Scooter is designed to handle various terrains, including light off-road conditions. Its sturdy construction, large tires, and powerful motor enable it to navigate through uneven surfaces with relative ease.
2. How long does it take to fully charge the Qiewa Q1 Hummer Electric Scooter?
The charging time for the Q1 Hummer Electric Scooter depends on the current battery level and the charger used. On average, it takes approximately 8-10 hours to fully charge the battery.
Related Links: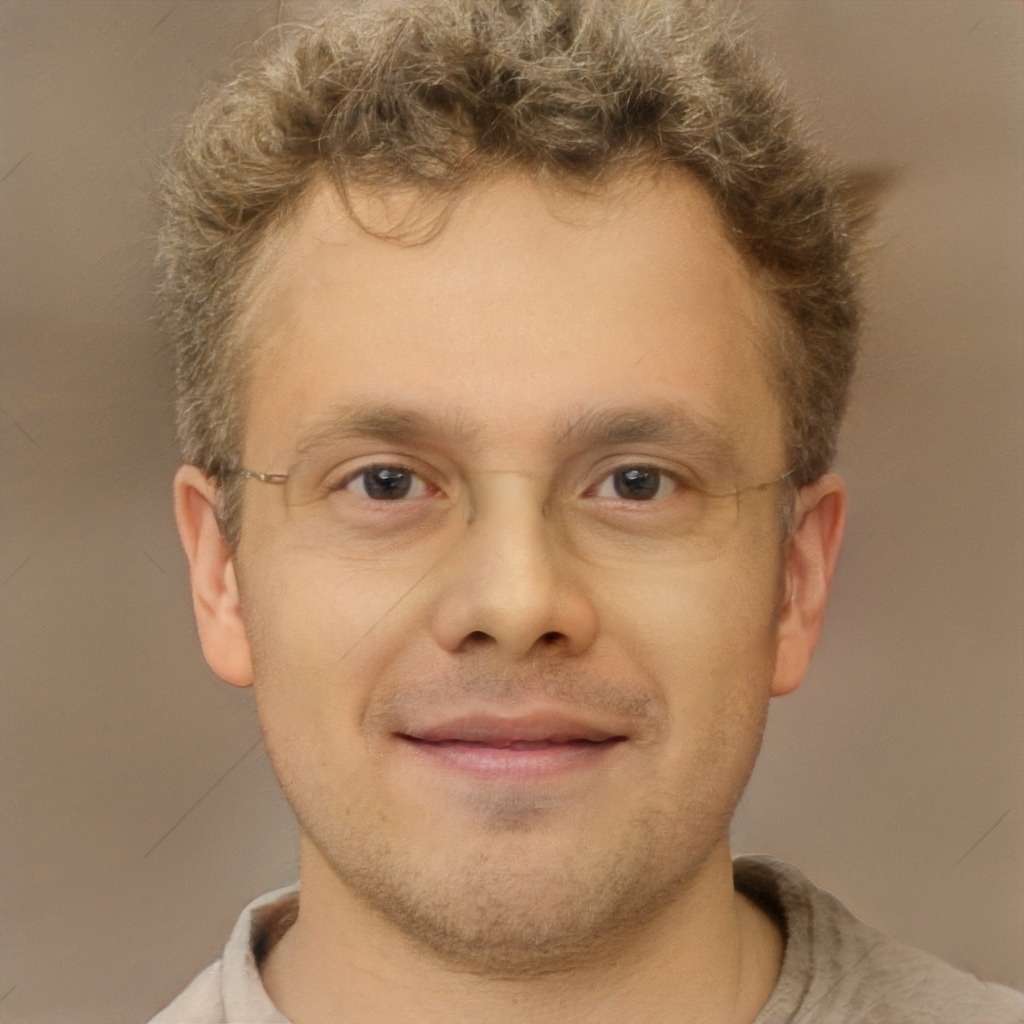 I'm the founder of HoverboardsGuide.com, a comprehensive website dedicated to electric scooters and hoverboards. With a deep-rooted passion for electric gadgets, I've accumulated extensive experience in this field. I aim to assist users in selecting the best gadgets and providing reliable guidance.
I've tested and reviewed numerous models, gaining in-depth knowledge about their features, performance, and overall quality. Feel free to reach out to me with any queries, as I'm dedicated to addressing your concerns promptly. Join me on this exciting journey of exploring the world of electric rides and making informed decisions