Introduction
Electric skateboards have gained significant popularity in recent years, providing a fun and eco-friendly way to commute and explore the city. Among the many options available, the Acton Blink S-R Electric Skateboard stands out with its impressive features and performance. In this review, we will delve into the details of this electric skateboard, covering its design, performance, safety features, and more.
The S-R electric skateboard is designed with top-quality materials and improved techniques to give you an unsurpassable experience while riding. In this description, I would be talking about the different parts of the skateboards and their features. 
Deck
The Acton Blink skateboard measures 27.5 inches in length and 8 inches in width. Though the length is quite short, it is wide enough to accommodate people with bigger feet sizes. Designed with Canadian maple wood, plus an aluminum casing of aircraft-grade for the electronics, the skateboard is very durable and suitable for heavy-weighing individuals. The deck is very sturdy because of the multiple wood layers, yet it is very light weighted and super easy to carry on your arms or in your backpack. To aid your comfort especially for long rides, the deck is slightly concave to allow your feet to sit in well enough, though not too deeply in. Common knowledge is that the more flexible the deck, the more the flexibility of styles to perform with the board. However, the jaw-opening feature of this board is that the deck is very stiff but has a functional kicktail! The kicktail gives you the chance to perform different riding styles like ollies, manuals, and so on. With the kicktail, you can also jump past bad roads and mud. In other words, the board isn't literarily flexible but it allows you to flex different styles. Another interesting feature of the deck is the LED rear and front lights that not only help you to see at night but help you to be seen by other road users.
Wheels and Trucks
You would agree with me that the most obvious part of this Acton electric skateboard is the wheels! They are very massive. The size of the wheels is 83mm and 78A durometer thickness. Ideally, a deck of this size shouldn't have this size of wheels to avoid wheel bites, nonetheless, because of the design of the deck, wheel bites are totally exempted irrespective of the weight of the person on it. The wheels are an advantage to the speed of the board and offer shock-absorbing features to give you a comfortable ride even on a rough ride. You can also ride on the grass with these wheels but not on dirt terrains. Similar to other skateboards, the trucks are kingpin trucks. Thanks to their size, they are perfect for turns and carves.
Battery
The battery of this Acton Blink skateboard is perfect for commuting, hangouts, cruise, summer trips, and several other occasions. I'll tell you why. The battery of this Acton Blink S-R electric skateboard is of lithium-ion with a capacity of 36 volts. With the battery, the motor can run up to a maximum of 7 miles' distance. What more would you need from a skateboard? Another plus to this battery is that it only takes about 45 minutes to fully charge. The battery runs at 80Wh. What this indicates is that you can conveniently take them with you while traveling on planes. However, the turn-off for this battery is that the battery is not swappable so, if you're going on long trips, you might have to stop intermittently to charge but not to worry, it'll only take a few minutes. If you're only commuting with it to work or school, it would be perfect for you as long as you get a place to charge. Note that once the battery is below 20%, the board may not be able to climb inclines.
Braking System
Before any vehicle or moves to the road, one of the most important features that give the driver or rider total control of it is the brake. The brake has to be effective and functional. The same rule applies to this skateboard. The braking system implemented in the Acton Blink electric skateboard is a regenerative one. By regenerative, it implies that while you're using the brakes, it charges the battery especially when you're going down the hill. This helps to increase the range that the battery can cover in a single charge. With the standard and effective brakes, you are guaranteed to a certain degree total control of the skateboard.
Motor and Speed
Acton Blink is run with a single yet, powerful 500W hub motor. With this, you can reach a maximum speed of 24 kilometers per hour (15mph). Riding at such speed can be overwhelming and thrilling but trust me, it is much fun. You almost feel like you're flying especially because the board is short. The Blink skateboard also has the ability to reach or climb 15 degrees inclination. In addition, a reason this board is a must-get for you is that the hub motor is very quiet. Such that, you can easily sneak up on people without them noticing. However, because of this, you must be careful while riding through a place filled with people to avoid any kind of accident and guarantee your safety and theirs. Thanks to the hub motor, the board has 3 ride modes which are Beginner, Normal, and Pro. The more you advance from one stage to the other, the more acceleration speeds you can unlock and the more the braking power. This gives you a wide range of performance and something to look forward to. Should your board run out of juice, you can kick-start it as you do with other regular skateboards.
The MEEPO Shuffle V4 S electric skateboard is designed for both adults and teens, with a top speed of 29 mph and smooth braking system. It is also IPX6 waterproof, making it suitable for various weather conditions.
Key Features
Read Our Reviews:
Remote control
Everyone likes to have a taste of class and uniqueness and that is exactly what you get from this Acton Blink S-R electric skateboard. It comes with a remote control that is simple and easy to use. On the remote, there is the Stop and Go buttons that allow you to accelerate or brake. With just your thumb you can easily switch between the two options. Stop for a break while Go is for acceleration. On one side of the remote, is a control to switch between forward and reverse, and on the other side is another control to either On or Off the board. The remote also has Bluetooth connectivity that can connect to your phone. If you want to see the state of the board such as the speed, battery life, and so on, all you need do is download the smartphone App (ACTON App). You could also change the speed settings, and record the mileage and route of the skateboard with the Mobile App. Take charge of your ride with this Acton Blink S-R Electric Skateboard small and hand-fitting remote control!
Design and Material Quality
Mere looking at the Acton Blink electric skateboard, I'm certain that you've fallen in love with it. Every contour, every bend, and corner is designed with high professional intelligence to meet safety and comfortability needs. Even at that, there is still a blend of class and contemporary design in it. On the top of the deck, the grid tape with its black and grey pattern looks beautiful. Beneath the deck is the battery which takes most of the space in its aircraft-grade casing. Asides from that, the materials used in the construction of this Acton Blink are of top-notch quality. Durable to stand the test of time even in unfavorable conditions. In all, the design is really attractive and is finished in lemon and black colors.
Customer Service
One of the factors that most people look into before choosing to buy a product from any brand is customer service. The guarantee is to know that there is someone to reach out to, in case there is a problem with the product. The Aston brand is an American-based company that has been known to produce quality, innovative, and technologically advanced electric skateboards for over 5 years now. Their products cut across over 100 countries worldwide. They have received popularity amongst their product users for delivering awesome electric skateboards at jaw-opening prices. To show that their products are of a good standard, all of them have a 14-day money-back guarantee though you will be charged a 15% restocking fee. However, if you haven't used the product, and it is still in its original carton with all its accessories, you are guaranteed a 100% full refund.
Advantages of the Acton Blink S-R Electric Skateboard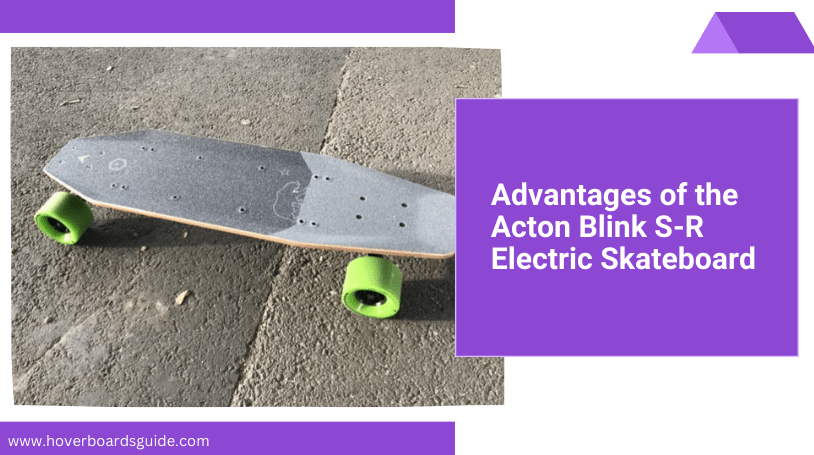 You may wonder why this skateboard is trending everywhere and why it is the dream of most people. Well, asides its beauty, the Acton Blink S-R Electric Skateboard price is surprisingly cheap. Plus, it has a listless number of advantages compared to its cons. Below are some of the features of the Acton Blink Skateboard:
The functioning kicktail of the board allows you to perform versatile styles.
It is very convenient to move about with its 11lbs weight.
The LED lights provide visibility and safety for you during night ridings.
Meet up with all your appointments in time with the amazing speed of this skateboard.
The Blink skateboard optimizes the regenerating braking system.
The PU wheels offer shock-absorbing features that give you more balance while riding.
You can connect to your skateboard via Bluetooth to view or alter functioning levels.
This Acton skateboard is airplane compatible.
The construction materials are of high quality.
Make yourself the spotlight of the day with its eye-catching design.
The manufacturer promises a 14-day money-back guarantee if you have issues with the product.
The skateboard is suitable for as much as 220lbs weight.
Downsides of the Acton Blink S-R Electric Skateboard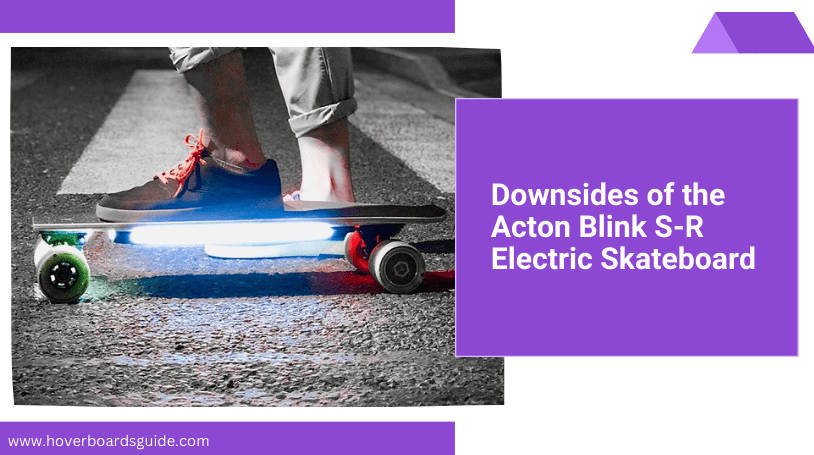 No one can have it all, they say. So it is with appliances. As awesome and incredible as the Acton Blink Electric Skateboard may seem, it also has some parts of it that can be better off. Some of them include: 
Battery life could be extended
Too small for very tall riders
Not suitable for children
Who Should Use the Acton Blink S-R Electric Skateboard
The Acton Blink S-R Electric Skateboard is designed to fit anyone older than the age of 8. It is perfect for commuting within short distances. College students can also find this electric skateboard fascinating with its high-speed capacity and attention-drawing design. As long as you need something to help you get past that long traffic or help you turn that 40-minutes walk into a more interesting one within a short period of time, you need the Acton Blink S-R Electric Skateboard. 
Contents of the Box 
Accompanying the box of the Acton Blink S-R Electric Skateboard, are the following items: 
The Acton Blink S-R electric skateboard

 

The board charger

 

The remote control

 

The remote charger

 

The User's manual

 
Conclusion
Having reviewed the features of this Acton Blink electric skateboard, I would rate it a 4.5 out of 5. It has all the basic features you can get in an electric skateboard ranging from kicktail, downhill, cruise, and more. Plus, its' thrilling speed and acceleration. Upgrade from your normal entry to a classic one with this Blink's skateboard. I can assure you it's worth every dime you spend because these are the best skateboards in 2023.
FAQs
Is the Acton Blink electric skateboard for adults? 
The Blink skateboard is suitable for anyone above 8 years. It is sturdy and can conveniently carry a weight of 220lbs. Nonetheless, you should know that the more the weight the less the distance the battery can cover. 
How do I turn on my Acton Blink skateboard? 
It's simple, with the side button on the easy-to-use remote control, you can switch it on and off. 
Is the Acton Blink S-R Electric Skateboard waterproof? 
The Acton S-R blink is not waterproof. Exposing the battery to water may damage it beyond repair. Other parts may be exposed to rust and deteriorate over time. 
Related Links: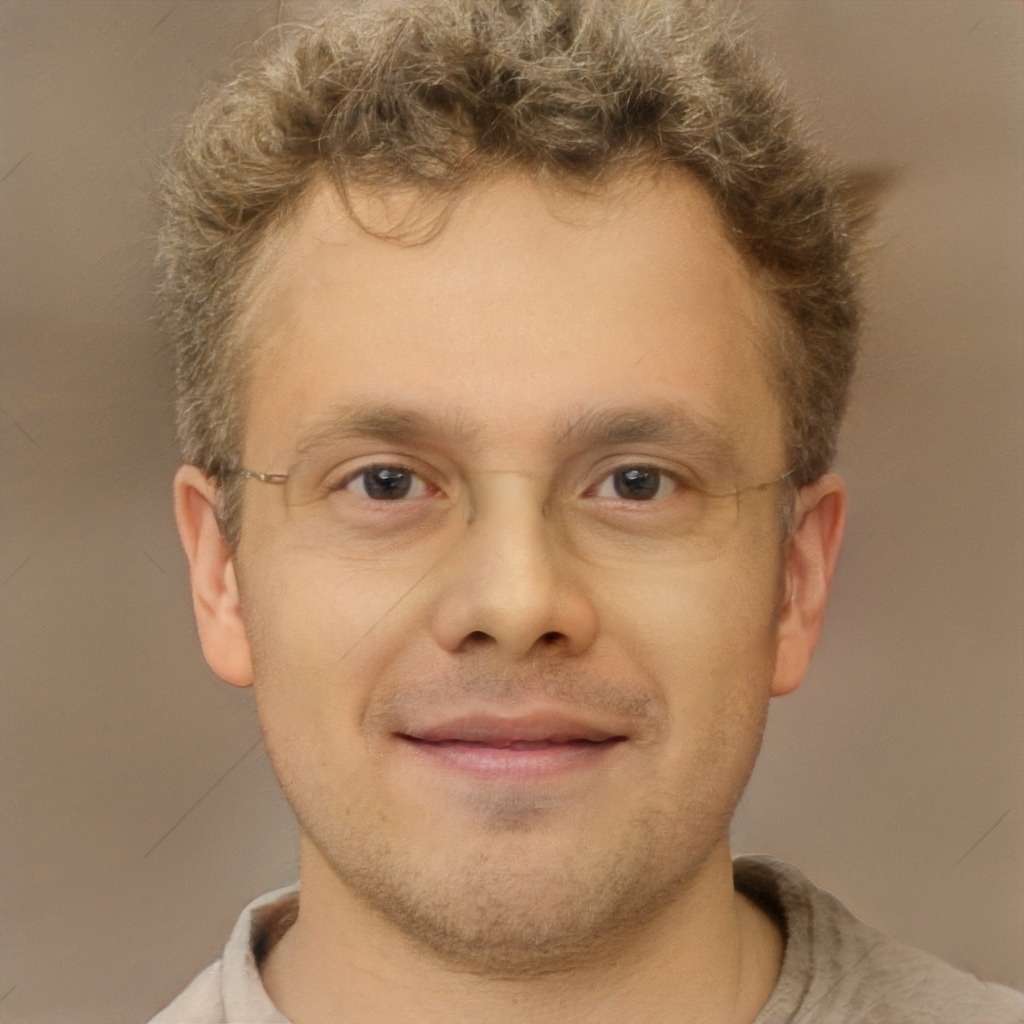 I'm the founder of HoverboardsGuide.com, a comprehensive website dedicated to electric scooters and hoverboards. With a deep-rooted passion for electric gadgets, I've accumulated extensive experience in this field. I aim to assist users in selecting the best gadgets and providing reliable guidance.
I've tested and reviewed numerous models, gaining in-depth knowledge about their features, performance, and overall quality. Feel free to reach out to me with any queries, as I'm dedicated to addressing your concerns promptly. Join me on this exciting journey of exploring the world of electric rides and making informed decisions