Hoverboards have gained immense popularity in recent years as a fun and efficient mode of transportation. However, riding a hoverboard while standing can be challenging for some individuals. This is where hover karts come into play. A hovercard is an attachment that transforms your hoverboard into a go-kart-like vehicle, providing a comfortable and exhilarating riding experience. In this article, we will explore the best hover karts available in the market and discuss their features, benefits, and factors to consider when choosing one.
Introduction
Hoverboards have revolutionized personal transportation, offering an exciting way to commute and have fun. However, riding a hoverboard for an extended period can strain the legs and require a certain level of balance. Hover karts are a great solution to address these challenges. They allow users to transform their hoverboards into a seated go-kart-like vehicle, providing stability, comfort, and an enjoyable riding experience.
You can find compatible models by checking the size, comfort, and adjustment with the kart. It is important to check compatibility otherwise Hoverkart will not fit the hoverboard. The best one is that adjusts to all types of hoverboards.
The popular models are made of three wheels, comfortable seats, and foldable handles. Now, are you thinking to have this ride for you or your kid? Then why not buy the one that is highly rated and available in your budget? Now thinking which one is best. No need to worry as here we have listed the top three models available. Let's check their features and then make a decision to buy the best one.
Hoovykart Go kart Conversion Kit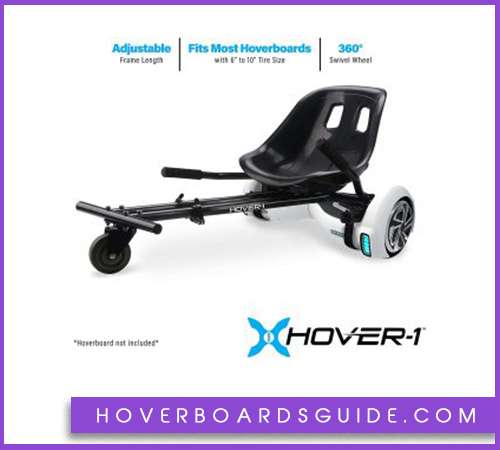 HoovyKart is one of the best names for making such rides for kids and adults. You can attach this Hoverkart seat to any hoverboard. It is suitable for both adults and kids. Plus, it ensures safety so you can ride on it with confidence.
The easy-to-control machine with a stable seating position is best for all age groups. Moreover, the speed control option allows you to have a comfortable ride experience.
The HoovyKart comes in a 90% complete form. Just use the hoverboard strap to attach to the seat. The ride comes with handles having direction, acceleration, turning, and braking features. Also, the adjustable frame ad foot pedals are suitable for a person of any height.
The comfortable seat is another excellent feature to provide you with ultimate comfort. Lastly, the durable aircraft-grade aluminum frame is light in weight yet strong enough to be your companion in the long run.
Easy to assemble
Ultra-lightweight aluminum frame
Safe to ride
Comfortable seats
Lack of shock absorber springs
Worry-free Gadgets Go-karting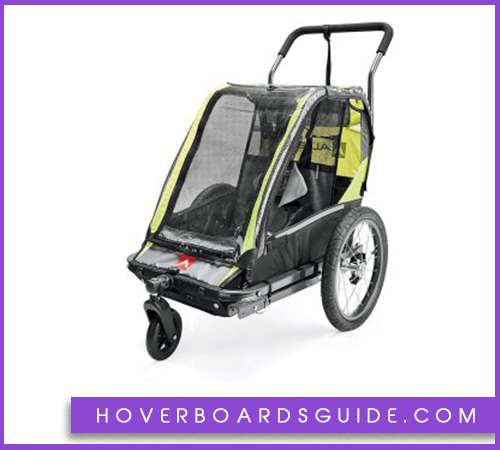 Love, to have karting experience on uneven roads, grass, pneumatic tire, or any roadside? Then why not give a chance to Worry-free gadget go-karting? It is an excellent Hoverkart that comes with a comfortable seat, adjustable handle, and foot pedals.
The Hoverkart bundle comes with adjustable length for all age groups and varies in length from 6.5,8 and 10 inches. For maximum hoverboard speed, the kart is crafted with a balance car frame. Moreover, the sturdy kart is constructed with titanium steel to ensure the longevity of the product.
For easy control, the kart design includes the easy moving two rubber grip handles to allow the tour to turn left, right, forward, or backward. Two steering handles are also included to ensure a safe and freely moving ride.
The maximum hoverboard weight load capacity of Hoverkart is 200 lbs. and is best for the person of multiple heights. Even a person with 6 feet or above can easily ride by having a Hoverkart attachment of a long length attached to the hoverboard.
Sturdy titanium steel frame
Large and comfortable seat
Shock absorbing springs
The hoverboard gets scratched easily
Assembly is somewhat difficult
Hiboy HC-02 Hoverboard Go Kart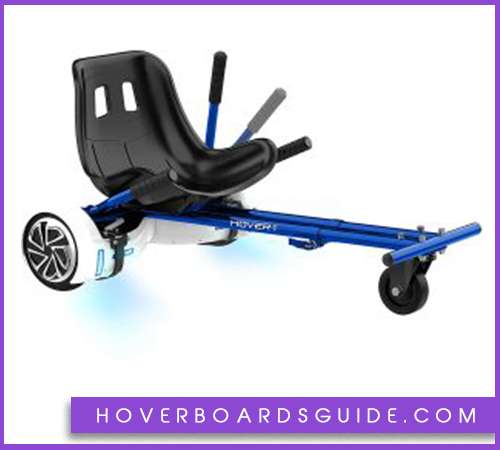 Hiboy Hc-02 hoverboard is another excellent model available in the market. It has become the choice of most users because of its sturdy construction, comfy seat, adjustable handles, and all features in between. It is a superb model suitable for people of all ages. Modify it in a smaller size for your kid or upgrade to a large length for yourself.
The compatible Hoverkart comes in a size range of 6 to 10 niches. Moreover, for more comfort designer has added the shock absorber spring so that in case the kart gets jerks you don't feel it. The kart is constructed with heavy material and has the ability to bear a weight of 270 lbs.
The easy-to-assemble kart comes with adjustable and moveable hands, so you can easily turn direction, accelerate, or stop the kart. The ergonomic design, large seat, adjustable leg length, and rear suspension with wide front inflatable wheels all allow great control. Plus, provide an excellent riding experience.
Easy to control
Installation is very easy
Adjustable footrest
Free accessories replacement
Shock-absorbing springs present
Not compatible with hoverboards with mega wheels.
Final thoughts
Getting the best Hoverkart is somewhat tricky as you have to find the one that easily adjusts with your hoverboard. Before you buy check the length and compatibility plus ease of installation. Lastly, don't forget to check seat size, length of kart, wheel, and control system.
FAQS
What is the average length of the rear suspension seat?
The average length of average suspension seta suitable for all ages ranges from 6.5 to 10 inches.
Which material is best to buy the Hoverkart?
The best material that is light in weight and sturdy in design is stainless steel or titanium steel and aluminum allow frame. All these three are the best options as these do not get rusted, ensure durability, and are best for people of heavyweight.
How to buy the best Hoverkart?
To buy the best one you have to look at the steering, adjustable handles, seat comfort, mid, and front steering, compatibility, and adjustability features.
What is the function of the back steering?
The back-steering has benefits as it allows the rider to reverse the Hoverkart conveniently. Most karts lack this feature. Try to find the one with this option so you can move the kart on the front side as well as on the backside easily.
Why Hiboy C is the best option?
Hiboy C comes with adjustable length options, plus have a shock-absorbing feature and an adjustable steering handle to move the kart conveniently.
Related Link: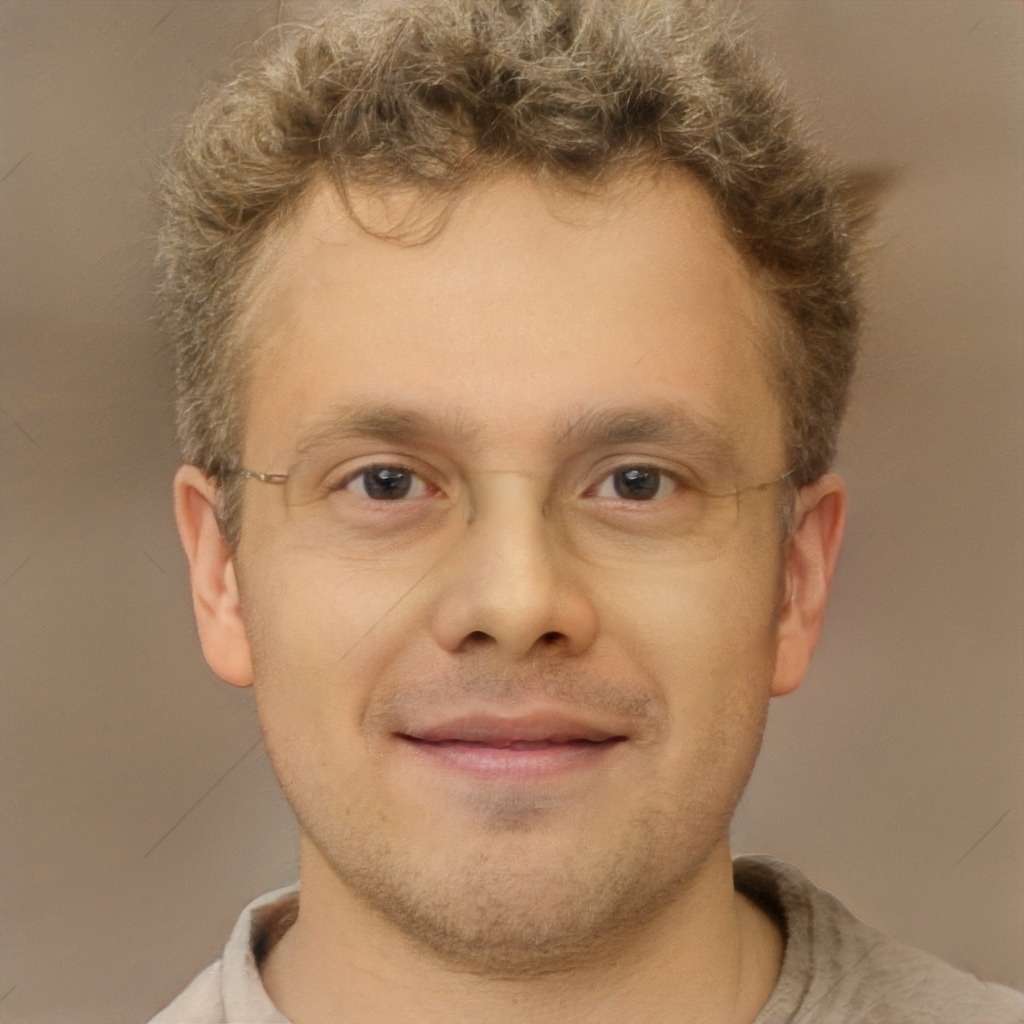 I'm the founder of HoverboardsGuide.com, a comprehensive website dedicated to electric scooters and hoverboards. With a deep-rooted passion for electric gadgets, I've accumulated extensive experience in this field. I aim to assist users in selecting the best gadgets and providing reliable guidance.
I've tested and reviewed numerous models, gaining in-depth knowledge about their features, performance, and overall quality. Feel free to reach out to me with any queries, as I'm dedicated to addressing your concerns promptly. Join me on this exciting journey of exploring the world of electric rides and making informed decisions