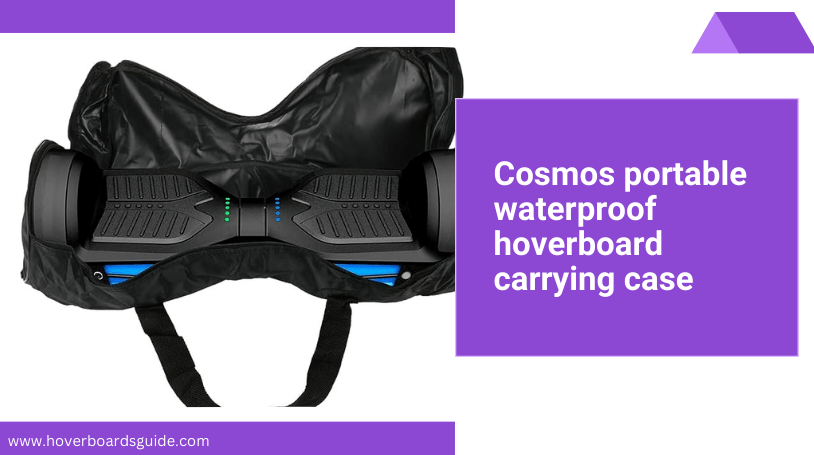 Nowadays, one of the most used sports games, towards which all kinds of generations are attracted is Hoverboarding.
Hoverboards, also termed self-balancing scooters, have gained a lot of popularity nowadays. There are different kinds of Carrying bags, making it easy and more comfortable for you to carry the best hoverboards. Different types of brands offer various hoverboard backpacks. Carrying bags help you quickly take your hoverboard almost everywhere, especially when you are traveling. There is a massive range of brands that offers specially designed comfortable hoverboard backpacks. You can either choose a cheaper one or a costly one as per your needs. Here we will provide you with a complete list of the top 8 hoverboard backpacks:
Checkout Best Hoverboards for adults
"1. Cosmos portable waterproof hoverboard carrying case:" 
Features Of Cosmos Portable Waterproof Hoverboard Carrying Case
Cosmos portable backpack is a very budget-friendly and easily portable hoverboard carrying bag. The Cosmos portable waterproof hoverboard is designed explicitly with a High-quality, long-lasting material, and its waterproof level is about 100%. It also offers a warranty for a free replacement. It has two kinds of Zipper designs.
Pros
Cons

It offers a large storage capacity and can easily store all kinds of hoverboards.
It is made up of fully waterproof and washable material.
For the storage of accessories, it offers a Mesh pocket.

Easily tearable material
If used roughly, then the bottom of the backpack can be easily torn apart.
The material used for the zippers is of low quality.
The GameXcel Self-Balancing Scooter Carrying Handbag is a durable and convenient backpack bag designed for 6.5″, 7″, and 8″ two-wheel hoverboards with a smart balancing system. The bag features a mesh pocket for storage and easy transportation of your hoverboard.
Key Features
"2. Gamexcel hoverboard carrying board:" 
Features Of Gamexcel Hoverboard Carrying Board
This hoverboard-carrying backpack is about "6.5" or "7". It can vary in size. It offers a two-wheeled smart self-balancing scooter, which also has a mesh pocket. It provides a fashionable and very decent two-zipper design. It is also suitable for drifting board bags for wheel sizes of about eight or fewer inches.
Pros
Cons

It offers a sturdy and robust material.
It is designed with very comfortable shoulder straps.
It offers portability

The color of the backpack fades quickly.
The material is not durable.
"3. Michael Josh hoverboard carrying case:" 
Features Of Michael Josh Hoverboard Carrying Case
It is easy to carry and is made of robust and durable material. It also offers a mesh pocket with two comfortable and adjustable shoulder straps. It provides a warranty for the replacement of over-drifting boards.
Pros
Cons

This hoverboard backpack is fully waterproof.
It provides two zippers that allow you to hover your board.
Rugged and very usable.

Does not have an accessory pocket
Inferior artistry
Low-quality zipper material.
 "4. Waterproof hoverboard backpack
Features Of Waterproof hoverboard backpack
They made this backpack from long-lasting and robust nylon. The hoverboard can easily fit in this backpack. It also offers a mesh pocket. It fits hoverboards with "7" wheel and length is "23.5".
Pros
Cons

They designed it with adjustable shoulder straps.
It is waterproof.
They made it from durable and strong nylon.
It features mesh pockets.

This hoverboard backpack cannot be submerged into water.
Not suitable for Swagtron T580.
 "5. Swagtron hoverboard carrying backpack:"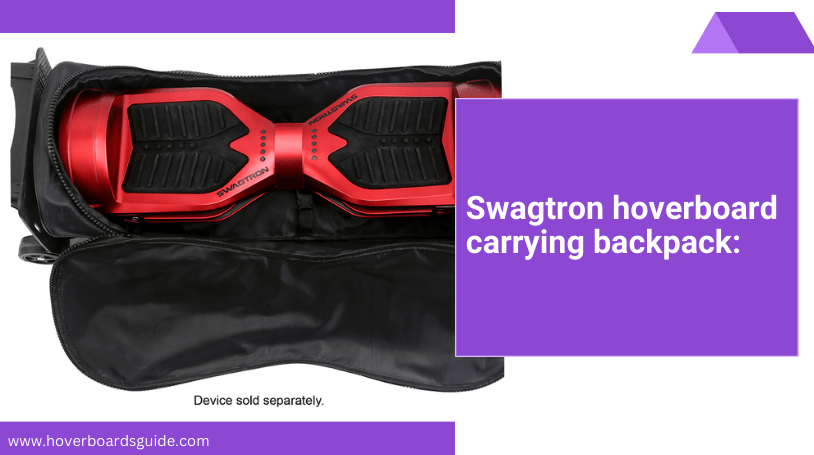 Features Of Swagtron hoverboard carrying a backpack
The Swagtron hoverboard is specifically designed for style. It provides features of both the roller and the bag. The backpack provides a convenient way to carry while traveling. It offers a durable and lightweight material that is less than 3.5 lbs.
Pros
Cons

It offers a mesh pocket and two zippers.
It can easily be rolled out or turn into a backpack.
It features comfortable shoulder straps.

It is available in a single color by this company.
This bag does not feature enough storage space for large size hoverboards.
The sling straps in this hoverboard backpack are not so durable.
They can easily break apart after some time.
"6. Eyourlife Oxford hoverboard carrying case:" 
They made this hoverboard up of fabric nylon and is long-lasting and durable. The straps are covered in cotton, which is very comfortable. It cannot easily tear apart.
Pros
Cons

It offers two thick zippers.
It is suitable for 6.5 inches hoverboard.
It is fashionable and decently designed.

It has loose straps.
It has no color options.
It features low fabric quality.
 

"7. Duojia waterproof hoverboard backpacks:
This hoverboard carrying case is ideal for you if you have been seeking one for a long time. It is one of the most desirable choices of hoverboard backpacks available in the market. It is best designed for users who want a budget-friendly hoverboard backpack.
This bag is waterproof and is designed with Oxford durable material. It is convenient and washable. You can easily carry your hoverboard in this bag even in rainy seasons. This bag can hold a hoverboard of large sizes of around 8 inches. It comes with a double zipper and is easily accessible.
Pros
Cons

Designed with a durable material
Double closure
It features adjustable straps for easy holding.

It lacks mesh pockets.
It has no durable straps.
Zippers are of low quality.
"8. Homanda portable hoverboard backpacks:"
 Features Of Homanda portable hoverboard backpacks
This portable bag is designed for hoverboards of all sizes. It is economical and supports scooters, which allow self-driving and are 6.5-inch wheel size.
It is designed with waterproof, high-quality material, and allows you to carry a hoverboard in all seasons. It features adjustable straps for the users. It features a travel-friendly design that will enable you to take the bag easily. Homanda hoverboard bag pink is also available specially designed for ladies.
Pros
Cons

Designed with water-resistant Oxford material
The material is durable and washable.
It features adjustable straps with mesh pockets.

No guarantee for the material
Pay extra attention to the bag pack when carrying a hoverboard.
 Read More Posts:
Conclusion:
These are the best and top-rated hoverboard-carrying backpacks of all the time based on the reviews and feedback of all the buyers.
All these backpacks range from premium to cheap ones. If you know all your needs, requirements, and colors, then you can choose your backpack.
Related Links:
1.https://www.wikihow.com/Ride-a-%22Hoverboard%22-(Two%E2%80%90Wheeled-Self%E2%80%90Balancing-Scooter)
2.https://greencoin.life/how-to/ride/a-hoverboard-wikihow/ 3.https://www.pinterest.com/pin/340795896783630920/
4.https://www.wikihow.fitness/Flyboard[/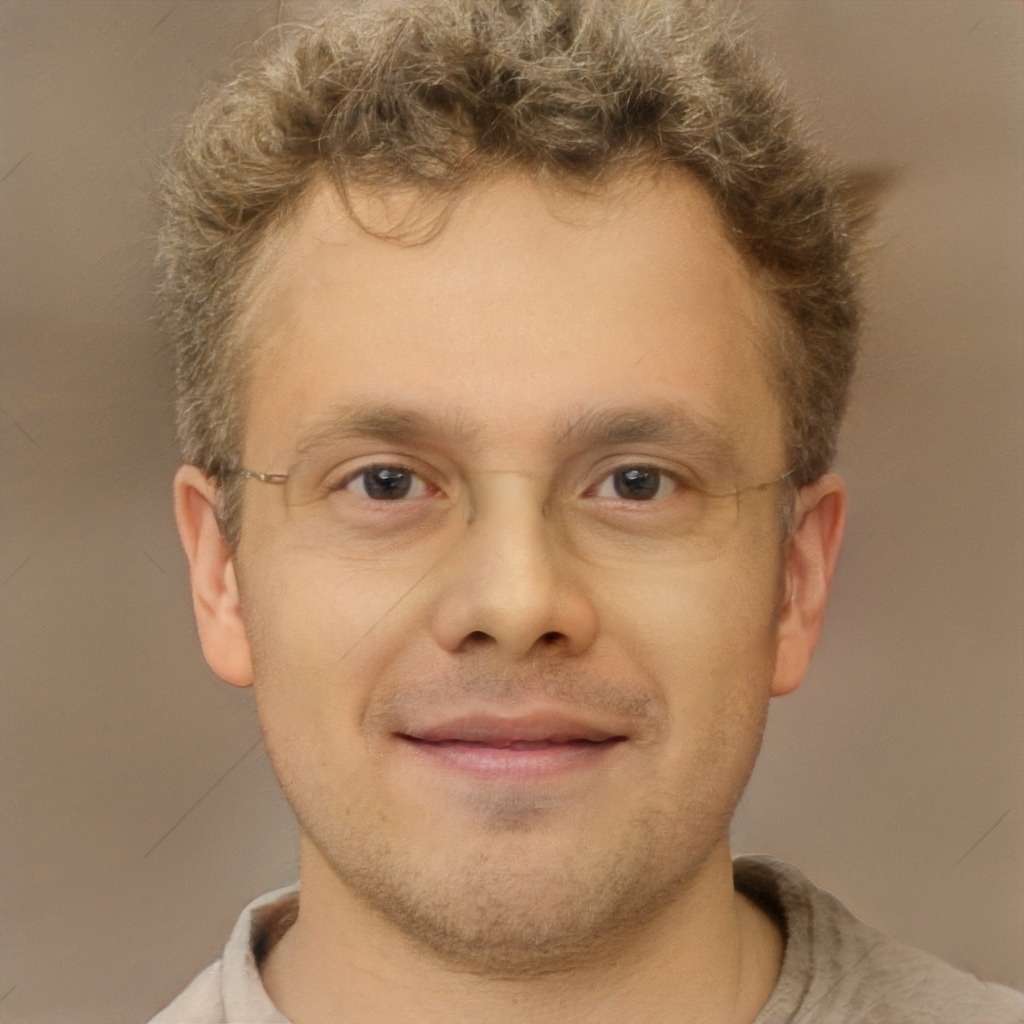 I'm the founder of HoverboardsGuide.com, a comprehensive website dedicated to electric scooters and hoverboards. With a deep-rooted passion for electric gadgets, I've accumulated extensive experience in this field. I aim to assist users in selecting the best gadgets and providing reliable guidance.
I've tested and reviewed numerous models, gaining in-depth knowledge about their features, performance, and overall quality. Feel free to reach out to me with any queries, as I'm dedicated to addressing your concerns promptly. Join me on this exciting journey of exploring the world of electric rides and making informed decisions