Welcome to our comprehensive review of the Kaabo Wolf Warrior 11 Electric Scooter! If you're in the market for a powerful and versatile electric scooter, you've come to the right place. The Kaabo Wolf Warrior 11 is known for its exceptional performance, impressive speed, and rugged design. In this review, we'll delve into its features, performance, pros, and cons, and answer some frequently asked questions to help you make an informed decision. So, let's dive right in and explore the world of the Kaabo Wolf Warrior 11 Electric Scooter!
In this article, we are going to review for you the wolf warrior 11 that was launched by Kaaboo branded electric last year and that launch was held in the US. The Kaabo brand made the scooter tough and powerful. They even borrowed a powerful drive train from the famous premium class Dualtron Thunder.
Here you will be updated about the quality of its build, the detail of its riding experience, and its true capacities and features. Let's check what this insane wolf base has to offer you in real.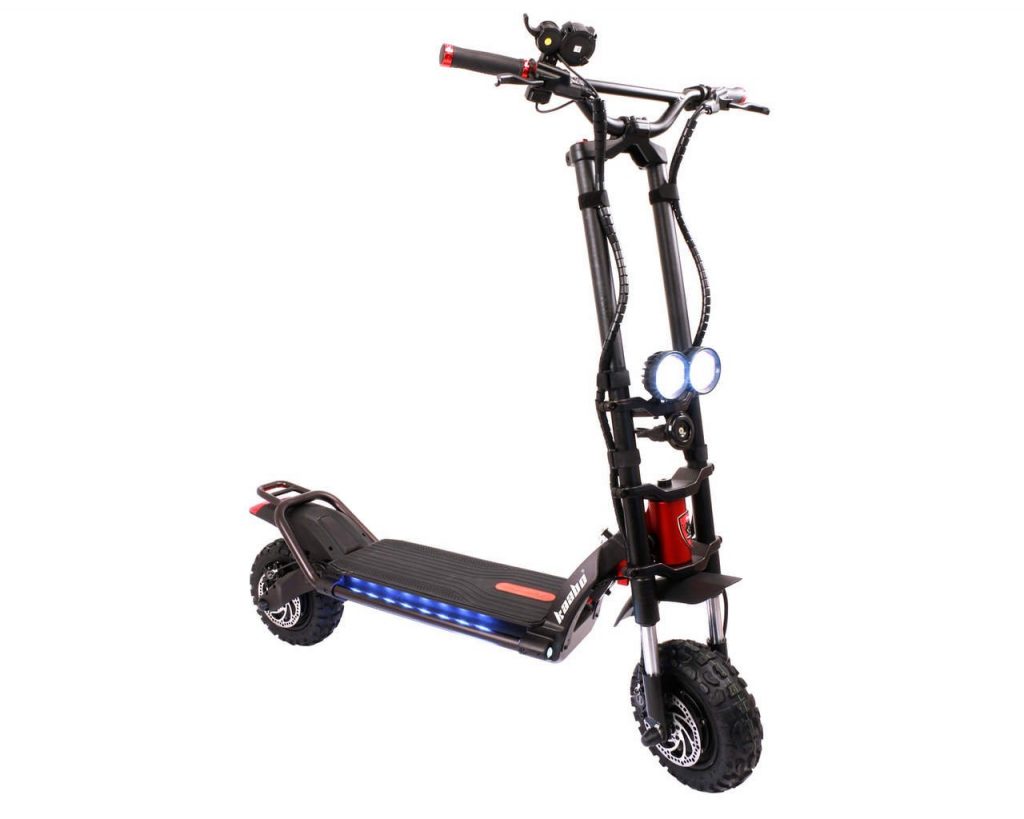 The Kaabo Wolf Warrior 11 Electric Scooter is a beast of a machine, designed to tackle various terrains with ease. It boasts a powerful dual motor configuration, allowing for incredible acceleration and top speeds. With its large 11-inch off-road tires, this scooter can handle rough surfaces, gravel, and uneven terrain effortlessly. The Wolf Warrior 11 is equipped with a robust suspension system that provides a smooth and comfortable ride, even on bumpy roads.
Key Features
Specifications
Marvelous top speed of 80.5 kilometers per hour
Covers 67.9 km in a single charge
Scooter weight almost 45 kg
The rider weight limit is 150 kgs
Fully water resistant
Powerful Performance: The dual motor setup and high-capacity battery deliver impressive power, speed, and range
Off-Road Capabilities: With its rugged tires and suspension system, the Wolf Warrior 11 can handle various terrains with ease.
Safety Features: The triple braking system and integrated lights ensure a safe riding experience, even at high speeds.
Comfortable Ride: The scooter's suspension system effectively absorbs shocks and vibrations, providing a smooth and comfortable ride.
Foldable Design: Despite its size, the Wolf Warrior 11 can be easily folded down for storage or transportation.
Weight and Size: The scooter is relatively heavy, weighing around 101 lbs (46 kg). It may not be ideal for users who frequently need to carry it upstairs or for longer distances.
Limited Portability: While foldable, the Wolf Warrior 11's size and weight may still pose challenges when it comes to portability and storage in tight spaces.
Note: The above mentioned facts are based on our personal testification. The results might vary with a variation in the rider's weight or with track change.
Detailed Review Of  Kaaboo Wolf Warrior Scooter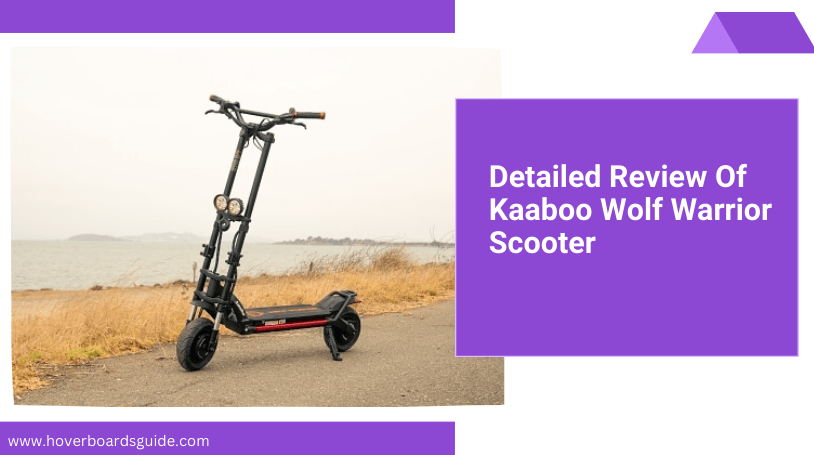 Wolf Warrior is truly a beast In the breed of off road electric scooters. The most precise statement I can ever make to describe this rockstar is: it has stolen all the good features and qualities from various perfect variations.
Let's start with its powerful motor which is borrowed from Dualtron thunder. This motor is kind of the best or among those best, that ever hit the market. That's why its speed is nearly the highest among all others available in this price range.
The next thing which is impressive in its features is its hydraulic fork. That not only is gigantic in size, looks impressive, but is also borrowed from a few of the best downhill mountain bikes.
Its tires are also designed perfectly to tackle all the trouble and tension of any off road track. we can clearly state that its structure and design might belong to Kaabo. But when it comes to its strength and super steady guts and powerful motor this electric scooter owes a lot to Minimotors.
Even its display, control panel resembles a lot of the marvelous Dualtron thunder that is a lot more expensive in comparison. Another impressive thing about this electric scooter is it's huge and hulk-like look. Those are not fake but are backed by tremendous power which makes it look truly justified.
This electric scooter is not just a wolf warrior by name. But it exactly has those features and capabilities which make its name very much justified. Its braking system is perfectly hydraulic and super-efficient. They have equipped this model with such a horn that can shake and awake anyone. And when it came to its tires which are actually going to bear all the off-road stress. Kaabo designed them as 11 inches broad pneumatic tubeless tires.
It's amazing with its multiple powerful packed features and still being far cheaper than its competitors. The closest version of such a best electric scooter is going to cost you at least $1000 more. Let's see what the performance test details have to tell us about this super beast Wolf warrior.
 Read Our Reviews:
"Performance Test Results For Wolf Brand Scooter" 
Acceleration
This super scooter offers terrific acceleration and all the credit goes to its super-strong motor that is borrowed from Dualtron by Minimotors. Keep in mind its power is immense and you need to handle it with care.
It offers super speedy acceleration that can go zoom zoom from 0-24 kph in just 1.9 secs, touches 32 kph in the minimum time of 2.3 Kmph, and touches its max speed of 64kmph in just 9.4 seconds it's really fast actually super fast.
You must keep in mind that its throttle is killingly sensitive. You will just touch it and it will take you far away. It's better to keep it in single power mode until you are a pro as other modes like dual motor mode or turbo can be lethal and dangerous.
Note: It's recommended to ride this beast with maximum safety gear especially helmet and kneepads.
Incline Climbing
When you have a 5400 watt motor under your feet who needs to worry about inclines and hills. Its incline riding test was actually tremendous as before we realized it grasped the speed of 40 kph and in only 7.6 secs the track was over. I have never experienced such a speedy scooter in any other test drive.
Speed Test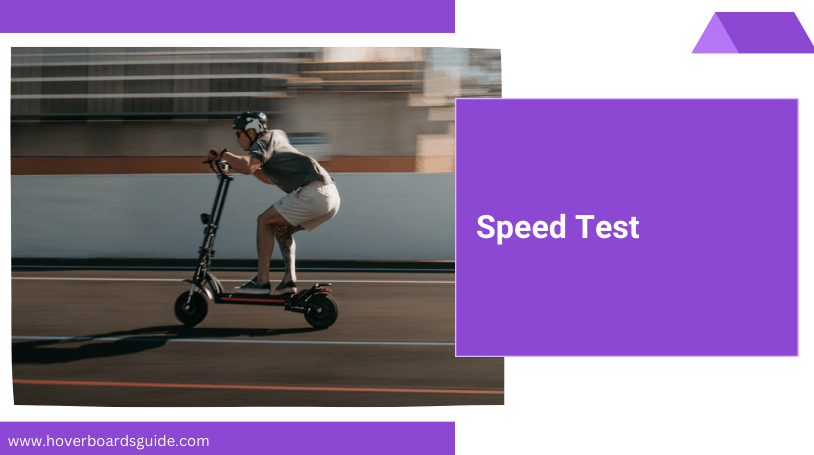 When I saw the manufacturer's claim of 80 kph I thought it might be fake. But when I tried it I was impressed and have a vision that it even can go far from that.
Battery Range
Along with its motor, its battery is as strong as it can ever be. Yes, it is the highest voltage battery LG has ever produced for electric scooters. Moreover, its range is also massive. The manufacturer claims that it can go for 113 kilometers on a single charge. Seems like wow!
But while traveling on different kinds of tracks I personally observed that it can go for almost 70 kilometers in one charge. If the road is very smooth this range might increase. But if the rider weight will increase or the incline ratio will get more, the kilometer coverage might decrease. But if you are using energy-saving mode you might get a few more kilometers cover.
Braking System
Wolf Warrior 11 provides you with dual brakes and also provides a real hydraulic braking system which is highly powerful and effective. Brake levers are also great in quality and when you activate the braking system the functions go really smooth. You don't need to apply much power for break activation.
This bombastic electric scooter also provides eABS (Anti Lock brake system). It is an additional feature. Moreover, in the model that I tested, that feature was already activated. But personally, I think it is not very much needed, you can even disable it. And rely on your hydrochloric disc brakes which are super strong and rock solid.
Ride Experience
Wolf warrior 11 provides you riding experience that is tremendously stable even on off-road rides. Several factors contribute to its tremendous stability: its heavy-duty shocks and perfectly designed tires. These are definitely the main factors providing a smooth ride. This scooter is not at all shaky and wobbly, moreover, its ride is super stable.
Carribility
Its pros and cons are very much related to each other, where its heavy structure contributes to its stability, strength, and power. At the same time, 45 kg of weight is too much to carry around.
It is foldable and can be transported anywhere in a truck or in an  SUV. But you can't carry it in a simple car but some hatchbacks might keep the capacity for its carriage.
Keep in mind this type of scooter is not the one which you can simply fold and keep along on any bus or train.
Even the folded dimensions of this mega scooter are 28 CM in width 48 CM in height and 150 cm in length.
Locking System
When it comes to the locking facility I didn't find it very much workable when folded. But once it is locked you can relax as now no one can shake it off. Folding and unfolding is also not difficult; you can use it with ease.
Cockpit / Control Panel
Its cockpit is beautifully and ergonomically designed for easy operation. Its handlebar is made of aluminum and the control buttons are beautifully settled on that. Its grip is also perfectly decent and tight. Moreover, all its levers like breaks and horns are also easy to access. The control cables are also not making a mess and are nicely adjusted.
Its built is super strong and is perfect for aggressive off road riding. You can adjust the height of handlebars but the maximum height which you can get is no more than two meters. I think it should be a bit higher.
Horn is also so loud that it makes you noticeable on the robot. It Moreover, is easily activated by a push on a button. That is settled on the left side of the cockpit. So if you are buying this scooter you don't need any additional horn to make yourself noticeable.
Lighting System
Along with a powerful battery and motor, it also provides you some powerful lights which are super bright and very effective on roads. It offers headlights along with tail lights which is a bright red LED that again makes you noticeable on the road.
It's too big headlights provide you the required vision and visibility on roads. And you can even set the mode of the headlights up to your needs, you can go for a bright mode, low mode, or even a blinking mode. Moreover, you can adjust them in both dimensions either horizontally or vertically
It also offers sidelights on Deck which improve your visibility of the ground and even help you ride at night. If you want some drama with your lights, it offers lights with background effects. But still for some extra safety, if you want to add some additional lights, It is always recommended wearing an extra light. Reflective clothing is also a good idea to ride at night.
Tires
Its tires are 27.9 CM broad and are designed with beautiful knobs that provide a good grip at roads and make your ride more smooth. These tires are the perfect support for all rides no matter for off road or on road trials.
Post Purchase experience
After purchasing the wolf warrior gear electric scooter it is fully covered for 6 to 12 months. But the dealing depends on the data from where you bought.
 Endnote
Wolf brand scooter is an avenger or a hulk within the super speedy strong scooters available in the market. It is a mixture of several best-built designs. So you get all in one in the wolf warrior scooter package. As it can climb hills like a mountain bike, it worked great as an electric scooter. Its super speed makes it perfect for Motocross racers. Its structural design is no doubt Kaaboo baby but when it comes to brains and power it owes a lot to Mini Motors as it is manufactured by them. During the test rides, I love this blended version and found it very attractive. If you are a Rough Rider and a speedster you are going to give your heart to it forever. I love its rough and Rocky looks, its frame is also very much oriented for off-road electric scooter rides. Perfectly Recommended! 
Frequently Asked Questions (FAQs)
Is the Kaabo Wolf Warrior 11 Electric Scooter suitable for off-road use? Absolutely! The Wolf Warrior 11 is specifically designed to handle off-road terrains. Its robust construction, large tires, and suspension system make it a capable companion for adventures on rough trails.
What is the maximum weight capacity of the Kaabo Wolf Warrior 11?The Wolf Warrior 11 can comfortably accommodate riders weighing up to 330 lbs (150 kg), making it suitable for a wide range of users.
Related Links: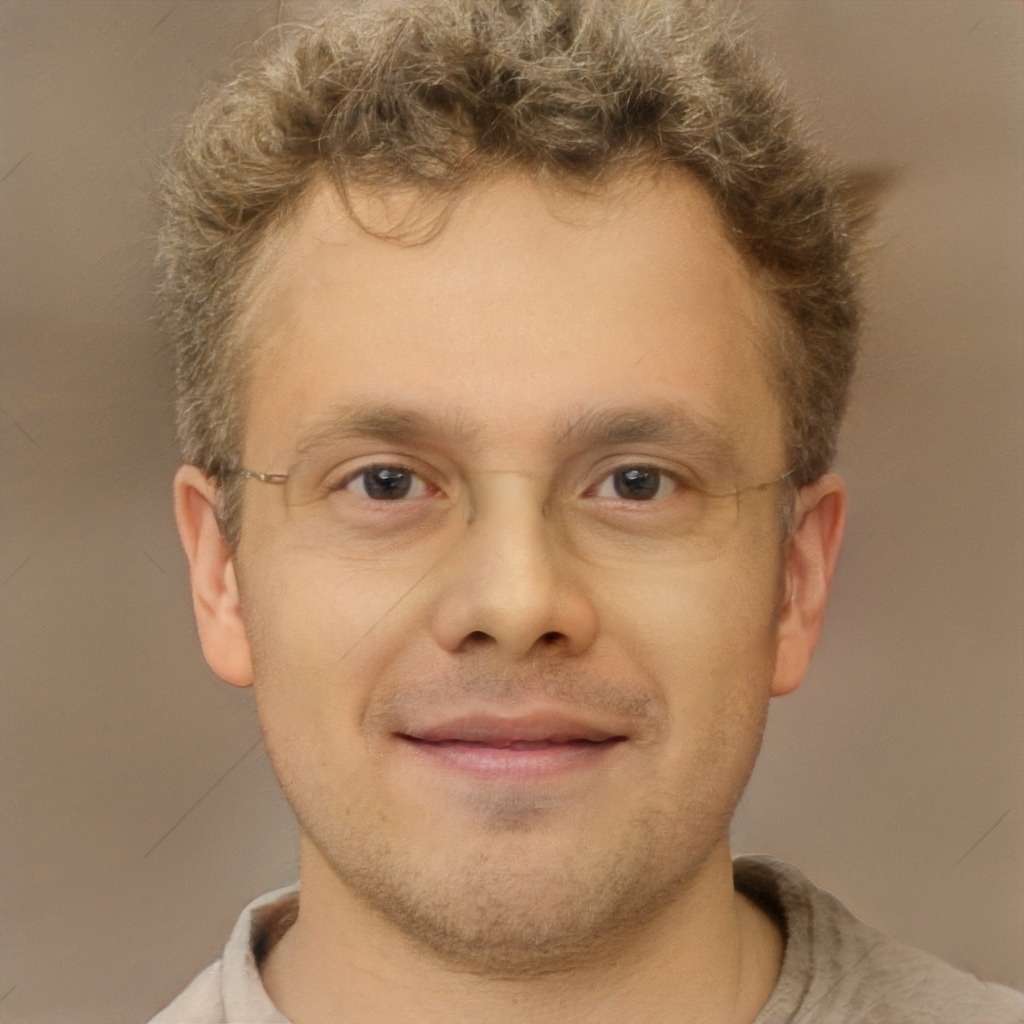 I'm the founder of HoverboardsGuide.com, a comprehensive website dedicated to electric scooters and hoverboards. With a deep-rooted passion for electric gadgets, I've accumulated extensive experience in this field. I aim to assist users in selecting the best gadgets and providing reliable guidance.
I've tested and reviewed numerous models, gaining in-depth knowledge about their features, performance, and overall quality. Feel free to reach out to me with any queries, as I'm dedicated to addressing your concerns promptly. Join me on this exciting journey of exploring the world of electric rides and making informed decisions