In this article, we will explore the world of Razor electric scooters and provide you with an in-depth review of the best models available on the market. Whether you are a commuter looking for an eco-friendly mode of transportation or a thrill-seeker seeking a fun and convenient way to explore your neighborhood, a Razor electric scooter can be a fantastic choice. Let's dive into the details and discover why Razor scooters are among the top options for electric scooters.
What is a Razor Electric Scooter?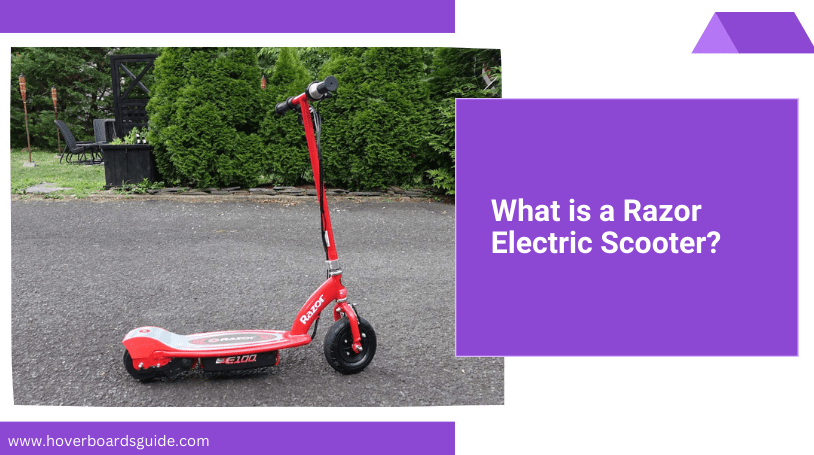 A Razor electric scooter is a motorized scooter powered by a rechargeable battery. It is designed to provide a convenient and eco-friendly mode of transportation for short commutes or recreational purposes. Razor is a renowned brand known for its high-quality and innovative electric scooters suitable for riders of all ages.
You can buy one for personal use to cruise to and from work. This could be a commuter-type electric scooter that has a basket and comfy seat at the back. Or it could be a high-performance e-scooter made for speed and durability. You can also buy smaller models for your kids for them to catch the fun of riding around the neighborhood.
Whatever the case may be, you may find it difficult to select a good Razor electric scooter, especially if you're not familiar with the different models available.
If you're in such a situation, worry no more. We've collated a list of the 10 best Razor electric scooters in 2023. All the products are properly reviewed and a buyer's guide is provided to help you make a wise decision.
The Razor Pocket Mod Miniature Euro-Style Electric Scooter in the "Betty" design is a stylish and fun way for kids to ride. It features a high-performance electric motor, vintage-inspired design, and can reach speeds of up to 15 MPH.
The Power Core E90 Razor electric scooter is our top pick here. This E-scooter offers the style, performance, safety, and other important qualities expected from a Razor product.
The machine comes with a trend-setting, high-torque hub motor as well as luminous lights on/below the deck. For experienced riders, this is a big plus, since the scooter offers an awesome glow and up to an hour of epic ride time.
On deck of the motor is an electroluminescent wire and 6 LED displays below deck to light up your path.
Just hop on and kick off the engine and glow as you feel the power of a 90-watt, maintenance–free scooter.
E90 is lightweight in design which enhances its maneuverability on the road.
At the same time, the machine features an all-steel frame for optimal durability, and an airless, flat-free rear tire.
The model also comes with additional features such as a retractable kickstand and a hand-operated, front brake that enhance your riding pleasure. This is definitely among, if not the best Razor electric scooter on the market.
Smooth acceleration and 
Lightweight in design
Great speeds up to 16 km/hr
1 hour of continuous ride time
Durable e-scooter
Affordable electric scooter
2. Razor E200 Electric Scooter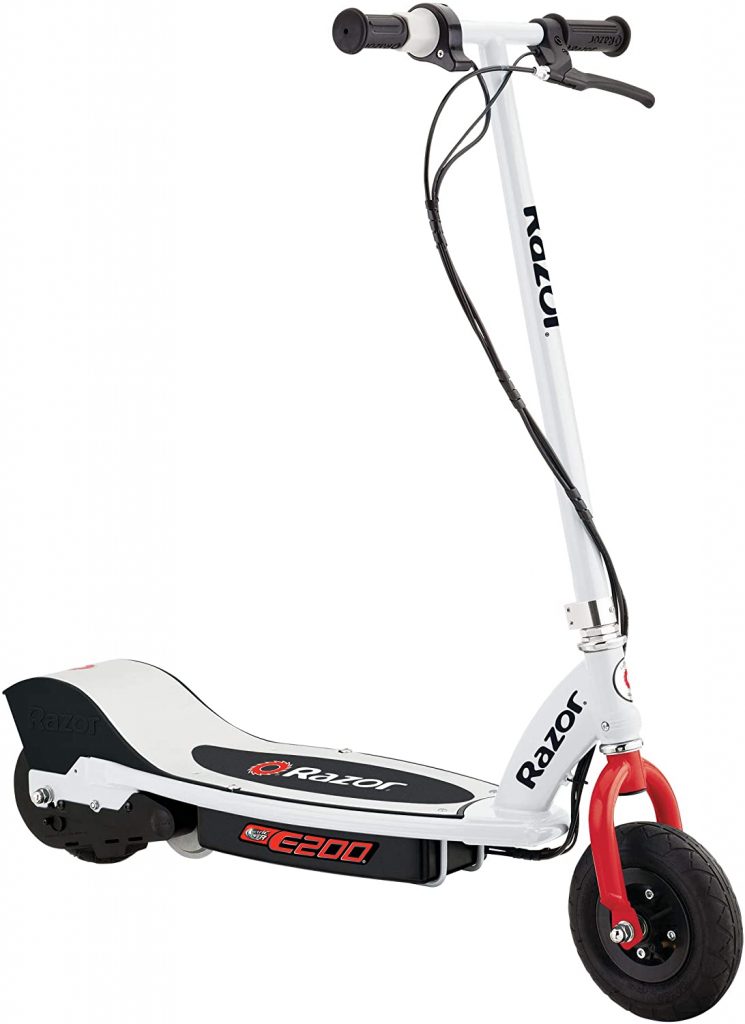 2. Razor E200 Electric Scooter 
Key Features
Razor's E200 electric scooter is the perfect definition of comfortability, durability, and performance.
The model is ideal for young riders (>13 years) and older folks with up to 154 pounds in weight. It also comes with a rear handbrake and a durable alloy steel frame.
For those who love scoters with powerful engines, this product is a good choice. The machine has a 200-Watt motor plus a 24V lead-acid accumulator battery.
What does this mean?
It gives the motor a range of up to 8 miles of continuous rides for about 40 minutes, and a top speed of up to 12mph.
Along with speed, this scooter features an ultra-quiet, high-torque chain-driven motor. It's driven by an easy-to-use, twist-grip throttle that makes it suitable for kids and young adults.
You'll also like its wide deck with enough room for your feet. This makes balancing on the scooter easy for every rider.
Thanks to its large 8″ pneumatic tires, the E200 performs excellently on different terrains such as dirt paths, grass, and even rough asphalt.
Another interesting feature of the E200 is that it's not a kickstart scooter. Instead, it starts automatically without hassles. So this is really a step-up from old the Razor scooter models.
Pneumatic tires
Suitable for several terrains
Top speed of 12 mph
Durable scooter
High-performance engine
Automatic start 
Long charge time
Not ideal for heavier riders
3. Razor RX200 Electric Scooter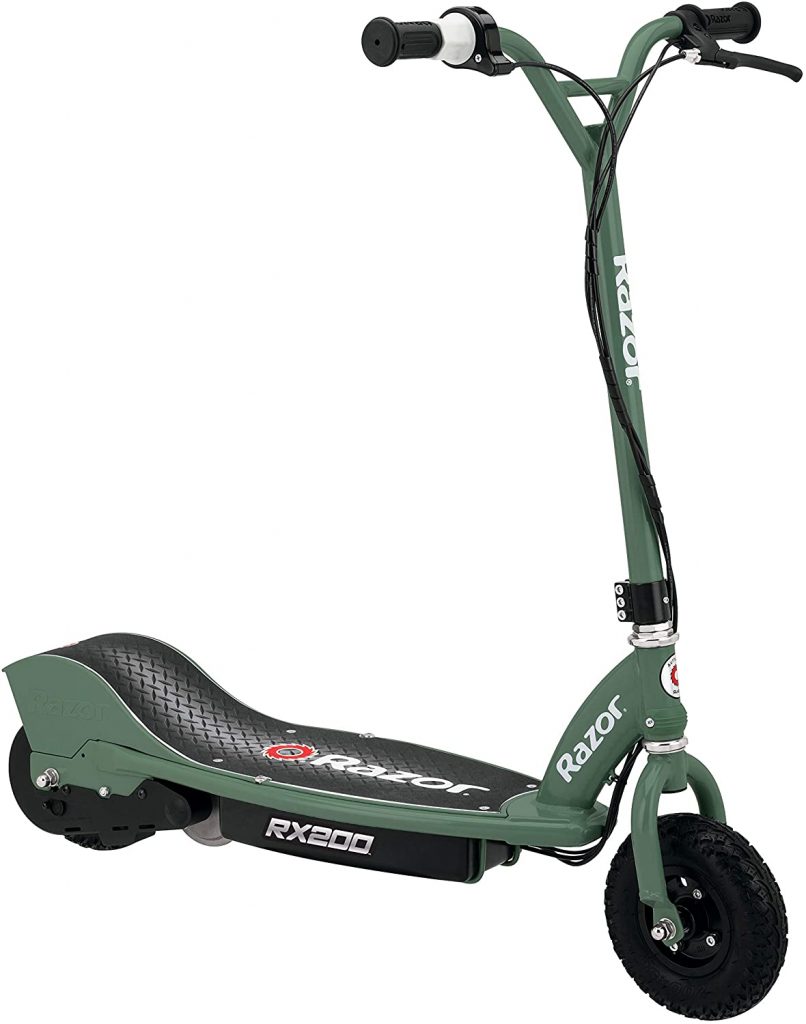 3. Razor RX200 Electric Scooter
Key Features
Would you like to catch the fun of riding an electric scooter on a gravel path or an off-road trail? Well, you can.
Razor has produced the RX200 Electric Off-Road Scooter for such adventures. This model travels on grass, dirt paths, and gravel trails without hitches. In fact, your ride will no longer be limited to asphalt or concrete with this product.
The scooter features a tough steel frame, off-road tires, and an improved gear ratio for greater torque. This makes it easy to ride uphill or sloppy terrains.
Additionally, the Razor RX200 is powered by 2×12V lead-acid rechargeable batteries that offer at least 40 minutes of continuous ride time. At the same time, the motor can speed up to 12 mph on the road, making it one of the fastest e-scooters on the market.
RX200 scooter is very easy to operate with a twist-grip throttle to control speed. It also has a hand-operated brake lever system to control the rear wheel's disc brake system. This allows for sudden stops to avert collisions making it one of the best Razor scooters.
Another great feature of this Scooter is its capacity to travel off-road trails. This is made possible by its greater gear ratio designed specifically for trail riding. Together with the 8-inch pneumatic rubber tires on alloy wheels, this gives you the best off-road adventure.
When it comes to battery, the battery can be recharged by plugging the built-in charging cable to a port located under the scooter. It takes up to 12 hours for the charging to complete.
After full charging, the battery will give you about 40 minutes of unbroken rides at about 10-12 mph. However, riding on hilly terrains could shorten the battery life.
Off-Road capability
Easy to operate
High performance
Easy to recharge
Durable steel fork and frame
Twist-grip throttle
Hand-operated brake
Safe to ride
High-torque motorc
Long recharge time
Low ground clearance
4. Razor E300 Electric Scooter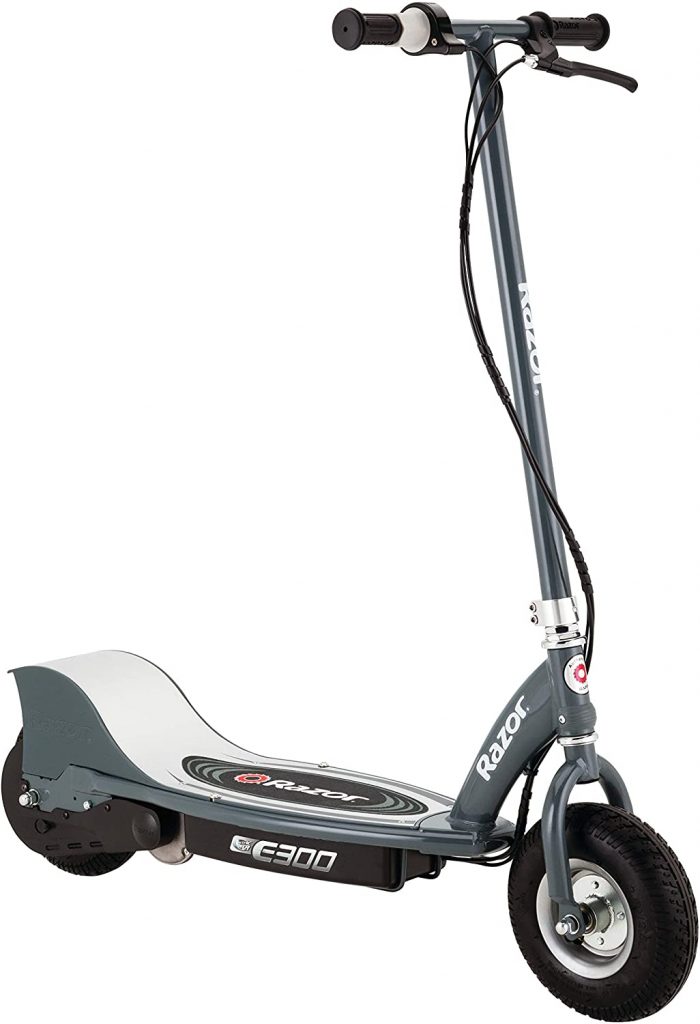 4. Razor E300 Electric Scooter
Key Features
The E300 Scooter is another quality product in Razor's series of electric scooters. It is ideal for both young and old, especially those who are new to scootering.
It has extra-wide tires, plus a large deck and frame with a maximum speed of up to 15 mph. This makes it one of the fastest scooters on our list. It's also extremely comfortable to ride.
One other thing, the models available in visually attractive colors like blue, and younger riders find this appealing. Besides, the E300 scooter can be described as a sturdy e-scooter, due to its super-sized deck and frame.
Interestingly, the E300 motor is very quiet even at top speeds, so you don't have to worry about noisemaking.
When it comes to speed, this e-scooter has a mid-range mileage of about 9 to 10 miles, with close to 45 minutes of continuous ride time. With regards to this run time, you can ride the E300 Scooter for any leisurely activity around the neighborhood, provided you're not embarking on long commutes.
Speaking about weight, the E300 model is mid-range with 42 lbs of weight. Now, this isn't the easiest e-scooter to maneuver around but, like it was stated earlier, it's suitable for leisure rides, especially, if you are not required to carry or lift it around.
It's also worth stating that the E300 is designed with a solid frame which can carry riders of up to 220 lbs in weight.
Noiseless chain-driven motor
Sturdy e-scooter
Hand-operated braking system
Kickstand for vertical parking
Big tires for smooth ride
Top speed up to 15mph
About 45 minutes of ride
5. Razor EcoSmart Metro Electric Scooter
As its name implies, Razor's EcoSmart Metro best Electric Scooter with seat is designed for eco-conscious riders who love to put the environment first. The model keeps carbon emissions low, while still offering an unforgettable riding experience.
The great news is that you won't need to sacrifice performance at the altar of keeping those emissions at bay.
Another nice feature is its sleek frame and large tires that are suitable for rugged terrains. There is also a basket at the back for carrying groceries from the neighborhood store.
If speed is your number 1 priority in a scooter, then you don't have any problem with EcoSmart Metro. It sports an impressive top speed of up to 18mph.
As a matter of fact, this sets it apart from similar electronic scooters
Furthermore, the EcoSmart Metro has a viable 36V battery that can carry you up to 10 miles before recharge. Compared to other scooters, this is surely a good range for commuting to and from local grocery stores.
Nevertheless, the EcoSmart metro has a sturdy construction at an impressive 67 pounds. In turn the machine can support up to 220 pounds of load in transit.
The massive 16-inch tires on this machine can get you through difficult slopes. Also, you can easily pull the handlebar throttle to adjust your speed along the way.
Whenever there is a need to stop the scooter, you'll be happy to have the rear brake on this scooter. Not only will it slow down the tires but it will also stop the motor quicker than the battling of an eyelid.
Eco-friendly scooter
Noiseless smooth ride
High speed and wide range 
Sturdy and durable steel frame
Cargo carrier
40 minutes of ride time
Ultra-padded for comfort
Removable luggage rack
Read Our Reviews:
6. Razor E100 Glow Electric Scooter
If you need a quality electric scooter for your kid, the Razor E100 Glow should top your shopping list. The model is moderately priced and suitable for children between 8 and 12 years old.
The E100 Glow features a twist-grip throttle for riding at an impressive speed of up to 10mph for about 40 minutes. This gives you the freedom to ride to and from neighborhood stores on grocery runs.
In design, the Razor E100 product has an all-steel frame, which makes it solid enough, despite its 22 pounds weight.
Also the model features a large deck that widens from the front to the back side, and covers the rear wheel. This provides balance while riding the scooter. Moreover, the handlebars on E100 has a handbrake on its left, while a twist throttle is located on the right.
The scooter's 2×12V lead-acid accumulator batteries are encased inside a steel cage beneath the deck. The cage also houses the charging port plus other important components.
Unlike other similar models, however, the Razor E100 e-scooter front tube doesn't fold easily for parking or storage. You'll surely fall in love with the 100-Watt motor on this product, which is connected to its rear wheel with a chain. This powerful engine can notch up to 10 mph in speed for a thrilling riding experience.
In addition, the scooter incorporates blue LEDs display that light up every time you twists the throttle.
Apart from this, the intuitive throttle system ensures full acceleration control. This gives younger riders maximum confidence to enjoy their ride.
Solid and smooth ride
Suitable for young riders
Up to 40 minutes of ride time
Medium range top speed (10 mph)
Lightweight design
Slip-resistant rubber grips
Supports up to 120 lbs
Ideal for kids
Kick-off start
Twist-grip accelerator 
Retractable kickstand
Chain-driven motor prone to slip off
7. Razor E100 Electric Scooter
It also comes with a small-sized deck and frame for young riders.
Moreover, the E100 model is an option for newbies who haven't used an e-scooter before. It's very easy to operate, safe to ride, and will give your kid hours of incredible fun.
In terms of design, the Razor E100 is bright in color. This makes it visually appealing as a scooter designed for kids.
In fact, this particular model comes in an alluring pink color, even though there are other varieties like black, purple, blue and red. This means you won't stress much before finding a color that appeals to your boy or girl
Talking about speed, Razor's E100 possesses a top speed of up to 10 mph. Honestly, this speed is on the lower side of the speed scale for scooters. Nevertheless, the slower speed is suitable for young riders who are meant to use this scooter.
The 10 mph speed ensures your kiddo will still have great fun while gliding safely through the streets. At the same time, you'll be confident that they would not go too fast.
Talking about performance, the eco-friendly scooter incorporates a noiseless 100-Watt, chain-driven motor which is easy to operate.
It has 2×12V battery unit that gives a continuous ride time of up to 40 minutes.
From experience, this is more than enough to keep your child entertained before they find another toy to play with.
Easy-to-use twist-grip accelerator
Hand-operated brake for safety
8-inch tires for smooth ride
Lightweight design
Suitable for different terrains
Mid-range speeds for kids
Ideal for new riders
Ultra-quiet chain-driven motor
8. Razor Power Core E90 Electric Scooter
An electric scooter is a cool means for young riders to glide around the neighborhood. If you're looking to purchase a good model for your kid, then the Razor E90 Power Core electric scooter is highly recommended.
It has a nice design and some features which you'll find exciting. Continue reading below to learn more about this innovative product.
To start with, the frame is built of powder-coated steel for added strength and ruggedness. Aside this, the model comes in bright colors, which make it visually appealing to young riders.
Also, it is lightweight in construction at 21.22 lbs which is considerably lighter than similar models. This makes it easy for kids to carry it around without much stress.
Further, this product features a right-side grip with a push-button throttle as accelerator. It also has short handlebars which are more suited for kids.
The scooter comes with a 2×12V rechargeable lead-acid battery unit with a continuous run time of up to 80 minutes. This put it among the best Razor electric scooters in terms of battery life.
The Power Core E90 scooter has a 90-Watt hub motor that can provide speeds of up to a moderate 10 mph for your child. However, the model can only support a maximum load of about 120 lbs, which is still okay for young riders.
Another interesting feature on the scooter is its retractable kickstand which can be easily opened by foot to park the scooter. With the kickstand released, the machine will remain standing in an erect position without falling off.
Also, this model has urethane tires which are described as abrasion resistant. This means you don't need to worry much about punctures to the tires while your kid is riding.
Good riding time
Lightweight and portable 
Power Core technology
Kickstart prevents accidents
Minimal maintenance
Affordable electric scooter
Ideal for young riders
Flat-free tires
Low torque output
Long charge time (12 hours)
9. Razor Power Core E100 Electric Scooter
The Power Core E100 is a newer version of Razor's E100 Electric Scooter. It's our best budget Razor electric scooter for newcomers and young riders of 8 years and above in age.
Speaking about battery, the product comes with two 12V sealed lead-acid batteries that deliver about 60 minutes of continuous ride time.
It also features a maintenance-free, power-core hub motor that has no tension or chain alignment issues. At the same time, the frame and fork are made of steel and the deck comprises of aluminum for a solid ride.
The scooter is not only quieter, but also provides an higher torque. Its top speed is up to 11 mph compared to the 10 mph in similar models.
Further, the model offers an increased ride time of about 1 hour per charge. This is about 50% greater than what's obtained in the standard E100 scooters. Additionally, it has an air-filled front tire and a rubber (flat-free) rear tire for increased traction and smoother ride.
We need to also mention that the scooter incorporates a retractable kickstand for stress-free parking. There is also a hand-operated front caliper brake unit that enhances the stopping power.
Maintenance free
1 hour of ride time
Powerful motor for rugged use
Increased traction
Smoother ride
Affordable electric scooter
Durable steel frame
Suitable for young riders
10. Razor E300 Electric Scooter
The E300 is the last product on our list of the best 10 electric scooters from Razor in 2021.
The model comes with a dual 12V sealed lead-acid battery system that delivers up to 45 minutes of ride time after full recharge. This will take you up to a 5-mile radius within your locality.
In terms of construction, the product has a super-sized deck and frame which can carry up to 220 lbs of load. This makes it suitable for young riders of 12 years old and above, including some adults.
Again, the product features 10″ pneumatic wheels. These are wide enough to deliver sufficient stability during trips.
Speaking about speed, the E300 scooter delivers up to 15 mph top speed which is still okay for quick rides around your neighborhood.
The product also has a twist-grip accelerator which can be used to control speed. In fact, a lot of riders have testified that this model is extremely convenient to operate.
As for braking system, the E300 has a hand-operated brake which makes it easier to bring the motor to a quick stop.
Despite its large size, the E300 has a weight of medium range at 42 lbs. This is ideal for leisurely rides, especially those that won't require you carry it.
Lastly, the scooter has a retractable kickstand for parking it in an upright position without falling off during stops.
High top speed
Hand-controlled brake and throttle
Retractable kickstand for easy parking
Wide tires for smooth ride
Easy to operate and maintain
Durable frame
High performance engine
Affordable scooter
No LED display
On the heavy side
In order for you to maintain your scooter in optimal condition at all times, here are a few maintenance tips to keep in mind.
Keep proper record of your electric scooter details
Even before embarking on any routine maintenance procedure, make sure you keep an accurate record of your scooter's details. These may include records of its features and specs, as well as the position of wires and other components.
You can either take a pic of those parts or record the information on a piece of paper for future reference.
Battery maintenance 
Batteries are essential components of an electric scooter. They should be charged regularly with an appropriate charger from the manufacturer or from a trusted dealer.
In the same vein, leaving your battery connected to the charging port for too long can permanently damage it. Therefore, always disconnect the battery from the power source immediately the charging is complete.
Avoid riding your electric scooter on wet terrains
Just as the name suggests, electric scooters have several electric components that may damage when exposed to water. These models are typically designed for dry solid surfaces.
So avoid riding your electric scooter on watery grounds, muddy surfaces, and even wet grass.
Tire maintenance
Tires are the wheels which propel electric scooters forward when riding. Make sure they're properly inflated before riding your vehicle to avoid accidents.
You can use a pressure gauge to check the existing pressure on the scooter to see if it's high enough. In case you don't have a pressure gauge, your fingers can be used to check the tires. If they easily sink into the tires on pressing, then you need to refill the tires.
Properly inflated tires ensure proper contact with the ground and prevent the tubes inside the tires from rotating unduly during acceleration.
Such a regular maintenance practice increases the overall efficiency of your electric scooter and minimizes the likelihood of major problems.
Replaceable parts of a Razor Electric Scooter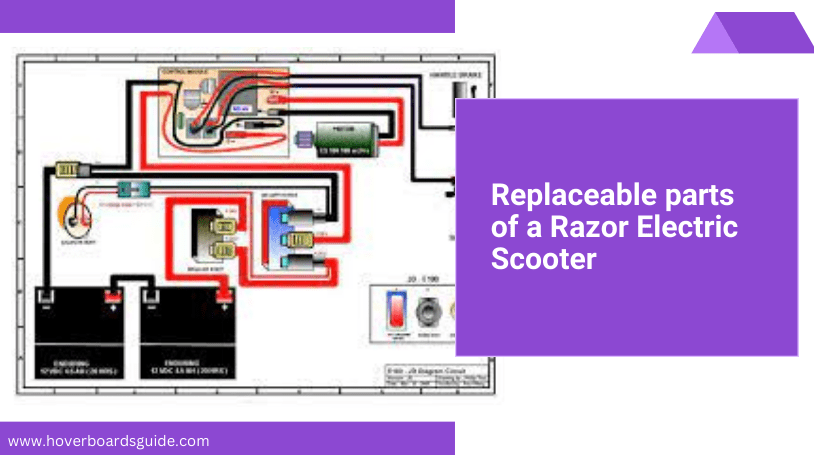 Apart from the routine maintenance practices outlined above, you may also need to replace some old parts of your electric scooter from time to time. This may be done to replace damaged components or to completely remodel your scooter.
Here are a few examples of replaceable parts of a Razor electric scooter on the market.
Replaceable battery pack for Razor electric scooter
Batteries used in electric scooters are known to degrade with time.
However, replacement batteries aren't only used to replace aging batteries, but also to upgrade them to extend their run time, since the new ones may be more powerful than the old batteries.
Fortunately, many of such replacement batteries don't require soldering and they're quite easy to install. All you've to do is to place the new battery in place of the old one and connect the supplied cables.
Razor electric scooter charger
Whether for our mobile devices or radios, we've all had to purchase replacement chargers for our gadgets at some point in our lives.
Likewise, we may need to replace the charger for our electric scooter when it's lost or damaged. In such a situation, be assured that there are suitable replacement chargers for your Razor electric scooter.
Replacement Razor electric scooter wheels and tires
Wheels and tires are also essential components of electric scooters. If any of your tires or wheels come off, then the next logical step is to find a replacement.
Actually, you may even find a wheel and tire combo that is better than those original parts.
Other replaceable parts that you can purchase to remodel your electric scooter include brake shoes, kickstands, chain guards, electrical kits, thumb throttle, brake lever, and handlebar grips.
Are you still in a dilemma over which Razor electric scooter to settle for in the list? Perhaps you need a few more tips to help you select the best.
Battery
As stated earlier, battery is an important part of an electric scooter. Without it, your machine is as good as a dead horse. Therefore, you need to focus on the power of the battery.
In most cases, the greater the battery in Watts, the more powerful the electric scooter can be in terms of speed.
However, a powerful battery is also more likely to be heavy which may reduce the overall speed of the scooter. So you need to consider these factors carefully and reach a balance before buying.
You may also check the charging time of the battery. Some can take a whole day, while others require only a few hours. For example, Li-ion batteries take only a few hours to charge, while lead-acid batteries can take up to 12 hours or more. However, lead-acid types are typically more durable than the former.
Size
Another point to keep in mind when buying an electric scooter is the size. The model you purchase must fit your size.
Here, the first thing to take note of is the maximum allowable weight as specified by the manufacturer. Try not to select a vehicle whose maximum capacity is  close to your weight, so as not to overburden the scooter. Otherwise, it won't be safe to carry you around.
The second point is the scooter's height. The handlebar must be high enough to make it easy for you to ride conveniently.
The weight of your scooter must also be considered, especially if you've to lift it along on occasions.
Speed
For many riders, speed is their top priority. If you fall into this category, you'll need to crosscheck the top speed offered by each Razor electric scooter on our list
Conclusion
Now, you've a list of the 10 best Razor e-scooters. As you can see, we've reviewed each product with their specifications, pros and cons, as well as a buyer's guide to help you select a good Razor electric scooter. Hence, you're now in a good position to make a wiser buying decision. After purchasing a good Razor electric scooter, endeavor to put some of those maintenance tips into practice and also replace damaged parts immediately. Doing so will not only improve the motor's performance, but also extend its life span.
Related Links: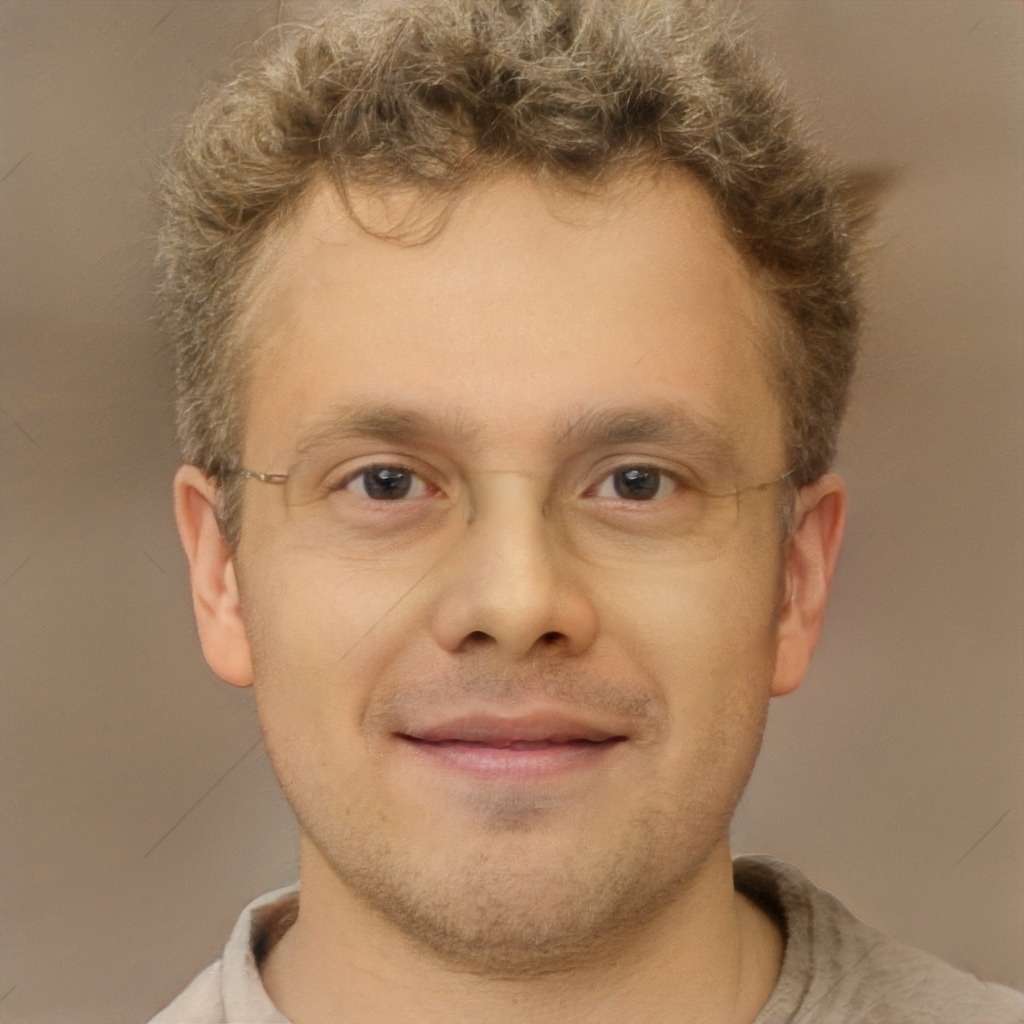 I'm the founder of HoverboardsGuide.com, a comprehensive website dedicated to electric scooters and hoverboards. With a deep-rooted passion for electric gadgets, I've accumulated extensive experience in this field. I aim to assist users in selecting the best gadgets and providing reliable guidance.
I've tested and reviewed numerous models, gaining in-depth knowledge about their features, performance, and overall quality. Feel free to reach out to me with any queries, as I'm dedicated to addressing your concerns promptly. Join me on this exciting journey of exploring the world of electric rides and making informed decisions