Introduction
Razor Hovertrax is a popular self-balancing electric scooter that has gained significant attention in the market. In this article, we will provide a comprehensive review of the Razor Hovertrax, discussing its features, performance, safety, user experience, and more. Whether you are a beginner or an experienced rider, this review will help you make an informed decision.
Overview of Razor Hovertrax:
Razor Hovertrax is a self-balancing electric scooter designed for personal transportation. It features a sleek and compact design, making it convenient for commuting short distances. The Hovertrax is equipped with advanced technology that ensures a smooth and stable ride. With its powerful motor and long-lasting battery, it offers an efficient and enjoyable transportation solution.
The Razor Hovertrax Prizma Hoverboard features colorful LED lights and EverBalance technology for a smooth and comfortable ride. It is UL2272 certified, making it a safe and reliable choice for kids age 8 and up.
The Hovertrax Specifications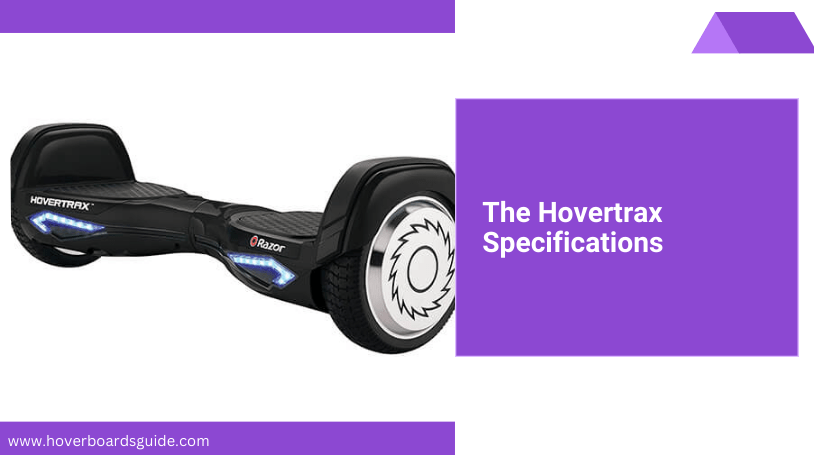 135-watt cruising power
350-watt peak power output
Reaches 8 MPH
Holds a 265-pound maximum weight
5 x 9 x 8.75 inches
32-pounds weight
Review of the Hovertrax 2.0 and 1.5
In the following article, we will be looking at some of the common features that both these battles have. We have broken it down into specific features and analyzed based on the research done in comparison to many of the others. If you are in the market for a brand-new mode of transportation, these Razor Hoverboard 2.0 reviews are necessary to read.
Motor Quality And Speed
When an expert looks at any type of vehicle, speed is the first thing that comes to mind. The Razor Hoverboard is one of the fastest options on the market. Peaking at 350 watts power output, the hoverboard can reach a top speed of 8 MPH. However, it will rapidly drain the hoverboard battery, leading to continuous recharges.
Alternatively, the 130-watt power output for the cruising speed is sufficient for users that simply want to have fun. Keep in mind that a hoverboard is not specifically designed to give you speed. However, the motor serves two purposes, but both of them will ensure that the user has some fun when cruising around the neighborhood.
Razor Hovertrax 2.0 Battery
Another important part of the hoverboard that every expert needs to look at is the battery. We look at how long it will last, while also looking at the recharging time. During our Razor Hoverboard 2.0 reviews, we found out that the unit has a 36-volt lithium-ion battery, capable of lasting up to 1-hour. However, it will depend on the weight of the individuals and the speed they travel.
The recharging time of hoverboard batteries is rarely on the fast side. Much like drones, it can take hours for a battery to be fully recharged. However, these hoverboards have batteries that will only need an hour or two of charging. It is recommended that the first time you use the hoverboard, you use the full 2-hours to ensure the battery is optimally charged.
The Safety Measures Taken
As mentioned, Razor is the first brand to be UL certified in the USA. TO be more specific the Razor Hoverboards have a UL2272 certification. While it might not mean much to people, but it is an indication that it is resistant to fire and electrical hazards. Due to the impeccable safety measures, it is safe for everyone to use.
The safety measures don't stop here, as the Hovertrax features a built-in leveler. One of the benefits of the leveler is to assist and aid new riders to avoid potential collisions. Since these can be very painful, the leveler will automatically bring the hoverboard back to neutral. Even heavy users that tilt to one side will enjoy this.
Materials
You will notice that the Razor Hovertrax is not the cheapest hoverboard on the market. However, the price is justified by the quality materials used in the construction. Solid steel features the main part of the inner components. Since the steel has been coated, water that penetrates does not lead to any rust into components.
Additionally, a plastic cover makes up the fenders and the inner part of the unit. The plastic will keep the unit protected from any damage. One test has suggested that all of the components are shatter-resistant. Due to diligent heat treatment, one does not need to worry about any fickleness, which means aggressive riding is possible.
Ergonomics
Hoverboards are not for the faint of heart, especially those with weak components. However, our Razor Hovertrax 1.2 reviews indicate that that unit is slightly smaller than some of the competitors. It has a lot of leeway for your feet, which ensures the best in comfort for any riders, regardless of the size of your feet.
We should mention that in total, the Hovertrax 2.0 has a maximum weight capacity of 265-pounds. It makes it one of the most durable options that can carry heavy riders. At only 23-pounds, small users can carry it around as needed. We would recommend it to riders from all walks of life due to the versatility on offer.
Price And Warranty
The Razor Hovertrax is still in production, with the brand delivering them regularly. Unfortunately, you might need to dole out a couple of bucks to buy it and you only have a 90-day guarantee to back you up. The upside to this is that the price is accompanied by some of the best quality. Users have repeatedly stated that it lasts forever.
The user's happiness when looking around is on the positive side. Not only does the brand come true to its word, but also it has excellent customer support. Spare parts can readily be found, but you might need an expert to help with the assembly. The immediate product that you will receive is fully assembled and only the battery needs to be charged.
Read Our Reviews:
Pros And Cons Of The Razor Hoverboard 2.0 Reviews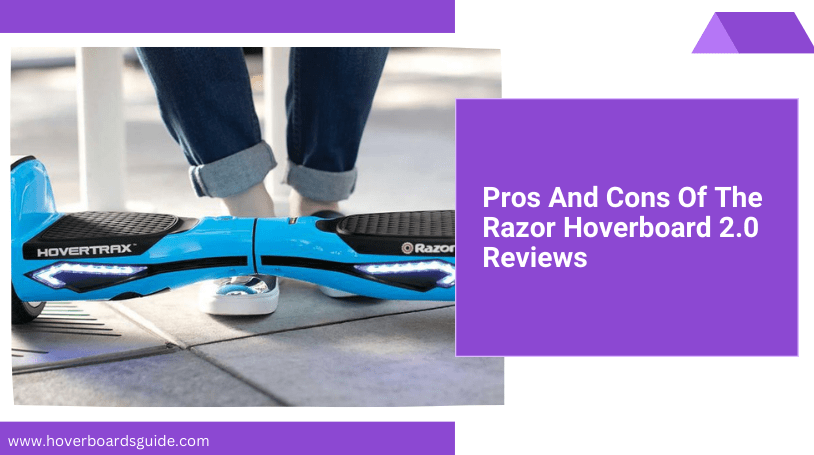 One need not look any further for a quality hoverboard and the value for your money is assured. If you have read the entire article, you might already have a picture in your mind when it comes to the benefits and drawbacks. However, we have isolated them. Here, you can find a small breakdown of all the important features:
What We Like
Battery: The battery is one of the most versatile on the market today. Since you can add another battery, you don't need to constantly wait for a recharge. However, the replacements are expensive.
Beginner Mode: An additional "Training Mode" is added for beginners. The training mode will adequately keep the unit level. You won't be able to reach top speeds, but it reduces the learning curve.
Durability: All of the components have been strenuously tested, with people looking to break the unit. Most of the common hoverboard flaws have been addressed, which tends to make your life easier.
Safety: Safety features are very important, especially for self-transportation units. The Hovertrax 2.0 reviews have revealed the UL certification of the products for electrical and fire hazards.
Off-Road: Yes, the units can be ridden off-road. Many people prefer to ride on uneven surfaces. Fortunately, the unit will accommodate people that prefer to tackle some of the more tenacious terrains around the neighborhood.
What We Didn't Like
Price: One of the biggest downsides is the price. However, we did mention that you would get great value for your money, regardless of the price.
No Bluetooth: In terms of Bluetooth features, there is as of now no application available. The unit features LED lighting, but it does not have any speakers that can be accessed from your mobile device.
Is The Razor Hovertrax 2.0 Worth Buying?
It is no secret that there are plenty of options on the market today. All of them have specialized features. However, these Razor Hovertrax 2.0 reviews have revealed that it has all the features you might need. The replaceable battery ensures that waiting times are reduced. However, you will find it expensive.
As for the personal opinion of the editor, users will need to start with the beginner mode if they are new to the hoverboard market. All the features will be easy to get used to. There are seven different colors that one can choose from. All of these colors are fully customizable and will allow you to add all the needed accessories.
Consumer Reviews
Young mother brought it for her twin sons and look at what she has to say:
Well made

"My real cause for buying this was for my twin boys and my husband too wanted it for holidays. when I got it, its condition was simply perfect. it's a nice high-quality hoverboard. I love the features as well. The most favorite features of mine are its self-leveling, and its tremendous lights. I love its training level for my kids. And it provides a really smooth ride. What else I was concerned with… I wanted something to be a solid construction and yes it is. So with all these qualities, I think it's well recommended."

A Father who gifted to his teenager commented

Bring My Son To Real World

"This is an amazing gift! My son said to me it's the best gift ever I have presented to him. My son is 12 years old and it was his birthday present and he is using it for like 5 months and he's still loving it. Don't have any problem with it until now. And is also learning some tricks and practicing them, within every half an hour. And is getting on it and he is having great fun and developing his skills. I am glad that he has got rid of that video game now he is in the real world instead of the virtual world."
Another happy parent review is:
Narrow Foot Area

"My ten-year little son is really in love with it. Its built is really good and it is a quite heavy quality production and quite well made. well, he has a little complaint about the foot area which he found to be a bit narrow to place his foot comfortably. He said my feet start hurting because I have to balance on a small area. He has tried some other hoverboards with larger platforms for his feet. But I've personally thought that for I kids this is the best choice .yes if you are looking for a hoverboard for an adult or a teenager you might need some other with broader foot area"
A quick Glimpse for the reader
We know that you are a busy person. This is the reason we have included this portion here in case you do not have the time to read the full article. You can check the abstract of the article here. Then you can decide whether you should read the full article or not. This article is about Hovertrax 2.0 and 1.5. The Hovertrax 2.0 is relatively a new model. This article also included reviews from the customers for a more realistic picture. If you liked a speech then this is for you. This can run at a speed of 8 miles per hour. This high speed is possible due to the powerful motor that can produce a high speed by consuming 350 watts.
The energy is stored in the battery. Many Hoverboards required lots of time to charge the battery. In this case, things are a bit different. You will only require 60 to 120 minutes in order to completely charge the battery.
Safety is an important consideration while designing this hoverboard. Although the price is a bit on the higher side, in comparison to the features the product is offering you, the price difference is negligible.
The plus point of the Discovery board includes the optimal performance of the battery, the beginner's mode for beginners, the durability of the product, the safety features, and the ability to run off-road. The negative point of this bird includes the prices are a bit on the higher side and it does not provide the functionality of Bluetooth connectivity.
Consumers generally have positive reviews about the product. Some consumers consider it as a hoverboard that can be used by multiple members of the family. Others consider it the best gift for teenagers. The only complaint which is reported about this product is about the narrow space for foot placing. As we do not have any idea about the foot size of the person who had made this complaint. So this is difficult to judge if this is implementable on the general population or not.
Read More: How to Fix a Hoverboard by yourself?:
Wrap-Up
In conclusion, times are changing and rapid self-transportation is the way of the future. Razor Hovertrax is one of the leading brands on the market today. We would love to read any of your comments. We would like to suggest that for the Razor Hovertrax Amazon would be one of the best spots that you can rely on for a great deal.
Related Link: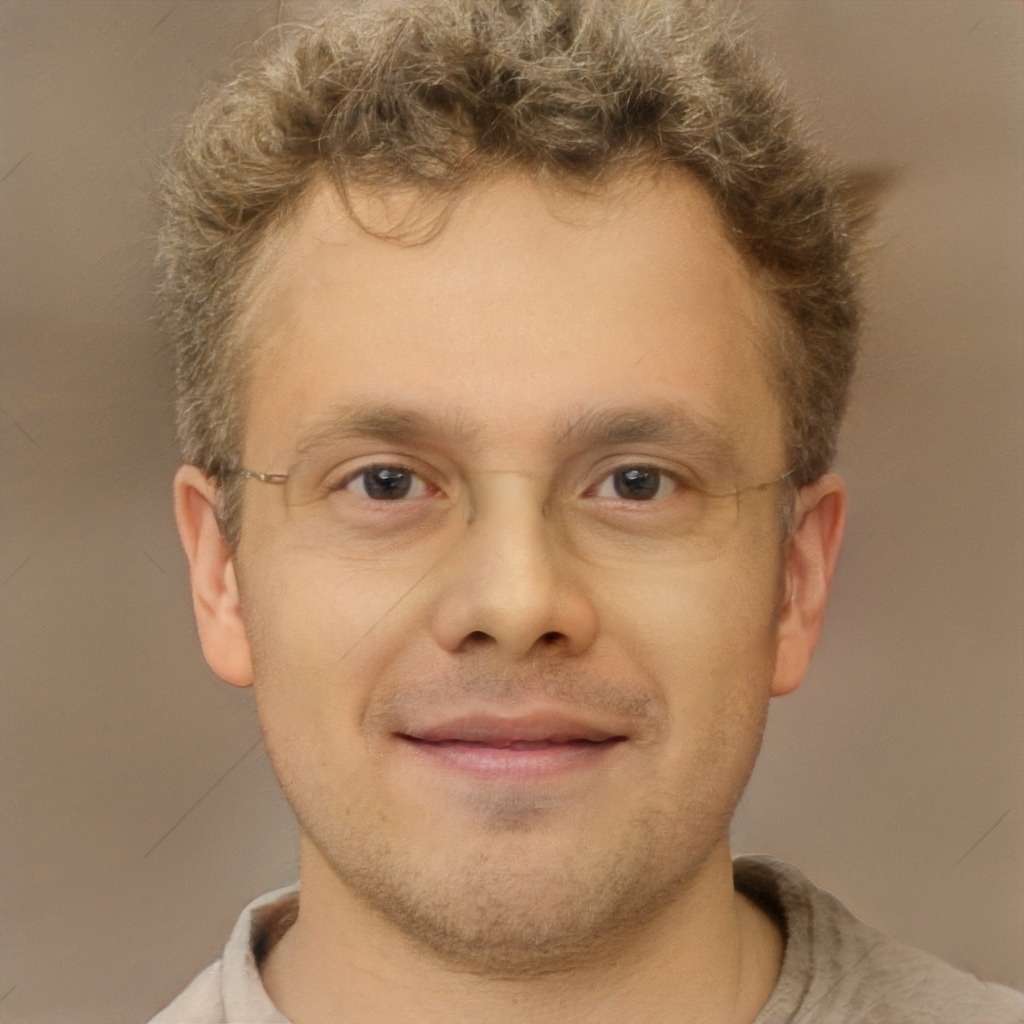 I'm the founder of HoverboardsGuide.com, a comprehensive website dedicated to electric scooters and hoverboards. With a deep-rooted passion for electric gadgets, I've accumulated extensive experience in this field. I aim to assist users in selecting the best gadgets and providing reliable guidance.
I've tested and reviewed numerous models, gaining in-depth knowledge about their features, performance, and overall quality. Feel free to reach out to me with any queries, as I'm dedicated to addressing your concerns promptly. Join me on this exciting journey of exploring the world of electric rides and making informed decisions