Introduction
In the world of electric scooters, the ZERO 8 has gained significant attention for its impressive performance, sleek design, and affordability. With its powerful motor, long-range capabilities, and advanced safety features, the ZERO 8 offers a compelling option for commuters and enthusiasts alike. This article will delve into the key features, performance, design, and other aspects of the ZERO 8 electric scooter to help you make an informed decision.
Besides, Zero 8 is also the most affordable electric scooter in the Zero series and it's particularly ideal for beginners as an entry-level vehicle.
Is the Zero 8 scooter for you?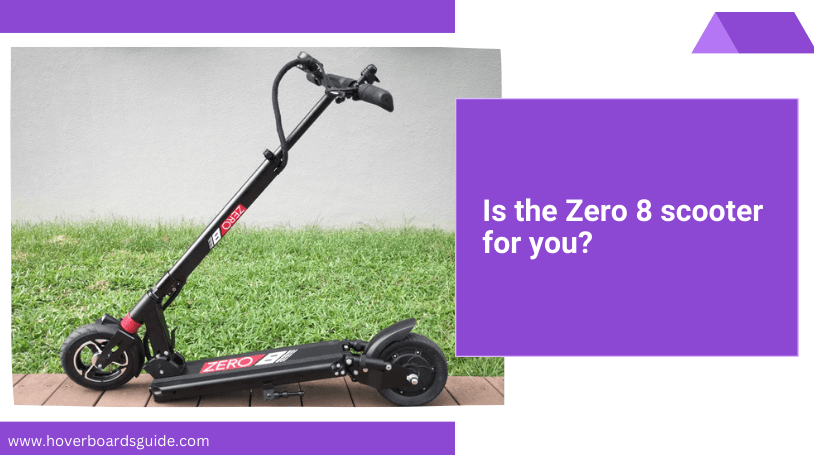 Yes, the Zero 8 is good for you if you're an avid rider who loves electric scooters that require minimal maintenance.
It may not come cheap, but its durable design, amazing components, and cool features make it a nice commuting option for you.
Here, we bring you a full review of the Zero 8 electric scooter. We'll discuss its specifications, features, and other necessary things you need to know about the product.
The Wheelspeed Electric Scooter is a powerful and reliable commuting vehicle, with a range of 20-25 miles and a top speed of 15 MPH (or 35-40 miles and 19 MPH for the Pro version). It features a 350W motor (or 400W for the Pro version), 10″ pneumatic tires, and rear suspension, providing a smooth and comfortable ride for adult riders.
Key Features
Ride Quality
As with other models in the Zero series, there is a consensus that the Zero 8 is comfortable to ride. This is mainly due to its 8-inch wide pneumatic front tire and solid rear tire. We shall talk more about these two later.
Meanwhile, the product features an integrated suspension system which provides some cushion against bumps and lumps that tires don't.
Having said that, so far you aren't riding the Zero 8 in rough terrains, its ride quality is similar to what you obtain in e-scooters at the same price level. Hence, it's advisable to ride your scooter on asphalt and other smooth surfaces.
Moreover, the Zero 8 boasts an anti-slip deck and rubber grips, both of which enhance rider comfort. The scooter also has brake and throttle components that make this vehicle easy to ride.
Frame
The Zero 8 has a sturdy frame thanks to the solid aviation-grade aluminum used in its construction. This is a good material commonly used for making electric scooters.
The aesthetic design of the Zero 8 scooter oozes durability and quality. It has a modern feel, and it's clear that the manufacturer has done a wonderful job on this product.
Deck
The deck on Zero 8 which supports your weight has 18″ × 7″ of usable space. This is still reasonable enough for a commuter scooter.
This deck has a kind of rubber footplate and this gives enough room to place your feet comfortably while riding on the road.
Tires & Wheels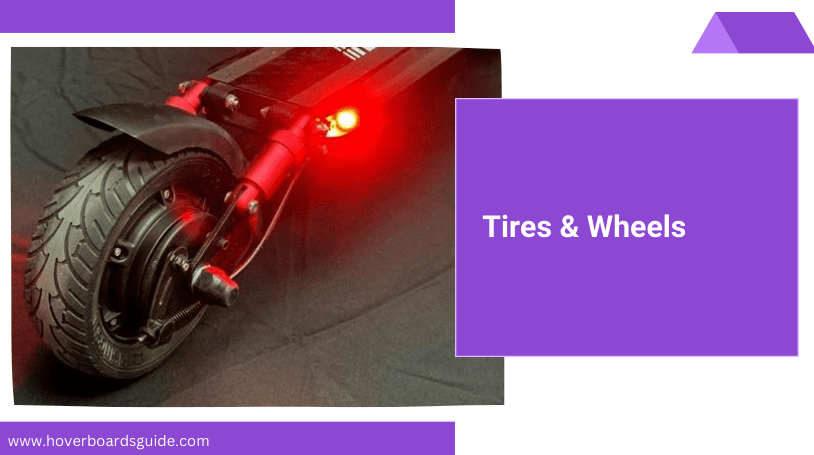 There are different tire models available for electric scooters, including pneumatic (air-filled), foam-filled, and solid rubber tire types.
As previously mentioned, the Zero 8 electric scooter has a wide 8″ pneumatic front tire. There is another type of tire at the rear which is made of airless solid rubber.
Each of these tires has its advantages and disadvantages. For instance, the hard rear tire is made from a rubber compound which is airless and inflexible. This often removes cushioning from the pneumatic front tire.
Riding the Zero 8 over very rough surfaces could be jarring. Although the shock absorbance mechanism on the rear wheel can ease this issue caused by the solid tire, still your ride won't be completely stress-free if you're riding over rugged terrains.
However, one benefit of the solid rubber tire is that there won't be any concern about pesky punctures to the tire. Also, they won't wear out easily and so the maintenance cost is minimized.
Build Quality
The build quality of Zero 8 is similar to that of other electric scooters in the same category. As mentioned earlier, it's made up of high-grade aluminum alloy material. The product enjoys rave reviews from users which attest to its high quality.
For example, the scooter has a hub motor that can deliver up to 500 watts of power, which is quite huge for such a vehicle.
Again, Zero 8 has a folding hinge located close to the deck. This minimizes the flex put on both its handlebar and the stem.
Furthermore, Zero 8 has twin suspension systems located in the front and rear wheels, which serve as shock absorbers. The front suspension unit consists of a spring-type shock absorber in the steering wheel.
The rear suspension system is made up of two hydraulic suspension systems that help reduce shocks induced by bumps on the road.
In truth, Zero 8 features some plastic parts including the control paddle and wheel covers which aren't so durable. Another drawback that we noticed about this product is that it has a single rear drum brake. This makes for a somewhat poor braking system when combined with the airless rubber rear tire, so you'll have to ride with caution if you love riding at top speeds. Nevertheless, these few drawbacks can't subtract from its attested build quality.
Weight & Load Capacity
With a weight of 40 lbs, the Zero 8 is a bit on the heavy side. To put this into perspective, it's 17 lbs heavier than the lightest adult electric scooters on the market.
At the same time, the heavyweight is a bit of an advantage when it comes to load capacity as the scooter can carry up to 220 lbs of weight at once.
Overall, the lighter the load put on the Zero 8, the longer the mileage you're likely to get while riding, and vice-versa. As a result, riders on long commutes are advised to travel light to increase their mileage.
Folding & Portability
The folding size of the Zero 8 electric scooter is 38.9″ by 7.1″ by 38.9″. In comparison, the average Sedan has a trunk of about 41.5″ by 43.5″. Therefore, the Zero 8 can be easily transported in the trunk of your car.
Apart from this, the scooter features simple folding mechanisms including:
 Stem folding mechanism
Folding handlebars
Stem telescoping mechanism
These are effective folding mechanisms. When fully locked into position, they're solid enough and you won't feel any slop.
Firstly, the folding mechanism connected to the deck and stem collapses quickly when operated. Secondly, once the folding handlebars are expanded, they utilize an extra screw mechanism to ensure locking.
Lastly, the telescoping stem on the scooter will collapse completely when activated, thus reducing the size of the scooter for storage.
Performance & Safety
Speed:- The Zero 8 comes with an impressive hub motor of 500 watts which is capable of delivering up to 37.2 mph. This is commendable for an electric scooter in the medium price range.
Aside from this, the scooter has a maximum range of up to 25 miles in reality. This makes it suitable for all forms of leisurely rides and daily commutes within a 10-mile radius of your work or school.
If the range is your No.1 priority, you may invest in an extended battery pack to further increase the range.
Hill Climbing:- The motor on Zero 8 is capable of taking you up hills though at slower speeds. Needless to say that the heavier your weight, the slower your climb will be.
Shock Absorbance:- Zero 8 has a shock absorbance mechanism on the front and rear wheels. These are useful in providing solid cushions suitable for urban rides.
The front suspension keeps your hands protected and dampens the vibrations produced in the vehicle while riding. On the other hand, the rear suspension supports the front one by minimizing vibrations on your feet.
Braking:- The Zero 8 has unique cable-activated rear drum brakes. This single braking system is still sufficient for its top speed. Moreover, the brake is robust and durable as it's enclosed in the hub.
Charge Time:- The 48V/13Ah battery on the Zero 8 requires up to 8 hours for full charging which is standard for all e-scooters in this tier. You can charge it overnight when sleeping, while you ride it during the day.
Specifications
LCD Panel
The LCD panel on the Zero 8 is a very cool feature. It doesn't only give the electric scooter a modern look but also allows you to see the riding mode, battery level, and speed on the go.
You may not even use the speedometer that much but you'll certainly find the battery level indicator useful.
LED Lights
The Zero 8 features a front-facing deck and fender lights, plus red rear deck lights. These LED displays provide decent illumination for riders.
The only shortcoming here is that they're mounted at low positions which may affect visibility at a distance or night.
To avoid this, you may consider additional lighting to ensure your safety while riding at night.
Speed Control
Like other Zero electric scooters, the Zero 8 has a special "gear" display that serves as the speed controller. You can adjust the scooter's speed with the gear set, though this may affect your range.
There is a brake lever on the left hand that controls the rear drum brake that serves as the braking system.
One good thing about the Zero 8 is its wide handlebars which can be folded up for storage or transportation, thus giving you natural control over the vehicle. Additionally, the handlebar height is adjustable through the scooter's telescoping neck
Great range
Solid rear tire
Easy-to-read LCD panel
Front and read deck lights
Twin rear suspension
Single-action folding joint
Puncture-proof rear wheel
Compact body size
Durable aluminum frame
Powerful 500-watt motor
Multiple speed modes
Ideal for hill Climbing
Front spring shock absorbance
On the heavier side
No waterproofing feature
Single brake system
Read Our Reviews:
 Maintenance Tips for Zero 8 Electric Scooter
If you want to keep your Zero 8 electric scooter working for years, you need to take proper care of it. This will also help optimize its power, speed, and mileage.
Here are a few maintenance practices to help prolong the life of your scooter.
Tire Maintenance
You can only optimize your riding experience if the right tire pressure is maintained. Otherwise, a lot of issues could develop which may negatively impact your ride.
For example, lower-than-optimal pressures often cause slower speeds, less rolling resistance, and inconsistent tire spending. Likewise, higher pressures often result in uncomfortable rides and even crashes.
To stay safe, keep your tire pressure at the level recommended by the manufacturer.
Battery Maintenance
Apart from the engine and wheels, the next most important component of your Zero 8 e-scooter is the battery unit.
Each battery, whether big or small, has a certain amount of cycles which represents its usage potential. Some have as high as 1000 and some as low as 300. The main issue is to know how to maintain your battery at its full potential.
You can optimize your scooter battery potential by observing some golden rules such as:
 Keeping it in a cool space at a temperature above zero degrees.

Using only chargers recommended by the manufacturer.

Don't empty the battery before recharging.

Charging the battery after it has cooled down and not immediately after use.

Disconnecting the charger from the power source when the battery is full.
Cleaning & Lubrication
Cleaning your Zero 8 regularly is important to save it from damage caused by dirt.
Wash the frame with clean water and mop it with a piece of cloth later. Leave the components to dry out completely before coupling.
Remove the mud, plant matter, and other stubborn dirt by washing with warm water and soap. You should also ensure that every metallic joint is regularly lubricated to prevent damage due to wear and rusting.
P-setting
If you want maximum tongue and acceleration from the motor on Zero 8, use the P-setting feature to set it to the desired level as illustrated in the user manual
Conclusion
The Zero 8 is obviously a solid electric scooter for both leisurely riders and serious commuters. It can handle most journeys without hassle which makes it fun to ride.
The only drawbacks are its lack of waterproofing and lack of a double brake system. Nevertheless, it possesses a lot of innovative features that far outweighs the shortcomings.
Overall, we recommend the scooter to all category of riders because of its relatively good suspension, reasonable portability, and moderate speed. 
Also don't forget that it's only a properly maintained electric scooter that can give you value for money. So, keep in mind the maintenance tips to get the best from the Zero 8.
FAQs
Is the ZERO 8 suitable for beginners?

Yes, the ZERO 8 is suitable for riders of all skill levels, including beginners. Its stable construction and responsive controls make it easy to ride and control.

How fast can the ZERO 8 go?

The ZERO 8 has a top speed of [insert top speed] mph (or km/h), allowing for swift and efficient travel.
Related Links:
1.https://en.wikipedia.org/wiki/Motorized_scooter/ By wikipedia
2. https://en.wikipedia.org/wiki/Electric_motorcycles_and_scooters/ By  3.https://en.wikipedia.org/wiki/Scooter-sharing_system
4.https://en.wikipedia.org/wiki/Kick_scooter/ By wikipedia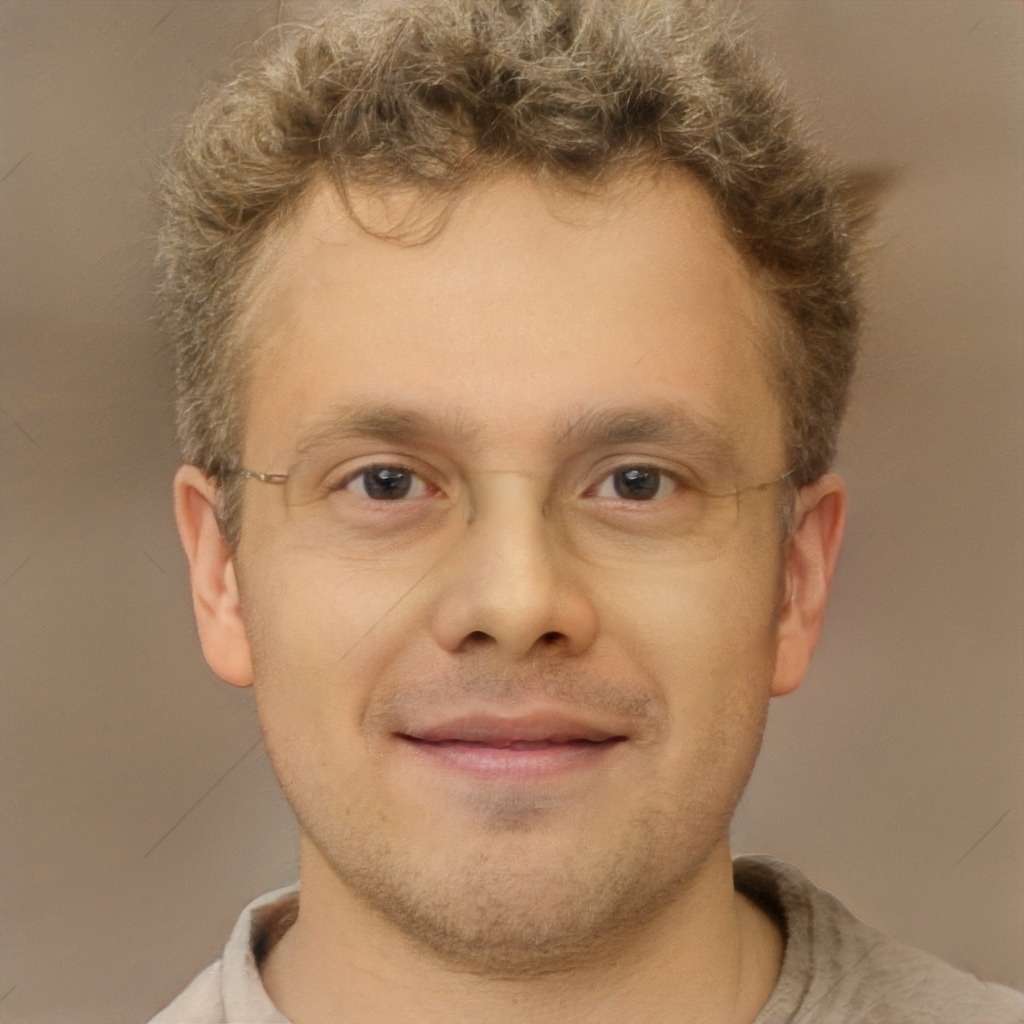 I'm the founder of HoverboardsGuide.com, a comprehensive website dedicated to electric scooters and hoverboards. With a deep-rooted passion for electric gadgets, I've accumulated extensive experience in this field. I aim to assist users in selecting the best gadgets and providing reliable guidance.
I've tested and reviewed numerous models, gaining in-depth knowledge about their features, performance, and overall quality. Feel free to reach out to me with any queries, as I'm dedicated to addressing your concerns promptly. Join me on this exciting journey of exploring the world of electric rides and making informed decisions