If you have a serious injury or a disability that does not allow you to move freely, don't feel helpless because we have a solution for you. Enjoy your free time strolling through the streets, perform daily chores, or go to the supermart using the phenomenal vehicle that can make a real difference in your life. 
Mobility Scooter is a motorized vehicle for handicapped or disabled people giving them the freedom to move. The incredible invention has made life easier featuring an electric motor and a chair that allows convenience and ease of use. 
Like the regular electric scooters, the mobility scooters also come in several types so you have an array of options to choose from. The preference depends upon the purpose of use. If you have to stroll off-road or to wander down the hills, an electric off-road scooter is a suitable choice. So, here we have come up with the best mobility scooters for off-road traveling so that you may be able to make an informed choice easily. Also, refer to our buyer's guide to knowing what must be considered while buying a reasonable electric off-road scooter.  
Mobility Scooters- a Complete Buyer's Guide
Many of you may not be aware of the mobility scooters and their use so readout down the lines to know about these powered wheelchairs so that you may be able to make a wise decision. 
What are the Mobility Scooters? 
Mobility scooters are the unique electric vehicle powered by a motor. In simple words, you may also call it a powered wheelchair because it is actually a wheelchair designed like a scooter. This motorized scooter is a good way to commute safely for a physically disabled or a handicapped person or patient who is unable to ride a regular one. This mobility aid is often used by the aged and elderly people.
Advantages of using a Mobility Scooter 
A mobility scooter is a great invention because it gives you mobility when you feel fatigued or pained. It has a great utility especially for the elderly people who find themselves confined and do not able to perform routine chores due to a disability. However, there are several other reasons why mobility scooters are a good bet. Let us review some of them.
Ease of Use
Mobility scooters are made to address the problems of aged people, patients, or people with some physical disability so they are designed to provide convenience and ease of use. With simple controls, comfortable seating arrangement, and ergonomic handlebars, the mobility scooters are very easy to maneuver. A person with limited body strength can also drive this scooter confidently and can stop and take control of it effortlessly.
No license required
The good news is that you do not need to get yourself registered or to get a license to ride a mobility scooter. They are meant to provide a free safe ride to those who have the ability to ride them. However, there are few states where the license is required but the terms are quite flexible and easy to fulfill.
Recognized as a public transport
These mobility scooters are recognized as public transport and you can ride them on the road like the other vehicles. You can enjoy a trip to any place and perform your chores like visiting the marketplace, grocery store, hospital, or the woods. Some organizations also give them access inside keeping in mind the disability or age of the driver.
More accessibility
Nowadays, people are aware of the use of mobility scooters and give them accessibility to most of the areas and places. So, it is quite easy for the mobility scooter users to ride and perform their chores.
Make daily activities easier
Your age or illness may restrict you from daily routine activities because you are unable to cover long distances or ride a bike or other vehicles easily. For this, buying a mobility scooter is a very good idea. It allows you to move freely and easily so that you may be able to perform your routine activities yourself.
Come with a number of features 
The mobility scooters are designed for ease of use so the manufacturers keep convenience in mind. There are an array of mobility scooters available in the market with different sizes and shapes ranging from high-strength bulky scooters for tough terrains to the compact and lightweight folding scooters that can get to the grocery store. 
Safe alternative 
A mobility scooter is a safe alternative for people able to ride but having some health issues. The rate of accidents with mobility scooters are quite low and people understand their use and accessibility to the places. 
What to consider while buying a mobility scooter 
Mobility scooters or any powered assistance is designed to help people with disabilities to regain their access to places. However, before buying a scooter, you must assess whether you may be able to drive the scooter or not you must consult your Occupational therapist and ask whether buying a mobility scooter is a good idea for you because he better understands your physical capability and limitations. Here are some other important considerations you must think about. 
Whether you can move or respond quickly to a sudden event.
Whether it is feasible for you to get in or out of the vehicle.
Are you able to operate the controls of the scooter?
Are you able to turn your head?
Are you able to cope up with the traffic?
Are you able to ride the scooter on a bumpy or pebbled terrain?
Types of Mobility Scooters 
There are various types of mobility scooters ranging from small mobility scooters used for day to day regular chores like going to the supermart, university, or hospital or the heavy-duty mobility scooters to travel on the tough terrains. Let's discover these types in detail.
1.Small Mobility Scooters
Small mobility scooters can be utilized to travel short distances. You can perform household chores like grocery; go to the hospital or the nearby shopping mall to get your shopping done yourself. These scooters have small low-profile batteries offering a small range and can take you up to 20 Km away. 
The small mobility scooters are compact, foldable, and easy to use. Featuring easy controls and ergonomic design, the scooters are comfortable and easy to assemble and disassemble so you can carry them around conveniently to the vacations in your car's trunk. 
These small scooters have small turning circles so they are a suitable choice to ride at the smaller premises like hospitals and crowded shopping malls etc. However, these scooters do not have the power to take you to the steeper hills and pebbled places.
2.Mid-Sized Mobility Scooter
Mid-Sized Mobility scooters are made for those who want to travel to the outdoor terrains and small inclines. They are suitable for small trips to local shops and marts etc. They can take you up to 40Km effortlessly giving you the freedom to do your tasks on your own. You can also use them as public transport. They are equipped with knobby tires that are suitable for outdoor traveling, LED lights to make them easy to commute in the dark, storage baskets, front and back mirrors, and an efficient suspension allowing you to enjoy the ride smoothly. 
3.Heavy-Duty Scooters 
The heavy-duty scooters can be used to travel on all the terrains. These scooters, like the regular electric scooters, are made to withstand tough roads, steeper hills, and inclines. They are powered by high-strength batteries that allow you to go up to 50kms in a single charge depending upon various other factors. 
These scooters feature a hi-end design, powerful battery, heavy-duty pneumatic tires, excellent suspension, and sturdy construction that is suitable for long distances and tough terrains. The heavy-duty scooter is equipped with large padded seats and a comfortable back and armrest to give you comfort and convenience while traveling.   
They offer a great weight capacity and can accommodate bulky people and accessories efficiently. Moreover, they have front and rear LED lights and storage places to add convenience while traveling. These scooters are the most considerable choice if you are searching for a sturdy off-road vehicle. 
Best Mobility Scooters for off-road Travelling- Reviews  
Discover the best mobility scooter out there that are highly-rated and the users find them the best choice due to various reasons. Let's dig into the fact why these mobility scooters are worth the investment.
| | |
| --- | --- |
| Weight Capacity | 350lbs |
| Max Speed | 18mph |
| Range | 45 miles |
| Braking System | Electronic |

Performance
If you are looking for a reliable scooter with a considerable range because you have to travel the distant places frequently, the E-Wheels EW-36 is our most favorite this year. This cool mobility scooter offers a great mileage range of 45 miles you may not get with the ordinary mobility scooter commonly. The all-terrain mobility scooter is made to allow you to go far and wide irrespective of your disability or tiredness. 
It has an electronic braking system that helps you to stop immediately and effortlessly. With the help of the pneumatic tires, this scooter can easily travel outdoors. 
Other Features
The heavy-duty scooter looks like the old-fashioned models but offers great utility. It has easy controls, well-padded seats, and lightweight that makes it easy to use and maneuver adding great convenience for distant traveling. It can accommodate people with hefty and bulky built. There are two rear shock-absorbers so it absorbs shocks and jerks on the bumpy roads like a pro. There is a bright lighting system on the scooter so it allows you to see in the dark. Moreover, the scooter has several other value-added features too like an anti-theft alarm system, a large storage basket, and incredible storage capacity under the seat so you can travel with your important accessories conveniently.
Pros
Cons

Excellent lighting system

Fastest mobility scooter

Comfortable seating arrangement 

Great range 
Summary
The scooter is a win-win pick in any case. Whether it's about traveling on the gravel or the indoor terrains, the scooter is reliable and well-designed for adults and disabled people. It is our top pick because it offers a great range with considerable speeds.
| | |
| --- | --- |
| Weight Capacity | 450lbs |
| Max Speed | 7.5mph |
| Range | 38 miles |
| Braking System | Electronic |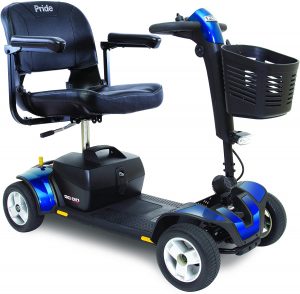 Performance
Looking for an intelligent and stylish model? Merits S941L will definitely grab your attention. This scooter can take you to the distant outdoor terrains smoothly and efficiently however, it is not very speedy but still a preferable choice by adults and senior users. It has a full suspension system that allows the user to travel effortlessly on the pebbled surfaces and inclines. The 100ah battery is placed in the wider deck allowing the user to travel to distant places. 
Other Features
This remarkable model is equipped with an innovative LED lighting system that brightens up your way in the dark. The lights make sure that you do not meet an accident or collision while traveling in the dark. Moreover, this scooter also has a digital dashboard that shows you different stats like battery status, temperature, and maintenance messages. In addition, this scooter has a huge weight capacity so it can accommodate a bulky user as well as the accessories easily. 
Pros
Cons

Stylish design and sturdy built 

Excellent lighting system

Easy to use controls 

A digital dashboard that shows important information

Full suspension system 
Summary
Merits S941L Silverado Extreme is another heavy-duty mobility scooter that grabbed our attention at first sight because of its considerable mileage and extra-ordinary performance. It is an affordable choice for those who are looking for a heavy-duty mobility scooter.
Weight Capacity

275 lbs

Max Speed
4 mph
Range

6.3

miles
Braking System
Electronic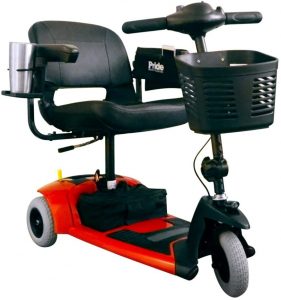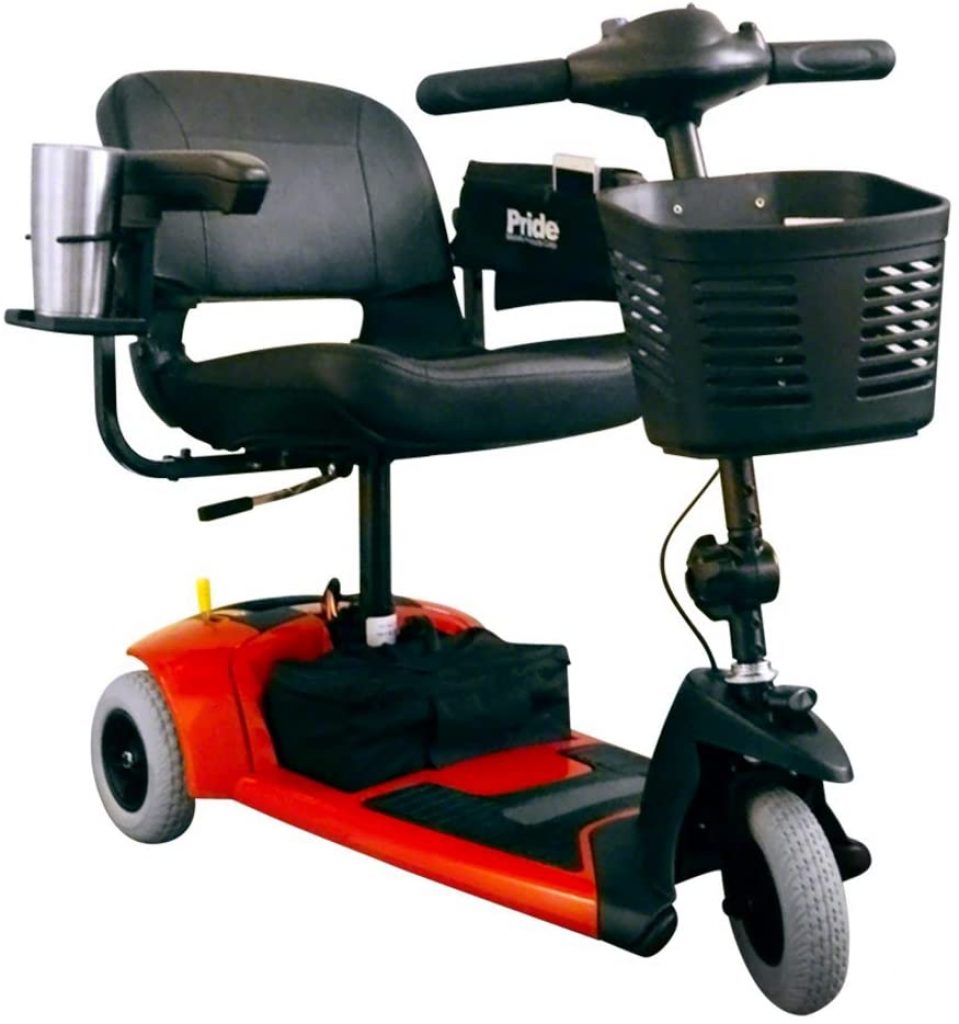 Performance
If you are looking for an off-road specialist on a small budget the Pride Travel Pro premium is a good bet. However, this mobility scooter cannot take you to distant places because of the limited range. Travel Pro Premium provides you utmost comfort with style. It is equipped with comfy seats made up of faux leather along with a folding armrest. The seat is adjustable so you can change the height according to your convenience. 
Other Features
The Pride Pro Premium features three wheels that allow the scooter to reach the corners and move in tight spaces. It has a sharp turning radius so you can ride the bike in crowded places. The scooter is easy to control and assemble. It gives you forward/reverse control and allows you to go up to 6.3 miles in a single charge. Moreover, this scooter has very lightweight so you can easily disassemble and transport it. It also features a large front basket where you can put all your important accessories. It also comes with a free mug holder so that you can enjoy coffee while traveling.
Further, the scooter has a good weight capacity so it can take hefty people to the shopping malls, hospitals, and grocery stores effortlessly.
Pros
Cons

Comfortable padded seat and ergonomic design 

Moves smoothly in the crowded and tight places

You can adjust the height according to your convenience

Reasonable weight capacity 

It has a very small range 

It is difficult to balance the scooter on the pebbled or stony surfaces
Summary
Travel Pro Premium is a great scooter for those who want to buy a reasonable heavy-duty mobility scooter in a few bucks. It features all the hi-tech features which a reasonable off-road mobility scooter must-have. However, this scooter is not made to travel to distant places.
Weight Capacity

275 lbs

Max Speed
3.73 mph
Range

13

miles
Braking System
Electronic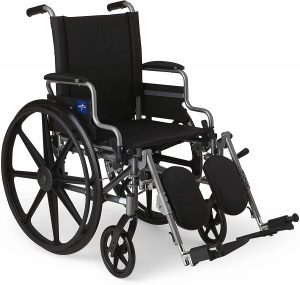 Performance
Furgle 4-wheel scooter is made for those who are searching for a lightweight and compact scooter. The scooter is suitable for small off-road journeys and adds convenience to your sedentary lifestyle. It offers a considerable speed and range that is sufficient to take you to closer places.  
Other Features
The Furgle 4-wheeler is made to provide you ultimate convenience in order to travel with comfort. The 4 wheels make it stable and safe on the outdoor terrains. Moreover, it is compact, lightweight, and portable so you can take it easily anywhere. In addition, it is equipped with an adjustable padded seat and adjustable armrest so you can adjust the height and direction according to your convenience. Another notable feature is the anti-rolling wheels above the rear wheels that prevent the vehicle from rolling. 
Pros
Cons

Anti-rolling wheels to prevent rolling

Comfortable adjustable seat and armrest

Suitable for outdoor terrains

Compact, lightweight, and portable 

Easy to assemble
Summary
If you are looking for comfort, convenience and portability, you can get all three by buying this incredible mobility scooter. The scooter is safe, sturdy and a considerable picks for people having less budget.
Weight Capacity

275 lbs

Max Speed
3.73 mph
Range

13

miles
Braking System
Electronic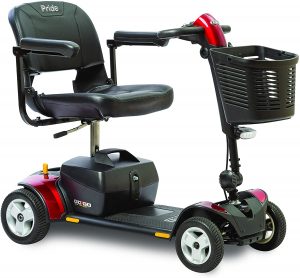 Performance
Drive Medical Scout Compact Travel Power Scooter is an optimum combination of price, performance and longevity. The scooter is very easy to use along with an easy assembly that makes it easy for you to disable and put it together. So, taking it on a vacation or to any remote place is not an issue. Featuring the non-marking tires, height adjustable seats and armrests and ergonomic throttle control, this mobility scooter is none other than exception. 
Other Features
The most notable feature of this unique mobility scooter is its color-through color panels that hides the scratches and scuffs by changing color. Moreover, the batteries are powerful and easy to remove and connect so ride the bike is more than convenient. The flat free non-marking tires allow you to ride the bike smoothly on the outdoor terrains. Moreover, this scooter is also equipped with a large carrying basket where you can put all your important accessories. 
Pros
Cons

Easy to control

Easy to assemble 

Lightweight and compact

Color-through color panels hide scuffs
Summary
All in all, Drive Medical Scout is an extremely convenient vehicle you can ride around with all the great feature you don't get to enjoy in the ordinary scooters.
Weight Capacity

330 lbs

Max Speed
3.73 mph
Range

18

miles
Braking System
Electronic
Performance
BUZZAROUND EX Extreme contains all the features a bike may have. It allows you to ride on the outdoor terrains safely giving you confidence and freedom to get out of the sedentary lifestyle. It is equipped with the high-strength batteries that offers longer range in a single charge. You can enjoy smooth ride on the stony surface because the scooter has the large thick tires that can withstand the toughest roads and off-road trails. 
Other Features
In addition, BUZZAROUND EX Extreme electric off-road scooter features sturdy suspension springs that offers a smoother ride than the ordinary mobility scooter. The LED lighting system allows you to ride safely in the dark. The scooter is compact, lightweight and portal so you can maneuver it effortlessly. Moreover, it has a considerable weight capacity that can accommodate hefty people and the addition accessories easily. 
Pros
Cons

Great weight capacity 

Lightweight, compact and portable 

Sturdy suspension system 

High-strength batteries
Summary
BUZZAROUND EX Extreme is worth the investment because it provide great value for money. The easy-to-assemble scooter is rugged and durable, able to hover on the gravels and provides the extended battery life.
Summing Up
In this article, we introduced you to all-terrain mobility scooters for sale because buying the need needs you to keep several important factors into consideration. Go through our comprehensive buyer's guide and plenty of reviews to make a better decision.

In the meantime, let us know about your experience in the comments section below and suggest some modern personal vehicle you want us to review in the next editorial.