Macwheel Max Electric Scooter is specially designed for commuting, it has a powerful battery and motor system for a maximum speed of 15.6 mph and it the range is 18.6 mile per hour. It is combined with the non-pneumatic tires and tire have the feature of built-in wires and water resistance. The double braking system is also there for emergency brakes, the construction of this scooter is designed for city riding. The price is very affordable, MXI has awesome specs.
Macwheel Mx1 Specs
Max Speed– 15.6 MPH
Range– 18.6 miles
Warranty– 12 months
Peak Power– 300 watts
Weight– 28 lbs.
Hill Grade– 14 degrees
Wheel Size– 8.5"
Weight Limit– 256 lbs.
Charging Time– 4-5 hours
Our Rating: 4.1/5
Key Features
Good price point
Durable
Cruise control
Brake & headlight
High battery capacity
Great folding
Puncher free tires
Kick start feature
3-speed models
Quality and Design of  Macwheel Max Electric Scooter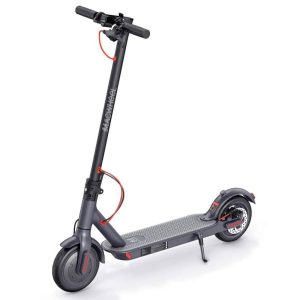 The Macwheel MX1 is one of the best looking electric scooters available on the market. Every kid can ride it, the smart kids, the cool kids too. The stem and handle both are very smooth to touch and gives you a premium feel that doesn't available in some other scooters in the same price range.  Texture available on the platform is amazing and gives you a tight grip for your feet. Machwheel has made the wheel's durable. The wheels are premium looking and attractive for everyone.
The Macwheel MX1 is designed excellently and it looks beautiful. The glamour the looks might not appeal to normal eyes, but it will take the attention of someone who loves to ride e-scooters and has a keen eye for craftsmanship.
Macwheel Scooter Parts
Handlebars are sturdy and firm. The LCD display is good but it is not visible in the direct sunlight. The display quality is not as good but in this price range, it's quite decent. The grip is very comfortable and it offers you a very strong grip. The bar is well fitted to protect your arms and wrists from any strain. Bell placement of this e-scooter is very impressive. It is easily accessible and concealed in a good manner and it doesn't interfere with the overall look of the scooter.
The kickstand is good but not as good as compared to some high price e-scooters. The kickstand does a good job and holds the scooter well. So if you need to stay for a quick snack or drink, the little kickstand is quite handy.
The brakes of Macwheel MX1 are decent and you can stop your scooter easily any time anywhere. When you check the brakes close and upfront you feel the brakes are wobbly and slugging. The brakes are not responsive as compared to premium quality e-scooters. It is advisable to check your brakes every month to keep them in good condition.
Tires are perfect. Everyone loves to ride this e-scooter because of the great grip of tires you'll enjoy your ride. It has 8.5 inches' non-pneumatic tires. The tires can easily bear your weight because of the inner foam lining that is enough to handle the huge weight. You can go wild by the great tires of Macwheel MX1. Now you don't need to worry about puncture because nothing can harm your tires.
The deck is very strong and it can hold the weight of a heavy human easily. The deck a lot of space for feet to rest easily. The deck is showing the resources and dedication of Macwheel MX1 company invested in this project.
Assembly
Macwheel MX is a well-balanced and well-built e-scooter. It comes with a warranty of 2 years and you don't need to spend extra cash on the maintenance. This e-scooter is awfully handy. The weight is 28 pounds which is quite lightweight to carry anywhere with you. The stem is a little bit shaky after some rides, but you can tight the stem screws to fix this issue. Do the same for the disk brakes because it will give you safety during riding.
Macwheel Max Electric Scooter Performance
I have tried several e-scooters but the time spent on this e-scooter is truly remarkable.
You can easily run this scooter at a maximum speed of 15.6 mph. It will perform excellently on the straight roads. The suspension is good and it will assist the speed. The speed is a little bit less when you are riding on rough terrains. However, the speed will decrease as the charging drains out and you can ride at the speed of 13 mph at the 30% battery, and less if the battery reaches 10%.
The MX1 is a very tough e-scooter. Even when you are riding this beast at stone-filled roads it will not give up. If you want to climb hills you need to give a little bit kick and it will climb the hill easily.
The tires and brakes are well crafted and both work great. The sheer level is not quite well but it is acceptable in this price range. During the ride, you didn't feel any type of insecurity related to controls of this e-scooter.
Battery
The battery is very generous. It is suitable for long and short both journeys. You can pick from the 3 speed of models. The 5 LED indicator is there to let you know how much battery is left. The recharge time is 4 hours from 0 to 100%. The recharging time is short and you can charge it easily before the trip planning easily.
Very sturdy and indestructible
Power battery
Powerful motor
3 level of speed adjustment
Remarkable braking system
Decent ground clearance
Brake & headlights
Cheap parts/accessories
Cons
The LCD display is dim
Splash guard shaking
Conclusion
After spending lots of time with Macwheel MX1 I can say you will get what you pay to buy this e-scooter. You'll never feel any type of discomfort on this scooter. You can ride your scooter comfortably. Commuting and shopping are not a problem when you have an MX1 scooter. MX1 offers you premium features at very affordable price. The parts of Xiaomi 365 can be used on the MX1 that is awesome feature. The Macwheel MX1 is a decent bang for your buck and it will serve you for long time so buy it and enjoy your ride today!