Choosing the right skateboard wheels is important for beginners looking to advance their skills. The correct size, hardness, and shape allow you to ride smoothly, maintain control, and learn tricks. This article will explore the top options on the market in 2024 based on quality, performance, and beginner-friendly features. We'll also provide tips for selecting wheels to match your learning stage.
Benefits of Quality Wheels for Beginner Skaters
High-performing wheels provide many advantages as you progress from pushing to tricks:
Smooth Ride – Good wheels roll easily over varied terrain without vibration or jarring your feet. This enhances comfort and stability.
Grip and Traction – Sticky urethane formulations grip the road for confident cruising and carving. Traction when needed to ollie or land tricks.
Impact Cushioning – Softer durometer cushions against roughness for a comfortable ride. It helps absorb the impact on landings.
Durability – Durable wheel materials and construction resist flat spotting from improper landings or sliding.
Roll Speed – Faster rolling wheels maintain momentum for pushing long distances efficiently.
Control – The right size and hardness provide control for learning kickturns, tic-tacs, and other transitioning tricks.
Learning Success – Quality wheels instill confidence, making learning tricks less frustrating and rewarding.
How to Choose Skateboard Wheels for Beginners
Key factors to consider when selecting beginner skateboard wheels:
Wheel Size – 52-54mm is ideal for learning balance and control. Smaller wheels offer more stability.
Durometer – Softer 78-87A wheels provide cushioning and grip for beginners. Harder wheels pick up too much speed.
Wheel Shape – Rounded lips are more forgiving when learning flip tricks like ollies or kickflips.
Intended Use – Softer larger Cruiser wheels for distance pushing. Smaller, harder wheels for tricks.
Wheel Formula – Durable urethane blends that grip without sliding out.
Core Hardness – Softer cores slow acceleration for control. Hard cores are for advanced riders.
Brand Reputation – Trusted wheel brands like Spitfire, Bones, and Ricta make high-quality beginner wheels.
Reviews of the Best Skateboard Wheels for Beginners
| | | | | | | | |
| --- | --- | --- | --- | --- | --- | --- | --- |
| Wheel Model | Size | Durometer | Shape | Intended Use | Formula | Core | Brand |
| Bones STF | 53mm | 83b (soft) | Square with round edges | Street skating and tricks | Durable high rebound urethane | Softer high-rebound core | Bones |
| Spitfire Chargers | 54mm | 83b (medium) | Conical full shape, round lips | All-around use | Grippy Formula Four urethane | Medium core | Spitfire |
| Mini Logo Hybrid | 52mm | 90a (hard) | Square with a flat profile | Parks, ramps, pools | Slide-resistant urethane | Harder core for speed | Mini Logo |
| Powell Peralta G-Bones | 54mm | 78a (soft) | Wider profile, rounded lips | Cruising and commuting | Vibra-Flex urethane | Softer core for smoothness | Powell Peralta |
| Ricta Clouds | 54mm | 92a | Round, smooth edges | Street tricks | All-around Cloud formula | Stable core | Ricta |
Based on the criteria above, here are the top-rated skateboard wheels for beginners: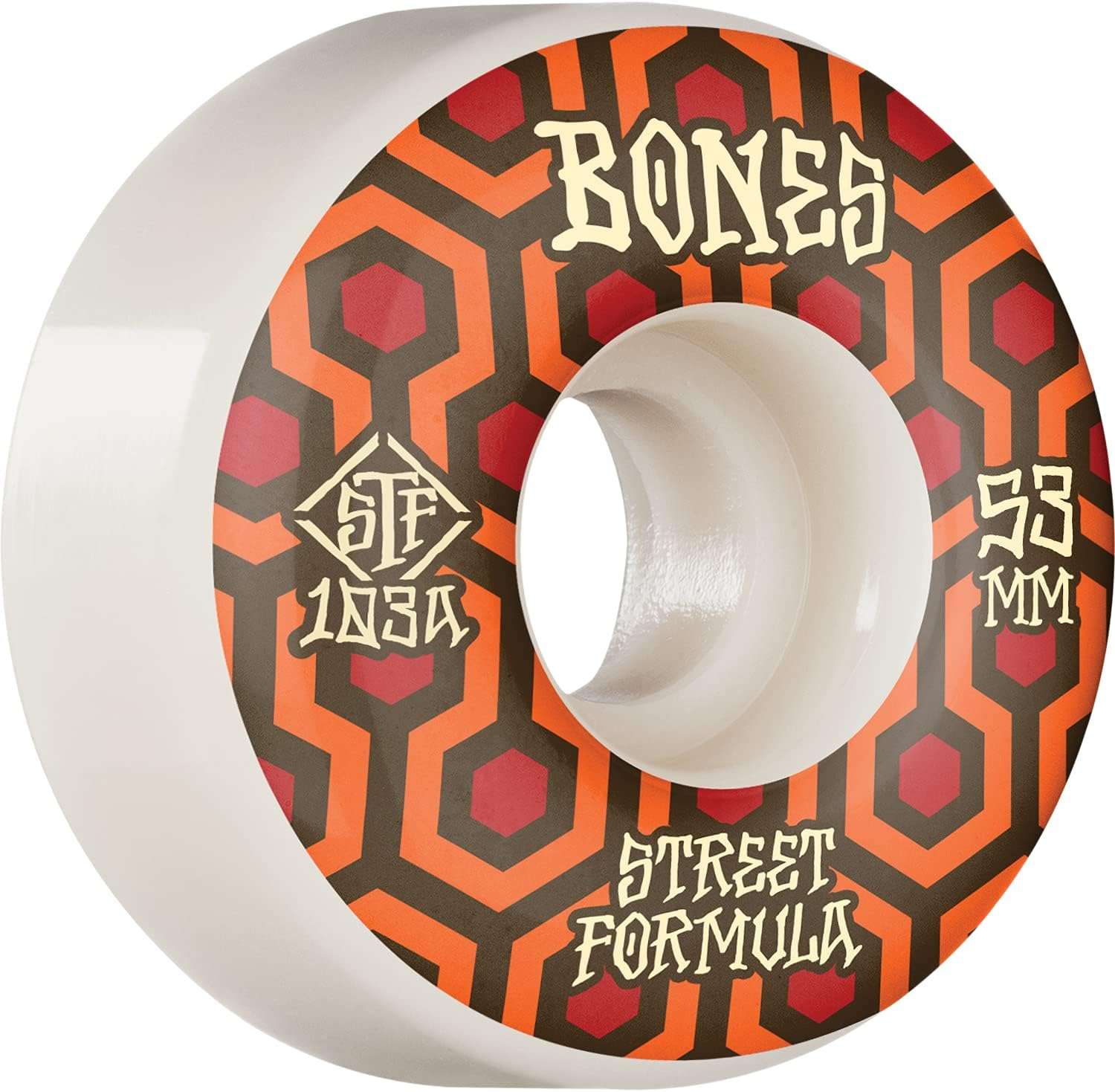 With a soft, high grip formula and shape ideal for learning flip tricks, Bones STF wheels are a top choice for new skaters. The quality urethane withstands impact and abrasions.
Size – 53mm diameter optimal for beginners
Durometer – Softer 83b formulation provides grip and control.
Shape – A square shape with round visible edges is stable for flip tricks.
Intended Use – Excellent for street skating and tricks.
Formula – Durable high rebound urethane
Core – Softer high-rebound core controls acceleration
Brand – Bones is a top wheel brand trusted by pros.
Read Other Entity: Best Cheap Complete Skateboards Under $30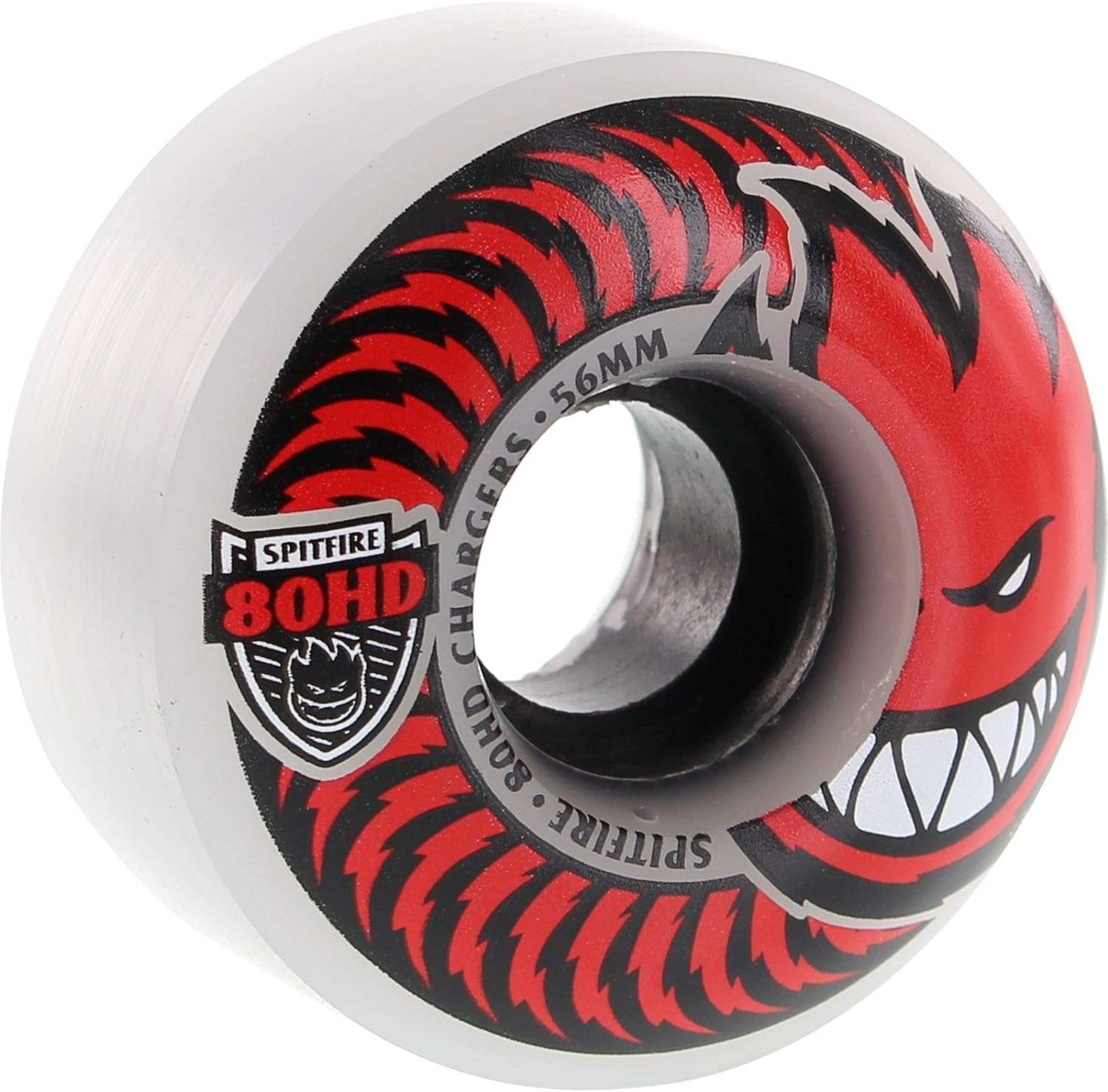 These best-selling wheels suit new skaters thanks to their versatile size, forgiving shape, and medium speed and slide. Spitfire wheels have a reputation for performance.
Size – 54mm; very versatile for cruising and tricks
Durometer – Medium hardness (83b) for controlled slides
Shape – Conical full shape with round lips is forgiving.
Intended Use – All-around wheel good for various beginner skills.
Formula – Grippy Formula Four urethane
Core – Medium core balances speed and control
Brand – Spitfire's premium quality formula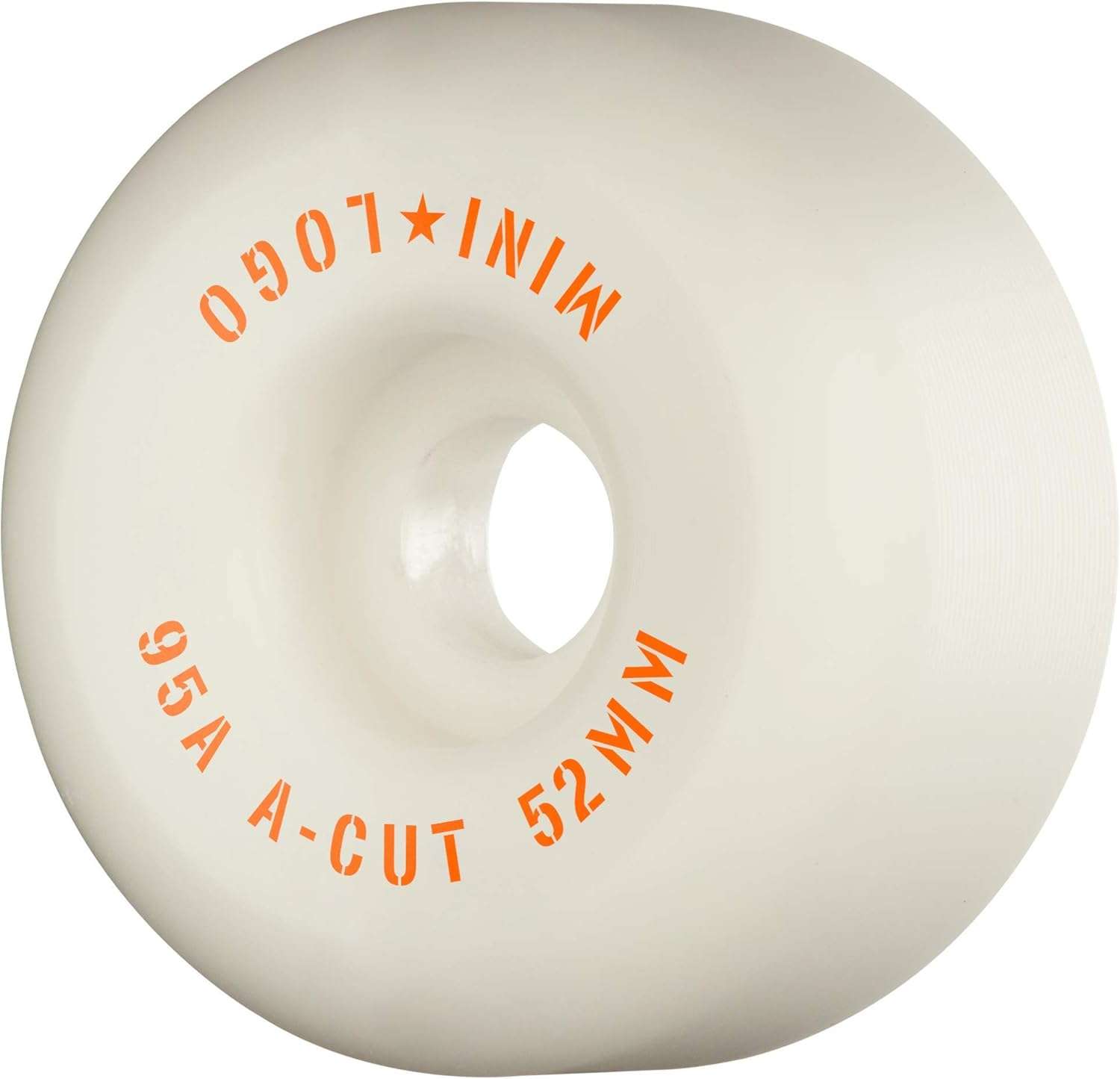 These smaller, harder wheels are great for mastering the transitions in skate parks on a budget. The square shape and slide-resistant formula help stick tricks on ramps.
Size – 90a 52mm; smaller stable size
Durometer – Harder 90a durometer for parks/ramps
Shape – Square shape with a flat profile
Intended Use – Optimized for ramps, pools, and parks.
Formula – Slide-resistant urethane
Core – Harder core for speed in transitions
Brand – Mini Logo makes affordable quality wheels.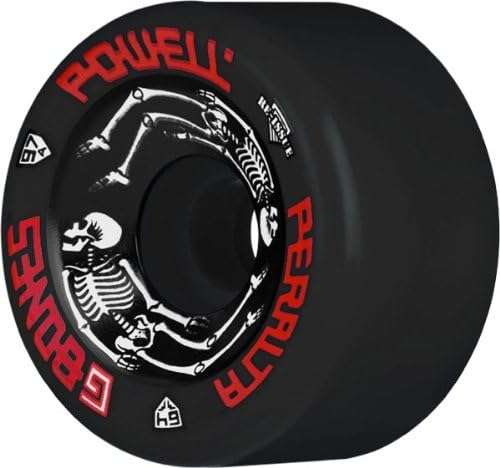 Size – 54mm diameter; versatile size
Durometer – Softer 78a rating cushions landings
Shape – Wider profile and rounded lips
Intended Use – Cruising and commuting.
Formula – Vibra-Flex urethane absorbs vibration.
Core – Softer core for a smoother cruise
Brand – Powell Peralta's reliable wheel reputation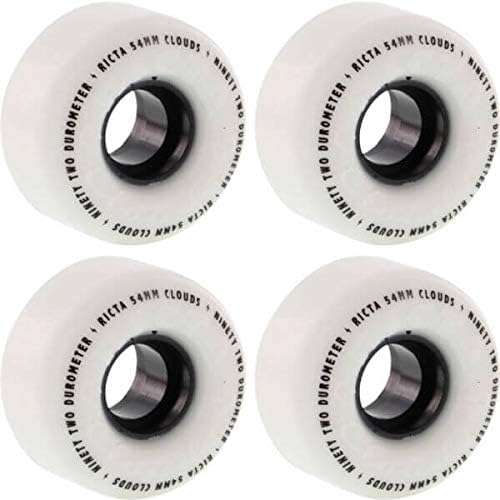 Ricta Clouds offer a near perfect balance of hardness and rebound for flipping and grinding tricks. The quality urethane lasts through abrasions. Great value wheels.
Size – 54mm diameter and 32mm width
Durometer – 92a optimal hardness for tricks
Shape – Round, smooth edges for durability
Intended Use – Ideal wheel for practicing street tricks.
Formula – All-around Cloud formula
Core – Stable core
Brand – Ricta is known for high performing wheels.
Read More: Green Commuting with Electric Scooters:
Tips for Beginners on Wheels
Here are some useful tips for beginner skaters regarding wheels:
Rotate wheels periodically for even wear. Replace when excessively worn.
Tighter trucks help balance on smaller, harder wheels when learning tricks.
Clean wheels with solvent to restore lost traction from dirt buildup.
Don't over-tighten wheels as it reduces rebound. Follow brand guidelines.
Shower wheels before use to maintain or increase grip if slipping.
Softer, bigger wheels provide a smoother ride but compromise stability.
Try wheels of different sizes and hardness to discover your preferences.
Wheel hardness is rated numerically from soft (78a) to hard (101a).
Avoid cheap, no-name wheels that won't perform well or last.
Upgrade to harder wheels gradually as skills improve.
Frequently Asked Questions
Q: What wheel size is best to start with?
A: 52-54mm wheel size range is ideal for balance, control, and learning tricks as a beginner.
Q: What wheel hardness durometer is best for beginners?
A: Softer 78a-87a durometer wheels provide the proper grip and shock absorption for learning without going too fast.
Q: Are hard wheels better for tricks?
A: Harder wheels around 90-99a allow better slide for tricks, but compromise control and shock absorption are important for new skaters.
Q: Can beginners start with smaller skateboard wheels?
A: Yes, 50-51mm wheels are OK to learn. The smaller size promotes stability and control, which helps build confidence.
Q: What size wheels are best for cruising vs. tricks?
A: Larger soft wheels around 58-65mm work best for smoothly cruising long distances. Smaller 52-54mm wheels excel in learning flip tricks.
Q: Should I get branded wheels or generic wheels starting out?
A: Trusted skate brands like Spitfire, Ricta, and Bones reliably produce high-quality wheels, so they are worth the small extra cost for a beginner.
Summary
Choosing the right skateboard wheels will make a big difference in progressing your skills as a beginner skater. Look for wheels in the 52-54mm size range, with a softer 78-90a durometer rating, a rounded, forgiving shape, and from a reputable skate brand. Top choices include Bones STF, Spitfire Chargers, Powell Peralta G-Bones, and Ricta Clouds, which all fit the criteria. Investing in quality wheels promotes stability, traction, control, and durability, leading to a more enjoyable and successful learning experience.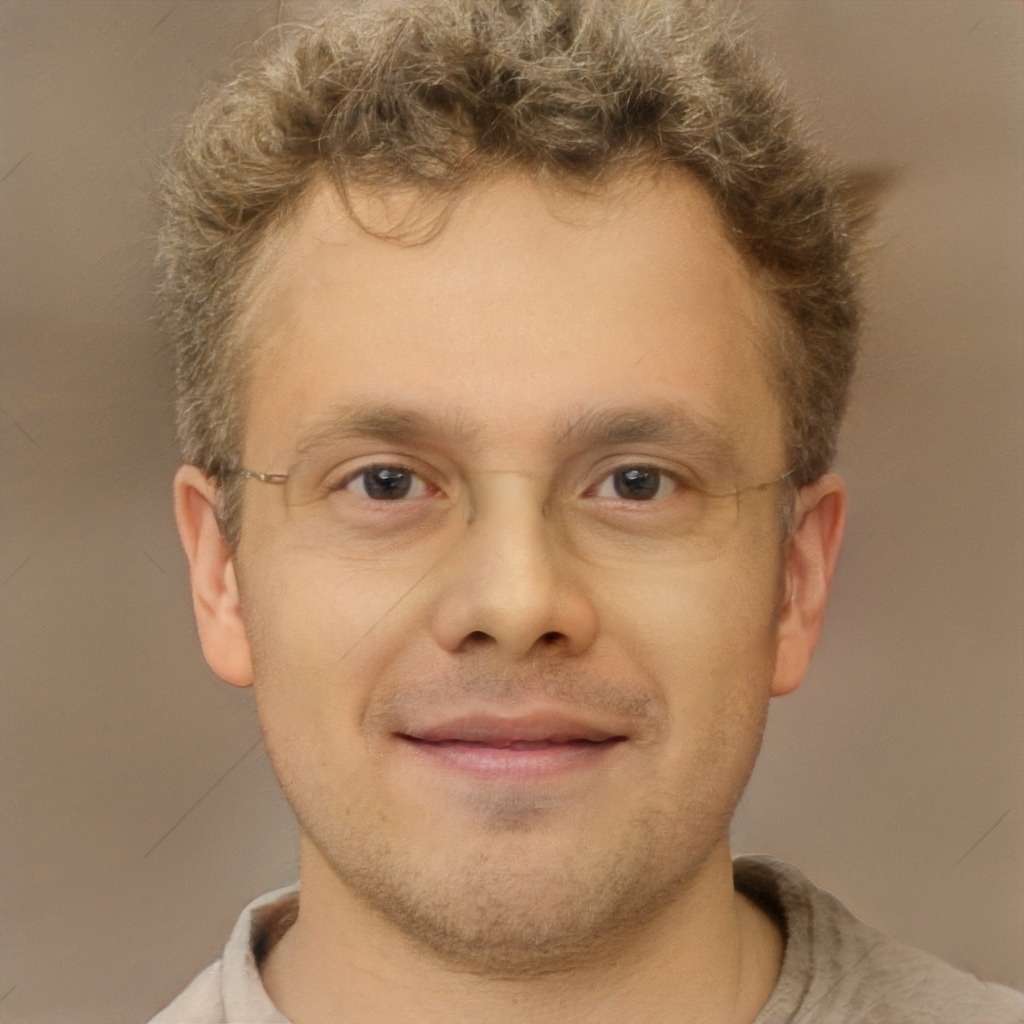 I'm the founder of HoverboardsGuide.com, a comprehensive website dedicated to electric scooters and hoverboards. With a deep-rooted passion for electric gadgets, I've accumulated extensive experience in this field. I aim to assist users in selecting the best gadgets and providing reliable guidance.
I've tested and reviewed numerous models, gaining in-depth knowledge about their features, performance, and overall quality. Feel free to reach out to me with any queries, as I'm dedicated to addressing your concerns promptly. Join me on this exciting journey of exploring the world of electric rides and making informed decisions