Scooters have become increasingly popular among kids and teenagers. They provide a fun and active way to get around the neighborhood or park while also improving balance and coordination skills. If you're searching for the best scooter for your 12-year-old, it's essential to consider factors like size, weight capacity, safety features, and durability. In this article, we'll explore the top scooters available in the market that are suitable for 12-year-olds. We'll also discuss important safety considerations and provide maintenance tips to ensure your child's scooter lasts for years to come.
A scooter for kids combines 3 functions at once: serves as a means of transportation, it engages your child the same way a toy would, and it provides physical exercise just like a sports machine, which has a beneficial effect on the health and development of children.
This article focuses majorly on the best scooters for 12-year-olds and the essence is to make the whole process of choosing a scooter for your kid easier. Flowing the above, we can infer that choosing from these brands can be a tedious task. Although at first instance it may appear that it is not so difficult it is. The major cause of this confusion is the fact that you will be naturally worried about the safety of your child.
Factors to Consider When Choosing a Scooter for 12-Year-Olds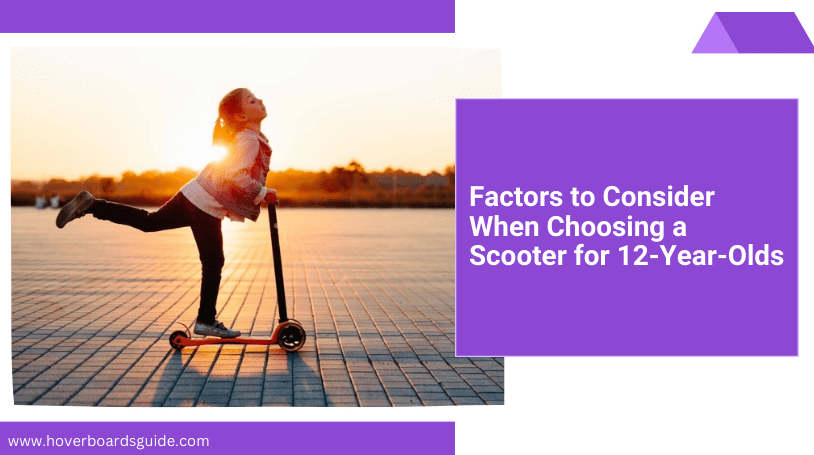 Selecting the right scooter for your 12-year-old involves considering several factors to ensure an optimal riding experience. Here are the key factors to keep in mind:
Size and Weight Capacity
When choosing a scooter, it's crucial to consider the size and weight capacity. A scooter that is too small can be uncomfortable to ride, while one that is too large may compromise stability. Look for scooters specifically designed for kids aged 12 and check the weight capacity to ensure they can support your child's weight.
Stability and Balance
Stability is a vital aspect of scooter riding, especially for young riders. Look for scooters with a wide deck and a low center of gravity to provide better stability and balance. Additionally, models with three or four wheels can offer enhanced stability, making them a great option for beginners or those who may be less confident.
Durability and Quality
Investing in a durable and high-quality scooter is essential for long-term enjoyment. Opt for scooters made from sturdy materials like aluminum or steel, as they can withstand daily use and potential falls. Avoid scooters with plastic components that may break easily.
Adjustable Handlebar Height
As your child grows, their scooter should be able to adapt to their height. Look for scooters with adjustable handlebars to ensure a comfortable and ergonomic riding position. This feature allows the scooter to grow with your child, preventing the need for frequent replacements.
This scooter is perfect for kids aged 6-12 and even teenagers 12 years and up, with a maximum handlebar height of 41 inches. It features an anti-shock suspension system and offers 4 adjustment levels, making it a comfortable and adaptable option for young riders.
Key Features
Without further palaver, let's dive right in.
 Best Scooters for 12-Year-Olds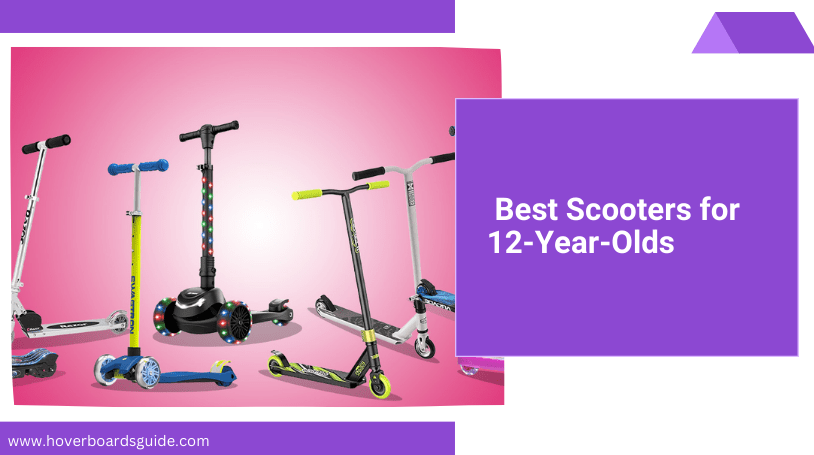 Naturally in this discourse, we are posed with the background question "Which are the best scooters for 12-year-olds?" a dedicated parent you need to know that what might be the best electric scooter for Jack might not be what is best for Jane as they have subjective definitions of comfort, what is suiting for their taste, personalities, and needs.
By and large, it has been accepted that the basis of what is the best scooter for 12- year-olds depends on the weight and how durable it can be for the kids.
The succeeding paragraphs talk about the best scooters for 12 year old's without bias to their description, key features, pros, and cons.
1. Pro Stunt Scooter
Labeled as the best scooter for tricks, this is a judiciously made scooter by Albott known for making authentic products. This scooter will provide you even as a beginner with an enjoyable moment on the road and it does not leave out the interest of those that want to perfect their skills.
This scooter incorporates both aluminum and steel to enhance the riding experience of the kids, allowing for the best safety on the scooter whether you are having a ride or doing your stunts. The awesomeness of this product does not end there, it is designed in a manner that can be useable for younger riders due to its high-strength handlebars and soft hand grips to give a nice feel to the user on the road.
This lightweight scooter is also a mix of aesthetics and durability as its unique appearance makes you look on top of your game and calls in the attention of your audience. The steel-flex brakes also allow you to scoot around without making a noise when you apply them for stopping.
Key Features:
No-noise steel flex brakes
Soft hand grips
Nice color
Heat-treated aluminum

The handlebars can be rotated 360 degrees which makes it easier to pull off stunts

Perfect fit for beginners as it is lightweight, easy to handle, and maneuver

Very sturdy, resilient, and well built

The handle height is adjustable for bigger kids as well

Efficient customer service

The bearings are not so great

The tires and wheels wear out easily
2. Mongoose Rise Youth and Adult Freestyle Kick Scooter 
The Mongoose company has continually justified its strive for the position as one of the best out there. For 4 decades they've been in the dirt, on the trails, and off the ramps. This scooter delivers a high-quality ride and a stylish look. It does not matter whether you want to take a simple ride through town or flaunt away at a state park, this brand of electric scooter is your wingman. 
It includes a full coverage Maximum grip on the steel brake and alloy deck. The lightweight alloy deck with an extended-standing area and front and rear alloy pegs for pro-style park performance. Also, the one-piece welded steel T-bar handlebar with bike-style grips offers you a premium combination of durability and comfort, while the triple anodized clamp collar provides you with precision everywhere you go.  
Key Features:
Lightweight alloy deck
High impact wheels 
T-bar handlebar 
Clamp collar 
Different pretty color

Made with a heavy-duty frame that is suggested for riders 8 plus and up to 220 pounds

High-quality scooter meets its promises and you get value for your money 

Provides durability and comfort 

The aluminum is reviewed as not being strong and susceptible to failure 

The base doesn't spin smoothly 
Make no mistake, epic adventures await you with this brand of scooter. Without jeopardizing the rider's safety as it is a germane feature to the manufacturer, this lightweight scooter allows you the ability to ride around with ease with its non-slip, weight absorbing, and extra-wide deck ensuring a secure footing and comfy cruise.
Strongly built with aluminum and steel, reliable brakes, a comfortable rubber handle, and front suspension designed solely the suiting your taste and meet your needs and wants. The way its portability and storability are built is almost unbeatable. Designed with a pushup folding mechanism, it is easy to fold, unfold and store without the need for any tool. It is also made comfortable to carry around with its carry strap which comes with the package.
Another feature this scooter entails is its ability to put your purse into consideration. You do not need to consistently buy new scooters as you grow. The handlebars which have 4 adjustable height options are adjustable for persons in different age brackets from teens to adults. in simple terms, it is a scooter you will never outgrow!
This brand of scooter is super stylish. These scooters are hand-craft to match your ride to your style. It is available in six fashionable designs to fit everyone's style.
Key Features:
Quick-release 
Folding system 
Front suspension system 
Scooter shoulder strap 
Big wheels 

 

The brake light is not part of this product and has to be purchased separately 
Safety Features to Look for in a Scooter
When it comes to choosing a scooter for your 12-year-old, safety should be a top priority. Here are some essential safety features to consider:
Reliable Brakes
Ensure the scooter has a reliable braking system, such as a rear foot brake or handbrake. This allows your child to stop quickly and safely, promoting control and preventing accidents.
Secure Handlebar Grips
Look for scooters with comfortable and secure handlebar grips. Grips with rubber or foam padding offer better grip and control, reducing the risk of slipping during rides.
Adjustable Helmet-Compatible Size
It's crucial to ensure the scooter's handlebar height is compatible with your child's helmet. This ensures a proper fit and optimal safety while riding.
Reflective Elements
Scooters with reflective elements, such as reflective stickers or lights, enhance visibility, especially during low-light conditions or when riding near traffic.
Non-Slip Deck
A non-slip deck provides better traction and reduces the chances of your child's feet slipping off the scooter while riding.
Maintenance and Care Tips for Scooters
To prolong the lifespan of your child's scooter and ensure safe rides, follow these maintenance and care tips:
Regular Cleaning
Clean the scooter regularly using mild soap and water. Remove dirt, debris, and any built-up grime to prevent damage to the scooter's components.
Check for Loose Parts
Regularly inspect the scooter for any loose or worn-out parts. Tighten screws, bolts, and handlebar clamps to maintain stability and safety.
Lubricate Moving Parts
Apply lubricant to the scooter's moving parts, such as the wheels and bearings, to ensure smooth and efficient performance. This helps reduce friction and prevents unnecessary wear and tear.
Inspect Wheels and Tires
Regularly inspect the wheels and tires for signs of wear or damage. Replace any worn-out or damaged wheels to maintain optimal traction and stability.
Store Properly
When not in use, store the scooter in a dry and secure place. Avoid leaving it outside, exposed to the elements, as this can lead to rust and deterioration.
Regularly Check Brakes
Ensure the brakes are in good working condition. Adjust or replace them if necessary to maintain proper stopping power and safety.
Follow Manufacturer Guidelines
Always refer to the manufacturer's guidelines and instructions for specific maintenance and care recommendations for your child's scooter.
Frequently Asked Questions (FAQs)
Q: What safety gear should my 12-year-old wear while riding a scooter?

A: It is highly recommended that your child wear a helmet, knee pads, elbow pads, and wrist guards to protect against potential injuries.

Q: Can 12-year-olds ride scooters on the street?

A: The legality of riding scooters on the street varies by location. Check local laws and regulations to ensure compliance and prioritize safety.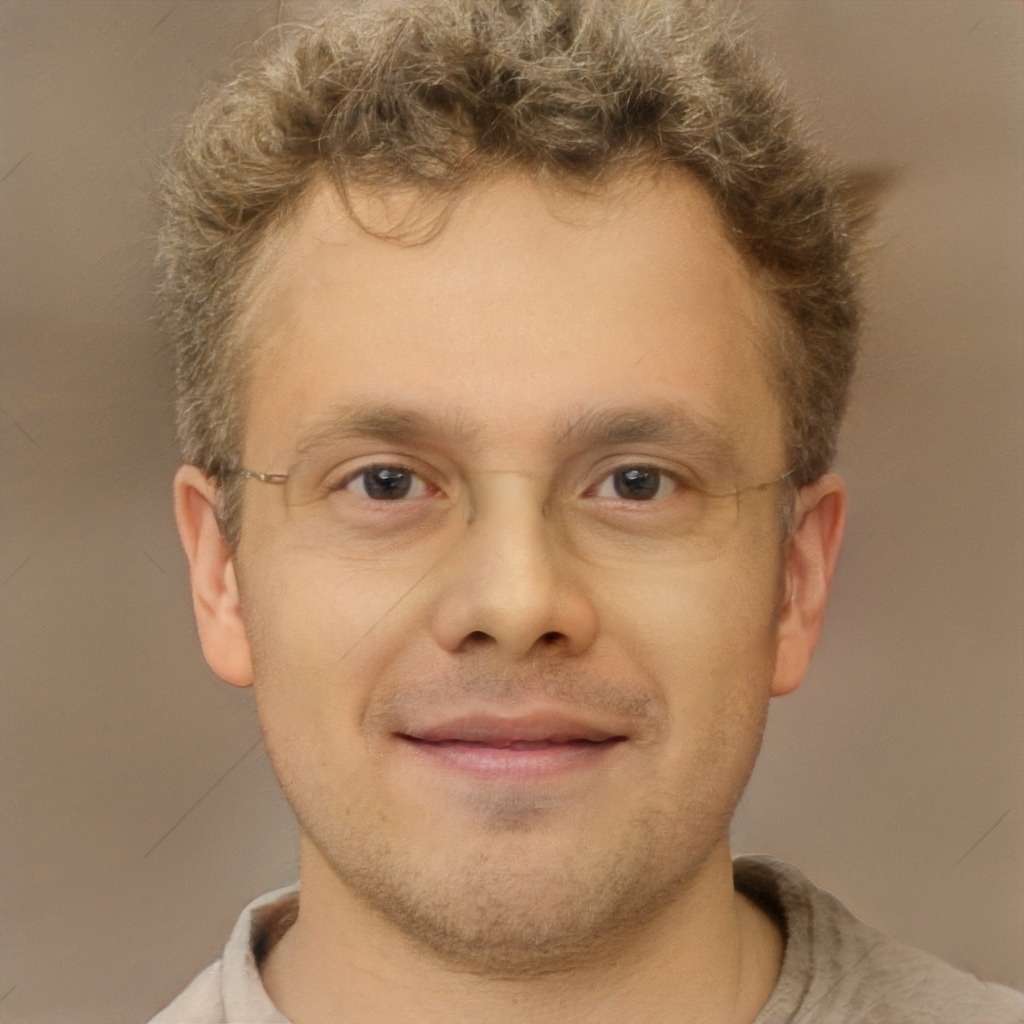 I'm the founder of HoverboardsGuide.com, a comprehensive website dedicated to electric scooters and hoverboards. With a deep-rooted passion for electric gadgets, I've accumulated extensive experience in this field. I aim to assist users in selecting the best gadgets and providing reliable guidance.
I've tested and reviewed numerous models, gaining in-depth knowledge about their features, performance, and overall quality. Feel free to reach out to me with any queries, as I'm dedicated to addressing your concerns promptly. Join me on this exciting journey of exploring the world of electric rides and making informed decisions