People who always want to be advanced and up to date about new technologies and gadgets, hoverboards of self-balancing off-road will hover their minds without any question that what are hoverboards. They manufactured on what techniques. How do they work? This article will guide you and provide you with remarkable information about hoverboards.
Off-road self-balancing hoverboards are like skateboards but has the magnetic induction usage instead of mainstream wheel usage alone. It is a typically self-balancing board which works on a rechargeable battery and a platform above its wheels where the rider stands. And you must be mastered at hoverboards so that you can enjoy your ride safely
You can find many brands and companies, manufacturing different and versatile micro-mobility off-road vehicle with attractive designs and features. Several components assembled to make it functionally operate. These technicals parts include a logic board with a circuit and infrared sensors.  A charging port recharges the hoverboard battery — two electric motors under wheels with gyroscope and speed sensors inside the wheels. Different hoverboards come with varying limits of weight and speed. Several hoverboards have inbuilt Bluetooth speakers and LED lights.
Hoverboards are popular gifts now. Below we shall have a look at Gyroor F1 hoverboard.
Gyroor F1 Hoverboard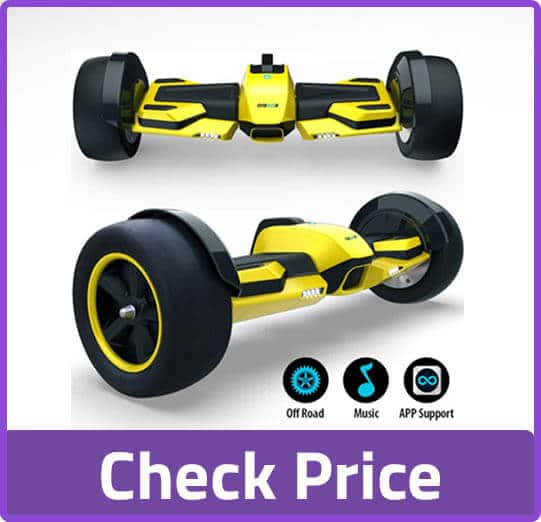 Owning a hoverboard is pretty much everyone's dream. Experience with this self-balancing scooter or hoverboard is quite a unique feel. You can use a hoverboard to the gym, work, shopping, or ride for leisure. Self-balancing bikes are versatile and becoming a must-have item for a modern person. Do you want it? It is challenging to pick the best with several hundred products on the market, all with comparable features, but I hope the following would add help to you. 
Gyroor is one of the leading brands, When it comes to hoverboards. The design and speed of this will delight you.  Formula 1 racing cars inspired the style and structure designing of the hoverboard, and they modeled it to look like a racing car. Thus Gyroor introduced F1 hoverboard with high speed. 
Key Features:
Removable and portable  battery

Solid 8.5 inches all-terrain tires

With built-in speakers you can enjoy high-quality stereo music

Make an anti-theft alarm to avoid stealing

Smart app control over different features of the bike

Rare design and racing sound

Powerful 350W dual motor

IP54 water-resistant

Can lift 265lbs weight

12MPH is the top speed

Can climb 15 to 30 degrees

Colorful LED lights

With UL2272, CE, RoH and FCC certification

12 months extended the warranty
Why buy it?
These tires are adaptive to all pavements. It is so masterfully designed with 85% aluminum outer casing and ABS parts. It has a 25% larger wheelbase as compared to other competitors in the market. 8.5-inch rubber tires do not deflate are adaptive to all types of pavements. Whether it is a grassy or gravel land or there is sand, mud, or dust, it can go over all smoothly. This hoverboard weighs 33lbs and IP 54 water-resistant. G-F1 is featured with racing sound, rugged structure, fast speed, strong power and unique shape.Its ABS braking parts and racing sound will make you obsessed with this hoverboard.
It has powerful lithium-ion (LG/Samsung cells) removable battery, which takes 100-240V and recharges within 1.5 to 2 hours. You have no need to carry the whole product near the electricity board. What you need is to remove the battery out and take it to recharge, unlike the other hoverboard in the market.
Its powerful 350 Watts dual-motor helps you ascend 15-30 degrees. You can enjoy a piece of high-quality music through its integrated pro-speakers inside. An app will help you to control sound over speakers; change LED light colors; see battery life; control bike's speed. It will also help to switch you between the riding modes. You can turn racing sound on or off too, with this app. Moreover, you can make an anti-theft alarm for the safety and avoid stealing of this mesmerizing item. And you can get access to troubleshooting videos on this app. It can accommodate 265lbs weight on its non-slip pedals.
It is the first hoverboard that has a portable handle design, which is quite simple and stylish. A rider can easily carry it when going outside than other hoverboards. This fastest and convenient hoverboard will give you an excellent riding experience. It has passed all the safety procedures and has UL2272, CE, RoHS, and FCC certifications. G-F1 comes with 12 months of the extended warranty period that starts from the date your product is delivered, and it covers the parts and labor of the bike. If there is any issue in the vehicle, you can request a repair. The company will provide you aftersale services within the warranty period. 
Product Specifications:
Tires: 8.5-inch rubber tires

Product Weight: 33lbs

Frame Material: Aluminium

Battery: Removable lithium-ion battery

Battery Charging Time: Maximum 2 hours

Safety: UL2272, CE, RoHS and FCC certified

Water Resistant: IP54

Motor: 350 Watts dual motor

Climbing Angle: 15-30 degree

Speakers: Pro Bluetooth speakers

Maximum Load: 265lbs

Top Speed: 10-12MPH

Milage: 8-10 miles with one charge

LED Lights: Adjustable

Product Dimensions: 29.6 Inch * 9.9 Inch * 8.8 Inch

Handle: With portable handle
[ratings]
Final Words:
G-F1 can be your dream hoverboard. You shall experience the fastest racing speed with the original sound. The Gyroor F1 hoverboard is one of the best off-road in the list of best hoverboard of 2019. It is the fastest and safest vehicle with a sturdy structure, automotive, and water-resistant. G-F1 is undoubtedly one of the best self-balancing bikes and will make you excited to have it. It's original sound, and speed synchronization system shall give you feel like you are on a racing track. It is a perfect gift choice both for kids and adults, joyful experience of playing and riding at the same time. Enjoy quality time with your family and friends and make more memories.