Skateboarding is an exhilarating and adrenaline-fueled sport that attracts people of all ages. Whether you're a beginner or an experienced rider, protecting yourself while skateboarding is of utmost importance. One essential piece of protective gear that every skateboarder should consider investing in is wrist guards and gloves. In this article, we will explore the best skateboard wrist guards and gloves available on the market, their importance, and the factors to consider when choosing the right ones for your needs.
Importance of Wrist Guards and Gloves in Skateboarding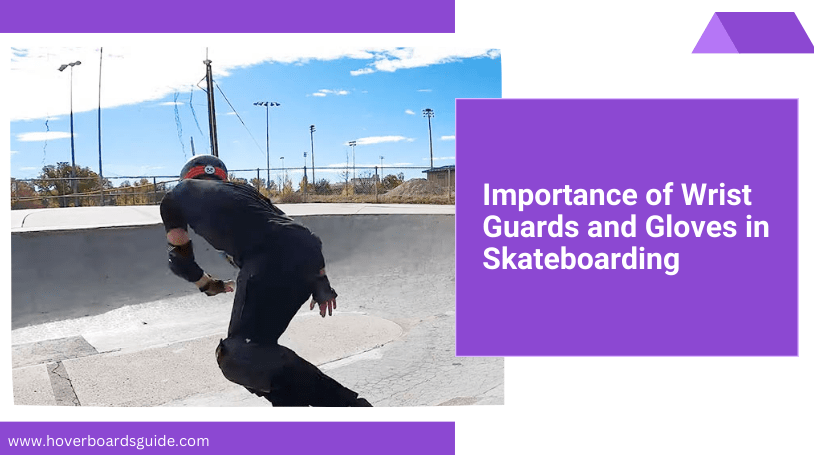 Skateboarding involves various tricks, jumps, and maneuvers that can sometimes lead to falls and accidents. When you fall, your instinct is to extend your hands to break the impact, which makes your wrists vulnerable to injuries. Wrist guards provide crucial support and protection to your wrists, reducing the risk of fractures, sprains, and other wrist-related injuries.
In addition to wrist guards, gloves also play a significant role in skateboarding safety. They not only protect your hands from abrasions and cuts but also provide a layer of cushioning that absorbs impact. This can be particularly beneficial when executing tricks that involve sliding or grinding on rails and ledges.
Let's have a detailed review of the best wrist guards to hug your wrists and be a barrier between any bad incident and your wrists.
BODYPROX Impact Wrist Guards are designed to provide effective protection for snowboarding, skating, rollerblading, and other sports. The wrist guards come in a pair and feature impact-resistant construction, helping to prevent injuries and support quick recovery.
Read More Posts:
Best Wrist Guards For Skateboarding
1.

Derby Wrist Bands by 187 Killer
Detailed Over Look
The most adorable thing about this skateboard wristband is its elegant design which is ergonomic as well. The best part of its design is, it keeps your finger movement free. Every sportsman wants to have free fingers feel while operating their bikes or skateboards.
The design is not only comfortable for the wearer but also its guard plate is so nicely contoured and perfectly cupped. That is don't only fit your wrist and Palm but also keeps you convenient in fittings. Moreover, when it comes to any hard impact don't worry it is here to cover you perfectly. 
Besides the outer looks, the inside of this wrist guard is also very soft and comfy in feel. Now you might be worried about the heat of a padded glove. But it has been taken good care of by using a variety of perforated materials to keep it cool in even warmer temperatures.
Moreover, the sweatband is also very functional to keep your hand sweat-free. These wrist guards are super affordable and still very durable with their reinforced palm area and thumb hole.
In manufacturing, they made sure to use durable nylon material and industrial-class stitching to make them work for you for ages. Fully recommended after fair testing and trial by experts.
Sizes
No problem. Whatever size you are you can get one for yourself according to your fittings. As they are available in extra small, small, medium, and large sizes. Besides that, they provide adjustable straps which make them appropriate according to any size. 
Note: Don't get confused that these gloves are made for the derby skaters only. As they are tried and tested for skateboarders and they worked really well for them as well.
2. Derby Wrist Bands by 187 Killer Pads
Detailed Over Look
If you are looking for some high-level protection this protector is perfectly designed for you. It has an awesome capacity for shock absorption. As EVA padding is nicely used to provide you with comfortable protection for your wrist and palms. So if any mistakes happen, this wrist protector will provide a nice cover. 
It partially covers your fingers as well so your knuckles are also protected. But if you want your fingers free keep in mind it will cover almost half of your fingers. But it is designed so nicely that it doesn't cause any hindrance in your finger movements.
Besides its design, its stitching is also very thoughtful and reliable. Triple 8 has used high-quality materials like top grain high-quality leather in its manufacturing. That not only gives it a classy look but also makes it nicely durable.
As they are made of top-quality leather you don't expect them to be too cheap. But with the quality, they are providing they deserve the money they are asking for. It's like a once-in-a-lifetime investment as it's built is very durable. Moreover, if you need any replacement in the top area or the bottom splints the option is fully open for you.
You don't need to replace the whole pad, that is helpful for you in case of any hard fall if any area is damaged you can fix it. Moreover, its fittings are perfect as they have used neoprene straps for that and it provides about-class grip and convenience.
They are well-made and nicely thick, so they are good to protect your palm and hand from getting hurt during a fall. These wrist pads are fully recommended for rollerblading and Derby roller skating and skateboarding. So for any speedster who is a thrill lover and still wants to be safe, it's a great choice.
3. Saver Series Wrist Guards By Triple 8
Detailed Overlook
If you don't want to spend good money on safety gear and still want fair protection for your kids or yourself while skating. This WristSaver II can be a great choice. Triple 8 has perfectly designed them with an easy slide-on fitting. So you don't need to mess with 3 or more straps to put it on, just make one strap in place and they are fitted perfectly.
So no need to spend lots of time putting on your gear and save it all to have fun on the roads. A high-quality durable nylon mesh is used in their making, this makes them fully stretchable and comfortable in fittings. 
These wrist protectors don't suffocate your hands, still, be next to the skin fit for you. If you are looking for a wrist protector without bounding your fingers it is a good one.
With the use of ABS splints and good padding, this wristband pair is sufficient in impact resistance and keeps your hands safe while falling.
Sizes
You just don't need to worry about the sizing as these perfect shock absorbent wrist guards are available in all sizes. From Junior Kid Sizes, Small size, Medium Size, and large all sizes are available. So get one that suits you the most. 
4. Impact Skateboard Wrist Guards by Cthoper
Detailed Over Look
Just having a glance at these beautiful wristguards is enough to tell you they are truly unique. Its design emphasized breathability, it keeps your hand back free, moreover, keeps your fingers free, and still protects your wrist perfectly. 
Now if you are confused that these wrist guards are not going to protect your handbags. I guess you are forgetting that wrist guards are designed to protect your wrists and your palms. Because in case of an accident, the chances are high you are going to stop the impact with your palms. Or getting in hard on your wrists, not your hand back.
The covered part of your hand is fully protected by these wrist guards. Moreover, they're high-quality built constructed out of strong ABS plastic shell make them perfectly durable and impact resistant. It also offers a nice EVA foam padding between its wrists and Splints that don't only provide some extra comfort but also some nice cushioning.
Sizes
These wristguards are perfect for both kids and adults as they are available in different sizes. Moreover, the sizes are adjustable with two nylon straps one on your palm and one on your wrist. So with the help of these straps, the fittings are in your hands and are always snug and tight.
5. Adults Best Wrist Guards For Skating Guards By Burton
Detailed Over Look
These wristguards are ideally designed for snowboarders. But on cold days these are perfect for skating and even rollerblading as well. They are designed with a cavity underneath that allows a nice space for your mittens or gloves so warmth and safety side by side. You can use these wrist guards throughout the whole year as designed with such intelligence and ease.
If you are worried that they will get too thick and bulky with a combination of gloves. you need to worry not, as Burton is thoughtful enough to make these wrist protectors super slim and sleek.
Furthermore, they have designed these wrist guards with nicely tapered and fully flexible top splints. So you can be fully protected and still free to move your hand without any hindrance. Moreover, it's fingerless so don't restrict your natural movement as well.
It is made up of highly durable and comfortable materials like Nylon, NBR, and Polyethylene, and a blend of polyester along with that padding is added to make it more comfortable and nice t of it. For further adjustments, you are provided with an adjustable hook strap.
Sizes
As these wrist guards are available for both men and women and even kids you get the size that suits you the best. They are available in even Unisex designs.
6. RD Best Wrist Guards For Roller Skating BY Triple 8
Detailed Overlook
Like many other good-quality wrist guards these protectors can provide nice protection for inline skating, Derby Skating, Snowboarding, and even roller skating. They are designed to keep you safe on rough rides like roller skating. Its wide splint palm design gives good protection in case of falls.
Moreover, if you are an enthusiast and don't mind having some risky moves in roller skating this protection gear is a must for you. You buy them once and enjoy them forever. As critical and impact-resistant parts like front and back splints are replaceable. So whenever you feel that the splints are wearing off you can replace them and make them as efficient to protect you as new.
Rest the durability is assured with strong and double stitching. When it comes to comfort it's not at all compromised as with the use of neoprene they are flexible and comfortable in all weathers. These wrist protectors can resist oil and heat so stay super comfy.
Furthermore, you don't have to invest much time in putting them on, thanks to the essay pull-on loop for that. You just need to adjust one strap and they are ready to go so no time to gear up and let's go to the road.
Sizes
You can get them in all the required sizes from extra small to large.
7. Full Wrist Guard Gloves By HillyBilly Protective Gear
Detailed Overlook
These wrist guards are best for those who want to wear both wrist guards and gloves. They are not at all bulky built, but very much resemble your regular gloves in looks and style. Still are perfect wrist guards too.
I suggest these best skateboard in 2023 wrist guards are great and very much functional for snowboarders and for those who love to skate in cold weather. Choose them and you don't need to bother wearing gloves and wrist protectors separately.
They are quite executive in looks and these looks are imparted by the use of high-end material. Such as Goatskin leather, moreover, they are designed to provide you with perfect support, nice warmth, and cozy comfort. 
Its stitching is also a class, double stitching and strong nylon thread are used for durability. With all these qualities they are made to stay with you for a long. They are designed as finger-free gloves so don't obstruct your finger movement and their flexibility. Moreover the high bulge splints on the palm area and the upper side of your hand help with both safety and flexibility. So no problem you try to stop the impact with the back or front of your hand. You are protected and prepared in any way.
8. Stylish Wrist Bands By Smith
Detailed Overlook
No matter which kind of skating is your passion these skateboard wrist guards are great protection. Especially the teenagers will love these wristbands, as they will not only be a money saver but will also work for them as a style statement. Their highly tapered and contoured build to provide you with quality fit and comfort make them a regretless purchase.
They are super snug at your wrist with the help of velcro straps which are fully adjustable as they provide you with three different fitting options. I like fingerless wrist guards, so they are designed to keep your fingers free and flexible.
Its splints are extra thick so when it comes to protection they are super successful. Moreover, if you had some past injuries they will provide you with a good grip and in case of a fall good protection. Even if you are suffering from an injured wrist they can provide you with good relief and nice stability.
Long Term Durability is assured with its ballistic nylon double stitching that keeps them staying for a long. The most favorite thing which drove me to buy these wristbands in more than one color option was its design. I chose brown leopard and the red color white and purple and were also living looking amazing. But as I had my budget restrictions so bought only two, so you can go in as many colors as you like. 
No problem if you are a teen or an adult if you want to show your swag and still want to be safe these wrist protectors are a great choice.
9. Saver Series Wrist Band Triple 8
Detailed Overlook
For me, the most important feature of any protective gear especially wrist guards is its snug-fitting. That keeps it in place at the time of a fall or any bad incident. And this quality is very much visible in these Saver series wrist guards.
As they are built with a fully stretchable nylon mesh that is stretchable towards all four sides. So besides snug-fitting, this mesh also adds up to the durability of these wrist protectors. Another great thing about these wristbands is their adjustable straps. They are again made up of stretchable mesh so these also helped and added up to the snugness of these bands. 
If you're looking for some wristbands which not only provide you with full coverage, nice protection but comfort as well. These wrist guards are no doubt what you are looking for. The manufacturer has designed these wristbands with thick back and front splints. 
So they can resist any heavy impact without transferring it to your wrists. Molded ABS is also used to add to your safety. The addition of EVA foam between wrists and splints for shock-absorbing is a great idea to provide you a batter and full-proof protection.
If you made a comparison between the Saver series and RD gloves by Triple 8 they are very much alike. But the thing which makes them different is, the RD gloves are designed for Derby and others are not. 
As the RD wrist guard is designed for Derby skating, it provides you with wide Splints. And when it comes to simple skating the splints are comparatively thin. Besides the splint width difference, both are more or less the same. The saver series is a great choice. If you are looking forward to using them while skateboarding or while snowboarding or even during rollerblading.
10. 187 killer Pads Wrist Guards for Skateboarding
Detailed Overlook
At the very beginning of this article, we discussed RD wrist guards which are made for derby Skating. This pair is very much alike to that with a few differences. Besides that, it is a bit longer than RD triple 8 guards, and they provide better grip and less sliding.
Durability is also assured with the use of high-grade ballistic nylon, industrial quality stitching that is properly reinforced at the thumb hole. Its splints are thick enough to protect you in case of a fall. Moreover as installed at the base of the hand keeps you fully secure even at that sensitive point. Because your hand base is very prone to injuries in case of a fall during skating.
The palm areas are also impact-resistant, and for best fitting, the manufacturer has added 3 fully adjustable straps. Moreover to provide extra strength and flexibility Triple 8 has designed it a bit angled. But this slight change makes really big differences in its comfort level and ease of installation. These wrist guards can be used for multiple sports. But I certainly don't recommend them very much for Roller Derby.
Read More: Best street saw hoverboard Review In 2023:
Factors to Consider When Choosing Skateboard Wrist Guards and Gloves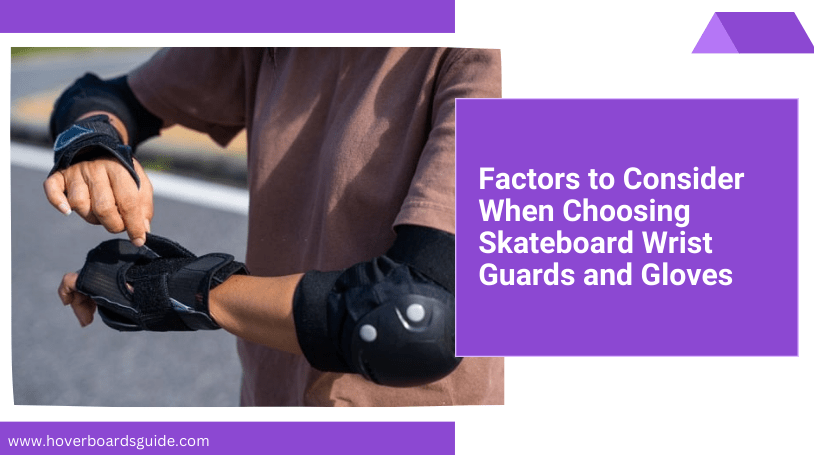 Before purchasing skateboard wrist guards and gloves, there are several factors to keep in mind to ensure you make the right choice:
Level of Protection
The primary purpose of wrist guards and gloves is to protect your hands and wrists. Look for products that offer adequate padding and reinforcement in vulnerable areas, such as the palm, knuckles, and wrists. High-quality materials like impact-resistant plastic, foam padding, and durable fabrics can significantly enhance the protective capabilities of the gear.
Comfort and Fit
Skateboarding requires freedom of movement, so it's crucial to choose wrist guards and gloves that fit properly and feel comfortable. Opt for products with adjustable straps or closures that allow you to customize the fit to your wrist and hand size. Additionally, consider the flexibility and breathability of the materials used, as this can impact overall comfort during extended skateboarding sessions.
Durability
Skateboarding is a high-impact sport that can put gear to the test. Look for wrist guards and gloves that are built to last. Reinforced stitching, durable materials, and quality construction can ensure that your gear withstands the demands of skateboarding and provides long-lasting protection.
Breathability
Skateboarding can be physically demanding, causing your hands to sweat. Opt for wrist guards and gloves that offer good breathability to prevent excessive sweating and discomfort. Look for products with mesh panels or moisture-wicking fabrics that allow air circulation, keeping your hands cool and dry during intense skateboarding sessions.
Style and Design
Skateboarding is not just about performance; it's also a form of self-expression. Choose wrist guards and gloves that match your style and preferences. Many brands offer a variety of colors, patterns, and designs to suit different tastes. Finding gear that you feel confident wearing can enhance your overall skateboarding experience.
Tips for Using and Maintaining Skateboard Wrist Guards and Gloves
Once you've chosen the right wrist guards and gloves for your skateboarding needs, it's important to use and maintain them properly. Here are some helpful tips:
Proper Sizing and Adjustments
Ensure that you select the appropriate size for your wrist guards and gloves. Follow the manufacturer's sizing guide and make necessary adjustments to achieve a snug yet comfortable fit. Proper sizing and adjustments maximize the protective capabilities of the gear.
Regular Cleaning and Maintenance
Keep your wrist guards and gloves clean to maintain their functionality and hygiene. Regularly wipe them down with a damp cloth or use a mild soap if necessary. Allow them to air dry completely before using or storing them.
Storage and Protection
When not in use, store your wrist guards and gloves in a cool, dry place away from direct sunlight. Avoid placing heavy objects on top of them, as this can deform the shape and compromise their protective qualities. Proper storage prolongs the lifespan of your gear.
Replacement and Upgrades
Over time, wrist guards and gloves can wear out or become less effective. Regularly inspect them for any signs of damage or wear, and replace them if needed. As you progress in your skateboarding journey, consider upgrading to advanced models with enhanced features for increased protection and performance.
Conclusion
Skateboard wrist guards and gloves are essential protective gear for skateboarders of all skill levels. They provide crucial support, protection, and comfort, reducing the risk of wrist injuries and abrasions. By considering factors such as level of protection, comfort, durability, breathability, and style, you can find the best wrist guards and gloves that suit your needs and personal style. Remember to use and maintain them properly to ensure their effectiveness and longevity.
---
FAQs
How do skateboard wrist guards and gloves protect you? Skateboard wrist guards and gloves provide padding, support, and reinforcement to protect your hands and wrists from impact and injuries.

Can I use regular gloves for skateboarding? While regular gloves may offer some protection, they are not specifically designed for skateboarding and may not provide the necessary level of protection and durability.
Related Links: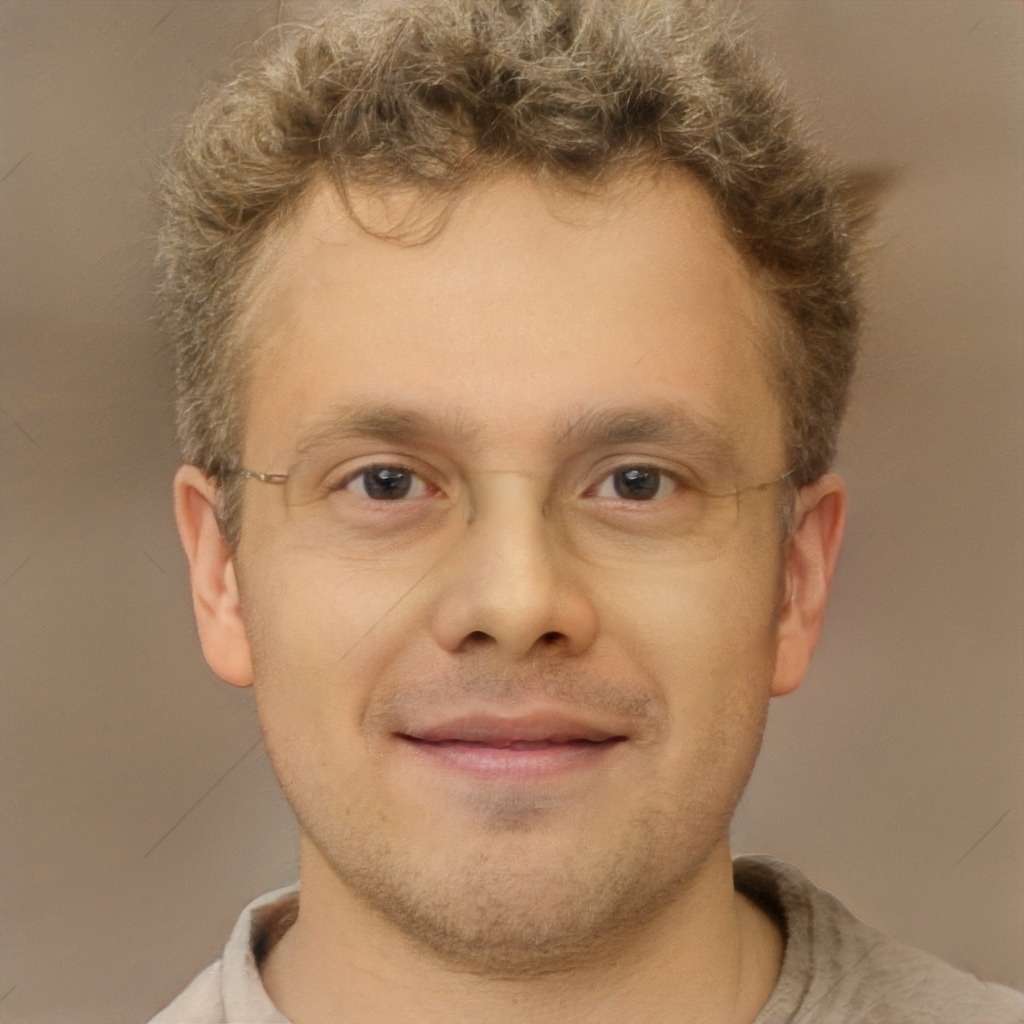 I'm the founder of HoverboardsGuide.com, a comprehensive website dedicated to electric scooters and hoverboards. With a deep-rooted passion for electric gadgets, I've accumulated extensive experience in this field. I aim to assist users in selecting the best gadgets and providing reliable guidance.
I've tested and reviewed numerous models, gaining in-depth knowledge about their features, performance, and overall quality. Feel free to reach out to me with any queries, as I'm dedicated to addressing your concerns promptly. Join me on this exciting journey of exploring the world of electric rides and making informed decisions