Hoverboards have gained immense popularity as a fun and efficient mode of transportation. These self-balancing scooters have become a common sight in cities and neighborhoods, capturing the attention of people of all ages. One common question that arises among hoverboard enthusiasts is whether these futuristic devices are waterproof. In this article, we will delve into the topic of hoverboard water resistance, exploring its components, the concept of water resistance, and tips to protect them from water damage.
Introduction
Hoverboards, also known as self-balancing scooters, are electric personal transporters that gained significant attention when they first hit the market. They consist of a platform with two wheels and a central pivot, allowing riders to control their movement through shifts in body weight. These devices are powered by lithium-ion batteries, providing a convenient and eco-friendly alternative to traditional modes of transportation.
What is a Hoverboard?
Before we delve into the topic of hoverboard waterproofing, it's essential to understand what a hoverboard is. As mentioned earlier, hoverboards are self-balancing scooters equipped with two wheels and a central pivot. They typically feature gyroscopic sensors and accelerometers that detect the rider's movements and adjust the speed and direction accordingly. Some advanced models even come with Bluetooth connectivity and smartphone apps for enhanced control and customization.
Are Hoverboards Waterproof?
The short answer is no, not all hoverboards are waterproof. While some manufacturers claim that their hoverboards are waterproof, it's crucial to distinguish between water-resistant and waterproof. A water-resistant hoverboard can withstand splashes, light rain, or brief exposure to water. However, it may not survive submersion or heavy rainfall. On the other hand, a waterproof hoverboard is designed to endure more extreme conditions, such as heavy rain or even temporary submersion
IP Rating
When evaluating the water resistance of electronic devices, including hoverboards, the IP (Ingress Protection) rating is often referenced. The IP rating consists of two digits: the first indicates dust protection and the second indicates water protection. For example, an IP rating of IP65 means the device is protected against dust and low-pressure water jets from any direction. Therefore, when considering a hoverboard's water resistance, it's advisable to look for a higher IP rating.
Water Resistance vs. Waterproof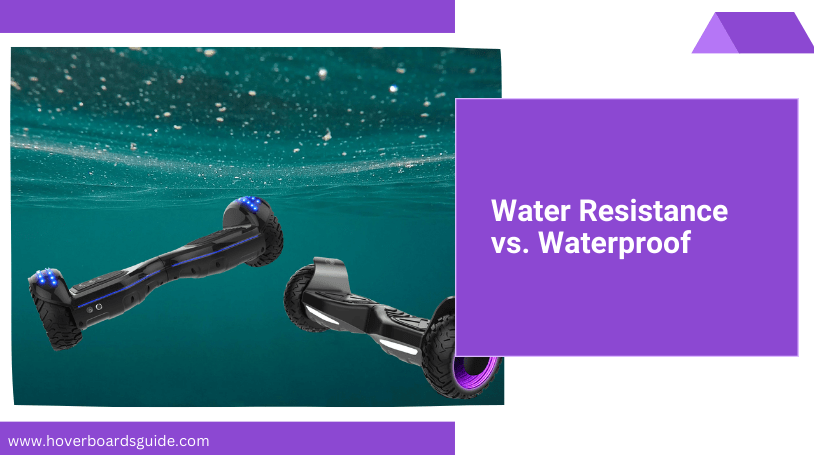 It's essential to understand the difference between water resistance and waterproofing. Water-resistant hoverboards can handle light splashes or drizzles, but they are not designed to withstand prolonged exposure to water. Waterproof hoverboards, on the other hand, are engineered to endure more substantial amounts of water without sustaining damage. If you plan to ride in wet conditions or encounter water obstacles frequently, a waterproof hoverboard is highly recommended.
The Swagtron Swagboard Outlaw T6 Off-Road Hoverboard is the first in the world to handle over 380 LBS, making it a durable and reliable option for heavier riders. With a top speed of 12 MPH and 10″ wheels, it's perfect for off-road adventures and cruising on rough terrain.
They're not just the tech-savvy to-go-for-conveyance but a must-have for battery-run car collectors and anyone who wishes to save every penny on costly gas.
Almost everyone seems to be obsessed with these cool hoverboards. The fact is that there must be a reason behind this likeness, right? With the technological advances, the industry is manufacturing great stuff worth drooling over. This review will provide insight into the best waterproof hoverboards out there.
But the question is can a hoverboard go in the rain? Well, the answer is a little complex.
Some manufacturers claim that the hoverboards are waterproof, and some say they aren't. The self-balancing scooter has sensitive parts, so keep it as dry as necessary. You might want to walk instead of the very heavy rain. And probably avoid riding in puddles.
The list below will help you find the best water-resistant hoverboard for your kids.
And they will surely love it! The plus point is that you don't even have to worry about their safety anymore because these are specially designed by keeping in mind both the children and adults. So, what are you waiting for? Take a look and decide for yourself!
BEST WATERPROOF HOVERBOARDS!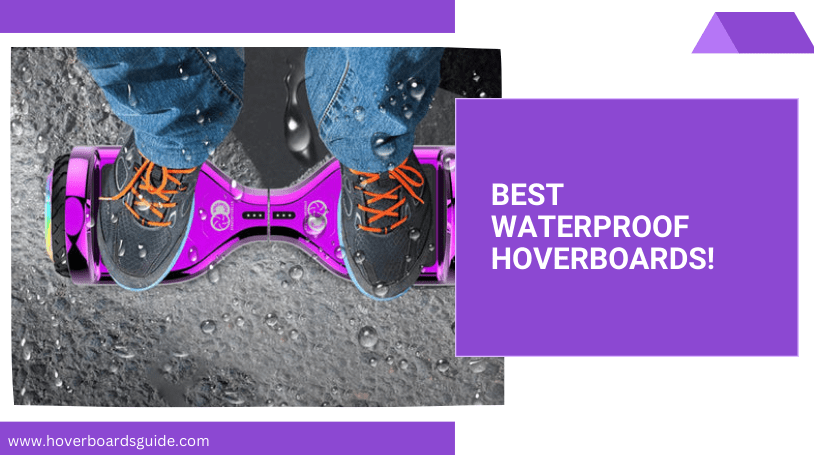 To ensure you get the best experience, we have deeply researched some of the best waterproof hoverboards that can go in the rain. Below is the list of the top 7 best waterproof hoverboards.
1: Halo Rover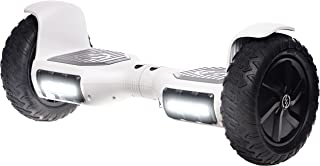 Halo Rover is a great water-resistant hoverboard with the finest-in-class results that will take away the breath of your fellow riders!
The 800W engine will hold you on the highway for up to 10 miles on a single charge at a fantastic speed of 10 mph. To see if it switches between the three modes of the ride, that is, beginner, standard and advanced. Oh, and of course, you'll be able to guide your board from your mobile phone with the Personal Halo Rover Mobile App for Android and iOS.
Well-built and superior quality material is used.
Easy to carry.
Water Resistant.
Bluetooth compatibility
Why do I like it?
It has been awarded a UL certificate for all your safety concerns.
2: Hummer X-Trail Hoverboard: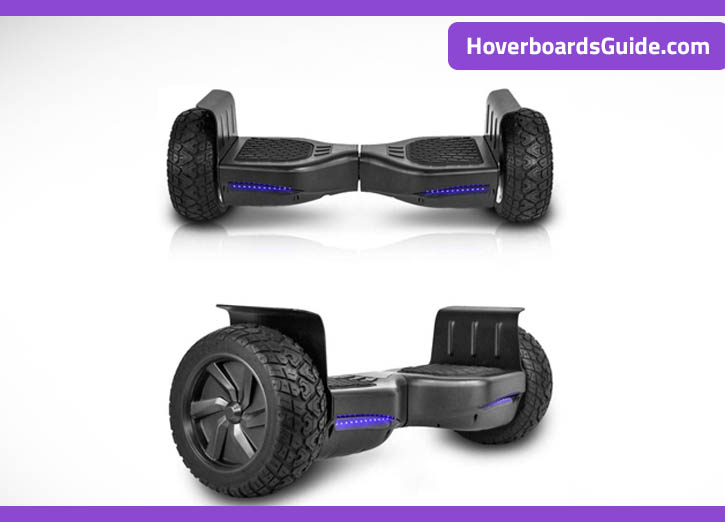 X-Trail Hummer Swegway can manage terrains such as trails, grass, cliffs, steep slopes, dirt tracks, and trails.
The Monster X-Trail Hummer Swegway will take you out in any climatic conditions because it is water-resistant, making endless opportunities. With a distance of 20 km without charge, the Hummer Swegway can reach speeds of up to 20 km per hour with the help of strong 8.5′′ sturdy outdoor tires.
Why do I like it?
It is the most reputable brand. Moreover, it is robust and water-resistant.
You may also like Safe Hoverboards for Kids 2023 (Complete Buying Guide + Review):
Water-resistant.
Bluetooth.
Well-built.
Good speed
3: SwagtronDuro T8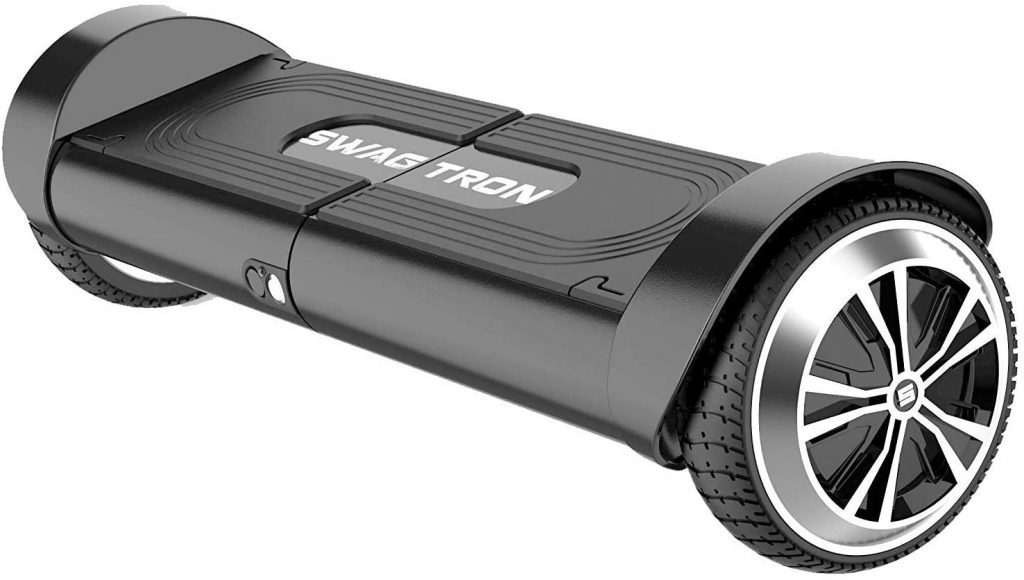 Its first LITHIUM-FREE Swagtron hoverboard implies that it utilizes lithium-free batteries that provide safety to a greater extent and complies with all UL2272 safety and fire criteria in conjunction with Sentry Shield safety.
Not only for better efficiency and sustainability, but Swagtron Duro T8 also utilizes dual motorized tires of 200W. This characteristic spends batteries on a much steady pace so that you can have about 45 minutes of a consistent ride before charging up your batteries.
T
he Swagtron T8 hoverboard is at
the top of the rankings regarding efficiency, robustness, protection, speed, and ease of control. It is excellent for traveling to the office or going to school.
Why do I like it?
It provides excellent stability and balance to the riders
UL-certified for all your safety concerns.
Semi Water-resistant.
Unique design.
The charging time is less.
4: Swagtron T6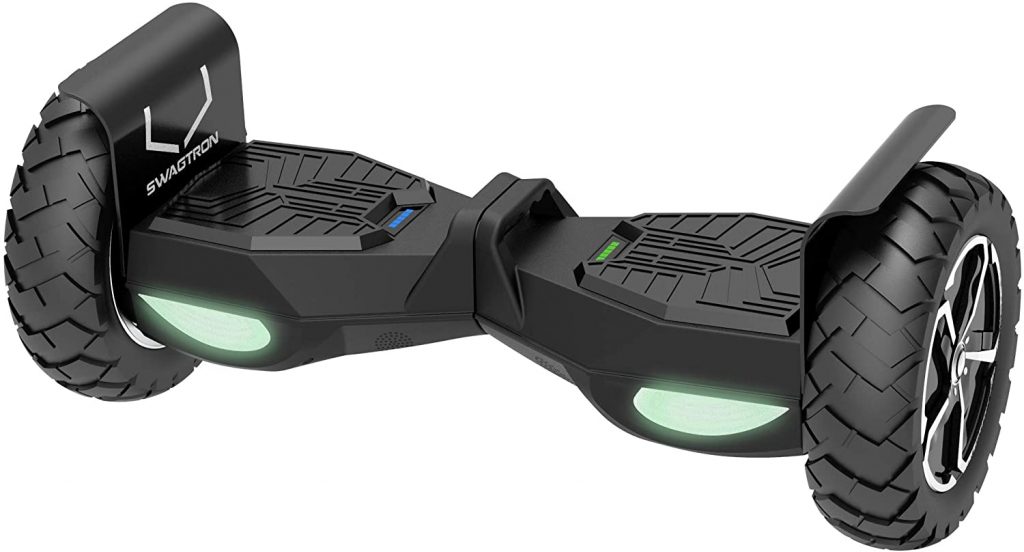 The waterproof board is constructed with a robust design because it comprises aluminum and a solid shell with UL material approved.
The board weighs 32 pounds, which feels heavy; however, when you realize it could also carry up to 420 lbs, it appears less of an issue as the board is heavy duty, and it can be used with little or no difficulties by an adult.
The 10-inch tubeless tires offer additional exceptional traction and stability while you refuse to refrain from the hilly streets with their fantastic capacity of 30-degree hill grade. The board is as elegant as it can be in three vivid colors with incredible patterns,
Waterproof and durable.
Good price range.
Rides smoothly on rough terrains
It is slightly on the expensive side when compared to its counterparts.
Why do I like it?
It has Bluetooth speakers, and the overall quality of the hoverboard is exceptional.
Read Other Posts:
5: Epikgo Sport Hoverboard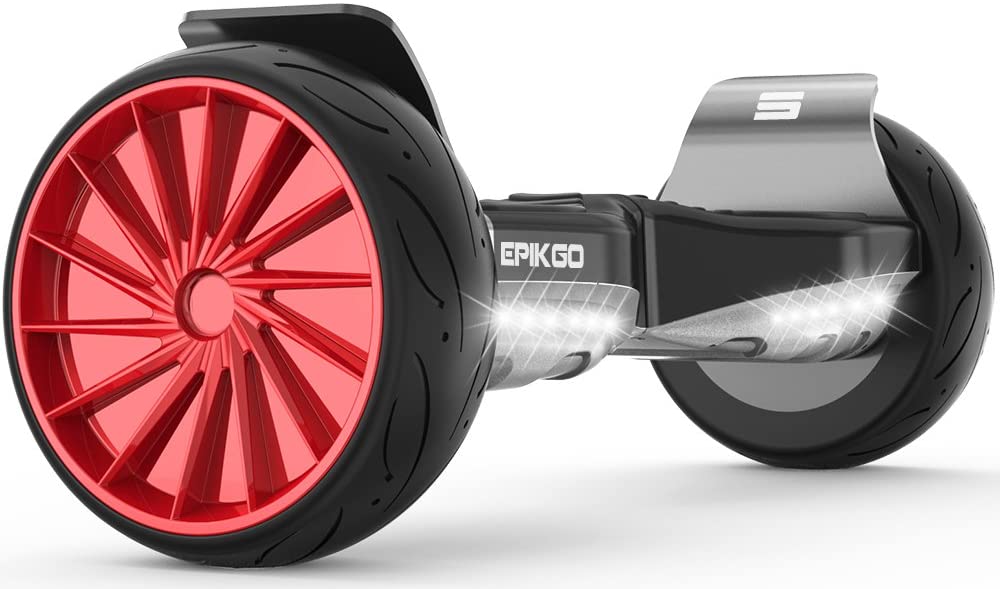 Epikgo Sport Hoverboard is an excellent self-balancing hoverboard because it comes loaded with a 400W gyroscopic dual engine, enabling the board to run in the path you move.
The board has undergone all safety inspections and is certified UL2272, enabling you to explore every journey without concerns.
The reliability of wheels guarantees that both on-road and off-road rides are smooth. Indeed, on Epikgo Sport, off-road and sometimes even 15 degrees uphill, you may go 10 miles per charge. The board is light, so you can quickly bring it everywhere. It weighs 31 lbs.
Although it's not water-resistant, other than that, being semi-submersible will prevent you from getting concerned if you pass a puddle. It's not just the water; you can also control the highways at nine mph with the LED headlights during nighttime.
Great speed and is well-built.
Safe because it is UL certified.
Provides good stability.
Strong motors
Why do I like it?
It is cost-effective and has an outstanding balance.
6: SagaPlay F1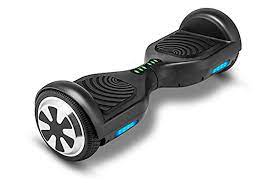 6: SagaPlay F1
It can be said that SagaPlay F1 is the safest of all the Hoverboards in the market. Since 159 safety tests have been cleared, UL 2272 is certified and ensures no fire risks while performing incredible tricks with one of the lightest boards on the market.
SagaPlay F1 weighs only 22 lbs. So it's no reason to undervalue its ability because it will allow you to spin at a stunning speed of 10 mph, up to 13 miles, without any pause.
The SagaPlay F1 features anti-slip controls to maintain things secure and conveniently along the way, while the LED lights are perfect for use in poor visibility conditions.
And even if you step into a puddle, the water-resistant board will take great care of it, so you won't have to worry.
Good quality material.
Powerful speed.
Fast charging.
UL certified
Solid tires can cause some issues.
Why do I like it?
It is the best choice for kids of all ages and can be used in puddles.
7: Surfus Waterproof Hoverboard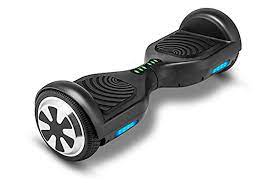 7: Surfus Waterproof Hoverboard
Surfus 6.5 "Waterproof Hoverboard is a result of Surfus' profound research and creativity; a brand that launched in 2013, and it has been attempting to carry out the finest technology ever since.
It is available in 4 sporty colors. Surfus is a convenient choice to go for as the design concentrates on protecting against fire risks, and hence has a cooling system that guarantees that the battery stays cool when charging, and the board has taken many certifications, notably, UL2272, UL2271, UL60950-1; to make it accessible on the market with the guarantee of reliable hoverboards.
The question is whether it can go in the rain. Well, the answer is yes!
The S-series is a cost-effective self-balancer that endorses up to 220 lbs of weight. The wheels are 6.5 inches, and you can reach a flat-out speed of 6.2 mph. It can ride for 12 miles.
Why do I like it?
It is the best choice for kids and those riding for the first time. And the best part is that it is waterproof.
Easy to ride.
Cost-effective.
Good control
The plastic can scratch easily, but overall the quality is good
Guides To Buy
When buying a hoverboard, that is not a possibility that you never thought about its protection against water encounters. After all, it's an electric Gadget, and water and gadgets seem to share not a very favorable bonding. 
So the question is, Are All hoverboards water-resistant? Or is there any genuinely waterproof hoverboard?
You must check it seriously, as water resistance and waterproofing are two different things. Moreover, even water resistance has various levels you must check before buying. Now how can you check that? 
Checking IP Waterproof Rating is a great idea to follow… IP54, which is not certified for all hoverboards, is an excellent standard to ensure a waterproof rating for hoverboards. The IP rating is the International Protection Marketing Rating, which can help you judge a hoverboard's status of water Proofing. 
Water Resistance is featured in many Hoverboards, which adds a good plus in the protection of your hoverboard. But complete waterproofing is present in only a few, and that additional factor truly adds a spark when you love to ride in the rain.
Note: All The Hoverboards Mention In This Article Are Either Water Resistant Or Completely Waterproof. So you can buy any of these and enjoy great fun with them, even on the roads. Different water-resistance hoverboards have different meanings. Every water resistance hoverboard is not a waterproof hoverboard. The question is how we will be able to know if a hoverboard is genuinely waterproof or not. Anyone can identify this if we look at the standard provided by the manufacturer regarding the water resistance standards.
If your hoverboard has a rating of IP54, it means that the hoverboard you are looking at provides resistance against water but actually, it is not entirely waterproof. 
The IP code indicates the protection that your manufacturer provides. The IP code has two digits. The first digit indicates the hazard of reaching the different parts, especially the internal components of the hoverboard. An example of these is moving parts and electrical conductors. The second part of the IP code indicates the level of protection the hoverboard provides against the water. The minimum value for the water resistance is "0". This means no protection. The "9 is for the maximum protection against water. While "X" means that the manufacturer hasn't provided any information regarding the water resistance capability of the hoverboard. 
FAQ
Is it easy to balance hoverboards?
Yes, hoverboards are specially designed to provide great balance and stability. Although learning to spin will require some practice, it is not very hard to balance on a hoverboard.
Which material hoverboards are the best ones?
It is necessary to avoid hoverboards that are made of plastic, no matter how powerful it is. The finest hoverboards you want to go for are manufactured of Alloy bodies and are UL certified.
What is the average range of hoverboards?
The range depends on the batteries. The longer the battery lasts, the greater will be the range.
Are hoverboards fast?
It depends on the brands and the materials that they use. Some are fast, and some are slow.
Are hoverboards waterproof?
No. Not all brands have introduced waterproof hoverboards. There are very few, and some of them are listed above.
FINAL VERDICT!
Hoverboards aren't always waterproof, but opting for a waterproof hoverboard is safer because you don't know when it will rain, and the terrain or road you're riding on may have a puddle. In that situation, as it has electrical parts, a non-water-resistant hoverboard could break. However, a waterproof hoverboard enables you to glide without any worry.
Therefore, we have carefully researched these Top 7 best waterproof hoverboards that you can ride with them, even on rainy days!
Related Link: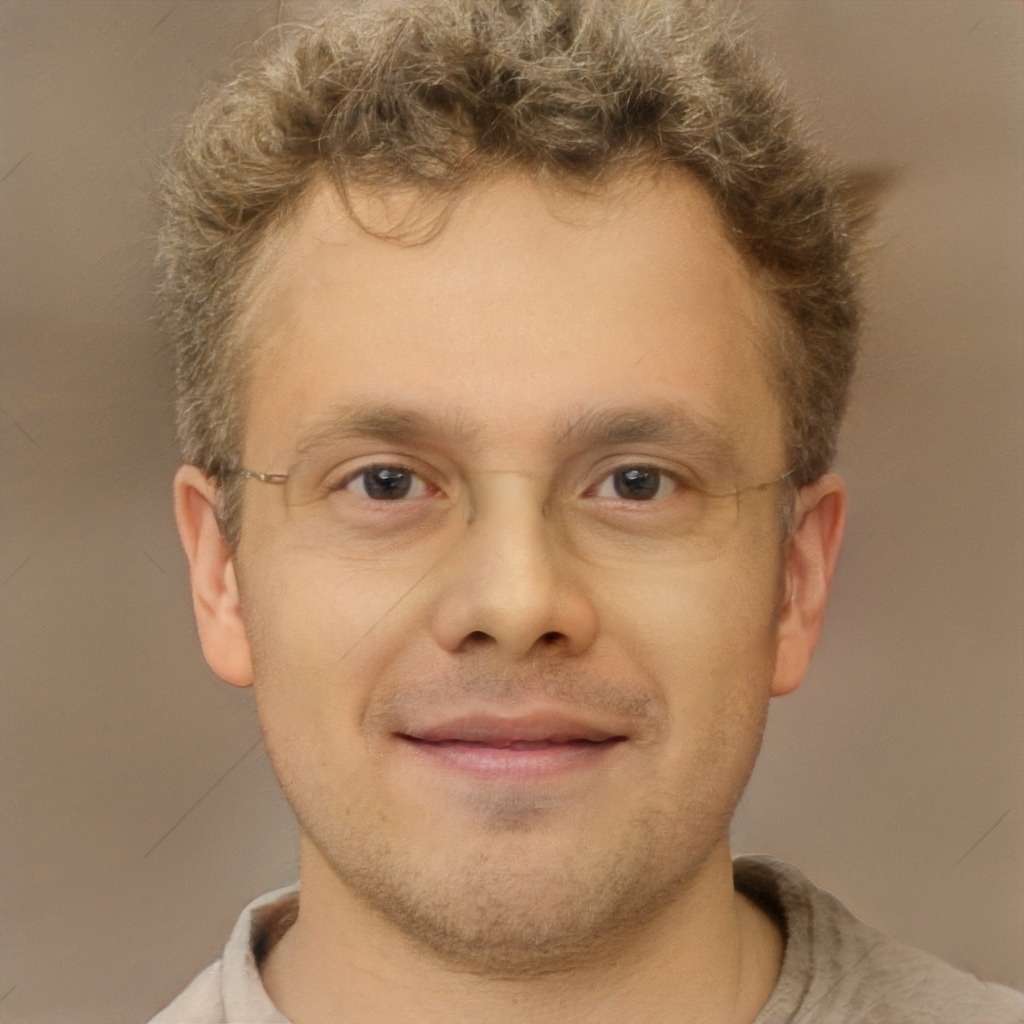 I'm the founder of HoverboardsGuide.com, a comprehensive website dedicated to electric scooters and hoverboards. With a deep-rooted passion for electric gadgets, I've accumulated extensive experience in this field. I aim to assist users in selecting the best gadgets and providing reliable guidance.
I've tested and reviewed numerous models, gaining in-depth knowledge about their features, performance, and overall quality. Feel free to reach out to me with any queries, as I'm dedicated to addressing your concerns promptly. Join me on this exciting journey of exploring the world of electric rides and making informed decisions