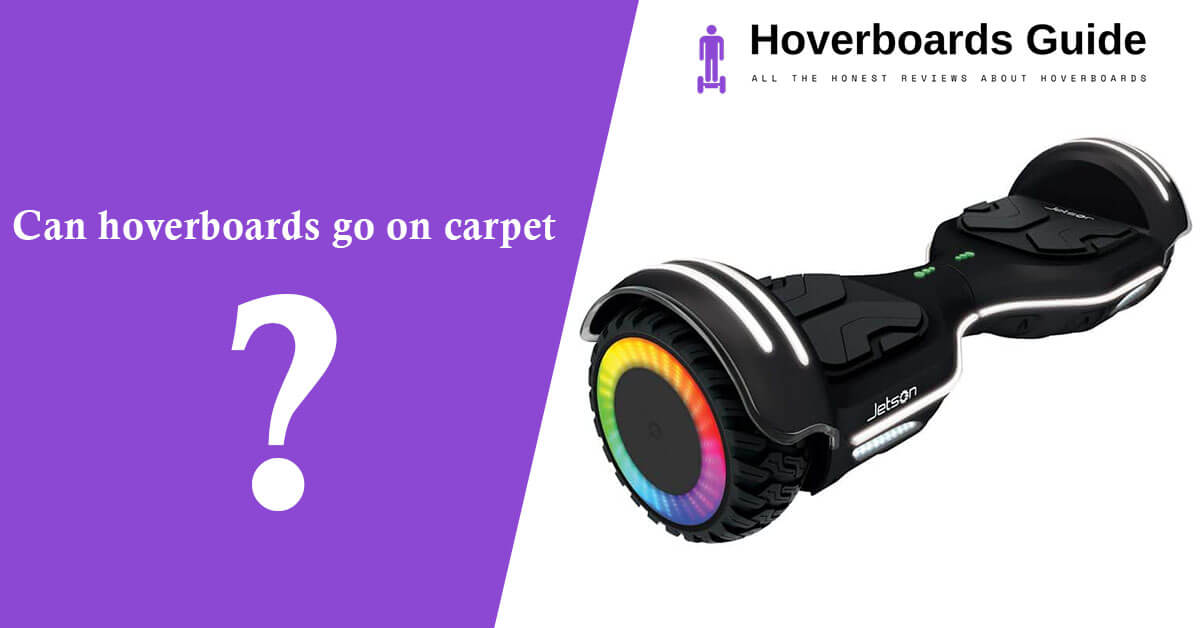 If you're looking for a self-balancing scooter for your kids or yourself, but you're not sure where to start, we will assist you.
When you get your new Hoverboard, most likely the first thing that you are going to do is to jump on and ride. And it's not surprising! There is a reason why self-balancing scooters are famous. They're an entertaining and enjoyable way to pass your time. And usually, the only thing people are curious to know is where can they ride it and where they can't.
Indeed, since many people get their Hoverboard during the winter season when snow is on the floor, and most leisure activities are restricted indoors, we are most often questioned,
can a hoverboard go on carpet
?
The answer is yes!!! But, every hoverboard is manufactured in a different way. Poorly-manufactured hoverboards cannot perform well on rugs. No, there's no ban on riding them on carpets. However, there are a few factors that can determine if you can use them on rugs.
Although in public areas the use of the self-balancing scooter has been debarred, you can still ride your scooter in your area.
You might always have another query about where you can ride them in particular areas. Well, we have got all the answers!
Factors that determine whether you can ride your Hoverboard on carpet or not!
Below are some factors that will help you to decide better for yourself.
If you want, you can also read our recently published best 
hoverboard buying guide
, it will really help you a lot 🙂 Now Let's Back on to the topic
1. QUALITY OF THE HOVERBOARD
The most important thing is that you must test your self-balancing scooter's performance and quality. Those who are poorly manufactured will not give you a smooth ride on the carpet. Those with premium tire grade and firm grip are going to perform well on the carpet.
Self-balancing scooters that don't have a solid grip on the tire may skid. Therefore you might experience accidents. Tires that are made of durable rubber create better friction.  Therefore, before purchasing one, do look for the ones with the best quality and performance.
2. QUALITY OF THE CARPET
Another factor is the quality of the carpet, it can greatly affect the performance of your board. Two kinds of rugs are generally available: the ones with tight fibers and loose fibers.
Mostly tight fiber rugs are used mostly in houses and hotels. Mats and carpets with low piles have stiff fibers, making them more frictional.
Whereas for rugs with loose fibers, there are only a few branded ones that can perform smoothly on them.
Carpet can also get damaged by riding. Before you start riding, you must test the material of your carpet.
So now that you can't ride them anywhere, but make sure that you get a secure and comfortable ride.
3. Riding Skills
In this case, how better you ride matters a lot. After all, there is a huge difference when riding on a flat surface and a carpet. On a flat surface, you can easily experience a smooth ride because the self-balancing scooter is doing all the work.
Whereas, on a carpet, you have to balance the scooter yourself.
Only can work smoothly on a carpet. For this reason, we have carefully researched the best hoverboards for kids as hoverboards with the best quality and performance well that can even provide you with a great ride on the carpet, You can Also use these hoverboards.
BEST HOVERBOARDS TO RIDE ON A CARPET!
To make sure that you get the best experience, we have deeply researched some of the
best hoverboards
that can go in the rain. Below is the list of the top 5 hoverboards that you can ride on any surface.
Best Hoverboards Rider in the World:
It can be a bit tough for an average buyer to determine the best ones in the market, considering how popular and successful these self-balancing scooters have become. In order to address this subject, we will discuss the best ones currently available on the market.
1: Hoverheart self-balancing scooter
The two-wheel self-balancing scooter Hoverheart Hoverboard is an excellent value-for-money hoverboard that comes with all the functionalities that some overpriced rivals have.
With built-in Bluetooth speakers, this board has front and top flashing LED lights. It has wheels with a thickness of 6.5 inches and a plastic cover that is robust and fireproof across the board.
For its safety, Hoverheart was awarded a UL2272 certificate. It can be propelled by the 400-watt engine at speeds of up to ten miles per hour. Although this board is strong, a full charge takes only 2-3 hours and can carry the weight of 220 pounds.
Why do I like it?
Both children and adults can use this for small distances as a toy or a means of transportation.
PROS
Great wheels.
UL certified.
Powerful battery.
2: All-Terrain Halo Hoverboard:
No hoverboard is 100% durable, but Halo Rover do come under this category. However, the 8.5′′ tires are unbreakable. That implies you can ride with confidence through all sorts of rough terrain and even on carpet. The tires also offer a fun ride. ⠀
You have to weigh more than 45 lbs to ride this phenomenal off-roader. And a maximum of 220 lbs. ⠀Two rider modes are normal and advanced. For both first-time and professional riders, this is a great option. The fully charged LG FireSafe battery can deliver 10 miles on a single charge at a speed of 10 mph.
Why do I like it?
You can ride it on any surface, and this is the best part of this self-balancing scooter.
PROS
Bluetooth speakers.
LG Firesafe battery.
Able to ride on any surface.
3: Jetson V6:
Jetson has a range of fun features that are more suitable for children's entertainment. You can listen to music through the attached Bluetooth speakers with the mobile app while synchronizing its LED lights with the soundtrack. You can also measure your speed in real-time and share the statistics on your social media.
It is a fast and reliable option than most of the other choices in the market; it gets top speeds of 10 miles an hour so you can go 15 miles on one complete charge.
It can comfortably ride indoor and outdoor, so you don't need to worry about stability and balance issues. It feels natural on the sidewalks and even on a wooden floor.
Why do I like it?
With its ant-grip pads, you will experience a fun ride in the comfort of your own home.
PROS
100% electric.
UL certified.
Suitable for indoor use.
Mobile App.
Water-resistant.
LED Lights.
4: GoTrax Hoverfly Eco:
This Hoverboard comes in a range of colors that are bright and cool. The unit is equipped with LEDs that enhance the screen. The LED lights alert the rider in advance as a bonus function when the device battery is about to die, hoping to avoid any situation of getting trapped between places.
GOTRAX's Hoverfly ECO is cost-effective because it covers a range of 12 miles. It is the best choice for indoor rides. It can carry the weight of 220LB and should be appropriate for most children and adults. It is fitted with self-balancing technology, making it exciting and straightforward to ride, even for the first-timers. All of this implies that the board will adjust itself when it is stationary, making it fast and easy to mount and dismount.
Why do I like it?
For children and adults alike, it is a great choice. It is durable, yet lightweight and easy to ride on.
PROS
Powerful battery.
Portable.
Cost-effective.
Best for indoors.
LED Lights.
CONS
Not suitable for outdoor use.
5: Razor Hoverboards:
Razor hoverboards are robust and scratch-resistant for indoor use. The Razor
self-balancing scooters
are UL 2272 certified to guarantee the safety of the riders. The indoor Hoverboard comes with Ever Balance technology that allows you to level yourself on any rough surface and experience a smooth ride.
 The battery takes up to 2 hours to charge and runs on a single charge a little over 1 hour, but the great thing is that the batteries are removable and can be easily changed, and this prolongs the battery life.
It covers a range of 24 km. And it also comes with an LED light display.
Why do I like it?
It is fun and easy to ride and it is the best choice for indoor use.
PROS
Smart battery life.
Safe for indoor use.
UL Certified.
FAQS:
Can the motor get affected when riding on the carpet?
It all relies on the durability of the Hoverboard you buy. We suggest not to ride your Hoverboard on a carpet if you haven't purchased it from a reputable brand.
Can I ride a hoverboard on carpet and is it safe? 
Yes, if the brand has assured you full security that the Hoverboard won't wear off when using on the carpet.
Will riding on a carpet affect battery life and performance?
It all depends on the quality of the board. If it's of low-quality, then it can get damaged quickly.
Can the Hoverboard heat up when using on carpet?
Yes, in the case it doesn't have a good battery or isn't suitable for indoor usage.
Can the battery blow up?
It only happens if the battery life of your Hoverboard is not good enough.
Can hoverboard riding on the carpet slow down its battery timing?
A common question asked by some Indoor users was. Does hoverboard riding on carpet affect its battery timing and life? The answer is definitely yes the carpet surface is not very smooth but it's kind of rough.
To move on a rough surface a hoverboard battery needs more power than normal. and when more power is being deployed to the motor the battery is being consumed heavily. So ideally it is not recommended to continuously ride a hoverboard on carpets.
 Because in longer durations it will spoil the battery and will decrease its battery timing.
Does riding a hoverboard on the carpet spoil its motor?
Another frequently asked question is about the deterioration of the hoverboard motor while using it on carpets. Will hear the answer vary from brand to brand. If you have chosen a good brand that is reliable. It's definitely going to stay with you for long no matter how good or bad the circumstances or surface are.
Most of the all-terrain hoverboards work great in all kinds of circumstances. But ideally, a hoverboard is designed to hit the roads and it should do the task.
How far room dimensions affect riding the hoverboard on the carpet?
This device is ideally invented to counter the roads. But still, there can be several reasons why you want to ride it on a carpet. So considering the room dimensions is a must. Make sure the carpeted area is free from obstacles and has minimum furniture. Because with more obstacles you will be at a higher risk of falling or trembling.
FINAL VERDICT!
It all depends on the quality of the product and how you are taking care of it. Most of the time, our negligence can make the products wear-off faster. Therefore, Make sure to move slowly when riding on a carpet.
We have deeply researched all these best options for you so that you don't need to go through all the hassle of doing it yourself. It will help you decide better for yourself.