Hoverboards have become a popular choice for both kids and adults, providing an exciting and futuristic way to commute or have fun outdoors. Among the many options available in the market, Skywalker Hoverboards have gained a significant reputation for their quality and performance. In this article, we will explore the best Skywalker Hoverboards, their features, pros, and cons, and provide a comprehensive buying guide for those considering purchasing one. Let's dive in!
Introduction
What is a Skywalker Hoverboard?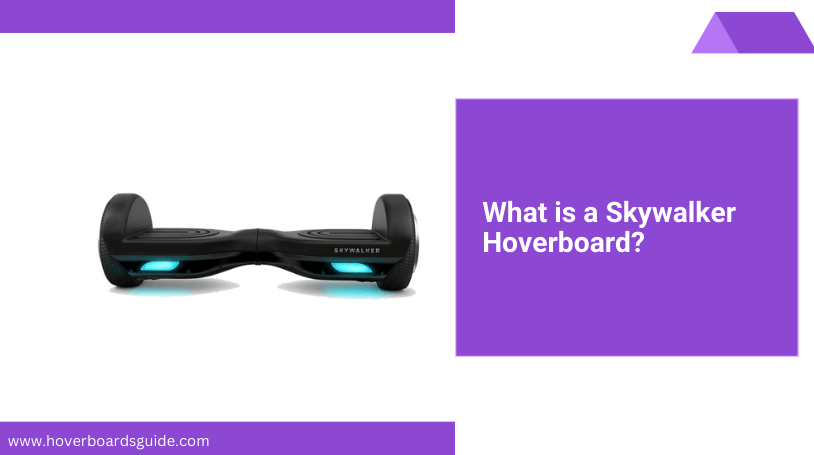 A Skywalker Hoverboard is a self-balancing scooter that operates using advanced gyroscopic technology. It consists of two motorized wheels connected by a platform, on which the rider stands. By shifting their body weight, the rider can control the speed, direction, and movement of the hoverboard.
Why are Skywalker Hoverboards popular?
Skywalker Hoverboards have gained immense popularity due to their exceptional features, reliability, and sleek designs. They provide a convenient and eco-friendly mode of transportation, making them a preferred choice for short commutes and recreational activities. With a range of models available, each catering to different needs and preferences, Skywalker Hoverboards have become a go-to option for hoverboard enthusiasts.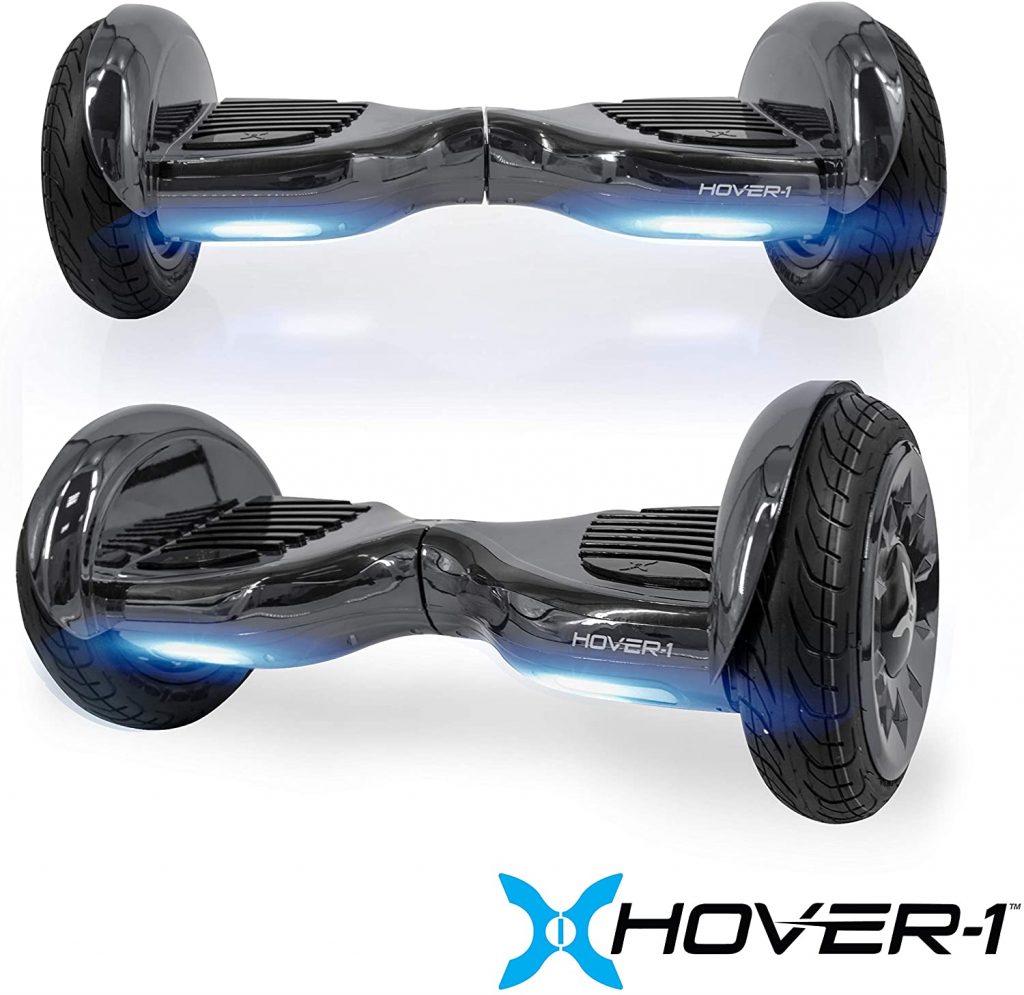 When you get your package and unbox it, you will get a Skywalker hoverboard charging adaptor and user operational manual. The operating manual is a must-read because it is necessary to read how it works if it is your first time to ride a hoverboard.
The scooter inside the protective keeps it safe.It has a charger inside it with the input of a hundred to 240 volt AC and 1.5-ampere maximum, which gives out the output of 29.4 volts.
It has the LED lights right below the footpad and at its prominent wheels. At the back of the hoverboard, it has a charging port and a start-stop button. Overall, it is quite a massive hoverboard comparatively, at least 10 to 15 kilograms or around 20 lb weights. It has a heavyweight battery with approximately 30 volts of power that provides the long-range capability.
It has a 36 V, 4 AH lithium rechargeable battery, which stays active up to 8.4 Mile range.
Its battery will quickly become fully charged within two hours. It also has a battery indicator right below its footpad.
It comes up with several colors with the same price range. It has a blue, gunmetal, pink, and rose gold surface.
It could not go anywhere except for the rough pathways. In fact, this hoverboard required some skills to navigate the rough path. Its speakers are good and pretty loud but can work within a shorter distance; it might be an essential factor. However, this hoverboard works very well and has solid feet.
Remarkable quality features
Stunning built-in characteristic
Fully charged battery within 2 hours.
Maximum range up to 8.5 Miles
Safe ride on smooth pathways
One year warranty
Good speaker quality
LED lights around the body
Tasted and certified product
Need to navigate on the rough path
2. Flying-ANT hoverboard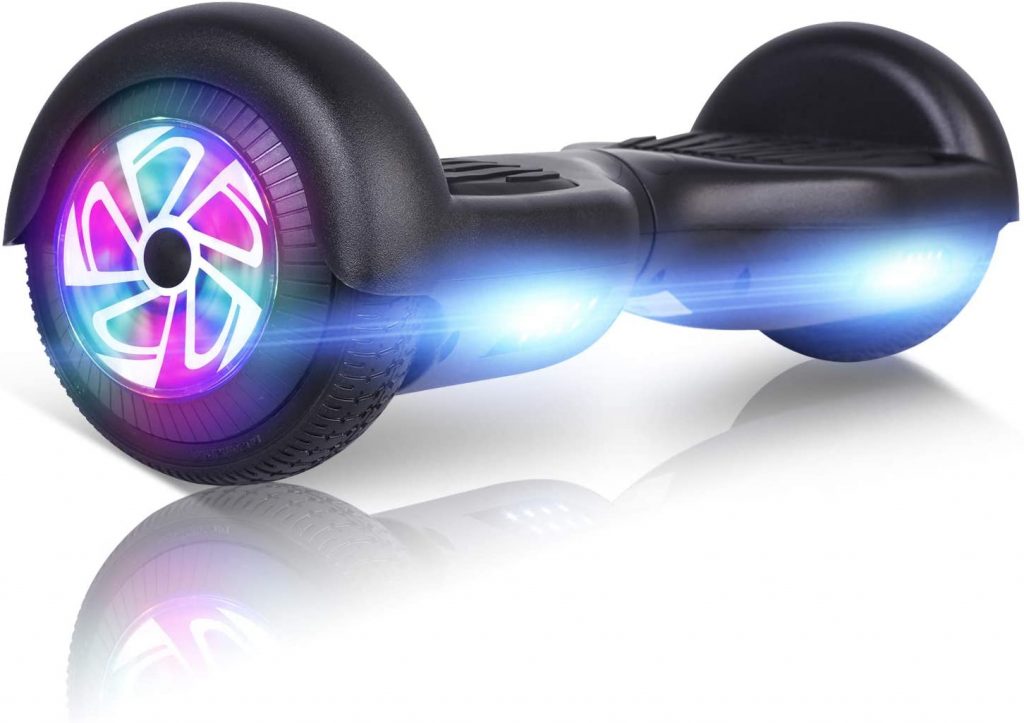 The self-balancing hoverboard makes it easier and safer for beginners. It is easy to maintain balance by using the flying-ant hoverboard.It has a stylish design with futuristic LED accent lighting on its wheel at the unit's front and rear.It has a strong shell and a sturdy structure, which helps maintain the balance and reach the top speed.It has a UL 2272 Certified hoverboard that has passed all the manufacturer's tests to ensure that every part is completely safe and won't harm you and your family.
It has the fantastic color options that you will find challenging to settle on one. It has equally stunning color Shades so you can choose according to your taste and preference.
Bluetooth feature is available in almost every hoverboard, but Flying-ANT isn't a hoverboard having the extra prevalent Bluetooth speaker to enhance your mesmerizing ride.
You will get the Bluetooth speaker with that exceptional quality of sound. You can enjoy the extraordinary sound quality music while enjoying your ride.
It has 6.5 inches vacuum tires that are very impressive to take upon any train. It has a speed of 12 MPH and can ride up to 9.3 miles at the full battery charge.
Want to  read: Best Scooters For Five Years Old
Remarkable quality features
Stunning built-in characteristic
Fully charged battery within 2 hours.
Maximum range up to 9.3 Miles
Safe ride on smooth pathways
Bluetooth connectivity
Good speaker quality
LED lights around the body
Tasted and certified product
No warranty
No scratch-resistant body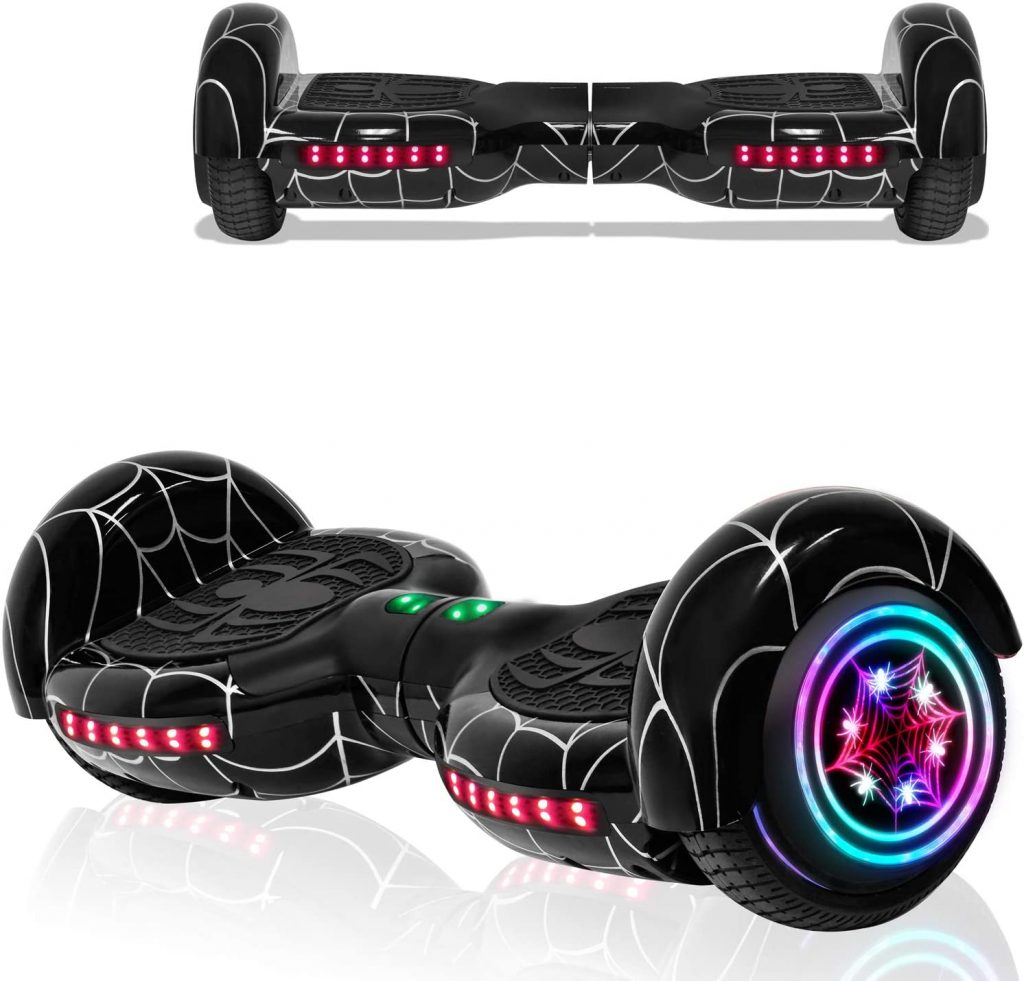 Wilibl hoverboard is an excellent choice for kids and even for adults. It is a spider self-balancing hoverboard that comes with the LED light wheels along with the Bluetooth speakers and UL 2272 security certified hoverboard.
It is easy to learn the smart self-balancing system that makes it comfortable to learn how to write even for the beginners.It has a sturdy design with solid tires that comes up with 6.5 inches of colorful, delighted wheels with LED lights around them. It has a high illuminated LED front light with a strong shell and a having structure
It is a UL 2272 certified hoverboard that has passed all the security tests and its manufacturing security to ensure its users' safety.
It comes with a variety of color options. It is available in red, black, blue, pink, and white colors, so you have various colors to choose from.
It has built-in wireless speakers that can easily be connected with your mobile phone so that you can enjoy your favorite music along your ride.
Willibl Skywalker hoverboard allows its users to connect their mobile phones through Bluetooth connectivity and enhance the extraordinary sound effects.
Warranty
Willibl hoverboard manufacturer provided the warranty and customer support service to maintain the customer's satisfaction. You can contact the customer service and get answers about their product without any hesitation.
Remarkable quality features
Stunning built-in characteristic
Fully charged battery within 2 hours.
Safe ride on smooth pathways
One year warranty
Bluetooth connectivity
Good speaker quality
LED lights around the body
Tasted and certified product
Need to navigate on the rough
Read Our Reviews:
4. Portable Scooter Hover-1
This hoverboard can run at a speed of 7  Miles per hour. Even though this is a massive speed. But you can even enjoy a safe and steady ride on it. Thanks to the beautiful and strong and stable tires of the hoverboard.
The battery has the capacity to run for a longer distance. This distance is approximately 7 miles that can be covered by the hoverboard easily. The total number of hours is 5 hours. This time is required for the hoverboard battery to be charged fully
Buy this product from our link and you will surely save $41.50. This means that you are actually saving nearly 12% of the price.
The scooter is of very beautiful color. This product is of the Navy color combination. The best description and feature of this product is portability.
The weight-carrying capacity of the hoverboard is excellent. A person with up to the weight of 265 lbs can easily ride on this hoverboard. It means that a person who is even heavyweight can easily climb on this hoverboard.
If your way of traveling is not smooth and is a bit inclined. There is nothing to be worried about in this manner. This hoverboard can easily carry you up to an angle of 12 degrees.
A modern-day hoverboard, equipped with Bluetooth. This Bluetooth provides you with connectivity. That can link you with the hoverboard and you can easily stream the music. This music is played through the hoverboard seekers and you can listen to it while you are on the go
This is a folding hoverboard and provides you the ease to carry and store it even at the limited
Buy it from our link and save up to 40 % during this transition
The rider can easily cover the distance of 7 miles
The batters
The weight carrying capacity of this hoverboard is excellent; it can easily carry the weight of 275lbs.
The hoverboard is certified for the safety of the chargers and the battery.
Bluetooth connectivity with your hoverboards provides various functions.
Multiple skills mods are available for you to adjust the hoverboard settings as per your skill sets.
The Hoverboard is the latest addition launched in September of 2020
This is a too good device to possess any con
Buying Guide
If you want to own a self-balancing electric hoverboard, then it is suggested that select the one that fits with your budget and has as many features as you want.
The mandatory features involve its battery life, speed, how much distance it would cover, music, or Bluetooth connectivity features that would benefit you.
Read Related Product Review:  GOTRAX Hoverfly ECO Hover Board Review 2022:
Price
One of the major strengths of any gadget or product is it's an affordable price. Many companies are manufacturing hoverboards at a high price, but not all of them can compete with the features as they are not resourceful enough. Skywalker hoverboard discount codes can be used if you have a low budget.
Safety
While purchasing a Skywalker hoverboard, you have to ensure the safety and protective manufacturing material. It will enhance its overall performance.
Stability
Hoverboards are designed on the technology of self-balancing. It is a great tool that will let your kid learn self-balancing skills.
Bluetooth
Most of the Skywalker hoverboard manufacturers are offering Bluetooth within the board. It has increased its demand in the market.
Some Healthy Tips
Be careful when the hoverboard is on charging.
Make sure that your hoverboard will have all the mandatory certifications.
Make sure to have a skywalker hoverboard charger within it.
You can regulate your overboard with its skywalker hoverboard app
Conclusion
In terms of performance, Hover-1 Titan Electric Self-Balancing HoverBoard is simply an everything that looks and feels like a superior choice with impressive battery life, and its distance range. Its features are not just an ordinary hoverboard; it is an exceptional product that values its price.
After getting your balance with a few slides, you will get addicted to the hoverboard. Hoverboards can be a great choice as birthday gifts for kids and even for adults.
Related Link: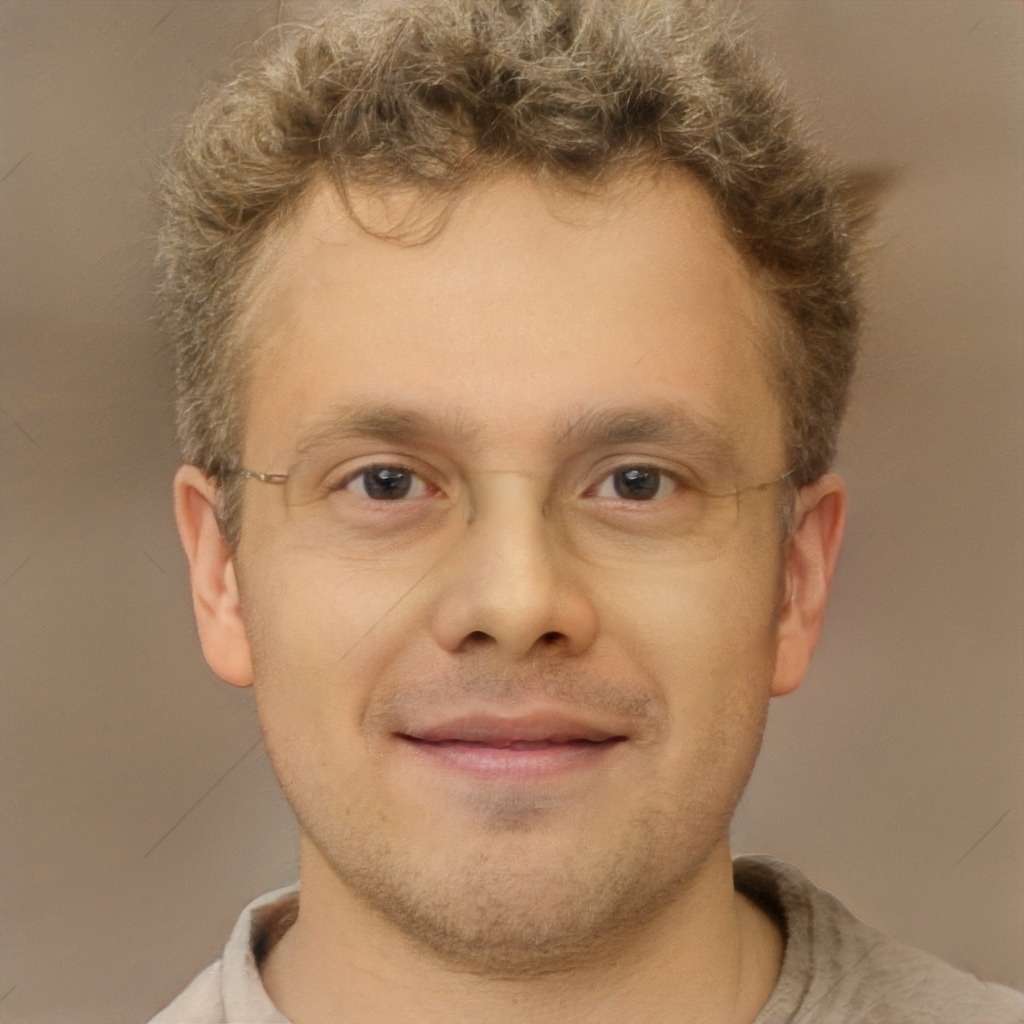 I'm the founder of HoverboardsGuide.com, a comprehensive website dedicated to electric scooters and hoverboards. With a deep-rooted passion for electric gadgets, I've accumulated extensive experience in this field. I aim to assist users in selecting the best gadgets and providing reliable guidance.
I've tested and reviewed numerous models, gaining in-depth knowledge about their features, performance, and overall quality. Feel free to reach out to me with any queries, as I'm dedicated to addressing your concerns promptly. Join me on this exciting journey of exploring the world of electric rides and making informed decisions